Home » Bathroom Lighting Ideas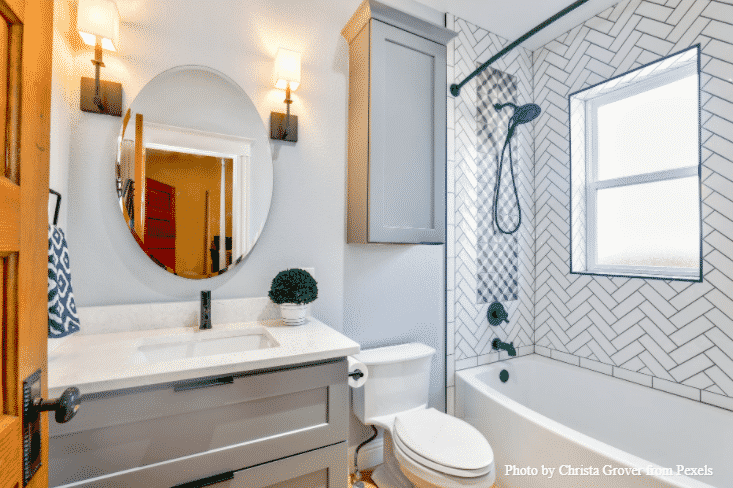 You may not think of it as an essential element to consider while renovating a bathroom, but the truth is that it is a game-changer for any space in the house. Bad lighting can make any room feel gloomy, dull, and dingy. And therefore, you must ensure that your bathroom is kept well lit at all times with the help of some excellent bathroom lighting ideas.
With the right guidance from your designer and a little research, you can easily make your bathroom look splendid! Appropriate lighting in the bathroom can augment the look of the entire space, create the look of magnificence, and even give you the feel of a spa retreat!
As much as these lights are underrated, they can make the bathroom look alluring, likable, and, all in all, more functional. There are various options for you to pick the quintessential lighting fixture for your bathroom from. Bulbs, recessed lights, track lights, sconces, pendant lights, the list goes on! These lighting fixtures suit all bathroom types at a very nominal price. 
Here are some impressive bathroom lighting ideas for you to choose from for your next bathroom remodeling project.
Add Bulbs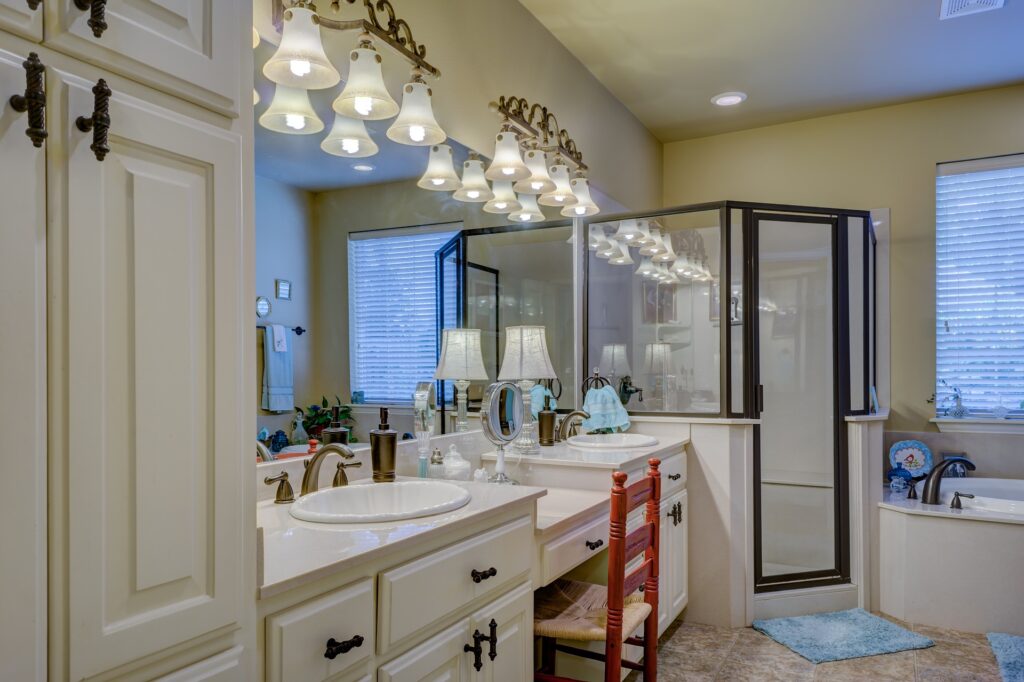 When you install any lighting in the bathroom, you will want the best quality and results. The light that can show the true color of your eyes, hair, and skin tone is generally the natural light, but you will surely want something close to it if you cannot have that.
Having bathroom lighting fixtures that have a white shade will help you gain natural lighting in the bathroom. Irrespective of whether your bulb is clear or frosted, it should be white. You must also use the bulbs that render suitable colors for your bathroom.
The best kinds of bulbs for the bathroom are incandescent bulbs, LED bulbs, and compact fluorescent (CFL) bulbs. 
These are one of the most viable options for the bathroom and have a color temperature between 2700K and 3000K, making them the ideal bathroom lighting fixtures. However, you must pay adequate attention to the brightness of the LED bulbs before installing them.
Natural Lighting
There is nothing better for any room in the house than natural light, right? However, not every room in the house will always get the exact amount of natural light as you want. But what if you are blessed to have a bathroom window that is large enough to give you ample natural light to light up the entire room? We would say, make the most of it!
Installation of large windows, or maybe even an entire wall of sliding glass windows, will make an excellent well-lit bathroom. Placing a bathroom vanity opposite to that may not be the best option since you do not want the sunlight to blind you. But ensure that you choose a large vanity in the bathroom to give the illusion of a bigger space. 
You can place your bathroom tub or the shower cubicle right next to it. You may even put a plant and some scented candles to convert your bathroom into a spa retreat. This will give a very peaceful and au natural vibe to the room and help you relax and rejuvenate. But don't forget to add curtains!
Recessed Lighting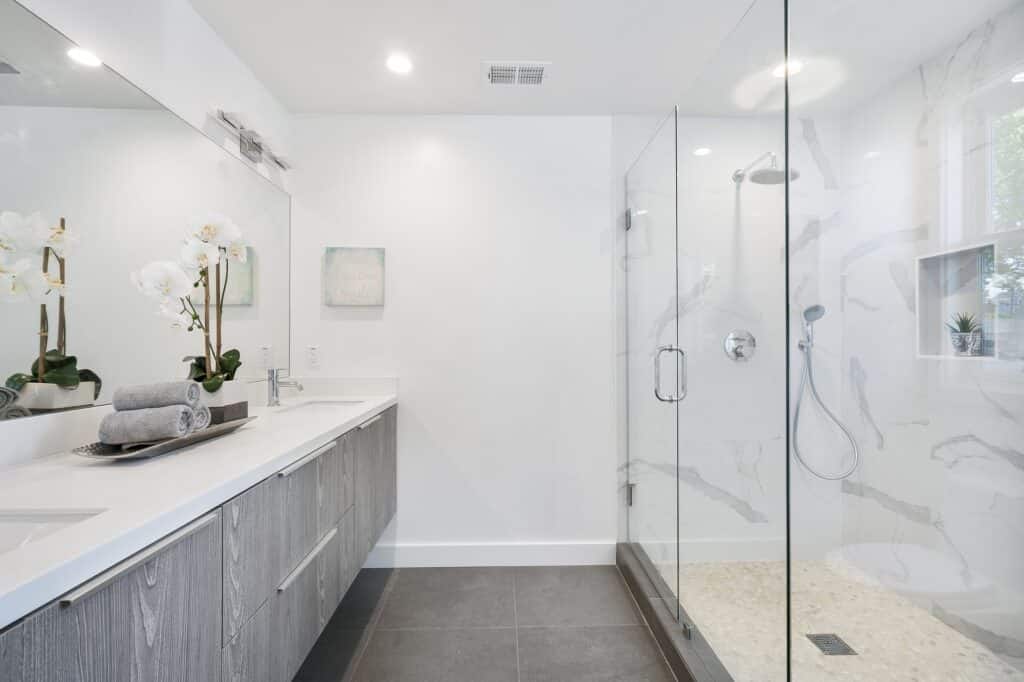 If you want an ultra-modern and state of the art look for your bathroom, the ideal lighting fixture for you to install in your bathroom would be recessed lighting. Recessed lighting helps create a contemporary bathroom feel, especially when the components of the room are white. 
These lighting fixtures enhance the color white's beauty and authenticity and make the room look crisp, clean, and modern. They are incredibly soft and subtle and do not flash or create a blinding effect in the room. And therefore, they are highly recommended by all designers and contractors as to one of the best bathroom lighting ideas. 
The current trend is all about being a minimalist. And an all-white interior with in-built recessed lights is the way to go! These lights can enhance the sophistication and look very classy if you are going for an all-white or the classic blue and white bathroom. They are also well guarded by the ceiling and therefore very safe since the water cannot be splashed on them. 
Pendant Lighting
Another excellent bathroom lighting idea is to install pendant lights in the bathroom. These make outstanding statement pieces for the bathroom. If you wish to have a spotlight all to yourself in your bathroom, you may want to consider placing a pendant light right above the tub area.
Designers are highly fond of pendant lighting since it gives a very majestic look to the bathroom. What more do you need in a freestanding tub, marble flooring, back ceiling, and a gold cage pendant light above the tub? The epitome of opulence and luxury is right there in your bathroom!
Install Sconces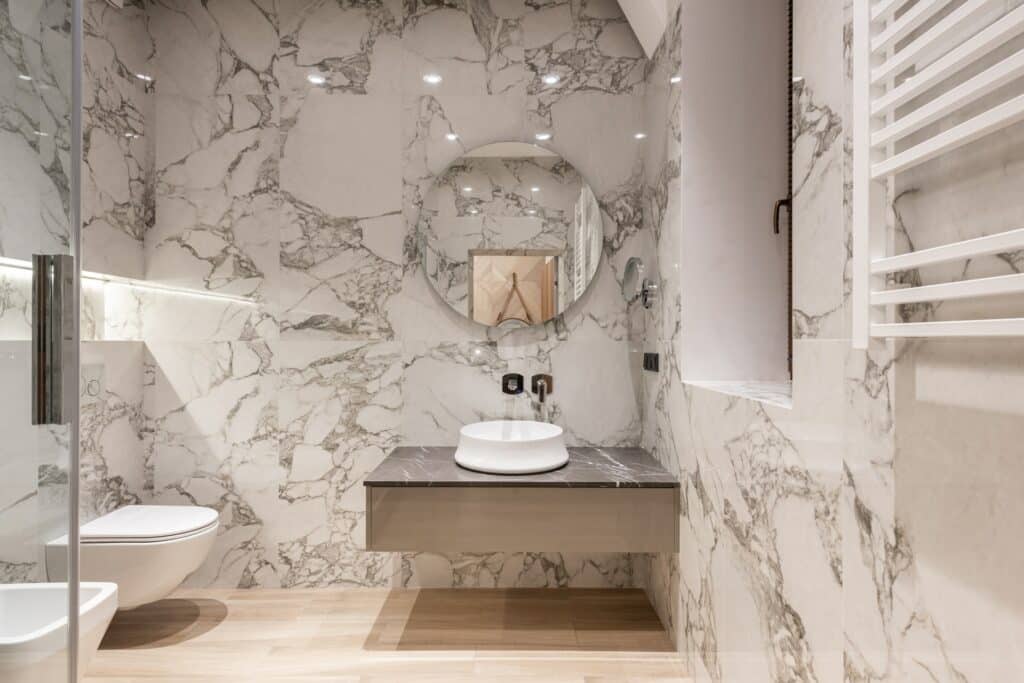 Sconces are an excellent way to light up your bathroom. They are versatile in both design and function, and the best place to fix them is on both sides of a vanity mirror. Sconces in the bathroom add a perfect touch of glamour to the room without looking too extra or gaudy. 
Placing the sconces in the right place in the bathroom is essential. You must put these lighting fixtures in such a place that they play a functional role and light up the bathroom correctly. The best place to position these lighting fixtures is right above the specific task zone to ensure a well-lit space.
Putting the sconces at off-set areas such as on the walls around the tub is also quite prevalent these days. They do a good job lighting up the bath area. You can even go for an artsy look with a creative sconce. They make stunning bathroom décor and not just a simple lighting fixture, and also add to the bathroom's functionality.