Home » An All-Inclusive Guide on Cost of Kitchen Flooring That You Must Know
An All-Inclusive Guide on Cost of Kitchen Flooring That You Must Know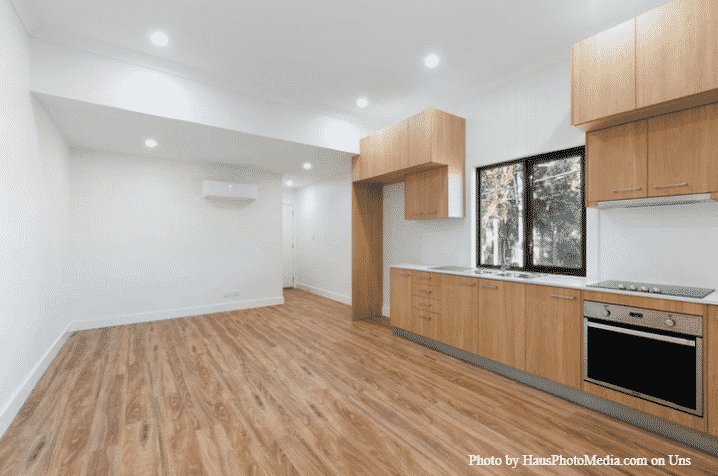 All kitchens are unique and have a different layout and size. An average kitchen ranges from 103 square feet to 238 square feet. And one of the most important elements of the kitchen is the kitchen flooring. The cost of kitchen flooring varies, depending on various factors, such as the location, the size of the layout, the type of flooring you are looking for, and the quantity.
Things to Consider While Choosing Kitchen Flooring
The material and the quantity of the material play a massive role in deciding the overall expenditure. The material is essential, and you must opt for one that is suitable for your kitchen environment. The two things you need to keep in mind while picking out the material is that it must be DIY friendly, and it must be durable and easy to clean.
The most popular options for kitchen flooring are vinyl, ceramic tile, cork, and laminate. These materials are available in an extensive range of styles, and their cost varies from high to low. From peel and stick to marble flooring, you can go for any style and budget that suits you.
To help you find the best flooring material for your kitchen, here we have given a detailed breakdown of the cost of kitchen flooring for your convenience.
#1 Flooring Installation Cost
Most people spend anywhere between $3 and $22 per square foot on their flooring, depending on the material. The average cost of kitchen flooring is between $3 to $10. So you can easily expect to pay between $1500 and $4500, whatever your layout size may be.
The average price to cover a 500 square feet kitchen is $2952. All these variations are highly dependent on the cost of the material obtained by the contractor. Some materials are relatively cheap, such as vinyl. And some materials have skyrocketing prices, such as marble.
#2 Flooring Cost Per Square Foot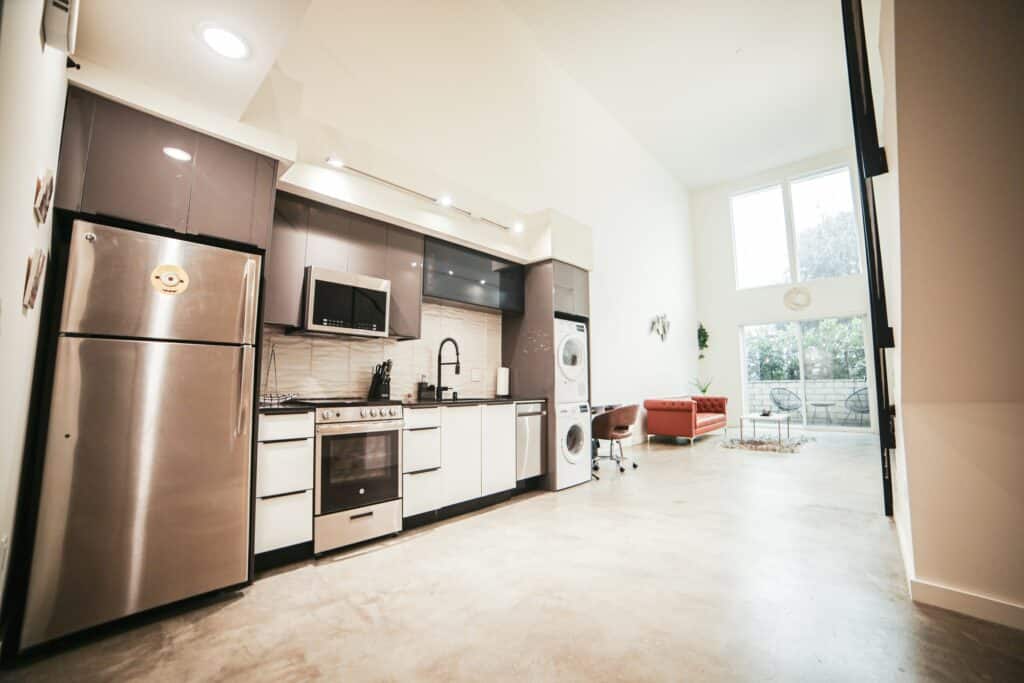 The kitchen's flooring is an essential component to consider since there is a lot that you do in the kitchen. You need to keep the bottom line of your budget in mind while selecting the material to have the best kitchen flooring.
The factors that you must consider while choosing the desired flooring are the local climate, foot traffic, dirt attraction, pets, and the use of the place you want to put new flooring in. The national average cost of new kitchen flooring is $8 per square foot. The minimum price can stoop to $3, and the maximum cost can rise to $18 per square foot.
The average range is between $6 and $10 per square foot. Some people are even interested in eco-friendly  or green materials for their flooring. The final cost of kitchen flooring is highly dependent on the material. As each material has a different production cost, a different installation method, and some require contractors to install them while some you can do it yourself.
#3 Material Cost Comparison
Flooring materials vary between $0.50 and $15 per square foot, depending on the product. Here are a few options for you to choose from, along with their cost estimates.
Hardwood Flooring
The installation cost of hardwood flooring on a 1000 square foot kitchen layout is between $6000 and $22000. The average price is around $8000 on most of such projects. The materials for this cost between $3000 and $14000. The materials include engineered wood, parquet, and other types of wood flooring and various species of wood available.
Hardwood flooring is popular for its durability. It can fit in easily in any type of room décor and grain. From an open, airy maple to a dark walnut or mahogany, it has many options. This material also has a glossy, semi-gloss, satin, and a matte finish.
Laminate Flooring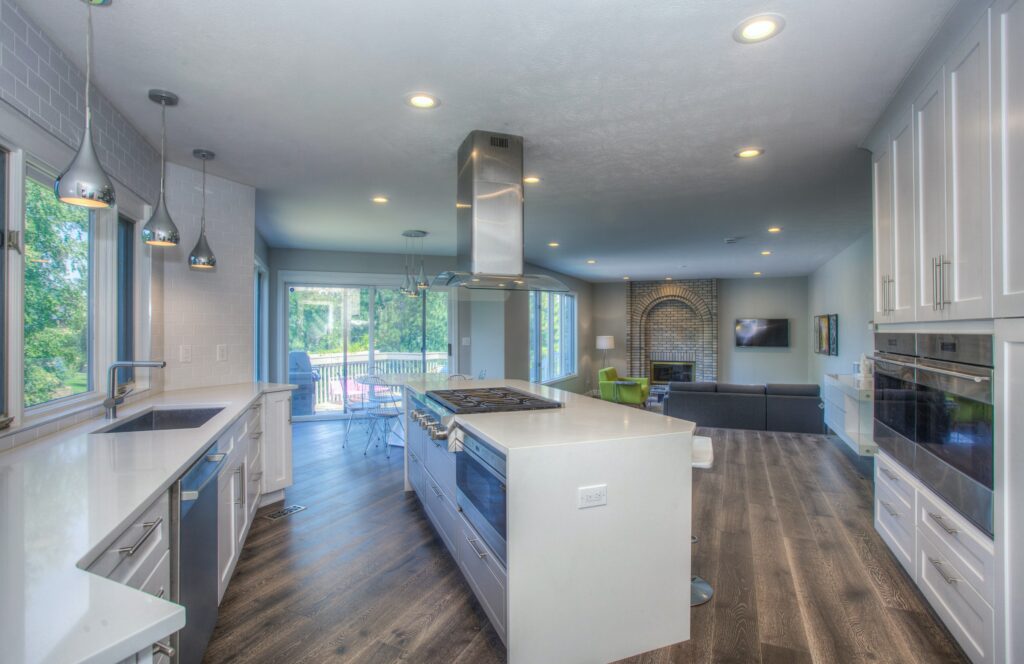 In a 1000 square feet kitchen, laminate flooring can cost you around $5500 to install. The per square feet cost of laminate flooring is between $6 and $9. The materials have a wide range of price, between $7 and $2000. And the labor costs around $34 per hour to install laminate flooring. The contractor's fee of 15-20% is taken separately.
Laminate is an excellent option for your kitchen flooring since it is relatively cheap. However, it looks similar to other expensive materials such as stone, wood, or tile, without having their price. This material is highly durable, very low maintenance, and is an excellent choice for your home improvement project. 
Vinyl and Linoleum
For a 1000 square feet kitchen, installing vinyl and linoleum runs between $3000 and $7000. The materials run between $500 and $5000. The cost to install this flooring is $3 to $10 per square foot. A vinyl or sheet flooring can cost you as little as $0.84 per square foot.
Planks and tiled vinyl cost between $1.85 and $3. And luxury vinyl can run up to $10 per square foot. You must install vinyl on a flat surface. You must seal Linoleum after its installation, and you need to repeat it once every year. Vinyl is very affordable and comes in a wide range of colors, and is also heat and water-resistant.
Tile Flooring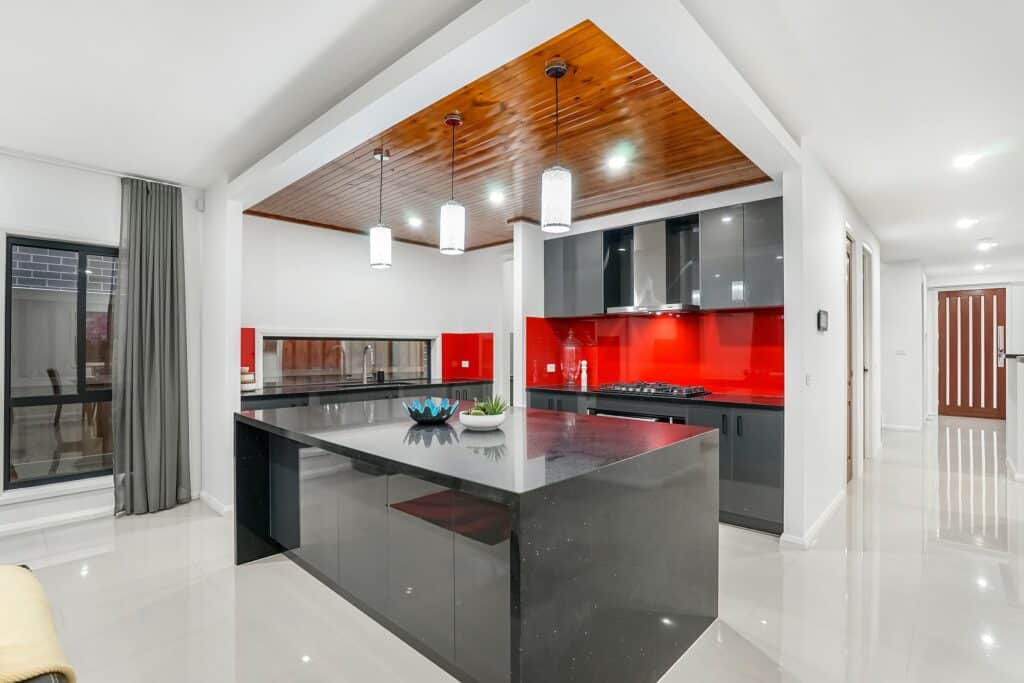 The installation costs of tile flooring vary greatly and run between $6 and $20 per square foot. To cover a 1000 square feet room, it can cost you around $6000 to $20000. The tile flooring material alone can cost you between $2 and $15 per square foot.
Certain specialty tiles such as abalone, agate, and mother of pearl cost much more and can get very expensive. Tile flooring is easy to maintain and very durable. It is a good option if you have radiant floor heat heating installations and is also highly water-resistant.
The disadvantage of installing this flooring is that it is quite tricky to install, and you will need to hire a professional. That will cost you separately as labor costs. These tiles can become very slippery when they are wet, and therefore a hazard. They can also break easily if you drop heavy objects on them.