Home » Modern Kitchen Décor Ideas That Will Spruce Up Your Space
Modern Kitchen Décor Ideas That Will Spruce Up Your Space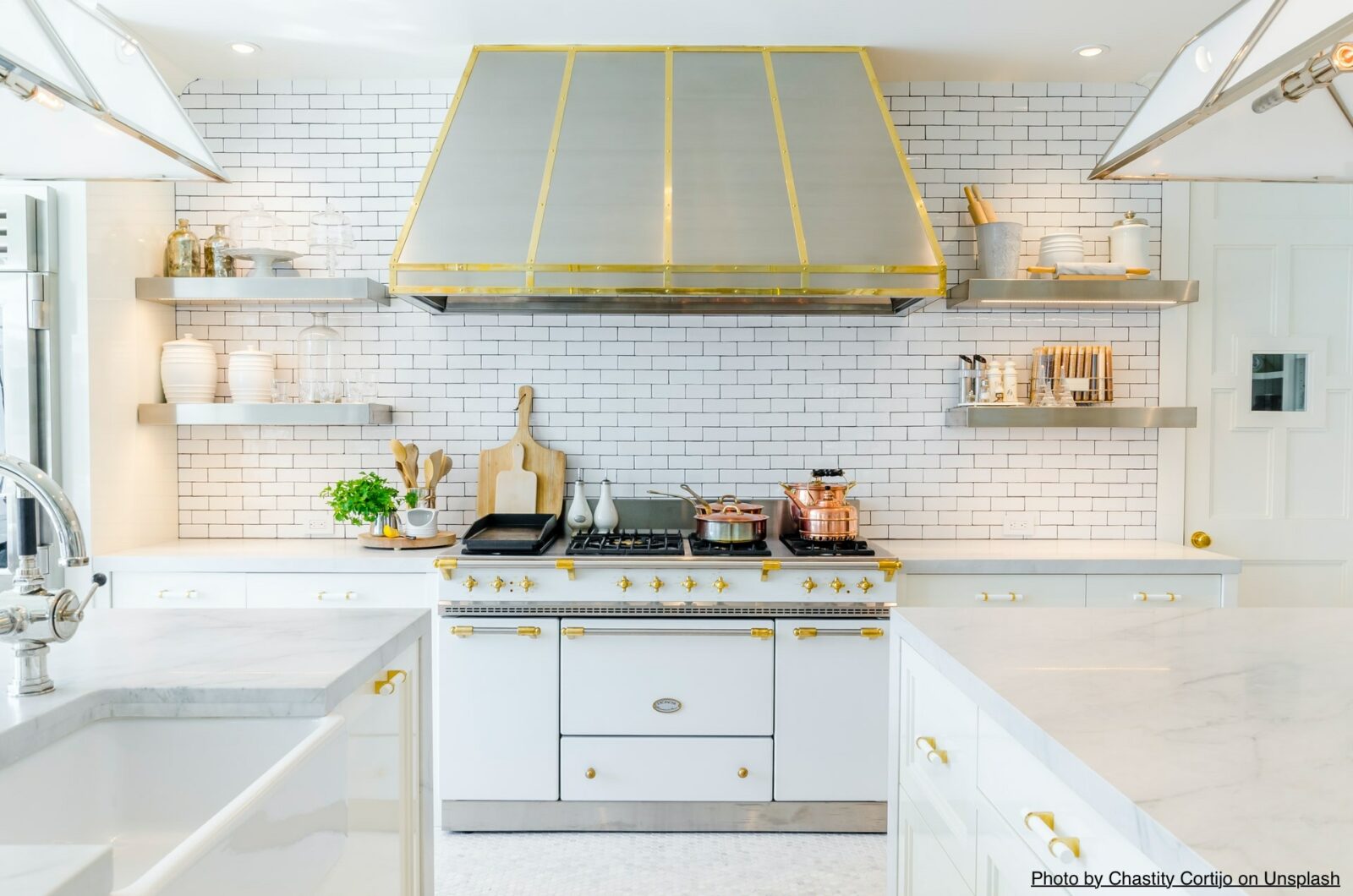 Achieving a brand new look for your kitchen does not have to mean knocking down the existing walls and uprooting all of your floorings. A true modern kitchen needs the right modern kitchen décor ideas such as a good set of accessories, chic lighting, sufficient storage, and voila!
Your kitchen is more than one's necessity, and it deserves to have an innovative aesthetic design. With top installations, wooden flooring, glass doors, and stainless steel kitchen appliances and more. You will surely bring out your personal style through this sophisticated and elegant look of your kitchen, and make it something worth boasting about!
And for all of this to come true, here are a few modern kitchen design guidelines to help you make the most of your kitchen remodel.
An Island is Important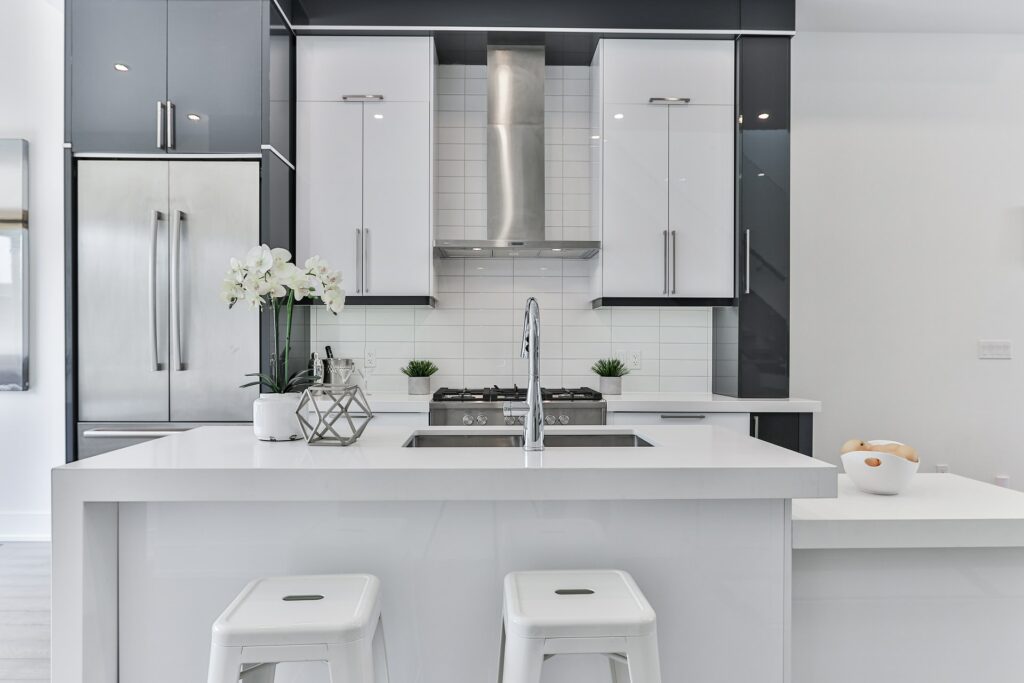 The kitchen island is one of the essential elements of the kitchen. Counter space holds the topmost space in a modern kitchen design. It makes things considerably easier with all the space it provides to do all sorts of tasks and make the kitchen a multifunctional place. Not just that, it also makes your kitchen layout more comprehensive.
From cooking, dining to entertaining, the workspace is sufficient for all kinds of things for both the family and the guests. Having a long island in a kitchen makes a great buffet and bar space for family gatherings and a night in with friends. So if you plan to install a long island in your kitchen, make sure your kitchen fits a lengthy one.
Before you buy a kitchen island, measure the layout of your kitchen. You can even get your kitchen island customized to fit into the room. Adding some shallow, steel stools would be the best seating around the island. However, it's also essential to choose the best countertop for your kitchen island as well.
Install a Full-Length Skylight
Another one of the ultra-modern kitchen elements is a full-length skylight on the kitchen roof kitchen components. The skylight helps to make the kitchen more airy, open, and bright. If you are going to an all-white kitchen, having a skylight is an excellent way to make your kitchen more comfortable. It looks exceptionally classy and elegant and also makes your kitchen look extravagant.
If you are looking to have some fun with your kitchen while making your meals, getting a skylight can precisely do that. Imagine doing some bird-watching while you bake a cake! And especially with a combination of the right kitchen flooring and some contrasting wall cabinets for your kitchen cannot get better!
However, if your house is a duplex or an apartment which cannot afford to have a skylight, there are plenty of other options to get the feel of it. Renovate the walls to get bigger sized windows, or simply get sufficient light through the existing windows by covering it up with sheer curtains instead of dark and heavy ones. Place a mirror across the window to reflect the light and give the illusion of a bigger space.
Add Pops of Color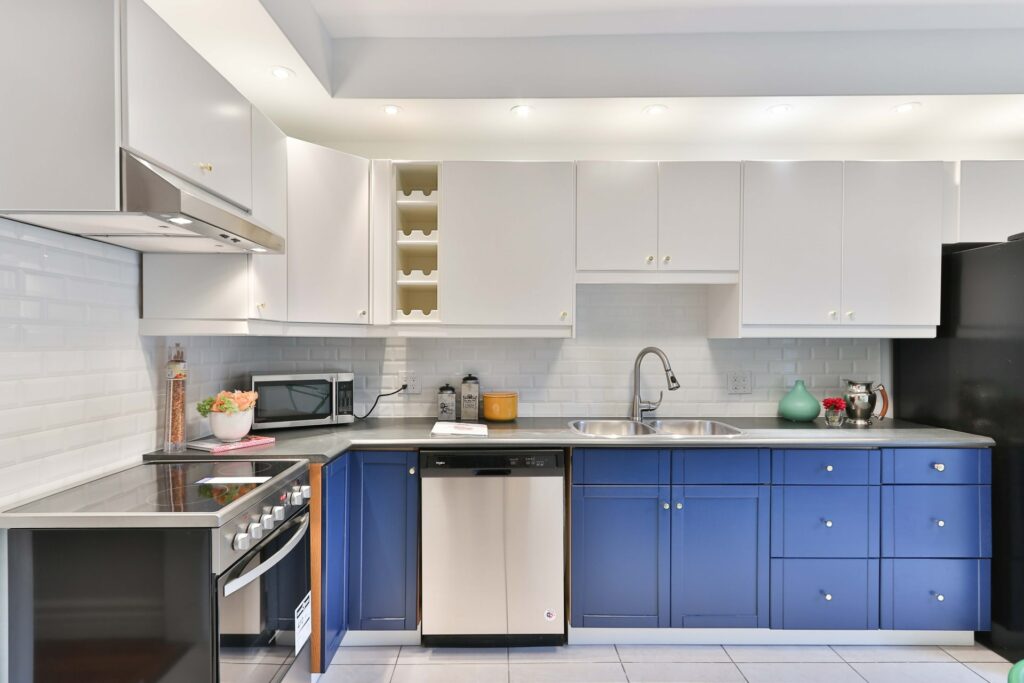 We cannot emphasize this enough, but one of the best modern kitchen décor ideas is to get an all-white kitchen and add pops of colors in it through different components in the kitchen. The designers' motto is whiter=brighter. An all-white palette gives a very neutral vibe to the kitchen, and the pops of colors enliven it.
You can paint an accent wall in a color of your choice, or you could simply add the hues by refinishing your kitchen cabinets. Using yellow, red, and bright blue serving wares on top of open white shelving can help breathe some life into the space. 
Such designs and color palettes are incredibly budget-friendly and help give the perfect modern look to your kitchen. You can even go for low-priced, upcycled cans and pots to start all over and treat your kitchen as good as new.
Choose Glass
Going for an open floor plan will need you to redo your existing layout all over again. That may take a lot of time, energy and also cost you a substantial amount. It is a long and tiring process for the homeowner and may need you to halt your daily schedule for a few months.
Instead of going for this overhaul, there are other ways to plan your kitchen remodel! Irrespective of the kitchen's layout size, you can get a glass door for the entrance instead of meddling with the layout's plan.
You can replace your existing door with a glass door, and if you are looking for something bigger, you can break down a little bit of the kitchen wall and install a broader door to make it look like a glass wall. This helps to transition the space quickly and also spread light easily across all rooms in the house.
Add Marble or Tile Backsplashes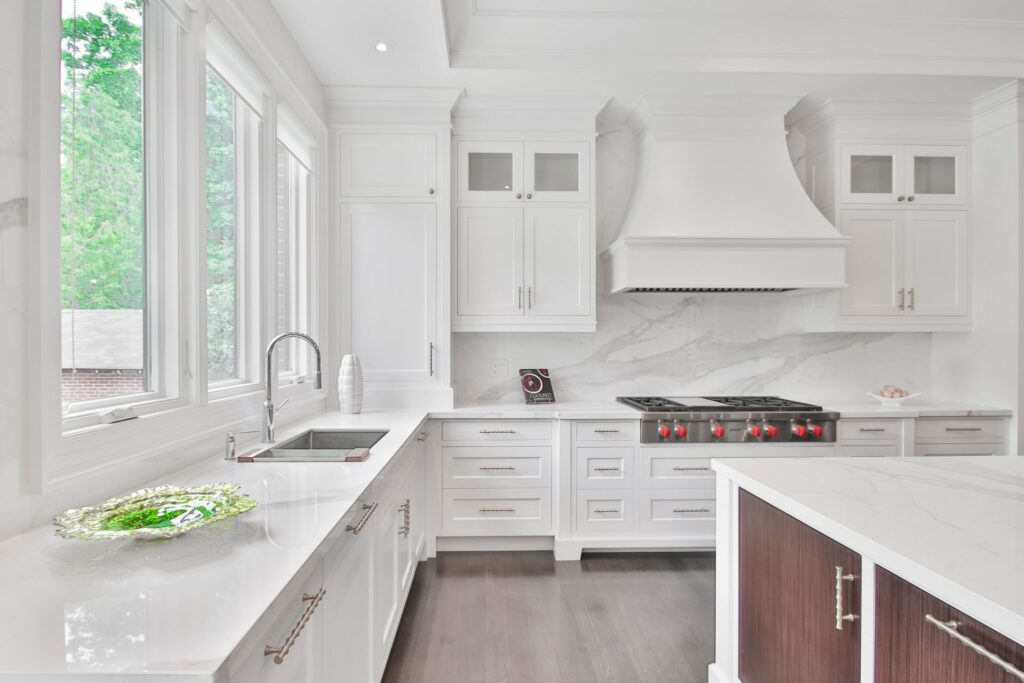 A kitchen backsplash is a great idea and can help to soften the look of an industrial-style kitchen. Edgy concrete floors, dark-stained wooden furniture and cabinetry, a sleek and stylish island, and subway tiles, all of these together give your modern kitchen decor ideas a comprehensive look. The tiled backsplash helps tone down the entire room's industrial setup and give it a more homely feel.
You can even go for a marble backsplash to go with the marble flooring, which helps give your kitchen a sophisticated feel, reflects a lot of light and makes a big impact in a modern kitchen. They are also simpler to clean and maintain, and they look luxurious too.