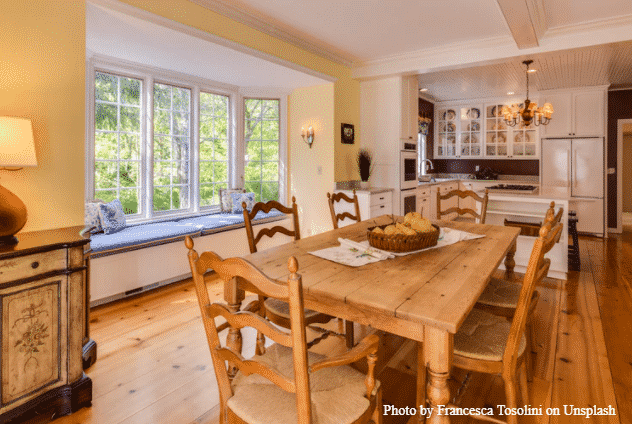 Farmhouse style kitchen ideas have taken over the design world. Everybody is in awe of the warm, homey, minimal, and rustic feel that it gives. Farmhouse kitchens have a very personality-infused look that is gaining a lot of attention at the moment. And more and more designers are coming up with new kitchen remodeling ideas for their projects.
However, the classic farmhouse kitchen look will remain timeless and popular. It is mainly focused on rustic quality hardwood, unpretentious designs, and big spaces for large meals within the kitchen. Pine maple, oak, and cherry are intensely prevalent in remodeling a farmhouse kitchen.
The farmhouse style kitchens are for people who want a casual look for their kitchens. This style reflects happiness, a carefree nature, super functional, and everything lovely! And since your kitchen is the heart of your home, why not make it look its best? There are so many designs for a farmhouse kitchen- Modern, French, Shaker, etc.
Here are a few farmhouse kitchen ideas that we have gathered to inspire you for your next kitchen remodel!
Focus on the Sink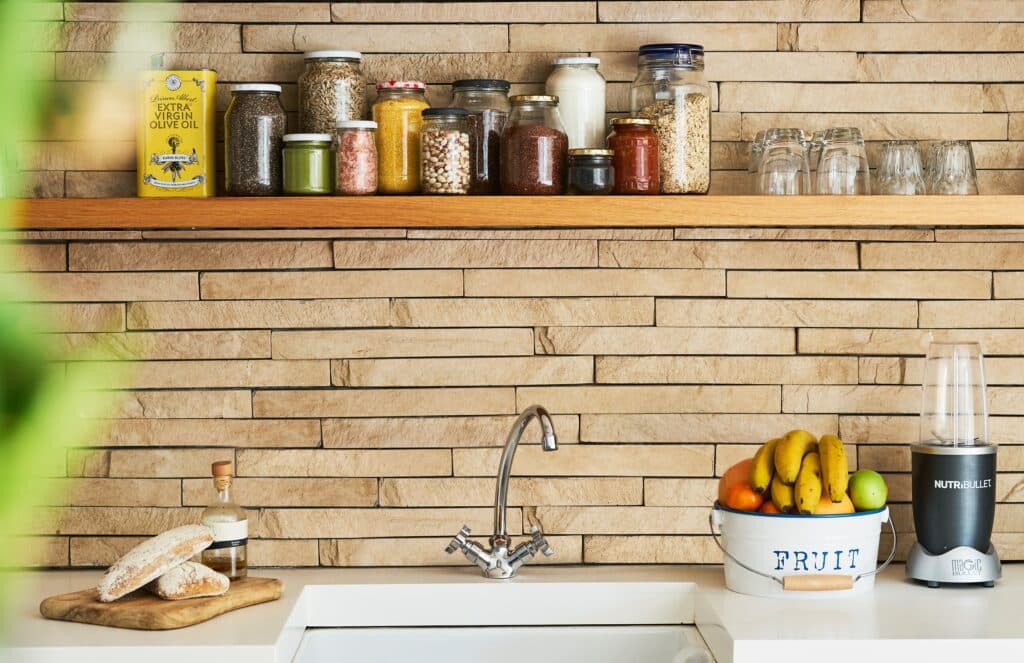 There are many essential facets in a farmhouse kitchen, such as the materials you use, the appliances, utensils, storage, etc. But one of the most important factors for your kitchen is the sink. Sinks have an exceptional and distinct place in a farmhouse kitchen design.
A typical farmhouse sink is made out of porcelain or stainless steel and has a deep and wide basin. These sinks are completely capable of cleaning many large utensils, all at once. Many farmhouse kitchens go for porcelain sinks to give their kitchens the old-fashioned farmhouse look and cater to their farm-to-table style meal needs.
The sink is an essential element as it is very noticeable and helps set the correct theme. These sinks are an ideal combination of style and function. This blend has made them incredibly popular among homeowners looking to create a focal point in their farmhouse style kitchens for a striking kitchen design.
Warm Woods
You are likely to choose wood for the seating and dining area design in farmhouse style kitchens. The classic farm tables are popularly sturdy and long planks of oak, pine, or other high-quality woods. These woods have an uber warm color and are highly durable. You can use them to make tables, chairs, countertops, and even benches for a farmhouse look.
These wooden countertops are excellent for baking, cooking, and any other experimental projects of your choice in the kitchen! You can even keep an antique piece of furniture in the center of the table or the countertop for display. You can find these pieces in any vintage thrift shops.
The tables and chairs in this farmhouse style kitchen may feature intricate and rich detailing around the border, and the chair backs may even have carvings featuring farmhouse scenes. You can incorporate a rustic bench alongside to augment the pastoral look in the kitchen. The use of wood in these kitchens gives it an aesthetic yet stylish look with its timeless design elements.
Classic White and Basic Black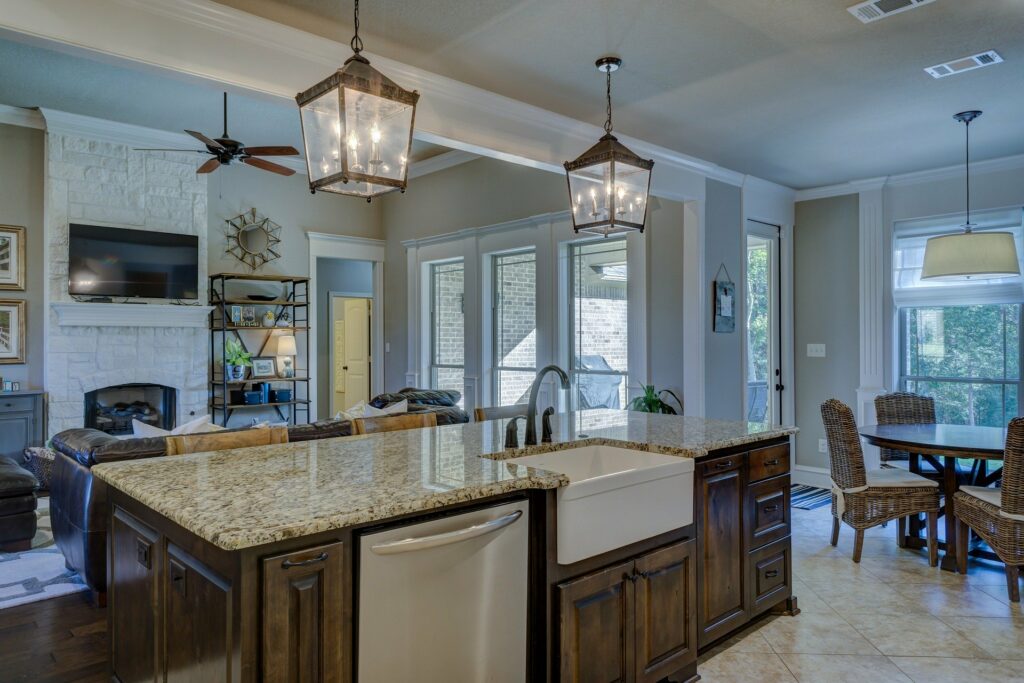 Nothing says classic and timeless as a big old white kitchen! White is a favored color for many farmhouse style kitchens and makes one of the most prevalent farmhouse kitchen ideas. A white kitchen is open to many possibilities since you can style it in any way you wish.
To give your farmhouse style kitchen a modern twist, you can contrast the white with rich dark wooden flooring for a contemporary flair. You may want to pair up the marble countertop with a subway tile backsplash. The sleek white cabinets and the drawers provide plenty of storage options. Hang brass pendant lights above the island for soft lighting and add leather stools.
If you want to stick to the traditional farmhouse style, you can hang a big antique potholder above the kitchen island and add a hint of sunny yellow on the walls for a happy and joyful vibe. Similarly, if you want to add a touch of black, get yourself a pantry with open shelving that can accommodate useful and decorative items for a chic look. 
Kitchen Accessories and Crockery
Quilts are the epitome of vintage farmhouse style houses. If you want to give your kitchen the classic farmhouse style, go for quilts and place them in prominent places in the room, and surround them with warm wood furnishings for an authentic look. This will surely help you define farmhouse style correctly!
Quilts have a unique sense of history. They add beautiful color and texture to the room, but also a soulful sense of history. You can easily spin up some quilts at home and decorate them as an accessory around the kitchen.
Another fantastic way to accessorize the kitchen and still keep it functional is to use good and beautiful crockery and use them as utensils. You can use them to serve or store food, and they are stunning to look at too! Use these crockery sets to keep your whisks in one piece, wooden spoons in another, and keep them anywhere in the kitchen.
Shelving Covered with Fabric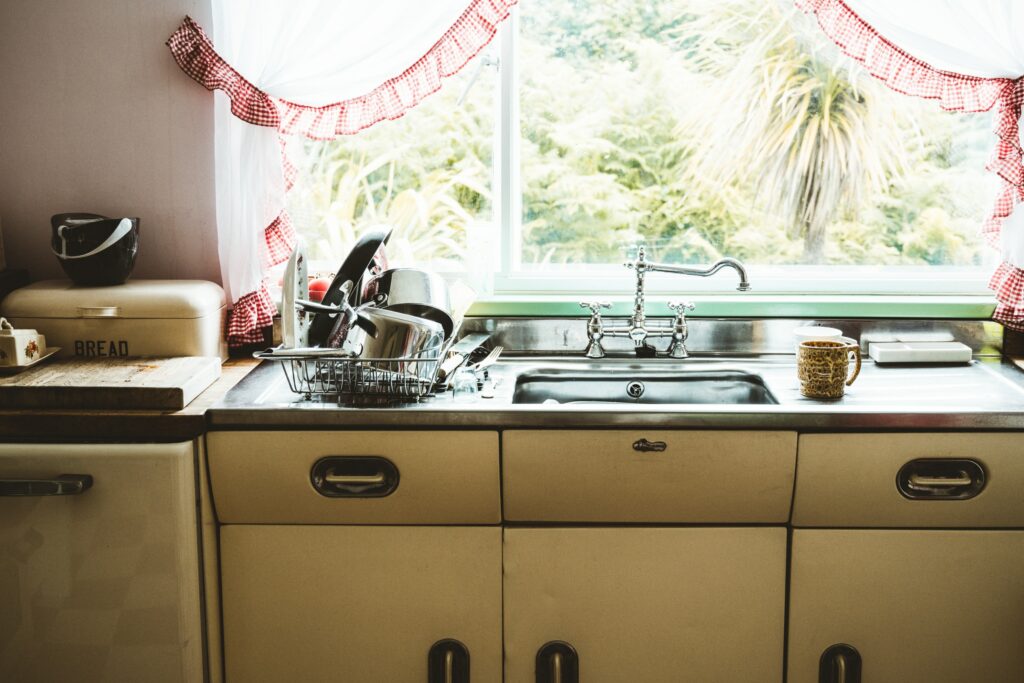 The use of curtains and fabric around the kitchen is a trendy farmhouse kitchen idea.
A surprisingly functional element in a farmhouse kitchen is skirted fabric. To give your kitchen the traditional farmhouse look, go for a skirted fabric attached to a metal rod, and hang it in front of the open shelving below the countertop as a covering. A simple and quick movement of the fabric can expose you to plenty of storage space in the kitchen.
To add some more conventional touches that are Scandinavian inspired, go for a backsplash made of handmade subway tiles in a grid pattern. Compliment the décor with big pots and pans and a touch of yellow around. This helps give your kitchen a classic French meets country farmhouse look.