Home » Dining Room Color Ideas That Are Perfect For an Update
Dining Room Color Ideas That Are Perfect For an Update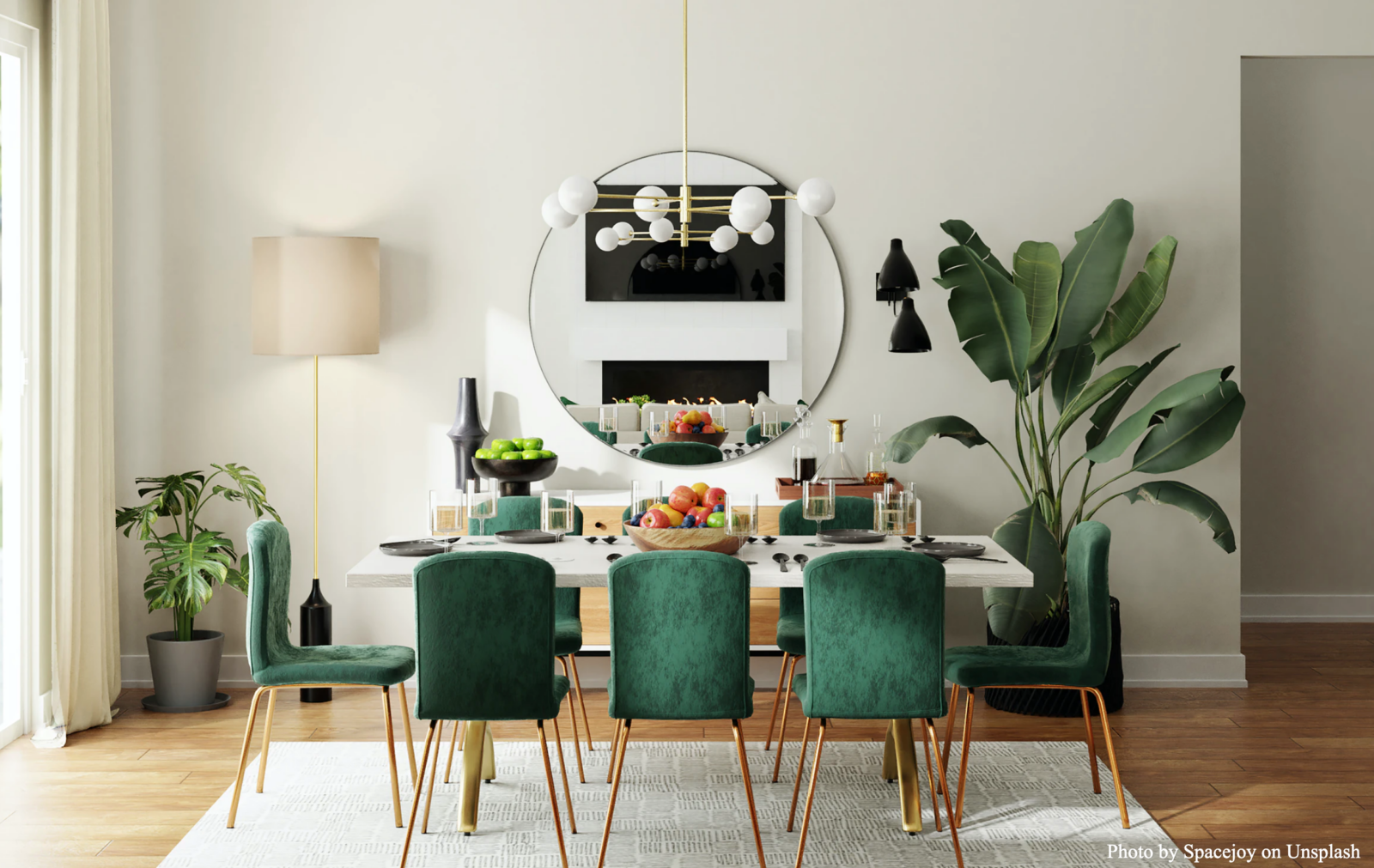 No matter your eating habits, whether you spend too much time in your dining room or not, this room has to be up for the occasion. Besides the decorative elements, dining room color ideas also play a key role in creating a pleasant environment. 
Often central to the house, the dining room is the space homeowners mostly want to be perfect to their taste. Warm and welcoming, a dining room is important to the functionality of your home. Similarly, a well-done dining room design can help elevate the interior of your home.
For all these reasons, the decor of this space must be perfect so that you and the guests you receive feel good here. Although the main focus is often on the furniture in this room, it is possible to create an attractive and appealing atmosphere according to your tastes and desires by playing on the colors.
By playing with colors, light or dark, bright or pastel, you can create an exquisite atmosphere in the dining room. Discover all our tips and ideas for painting the dining room.
Mix Colors to Create Contrast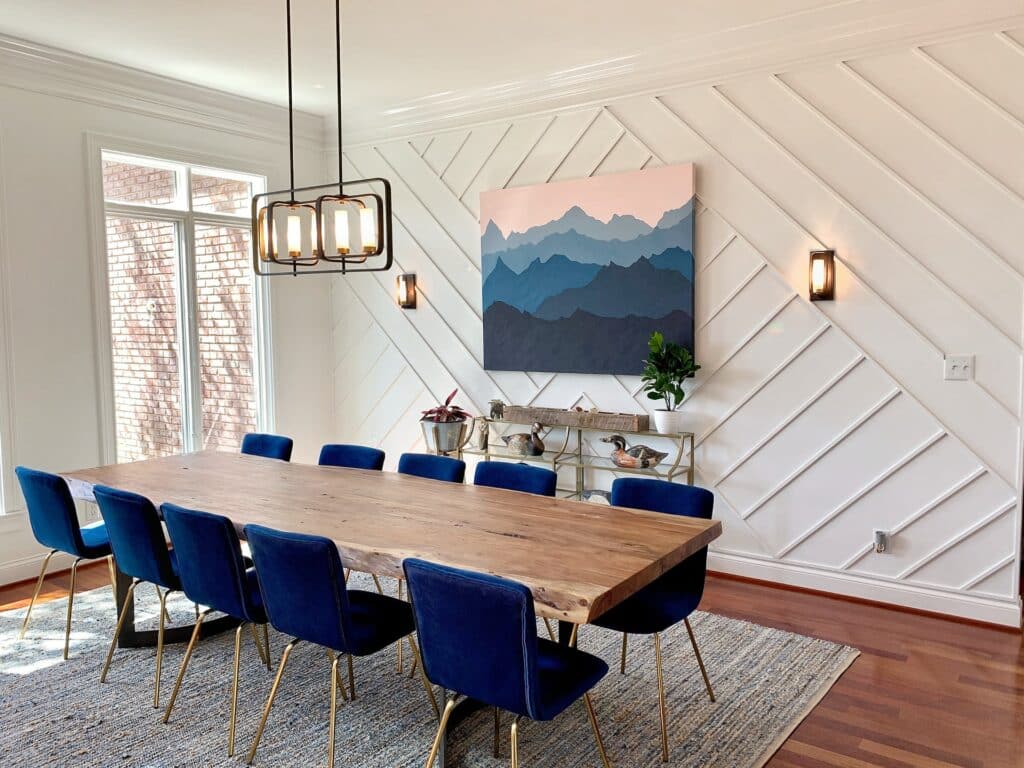 The idea is pretty bold and may not be for everyone. But if you are a person with an adventurous personality, playing with a mix of colors for your dining room decor will suit your taste. By playing with mixed colors, it's possible to create a mix of atmosphere in your dining room. Moreover, slicing spaces using different colors can create very aesthetic visual separations. 
For a cozy touch, you can opt for vibrant yet dark color, like midnight blue. To that, you can mix more light and pastel shades to create a dynamic and open environment with a soothing atmosphere for your dining room.
Warm Tones for a Homely Atmosphere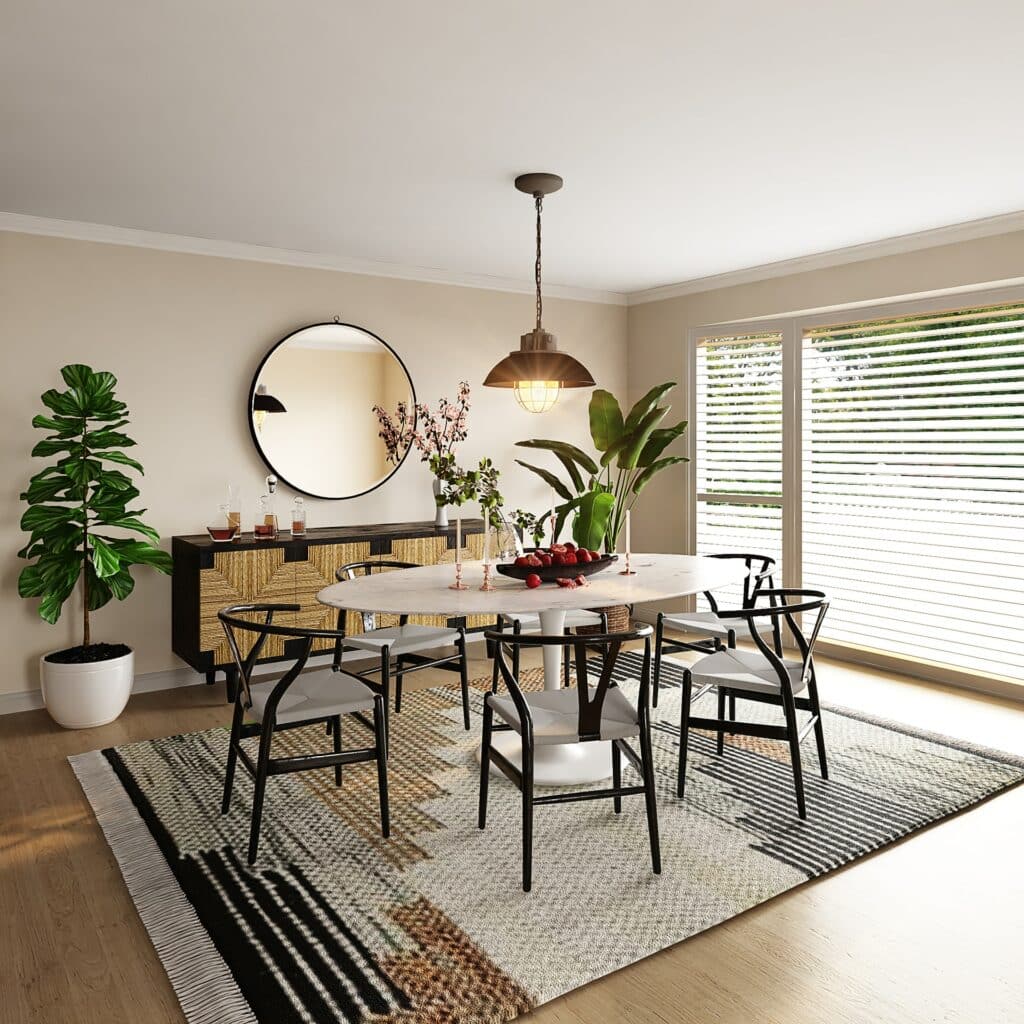 If you want a more serene environment, go with a warm tone. Reddish yellow or mud color create a pleasant and comfortable atmosphere. Moreover, wooden furniture in darker shades combines perfectly with warm tones. One of the trending colors for the dining room is beige, which introduces serenity to the room.
Go With Darker Shades For An Intimate Environment
Going with the same warm shades but in darker tones, you will find color pallets ideal for making your dining room a calm, intimate space that is inviting and welcoming.
Similar to warm shades in a lighter tone, a dining room painted in dark colors like caramel blends perfectly with wooden furniture.
Light Cool Tones For an Environment Full of Freshness
For a room full of freshness and tranquillity, you should paint your dining room with lighter tones. Additionally, if there is a source of natural light in your dining room, the lighter tone will create a glowing environment full of positive vibes. 
Similarly, light green could also be a great choice to create a calm environment. Instead, if there is no natural light source or you prefer a subdued atmosphere, subtle pink hues could be perfect for you. For a dimly lit room, pink shades create a very captivating environment.
Go with Bright Extravagant Shades 
Bright orange or red could be perfect shades for you if you want a vibrant, shiny environment full of vitality. Use them on the wall in front of your dining room entrance to create a sense of spaciousness. Moreover, combine the accent tone with some neutral shades on adjacent walls to create a balanced environment.
Play With Patterns and Colors For a Unique Vibe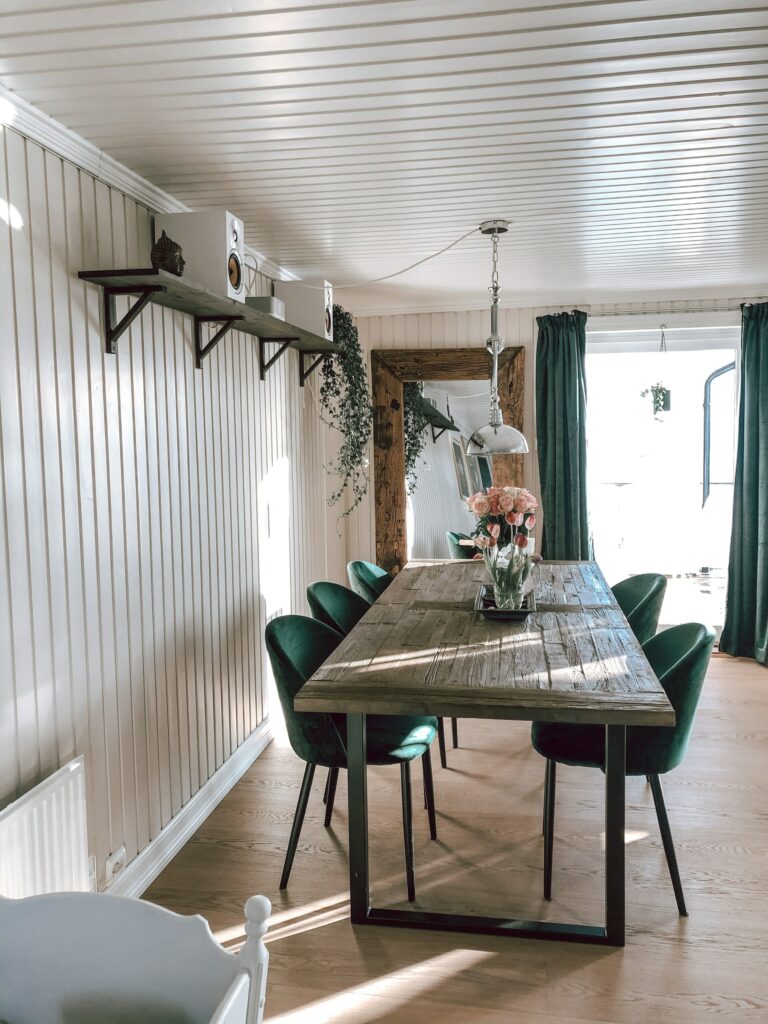 You can also experiment with different patterns to create a unique dining room environment. For example, To highlight contemporary furniture with clean lines, we can draw dark-colored lines to accompany the style of the furniture. 
Likewise, if you have a low ceiling, but you want to create an illusion of high vertical space, you can paint alternating light shades, like alternating light shades, a pearl grey, a pearly pink, a cream white. 
If you want to be more creative, you can even opt for alternating paint and designer wallpaper to create a unique perspective and depth in your dining room. You can even paint the adjacent walls with contrasting paints, like the combination of dark and light, to create a cozy, soothing environment.
Quirky Combination of Colorful Decor Elements
Painting the wall isn't the only way to introduce bright, vibrant, or dark intimate colors in your dining room. You can also go with a quirky combination of colorful decor elements. 
Focus on bright color elements, like blue furniture, yellow chairs, and red tables. To create a perfectly contrasting and decidedly eccentric environment, paint the walls with pure white paint. A truly marvelous combination!
Additional Tips to Enhance the Colors in the Dining Room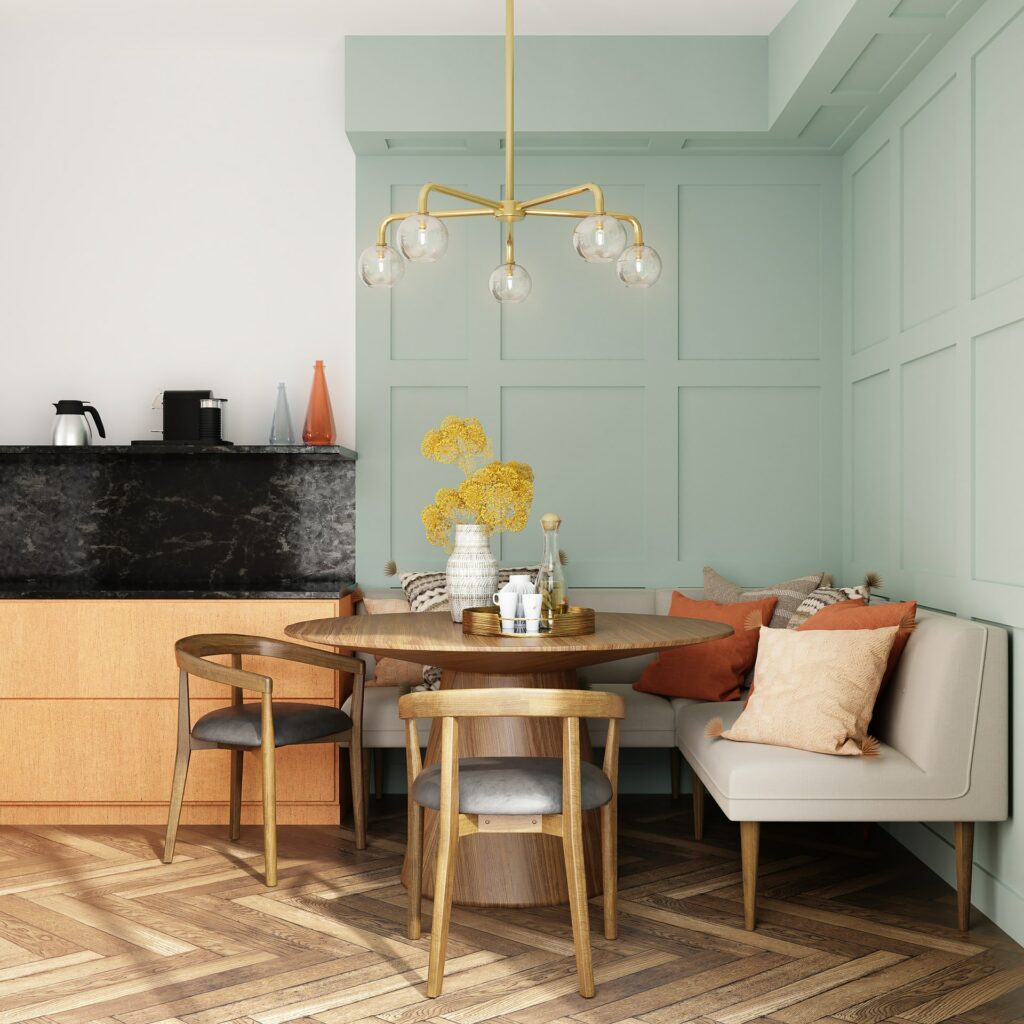 Remember that other decor elements in your dining room should perfectly sync for the visibly appealing dining area. Furniture, decorations, paintings, lighting, everything plays in the atmosphere and colors of the dining room. 
In addition to colors, take into account the following points:
Before you decide on the color, take into account all the elements in your dining room. Everything is essential to work up a color that will perfectly blend in the room. Right from the furniture that is central to the room to the minor elements that are not so in the foreground. All these factors will help you stay away from outdated dining room trends while remodeling your home.
Furthermore, lighting also plays a critical role in enhancing the colors of the dining room. So, take into account the extent of lighting in the room. Focus on both natural and artificial light. Go with higher brightness if you want a more open accentuated space. On the other hand, if you want a more intimate room, choose more subdued lighting.

Moreover, bear in mind the colors in other rooms of the house. While it's not necessary to match the color in your dining room with that of other rooms in the house, related colors will create a flow and uniformity in your home.