Home » Dining Room Design Trends That Will Upgrade Your Space Instantly
Dining Room Design Trends That Will Upgrade Your Space Instantly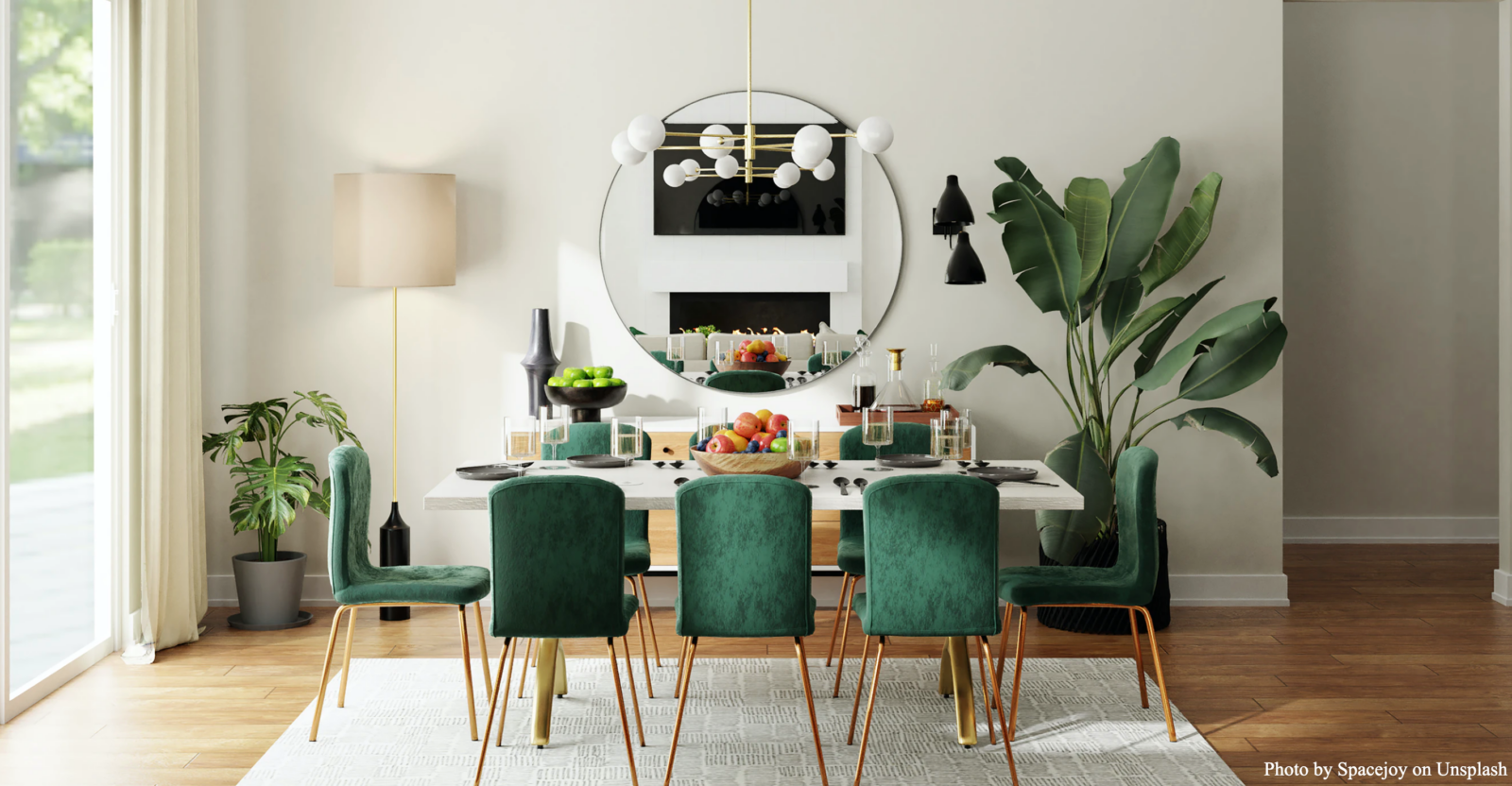 Dining rooms are adopting new colors. A space synonymous with conviviality, the dining room design trends this year are more focussed on the aesthetic choice that makes it stand out with defining appearance, especially in a home with a large living room. Consequently, the space dedicated to dining activities is more marked out, amplifying the environment perhaps with disproportionate suspensions which overhang the table, a wall painting, or a panoramic wallpaper.
Dining room design trends also indicate the return of retro design, tinted with exotic materials such as marble or weathered wood. The dining area tends to be congruent with the living room, advocating a more comfortable arrangement that invites sharing the table for happy meals – be it a lunch, dinner, or a family reunion. 
However, when it comes to dining room design trends, there's quite a bit of confusion. For instance, you want to know where to start, what elements to include, and which design to go with for the most functional furnishing. Finally, to help you in the process, here are the top dining room design trends that you can adopt to create a visually appealing and comfortable dining area.
Pendant Lights Above the Dining Table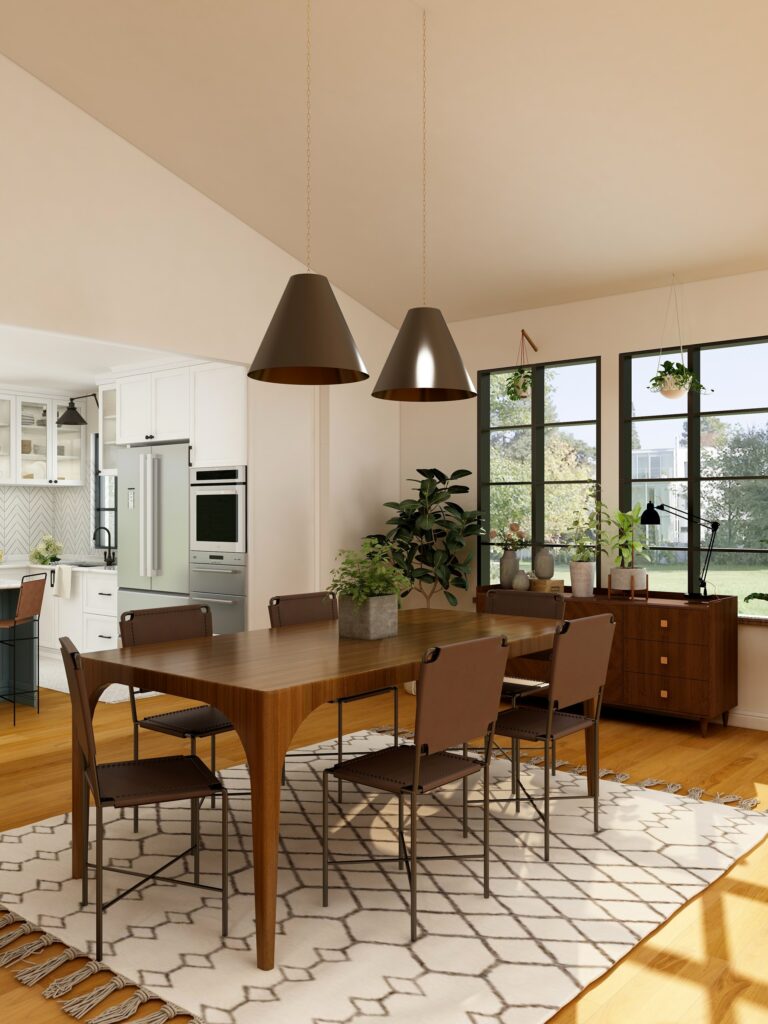 It's not only the furniture that acts as a defining element of a dining room. Several innovative solutions can enhance the overall design of the space. Similarly, overhung pendant lights are trending dining room design ideas.
The exciting and original design of pendant lights is one of the elements that emphasize the dining table. Go for a unique, original design that will be an eye-catcher in the room and instantly grabs attention with its inviting looks.
Rustic Touch In a Modern Dining Room
There is an increasing interest in decorating the dining space with a rustic feel. A solid wood dining table adorns this environment and gives the space a warm touch of originality and comfort. 
The theme is more focussed on natural charm, with a contemporary interior complemented with the addition of a solid wood table of rustic spirit. Additionally, you can install warm glowing lights, a fireplace, and few plants to bring a more natural look.
Mix and Match Different Furniture
Although dining rooms with a uniform environment with perfectly matched furniture were a trend a few years back, this year is witnessing a more revolutionary design trend. 
The uniformity is gone and is replaced with bold combinations of styles, patterns, materials. These decorations combine to create a more interesting and unique dining space that instantly draws attention.
Replace Chairs With Benches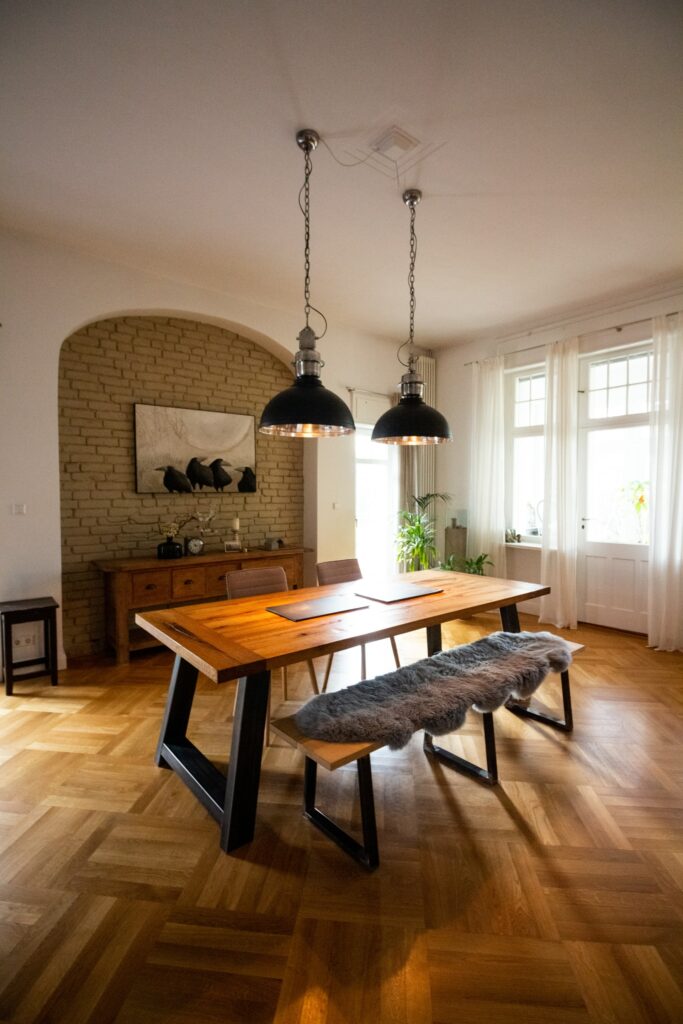 An exotic table surrounded by luxurious and beautiful chairs – it's almost a continuous design trend for the dining room, but this year is different. Homeowners are integrating design solutions that divulge from the ordinary and create a sophisticated and unique atmosphere. 
One such dining room design trend is adding benches in the dining room. It's not only something out of the ordinary, but benches also provide a more practical solution.
Further, they provide enough space for your family and unexpected guests. Additionally, benches are now coming in several designs that depict originality and also offer greater comfort.
A Little More Shine
While a well-lit environment always radiates positive vibes and appears welcoming and cozy, the design trends for the dining room are going one step ahead and moving away from outdated dining room trends.
The latest dining space design integrates more and more reflective surfaces to create a shiny environment. Similarly, furniture with a glossy surface is making an increasing appearance in the dining room. This trend is a great way to modernize your traditional home.
The enchanting glow thus created to liven the mood in the dining room and make meals more enjoyable.
Add Accessories and Decorative Elements
In the past, the focus was more on the furniture of the dining room. Dining tables and chairs comprise the central decor elements in the dining space. However, there is a significant shift in the decor of the dining room. 
Decorative elements are now in a prominent role in the dining room, often adorning imposing characteristics. Picture frames, works of art, flower pots, vases, large mirrors, etc., are now a common sighting in modern dining rooms. 
Often placed on the side table, oversized decorations with their larger dimensions add a chic and impressive touch to the space.
Focus on Inclusiveness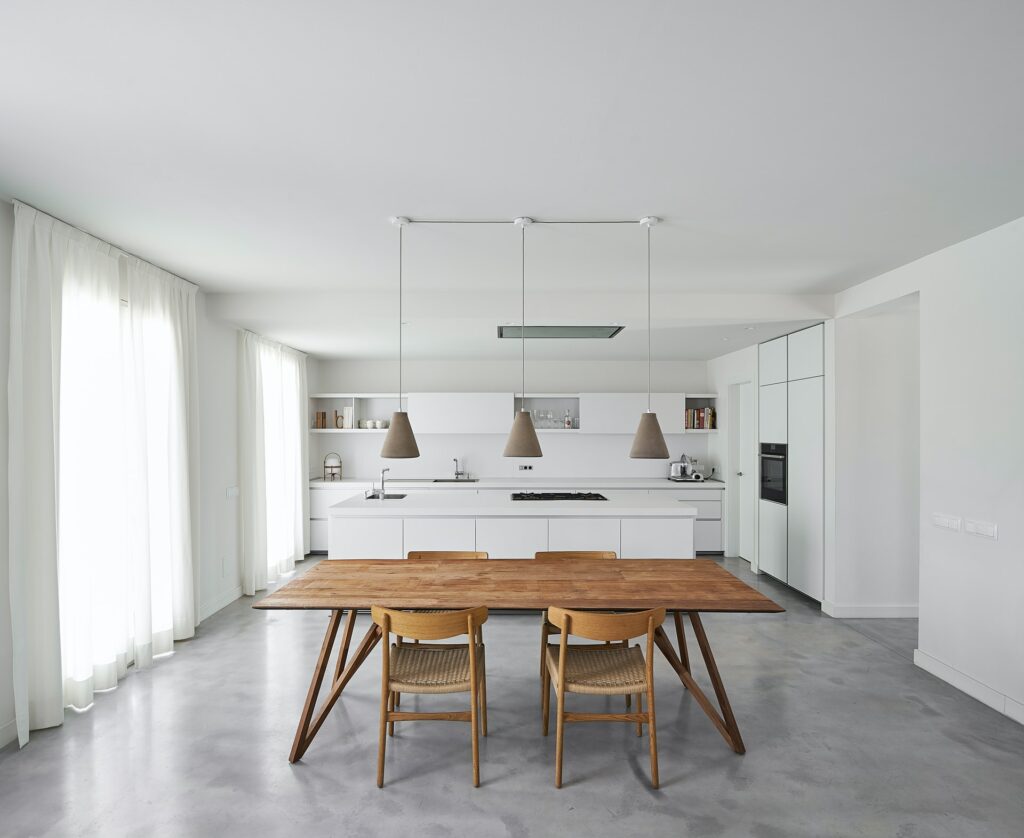 People are giving more thought to home design more than ever. The central idea is to have a welcoming and comfortable space to enjoy lovely days with family members and extend the hospital to friends and colleagues. 
The same idea is also influencing the design of the dining space. One popular trend is accommodating as many chairs as possible around a larger table for extended seating arrangements. Adding this gives you the space for late-night dinner parties with friends and family reunions.
Bring Nature Inside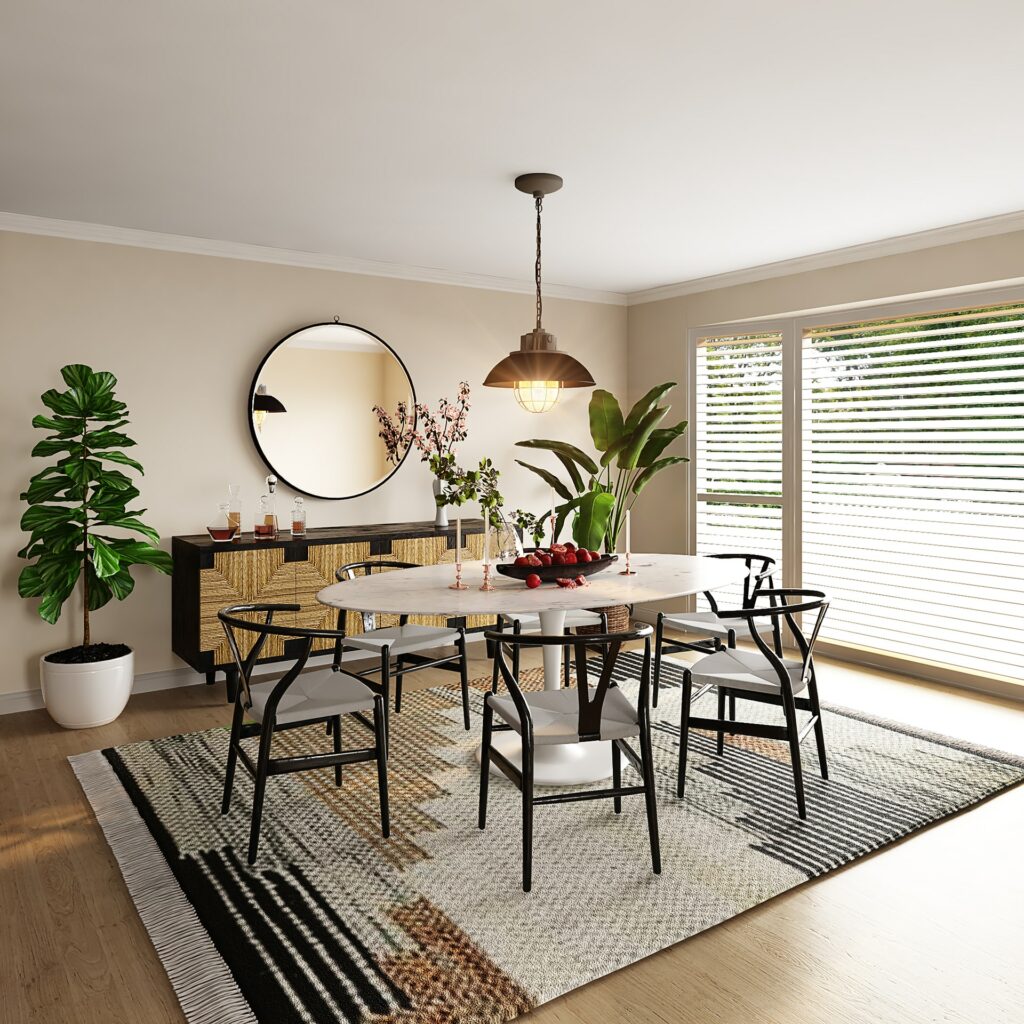 One of the latest dining room design trends that can be seen everywhere is the inclusion of plants. Admittedly, they always have a special place in the house because they provide filtered air, bring freshness, distinctiveness, and an irreplaceable vibe into the whole space.
We are sure that houseplants will still be one of the most likable dining room design trends. However, don't limit yourself to one lonely pot plant on the side. Instead, place as many plants as possible and make this easy home decor change.
Interestingly, you can put Cacti or small succulents to make fascinating dining table decorations. Similarly, you can go for plants with variegated and multicolored leaves, such as sansevierias, begonias, or striking dragon plants.