Home » How to Design a Gender-Neutral Nursery For Your Kids' Room
How to Design a Gender-Neutral Nursery For Your Kids' Room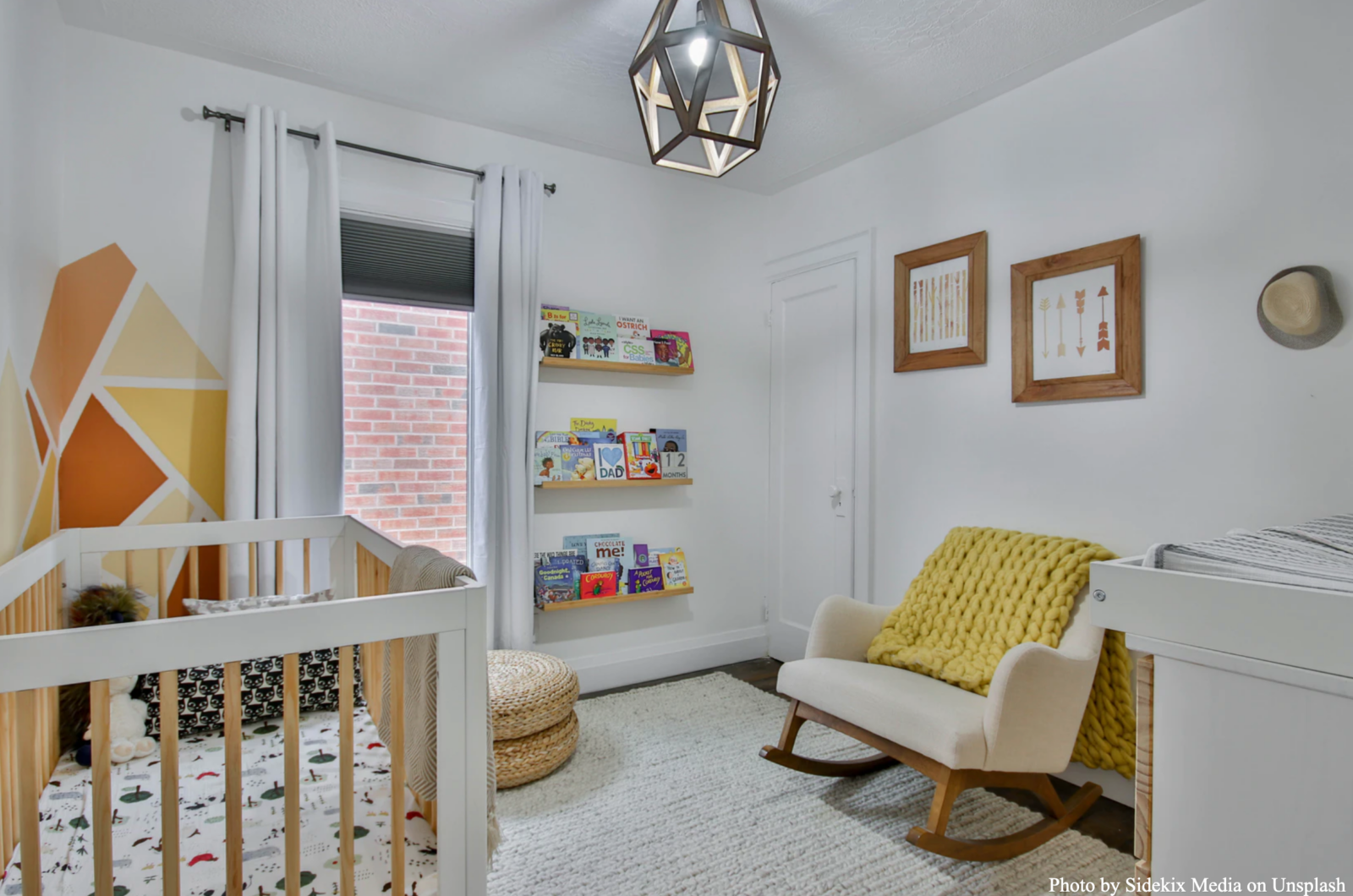 Your decision to design a gender-neutral nursery is a wonderful choice for your home decor. Whether you want to add a touch of modernity, create a shared room, or keep your fingers crossed for a big day surprise, a gender-neutral nursery is the way to go.
Neutral nurseries have never been more desirable, as they are both stylish and versatile for your kids' bedroom decor. Gone are the days when everything was flowery pink or clear blue; today's gender-neutral nursery is clean, vibrant, and stunning, with a winning combination of Boho charm and top-notch functionality.
Do you want to know how to design a gender-neutral nursery? With these helpful hints, you can design a fashionable and gender-neutral nursery for your baby!
Add Yellow for a Bright Color Scheme 
Yellow must be your hue of choice if you want to give your baby's space a vibrant look. Yellow is a color that adds cheerful notes without the harmful UV rays, and it has profound psychological advantages. 
When you're learning how to design a gender-neutral nursery, the first step is to incorporate this shade into areas where the infant will be paying the most attention. It can be a ceiling-mounted lighting concept for the bedroom, a chair or cushion for nursing, or a gallery wall at a comfortable height for them.
Use Stencils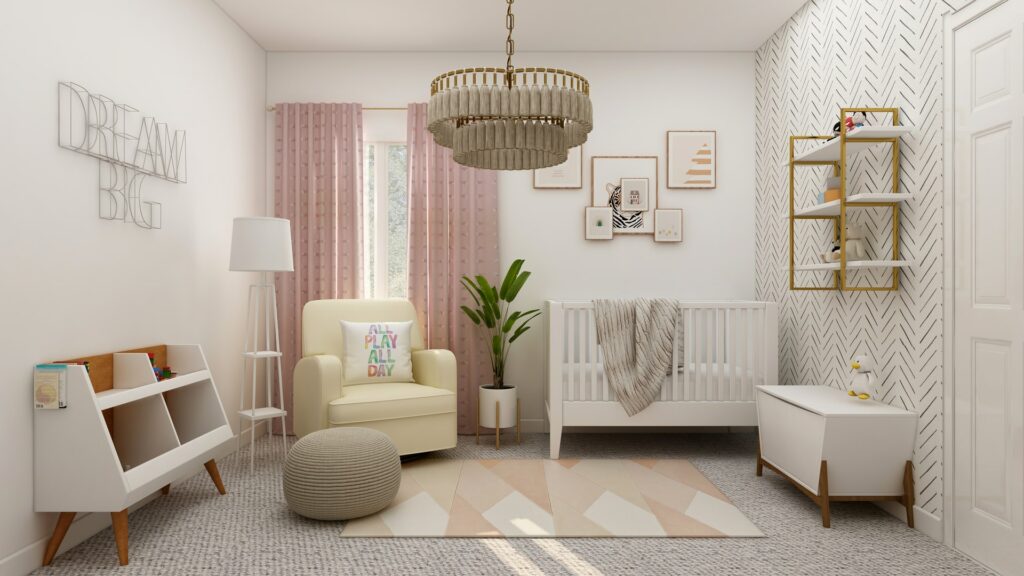 Another way you can learn how to design a gender-neutral nursery is by using stencils. They are a terrific technique to draw the eye to your new baby's nursery wall decor if you want to create a setting that is as distinctive as they are.
This paint technique can add a color burst to a small child's bedroom design from tree trunks to meadow blooms, striking lettering or farm animals. Make a focal wall on the nearside of the crib with all-over stenciling, or focus solely on a single area when they wake up in the middle of the night.
There are many different finishes to choose from when choosing your paint type. While glow-in-the-dark paint can keep your infant entertained in the early hours of the morning, chalky paint will give vintage elegance and textural contrast for them to feel. 
Revive With Rainbow Details
We've got you covered whether you've busted your wallet on a massive order of nappies from Amazon or pricey nursing supplies. You can now design a brand-new bedroom on a bargain by picking a rainbow color scheme. However, you'll want to utilize color carefully in this scheme because it's extremely busy. If you go too far, you'll end up with a scheme that not even Willy Wonka wants to be a part of.
Furthermore, keeping up with the candy theme, a few soft furnishings strewn around can help create a sugary atmosphere for your little munchkin. A vibrant rug may give instant impact to this area and is both affordable and sound-proof. Alternatively, create a temporary seating area with bright beanbags and unusual footstools.
Add Neutrals
Gone are the times when the only hues available for a nursery were adorable pink or sailor blue. Grays, pastels, and browns are the new neutrals that go with any gender or neutral color scheme. 
While it's tempting to begin with white, a gray nursery is more stylish and versatile when it comes to layering various colors and textures. It goes well with almost any color, and bright hues really stand out against a gray background. 
Furthermore, ensure that all of your primary furniture components (such as the crib, dresser, glider, and so on) are in gender-neutral colors. You'll reward yourself afterward for choosing your largest items neutral, whether you choose pristine white, natural wood, timeless black, or anything unique. However, if you want to add a splash of pink or blue down the road, you can always switch out cushions, linens, and decorations, but remember, furniture is more permanent.
Include Wall Murals
A wall mural is an excellent way to spice up a nursery. This style is also quite simple to create; all you need is some masking tape and some paint. Just use masking tape to form maybe a mountain outline and paint in between the lines — it's that simple, and you can use any colors you want.
Bring The Outdoors In
Are you still hunting for a gender-neutral nursery design concept? Take a look outside! Nothing soothes the spirit like a little bit of nature. You'll build a space your young one will appreciate whether you get your creativity at the beach, in the hills, or under the canopy of a tropical rainforest.
A modern forest nursery will exude warmth and coziness, enticing your pint-sized outdoor wanderer to curl up, get cozy, and stay awhile. You can also add in a stunning black and white birch-print wallpaper with rich, earthy textures and a few fluffy forest pals to complete the bedroom remodel.
Embrace The Dark 
While a darker tone may appear out of place in a baby's room, it actually works well in a gender-neutral nursery. Deeper walls produce a comfortable, cocooning atmosphere, which is ideal for a room with a sleeping newborn. 
Consequently, a dark wallpaper also provides a stunning backdrop for artwork, hangings, and furniture. If you're going to go for this bold look, be sure to incorporate flashes of white throughout to keep it from feeling too dark. Another advantage is that you can keep it if the room is converted to a playroom, spare bedroom, or office.
Play With Pattern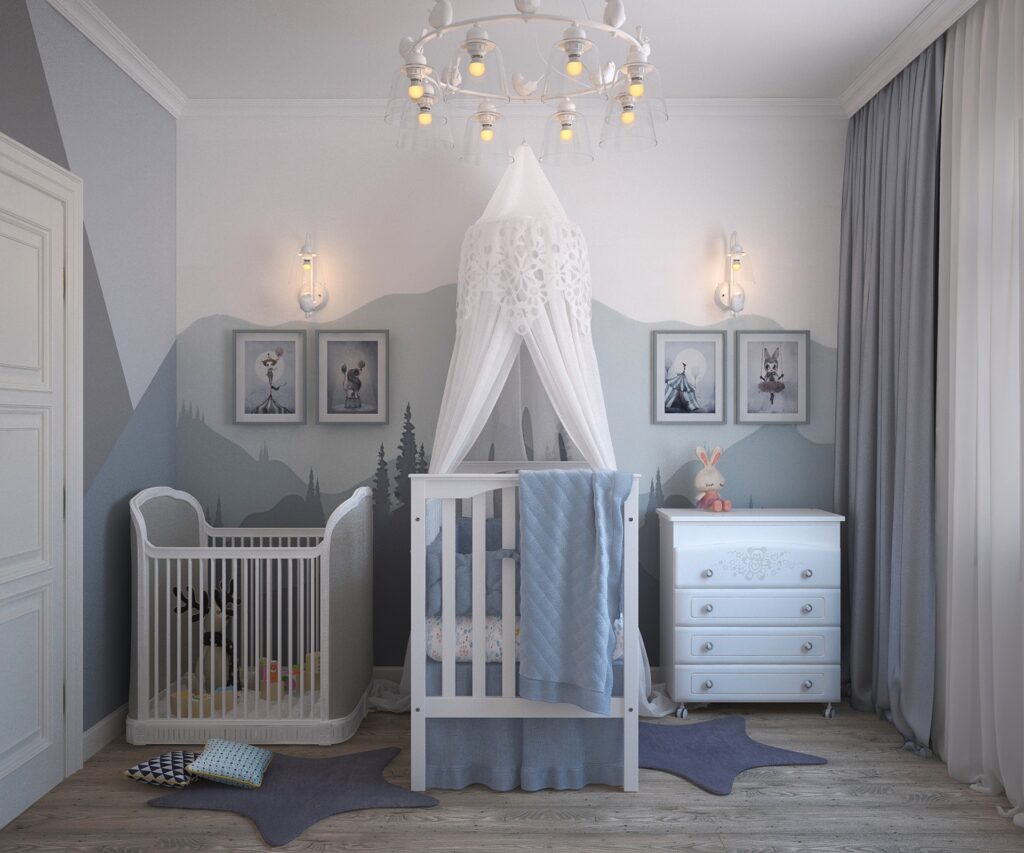 When it comes to patterns, a gender-neutral nursery has plenty of options. Here, the print's scale is one of the main considerations. 
In a baby's room, the size and shape of the patterns convey distinct moods. For example, when figuring out how to design a gender-neutral nursery, small-scale patterns feel a little calmer, smoother, giving the place a relaxing aura. Whereas the larger the scale, it creates a more bold and dramatic statement, allowing positive stimulus to enter their minds. 
A looser-scale pattern makes it easier to incorporate other prints, whereas a tighter-scale variant is often the focus of attention, carefully combined with solid colors and textures. If you're hesitant to use a pattern, consult with a remodeling contractor. You can easily start with one wall or a ceiling and build it up from there.