Home » 10 Tips For Choosing Bathroom Lighting During A Remodel
10 Tips For Choosing Bathroom Lighting During A Remodel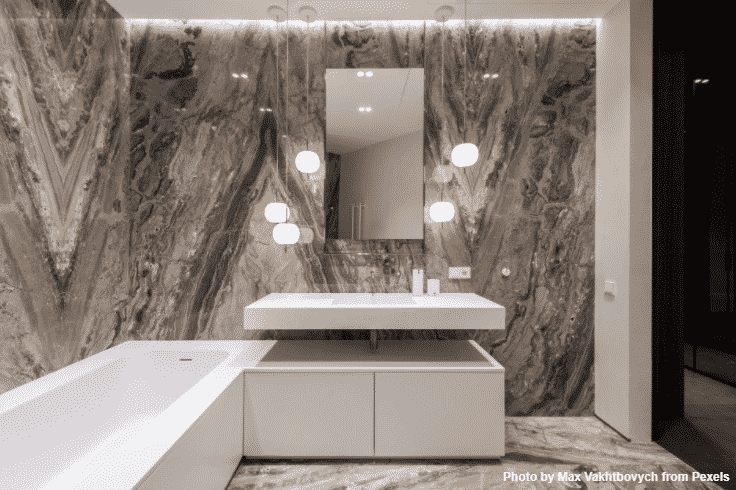 An ordinary LED bulb or a chic pendant light at the center of the ceiling? Do such light sources often come to your mind while choosing bathroom lighting? Irrespective of how you pack your bathroom and its size, the process of choosing bathroom lighting is overwhelming. 
Be it the vanity, your master bathtub, floating sink, or a separate bathing section, merely regular lightning isn't enough, and you'll need to think further. It is also necessary for your bathroom lighting ideas to go hand-in-hand with the overall style of the space.
Below listed are the best ideas for choosing bathroom lighting that'll accentuate the aesthetics of your space and add to your home's improvement. 
Mend a Pair of Wall Sconces Above the Vanity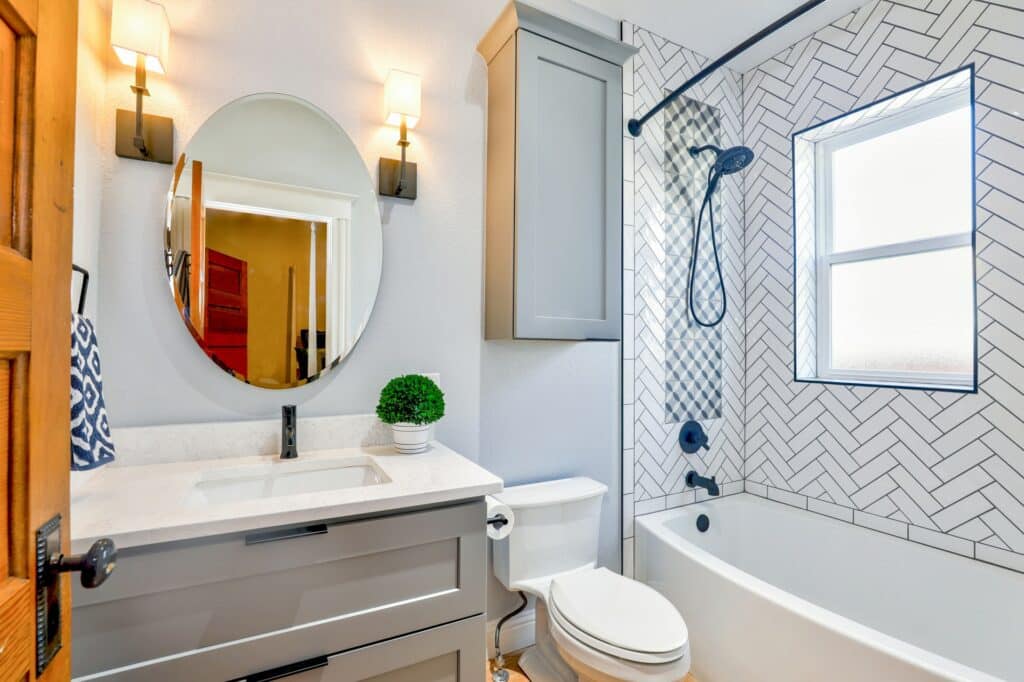 Usually mended either upwards or downwards, wall sconces are something you can't miss out while choosing bathroom lighting. The best advantage of using sconces as bathroom vanity lights is that there is no need to worry about the space as they are mounted on walls. 
They are also suitable for almost every element, like the mirror, vanity, etc. Talking about vanity, you can fix a pair of sconces on either side of the mirror to get ample light and a luxurious bathroom design. 
Similarly, you can pick any style (Leslie, Forum, Dambey, etc.) and size of sconces you want to personalize your bathroom space. One thing you'd remember is that you should always go for a pair of sconces to avoid shadows on your face. 
Use Cool Pendant Lights and Make a Statement
If your bathroom has access to sufficient natural light or you don't need any direct lighting from the sconces, pendant lights are a better option. If you want to light up your bathroom that is devoid of natural light, you can also affix a secondary light source on the ceiling in the form of a pendant light. 
In all cases, pendant lights should appear on your bathroom remodeling checklist while choosing bathroom lighting. To know about their brilliance, switch on the pendant lights at night and observe how they deliver striking silhouettes with a touch of drama and character. 
Pendant lights are available in a plethora of shapes, styles, and colors, thus making them ideal for many bathroom designs and styles
Choose Bathroom Lighting Following the Bathroom Finish
Though the light elements may not match your bathroom finish, interior designers feel otherwise. 
If you're planning to adjust multiple lighting sources in your bathroom, maintaining unity among them and the bathroom can do wonders. For instance, if your bathroom has a classic look and feel, go for lighting that matches the same. In such cases, choosing modern and chic lighting isn't the right direction to take.
Don't Forget to Light up Your Bathtub Area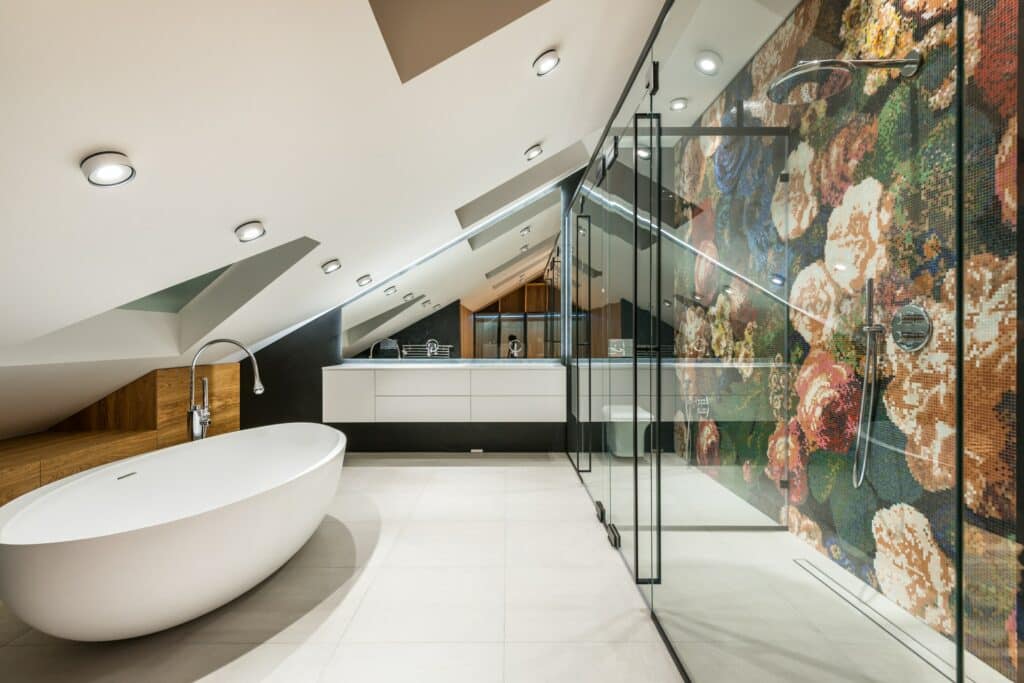 It's a common myth that the bathtub area doesn't require its separate lighting and gets enough light from the bathroom's central lighting. 
Your bathtub is the most crucial part of the bathroom that deserves separate lighting from sconces. It's because a soothing atmosphere is difficult to achieve from just an overhead light source. 
Hence, fix either a pair of sconces or an extended sconce around the tap area of the bathtub. This is another tip that you can use while choosing bathroom lighting. 
Choose Proper Light Finishes
Just choosing the bathroom lighting isn't enough to deck up the bathroom. The finish of the lighting fixtures is another aspect of bathroom lighting you must cater to. For example, brass and chrome are the two most versatile options you can go with as they add a new character to your bathroom design
There are two advantages of brass and chrome. First, both the materials are resistant to moisture, and second, both brass and chrome can blend into your other bathroom accessories.
What About the Accent Lighting?
If your bathroom is decently sized and constitutes multiple elements, you can use accent lighting to highlight each of them uniquely. accent lighting will lend your bathroom a spa-like feel with soothing and glamorous light.
There are mainly four types of accent lighting, and these are specular, hard, soft, and diffused. Each of them finds suitability around various elements and locations inside and outside one's homes such as at entrances, above textured walls etc.
To come up with the ideal placement plan for accent lighting, brainstorming with your remodeling company near you is a good decision to avoid making bathroom remodeling mistakes.
Install Dimmers in Your Bathroom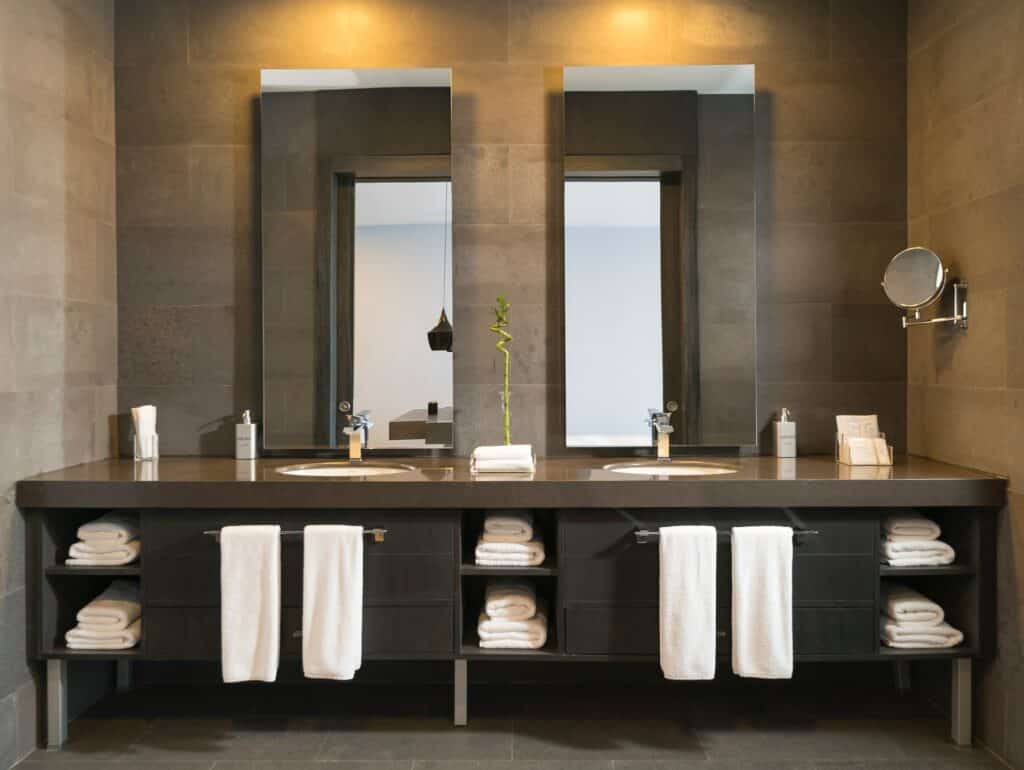 Dimmer in a bathroom? Yes, you may have installed one in the bedroom, living room, kitchen, garage but overlooked the bathroom. Dimmers allow you to control the feel and radiance of the room they are fitted in. 
Hence, having one in the bathroom is a fruitful decision to prevent assaulting your eyes from high radiance, especially at night. Plus, bathing in a bathtub gives a whole new experience around a dimmer.
Choose the Right Bulbs
If you don't want to go too stylish or are not comfortable with the modular lights, go for simple light bulb styles. Coming to the options that you can choose from, there are mainly two to choose from.
There are longer-lasting halogen bulbs, but they are a bit expensive. If the cost is your priority, you can go with LED bulbs. They are inexpensive, longer-lasting, power-efficient, and emit cool light. 
Additionally, LED bulbs don't get affected by the humidity during winters and are robust in build. 
A Mix of Accent Lighting and Sconces
You may not get this tip for choosing bathroom lighting quite often, yet it's unique and worth giving a try.
Around the vanity region, you can also opt to incorporate a mix of accent lighting and sconces. Both these light sources will emit sufficient lights and light up the entire area under consideration. 
Concentrate on the Light Quality
The shade and tone of the bathroom lighting is an essential aspect of choosing bathroom lighting. If you plan to live in your current home when you're older, remember that as the body ages,, you will require at least 3-4 times the lighting as you need now
Along with the wattage of the light sources, the lumens and color temperature of the light also come into the picture. In terms of color temperature, always choose warm temperature lighting.
This is because the warm temperature lighting is flattering, reduces shadows, hides blemishes, and doesn't assault the eyes. On the other hand, the illumination with blue-white color leads to shadow build-up, assaults the eyes, and doesn't hide blemishes. Hence, focus on the light quality and color temperature while choosing bathroom lighting.