Home » Flooring Options and Cost For Your Home
Flooring Options and Cost For Your Home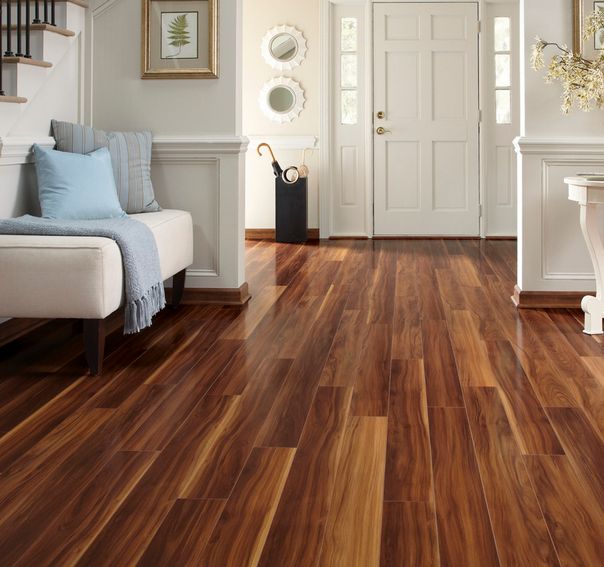 The flooring you choose for your house defines your style and perspective. It's one of those exceptional aspects of a home that sets the mood within and conveys your taste in décor.
But how are you supposed to choose the right flooring for your home? With the flood of flooring material flowing through the design world, it's a tough task to choose any one. Let's help you to foolproof your choice by familiarizing you with all the details.
But first, let's talk numbers. As per a study, the average cost of new floor installation falls between $6 to $10 per square foot. With the growing penchant for flooring, homeowners are known to spend anywhere between $3 to $18 per square foot – all depending on the type of material. As per data, the cost of flooring, including the installation in a living room of 330 square feet, can be between $1,660 and $4,620.
Materials You Can Choose
There is a plethora of flooring materials available in the market that you can pick from. Hardwood, laminate, vinyl, linoleum, tile, and carpet are a few options.
The right choice of material depends mostly on the room. For instance, kitchens and bathrooms are best done in porcelain tile, whereas the best flooring for the basement is vinyl.
 Factors to Consider While Choosing a Flooring Material
You need to consider a few factors before deciding your flooring layout.
Make sure that you choose a floor that adds to the value of your home, even if you have to pay extra for it. Resale value is something you can't take for granted.
Your choice must align your lifestyle. Tile is an excellent choice for those living in coastal areas or a warm climate. Similarly, Vinyl and linoleum may not add to the resale value of your home – even though they are quick fixes if you just want to display your house to buyers.
Cost of the material. Don't stress a lot on this, especially if it means compromising the durability of your flooring.
Let's explore some of the most popular flooring materials available in 2020, and what it would cost for you to get them in your home.
1.     Cork Floors
Warmth and comfort are the terms that come to mind at the mention of cork. Beautiful and warm, cork is a highly environmentally friendly option used for varied design purposes. The material is entirely natural and replenishable.
Cork comes in a variety of patterns and hues that can be made to mimic wood grain or marble. Morever, Cork is exceptionally comfortable on your feet and holds heat well, unlike tile or vinyl. It is also well-known for absorbing sound. It's a low maintenance material, wherein scratches and dents simply disappear into the pattern of the floor.
However, the material stains easily with oil and the likes. Hence, it isn't a great option for the kitchen. Moreover, it must be sealed after every 5 to 8 years to keep it waterproof.
The Cost Factor
The average cost of cork flooring can run between $2 to $12 per square foot, depending on the quality of the material. The installation cost falls anywhere between $1 to $2 per square foot.
2.     Laminate Flooring
Made from wooden waste, laminate flooring is an attractive, easy-to-install, and durable alternative to high costing hardwood or tile floors for your home.
Besides, the installation cost of a laminate floor is less than the installation cost of engineered or solid wood. Since it utilizes the waste products of trees, it makes an excellent choice for eco-friendly flooring, too.
Since laminate is composed of wood, the material is rendered very durable. Additionally, it is scratch and moisture resistant, other than being easy to maintain. All you need is a damp mop to clean the floor and that's all,
On the downside, once damaged, it can't be repaired and must be replaced. Besides, it doesn't add any substantial resale value to your home as compared to hardwood flooring. Low-quality laminate often has artificial-looking wood grain texture, which is a big put off for many homebuyers. Laminate may also swell when exposed to moisture, especially if not sealed properly.
The Cost Factor
The cost of laminate flooring installation falls between $6 and $9 per square foot. The labor cost to install the flooring comes down to $34/hour, with the contractor's fee ranging anywhere between 15% to 20% of the total cost.
3.     Pebblestone Flooring
If you're looking to add a creative edge to your home, pebble stone tiles are just for you.
Go for a single color or different hues within the same square foot, and you get a whole new world right within your home! The smooth round shape can bring an organic element to your décor, creating a considerable impact.
Pebblestone tile flooring is an unusual choice for a living room and often spotted in bathrooms and courtyards, but with a little imagination may be used in other spaces as well.
A mosaic border can bring to life an entrance hall or home office. These can be sighted on the stairwell in typically stylish homes. The tiles juxtapose well against your home décor, where the contrasting colors gel beautifully with the surroundings and highlight the other elements in the room.
The flooring doesn't cost much to install too. It is slip-resistant in texture and makes for a beautiful finish, especially ones that come in different colors. Also, the flooring is super comfortable with a massaging effect on your feet.
On the downside, pebble floors are a high maintenance job, and you need to be extra careful while cleaning to prevent the grout from coming off. The floor needs frequent repairs that add to the cost in the long run. Though the floor is easy to install, it may need high expertise to perfect the finish to prevent the floor from rotting.
The Cost Factor
The pebble tiles will cost you anywhere between $4.00 to $9.00 per square foot, including installation.
4.     Ceramic Tile Flooring
Ceramic tiles are a group of hard tiles made from pressed and fired clay. They can be further classified as either soft and porous terracotta tiles, or hard porcelain tiles that are composed of clays and fired under extremely high temperatures.
The tile's hardness and imperviousness to water render it a perfect material for flooring, right from the kitchen to bedroom. The tiles can be fabricated with any given color, pattern, design or texture. Use them to mimic hardwood, marble, metal, glass, leather, and cork. The tile is often used in bathrooms, kitchens, mudrooms besides other traffic areas. They are non-allergenic too, and are available in an array of designs.
However, ceramic tiles are not recommended in frost zones as they tend to get very cold in winters. Besides, they can get tough underfoot. Installation is difficult and time-consuming.
The Cost Factor
The average cost of ceramic floor tiles ranges between $1 to $3 per square foot with $5 a square foot to install.
5.     Glass Floors
Glass floors can be the complete and exclusive attention seekers at your home!
Take, for instance, Mosaic glass tiles. Not only are they uber stylish and sophisticated, but they are also easy to maintain. Made from extra hard reinforced glass, they are attached to a mesh mount backing for easy installation. Since the glass can be printed on in any hue, these tiles are available in diverse patterns. You can even use glass pieces embedded in the mortar to make murals!
Mosaic glass flooring is exceptionally durable. The floors are moisture and stain-resistant and let you know that it's time to clean them by showing the dust quickly. They aren't porous –freeing you from grime sinking into the tile. Other than this, glass floors lend a visual spaciousness to the room. It's possible to fill the entire floor space with stunning light effects.
On the downside, they are prone to scratches that may make them lose their aesthetic façade. Although glass tile is quite durable, it may crack if you drop something heavy on it. The repair can be super expensive.
The Cost Factor
The cost of mosaic glass tiles ranges from $12 to $26 per square foot with installation cost falling between $3-$30 per square foot.