Home » Durable Options for Kitchen Flooring For Your Next Remodel
Durable Options for Kitchen Flooring For Your Next Remodel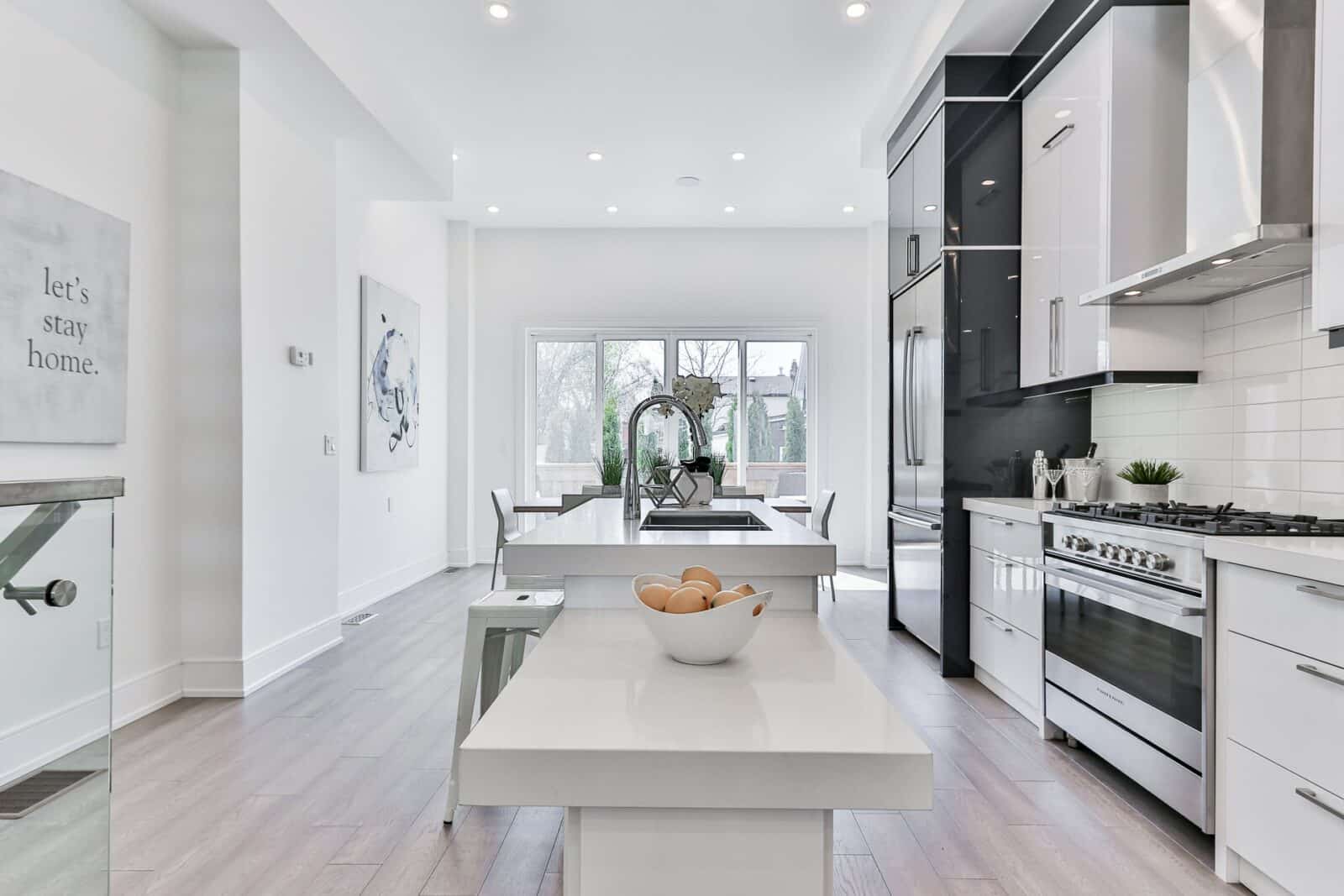 If you spend too much time in your kitchen or are just searching for a new home improvement project, updating your kitchen flooring might be a great option. With so many durable options for kitchen flooring now available, deciding which one is ideal for your home and lifestyle will involve a few calculations. 
Besides, when selecting a kitchen floor, you should consider how much footfall it will get, whether you have kids or pets, and, of course, your budget plan. It can also be helpful to browse in person to get an up-close glance before committing to a specific type of flooring. Before we get into further details, let's look at a few kitchen flooring considerations. 
Factors To Consider When Choosing Durable Options For Kitchen Flooring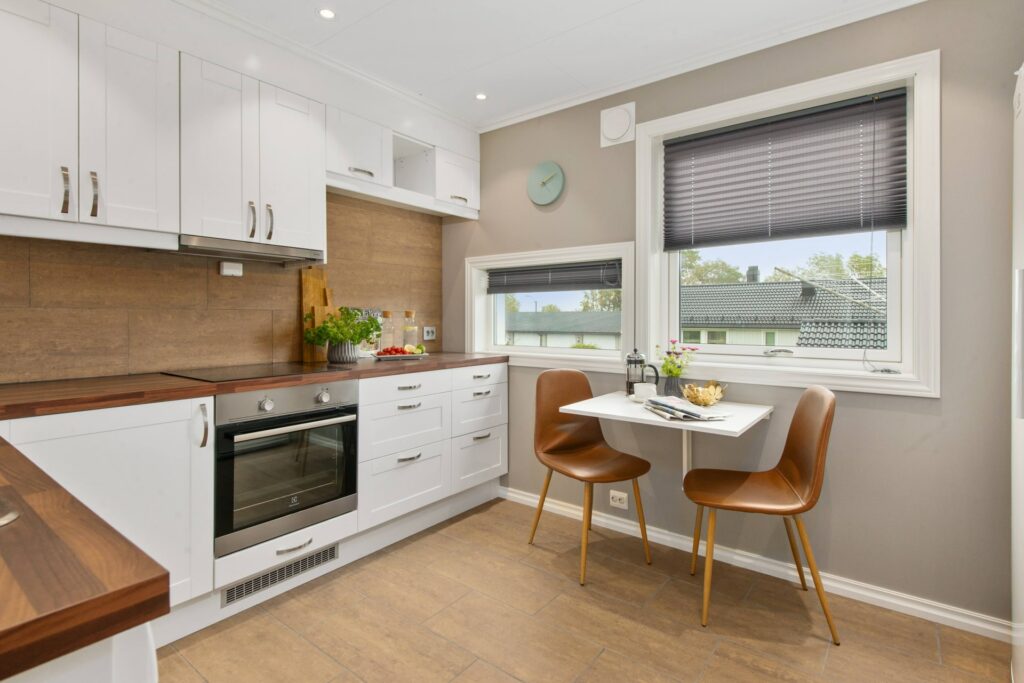 Durability 
One of the first things you can think about when selecting the perfect flooring for your kitchen is durability. Homes with kids and pets are likely to see more wear and tear than houses without them, so a flooring style that won't hold many stains or scratches might be ideal.
Furthermore, it should not require more cleaning than you are capable of or willing to undertake. For example, if you use grout with tile flooring that isn't sealed, it can become dingy over time and require extra cleaning. 
Moreover, it might not be ideal for a family that's constantly on the go or can't spare the time for deep cleaning.
Budget
It would help if you made decisions that are within your financial means when undertaking any home improvement project. Flooring, like many improvements, is an expense that you should not cut corners on. However, if the flooring cost has you pushing dimes too far, it's probably not the best kitchen flooring option for you right now.
If you want to save money on durable options for kitchen flooring, look into DIY options. It will save you money on installation expenses that arise from working with a licensed professional.
Engineered hardwood and vinyl are two common DIY kitchen flooring options that fall on the higher and lower end of the price spectrum, respectively.
Types of Kitchen Floorings 
Linoleum and Vinyl
Linoleum and vinyl are standard and durable options for kitchen flooring because they are the cheapest to buy and install. They are often available as sheets or tiles for DIY projects. 
They both cost around $2 to $6 per square foot, including installation. Top-of-the-line vinyl is just as pricey as other hardwood and stone flooring. 
Both flooring styles can withstand moisture. They are easy to wash and come in several colors and patterns to complement the look of your home. 
You can install most luxury vinyl floors as floating floors, as well as peel and stick flooring. It is also among the easiest forms of flooring to install.
Linoleum comes in several styles and colors, is comfortable to walk on, and resists fading from direct exposure to sunlight. It is more durable than vinyl, and mostly it can last up to 40 years.
On the contrary, Linoleum and vinyl are prone to cracking and scratching quickly, making them an unattractive alternative in the long haul if your kitchen sees a lot of heavy traffic. 
Tile Flooring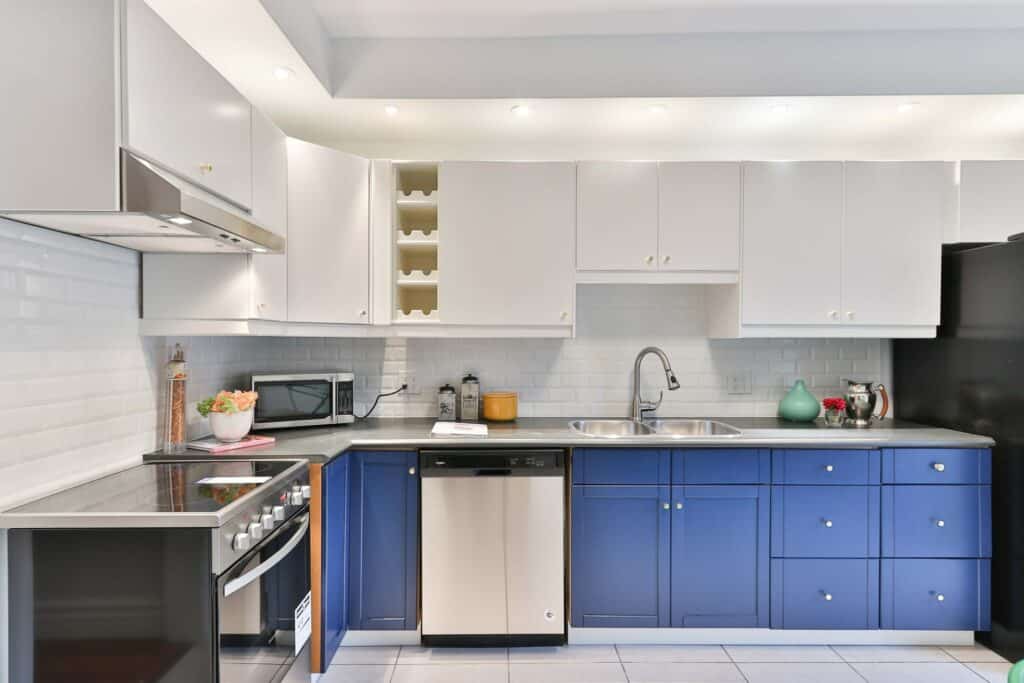 Porcelain tile is known for its stain resistance and longevity, making it an excellent option if you have children or pets who track footprints or contribute to spillage regularly. 
It also holds up well against moisture and is much less pricey than stone tiles made of materials like slate. Porcelain tiles usually cost between $3 and $10 per square foot, while slate costs between $5 and $15 per square foot, according to HomeAdvisor.
On the flip side, porcelain is more costly than ceramic tile. When wet, most porcelain and glazed ceramic tiles become slippery, and many tiles are tough, making falls extremely painful.
It is uncomfortable to stand for long periods on tile because it is cold underfoot. If you spend more time in the kitchen daily, this may become an impractical option over time.
Installation is also a bit of an inconvenience. You can install Porcelain tiles yourself, but it takes time, involves more supplies than the typical homeowner has on hand (such as a saw to cut tile), and requires grout as a final phase.
Engineered Hardwood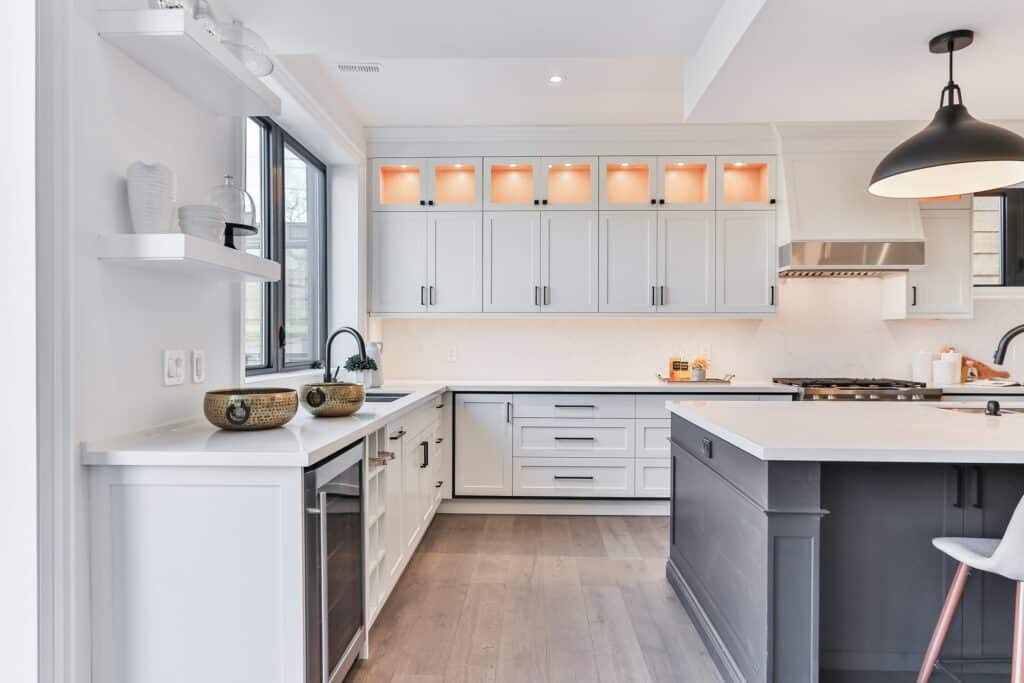 If you like the appearance of wood floors in your house, engineered hardwood planks are a better option for kitchens than solid hardwood. Why? Because it can withstand moisture better. 
This style of flooring has a similar appearance to solid hardwood but is much easier to set up yourself. You can even install it as a floating floor, which is an excellent choice if you don't want to glue boards to a wooden or concrete subfloor.
Engineered wood kitchen flooring is extremely durable and easy to clean. According to Old House Journal, it can last somewhere between 20 to 70 years, depending on the thickness of the planks. Unfortunately, engineered hardwood is the most costly of the many durable options for kitchen flooring.
Cork Flooring
Since you can harvest it without destroying the tree, cork flooring is eco-friendly and sustainable. Cork floors are the best flooring option for those with small children because they have a softer surface than others. They are also slip-resistant and mold repellent, reducing the health risks associated with mold, such as respiratory diseases. 
However, cork can scratch and dent quickly under heavyweight, and you need to reseal it every few years. Once you seal them, cork floors won't stain easily, making them suitable for areas like kitchens where accidents are frequent. 
Cork floors cost anywhere between $4 – $11 per square foot (including installation). This makes it one of the most inexpensive options for your kitchen flooring. You can also install cork as a floating floor, preferably under the surface, such as plywood. Most homeowners can even execute the task in two days.
Make The Right Kitchen Flooring Choice
Bearing all of this knowledge in mind can assist you in making the best kitchen flooring option for your kitchen remodeling. When weighing your choices, don't forget to think about how often you will use the kitchen.
Who will be standing and working on the floors? How much humidity your floors will be exposed to, your installation process, and your budget. Once you have all the answers, you can pick the perfect option for your kitchen floors from the various materials mentioned above.