Home » What Color Paint Goes With Brown Granite?
What Color Paint Goes With Brown Granite?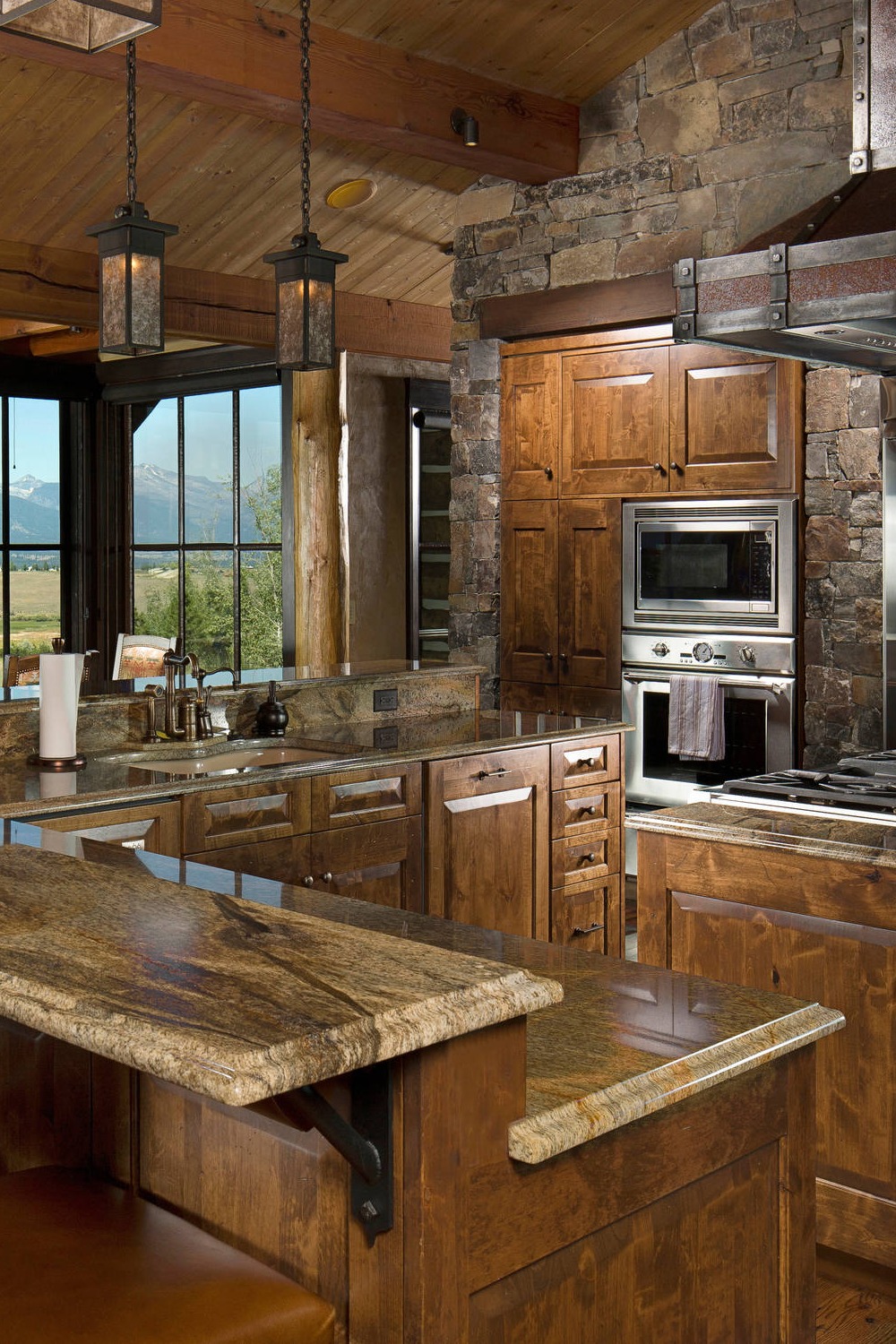 Rocky Mountain Homes
Most people consider brown granite to be a traditional go-to when it comes to their countertops. So what color paint goes with brown granite? Various colors including white, tan, blue, beige, yellow, red, crimson, and even grey complement the former and boost the aesthetics of your home.
Although brown granite countertops have a contemporary, earthy aesthetic, they may restrict the surrounding area's complementing color scheme. So how to carefully paint the walls not to overshadow the granite? Are there other ways to improve the granite look? 
Read on to discover the best color combinations you can use to enhance the look of brown granite in your home.
What Color Paint Goes With Brown Granite?
Brown granite countertops are distinctive from one another. Consequently, each exhibits a unique color gradient. This implies that brown granite accents and countertops go well with various paint colors and accessories. The following are some of the most remarkable hues you may utilize to highlight your brown granite:
Creams:
Utilizing creams and whites in your house can give it a brighter feel. These hues will reflect both daylight and artificial light, so you can count on them to provide dimly lit areas with more warmth. 
Creams also tend to enlarge the appearance of a space, giving your kitchen, restroom, or basement a more prominent appearance than they are.
Both creams and whites complement the inherent depth of brown granite when compared to one another. This implies that you may depend on your brown granite to provide your visitors with a break from their eyes while the creams proceed to let light into your preferred place.
Dark Shades:
If you do not shy away from experimenting with your interiors, this one's for you. Black paint color adds a moody touch to your interiors. Top interior designer, Mary Patton, also advises the same. 
However, you need to tread your path carefully. Pairing black paint with brown countertops can also make your interiors too dark. As such add a touch of brightness by making a few additions such as a light-colored rug or chic pendant lighting. 
Reds and Burgundies:
On the color wheel, brown and red are related to one another. Brown granite is adaptable, and as a result, an area may be revitalized by the mix of red and brown.
When you decorate your walls a bold crimson or deep burgundy, the brown granite on your countertops seems instantly warmer. You'll therefore construct a setting in your chosen space that mirrors that feeling of familiarity and ease.
Grey:
Having grey paint color on your walls is an excellent idea to incorporate if you are wondering what color paint goes with brown granite. Grey and brown may not seem to go together however, the cool undertones of the granite allows a harmonious mix of the two. 
You can pair this combination up with light cabinetry and mixed stone backsplash to add to your home's looks.
Pastel Blues:
Pairing lighter blues with brownstone has two benefits. They, like whites, keep attracting light through space, enhancing the impression of natural light on your visitors. They also reduce heat in an area. 
While browns inherently warm a distance, especially when combined with reds or oranges, a light blue may help your room seem serene and stylish.
It's not intended for light blues to be overpowering. These hues can blend into a room's backdrop, enabling you to attract attention to the granite described above or other accents you've arranged. 
Because of this, light blue is the perfect paint color to pair with brown granite for a space that is already rather crowded.
Light Yellows:
Similar to cream, yellow is an excellent hue for increasing the amount of light in your chosen space. This hue allows the granite in your area to speak the loudest when matched with brown granite. 
In other words, yellow accentuates the elegance of brown granite, highlighting the stone's subtleties while bringing a splash of individuality to your chosen setting.
Always check your yellow paint against any ambient light in your house. Some artificial lighting sources may turn a light yellow into a more orange-like hue. 
The interaction between your lighting and paint is entirely up to you, but a few test panels may help you avoid choosing a color scheme you'll regret.
Classic White:
When asked what color paint goes with brown granite, top designers had this answer – classic white! 
Yes, what other than the most versatile color of the spectrum. Creamy, classic white paint excellently compliments brown granite without stealing its thunder. It brings out the warmth of granite and seamlessly creates coherence in your space. 
If you are looking to incorporate minimal, and clean look, you have found your color that will also add to your home's improvement.
Matching Browns:
Our final pick is a brown-on-brown idea. Going all brown can be fun. It creates a humble uniformity within the space while exuding warmth and excellent elegance.
If you are looking for a safe paint color to go with brown granite, this is your best choice without being too boring!
You are entirely free to select the color you want to go with your brown granite. You may use personal taste to design your home, resulting in spaces that showcase your inner interests and sense of style. The ideas given above would help you figure out what color paint goes with brown granite the best.
The colors mentioned above can alter the mood of your house, give the appearance of a bigger space, and create a visual feast for your family and visitors to enjoy.