We completed our remodeling project in half the expected time, which was ONE MONTH!
The secret to such a fast remodeling project?
Simple, we opted to hire a general contractor instead of DIYing!
Minor DIY projects do not require professional supervision, but a major renovation calls for some extra help. A general contractor can assist you in every aspect, from designing the layout to the final installation. They ensure the job is done efficiently, correctly, and on time.
With a contractor, you need not worry about supplies, raw materials, equipment, and other necessities. In short, contractors turn your home remodeling process seamless, making it stress-free and memorable. 
Read on to find out!
Who can be Qualified as a General Contractor?
A certified general contractor should have a license, which differs based on the county, state, or city you reside in. Some of the key documents that a general contractor must own include:
Required 

permits

Personal liability insurance

Property damage coverage

Workers' 

compensation
Most certified remodeling companies usually employ contractors with good experience and specific expertise. In addition, you should look for their relevant experience in the field. To better understand, you can also check reviews by other customers on their past jobs. 
Services Offered by a General Contractor
General contractors usually bring a wide range of skills to the table, such as painting, roofing, plumbing, flooring, drywall, fencing, etc. Some contractors have specialized expertise in kitchen and bathroom remodeling or woodwork. Overall, contractors are responsible for providing the materials and equipment and managing labor efficiently.
Besides the regular construction or remodeling job, some of the other crucial responsibilities of general contractors include:
Estimating project cost + providing the client with a quote

Hiring subcontractors for specialized jobs

Overseeing every phase of the Project Management

Obtaining building permits and licenses

Coordinating with suppliers

Processing bills 

Adhere to health and safety standards 
Tips for Hiring a Contractor
You can't just look up a contractor online and hire him. Before you zero in on the most suitable person, you need to vet whether they are right for the job or not. There are chances that you might end up with an inefficient team if you do not thoroughly evaluate your contractor. But the bigger question is — how to get there? 
Well, if you follow these simple tips, we are sure you'll land a trusted and certified contractor who will ensure that your home improvement process is in safe hands. 
Get Recommendations
It is natural to be confused if it's your first time renovating your home. You can start by taking suggestions from friends and family on their experience with renovation. In the process, you can also get the contacts of trusted contractors they have worked with earlier.
If you don't get enough help, you may consider checking in with the National Association of the Remodeling Industry (NARI) for a list of members in your locality. It's a well-known organization that provides reliable information.
Do Phone Interviews
Once you have a list in hand, you can start calling every prospect to discuss your plan and figure out their availability. You can also ask them other relevant questions like, if they're willing to provide financial references from banks or suppliers, if they'll be handling several projects at the same time, if they hire subcontractors, their charges, and so on. Clarify all your doubts and queries before you hire them.
Meet Face to Face
After gathering information from all the prospects, you can narrow down 3-4 contractors and meet them in person to discuss estimates. While you meet them, make sure you communicate your requirements and preferences precisely, so there's no hitch later. You can also let the visitors inspect your home to give you an estimated quote.  
Get Multiple Estimates
Get estimates from all the shortlisted prospects and pick the one that seems most feasible to you. Compare each estimate based on the cost of building materials, methodologies, duration, labor charges, and other factors. Be cautious of estimates that are too high or too low. Also, check the prices of raw materials online to ensure they're quoting the correct prices.
Investigate the Facts / Check Their Past Records
Don't let personality fool you! Contractors are trained professionals and more often than not, they tend to be confident and amiable. But that doesn't mean you'll believe everything they say. Before you hire any contractor, check with your local Better Business Bureau or your state's consumer protection agency to learn their work history. Make sure they don't have any past record of disputes with clients or subcontractors.
Check Their Insurance and Bonding
When you decide to hire someone, always ask for a certificate of insurance (COI). The document must contain the insurance company's name, policy number, and policy limits. You can also contact the insurance company for verification and confirm if the policy is still in effect. Never do business with a contractor who doesn't carry insurance coverage. You may be liable for all the damage if an accident occurs on your property.
Set a Payment Schedule
Get it ready ahead of time. Don't wait to prepare a payment schedule after hiring a contractor. Payment schedules speak for a contractor's financial status and work ethic. In cases where they ask for half the bid in advance, the reason could be that they're going through a financial crunch, or they're unsure if you'd pay the full amount after you've seen the work.
For large-scale projects, a schedule mostly starts with 10% at the time of signing the contract, three payments of 25% evenly spaced over the duration of the project and a check for the final 15% after project completion.
Get Everything in Writing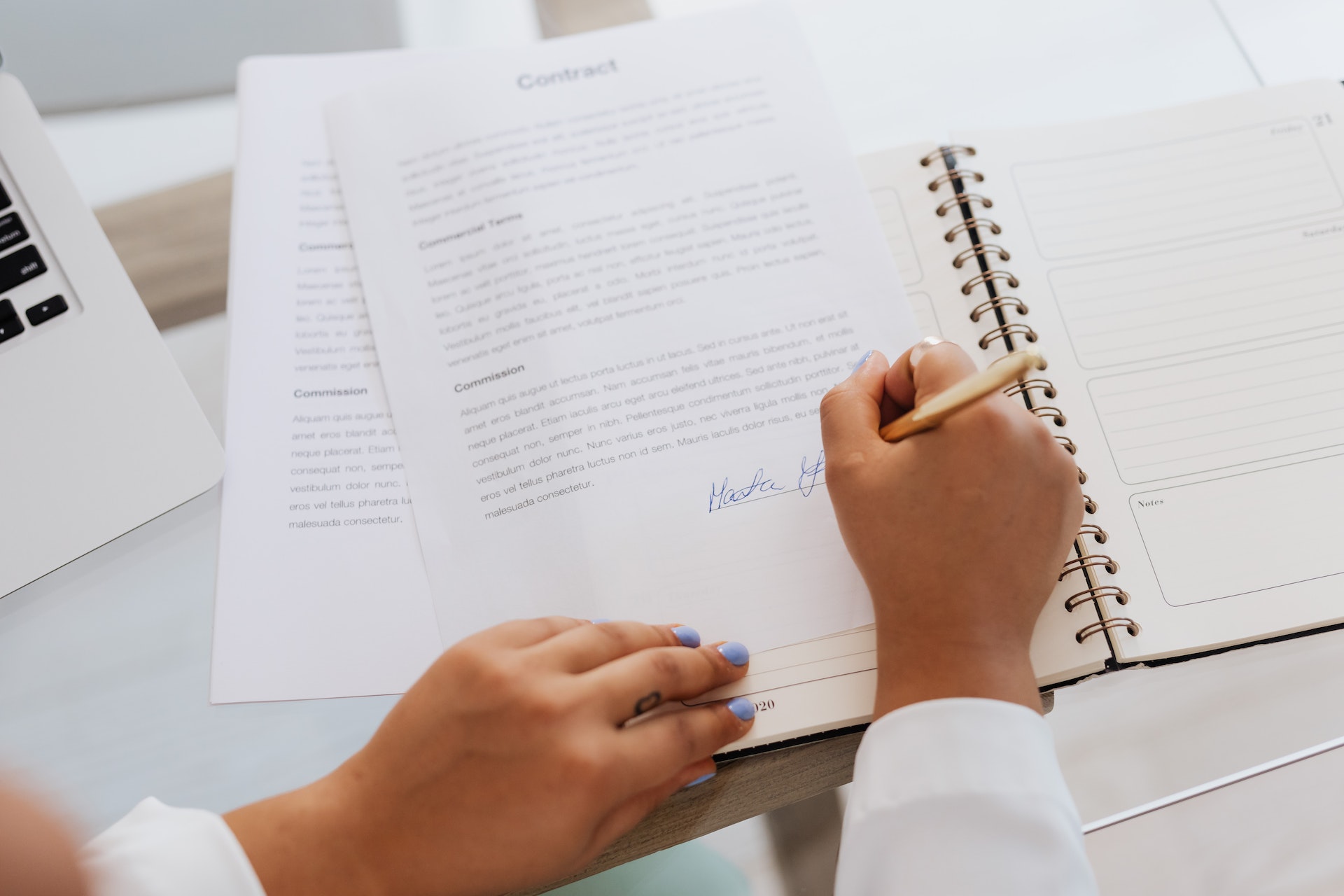 Secure a detailed contract that includes everything, from the payment schedule to proof of insurance to the completion date. Go through every pointer to make sure you understand all the conditions. Any applicable guarantees should be written into the contract in clear terms. When in doubt, have a lawyer review the proposed agreement to learn if the project involves substantial costs.
Both parties should sign the contract, and if there are any changes, all parties must acknowledge them in writing. If you decide to cancel a signed contract, you must follow the cancellation clause and mail a written notification of the cancellation to the concerned party. Lastly, never sign any document that contains blank sections.
Keep a Job File
Organize all the supporting documents along with the contract in a prescribed folder. This includes any change orders, bills, canceled checks, insurance certificates, and other information.
Questions to Ask a General Contractor 
When selecting your contractor, you would be looking for someone who can complete the project efficiently with a satisfactory result. You won't have to worry about future repairs or alterations if the job is done right the first time. So, it is vital that you're both on the same page right from the initial stage. When meeting with potential contractors, here are a few questions you can ask. 
Are you insured and bonded?

Do you have the experience of working on a similar project?

Do you have the necessary permits or licenses?

Could you give us a list of references or previous clients?

How long has your company been in business?

How long have you worked with your subcontractors? 

How much would you quote for this project?

How long will it take your team to complete the project?

Where do you get your supplies from?
You can always add more to this list, depending on your queries related to the project
Payment Options
Along with getting a quote, also discuss your payment options with your contractor before they start their work. There are no industry standards on pricing options. But whatever the price, it's recommended that you pay via check or a credit card. This way, you have the payment record, which will come in handy if or when there's a discrepancy.
Down payments, however, can be an exception. Know the law of your state when it comes to the limits on down payments. You can raise a complaint if your contractor asks for an amount higher than the limit.