Home » Before and After Bathroom Projects For Your Home Remodel
Before and After Bathroom Projects For Your Home Remodel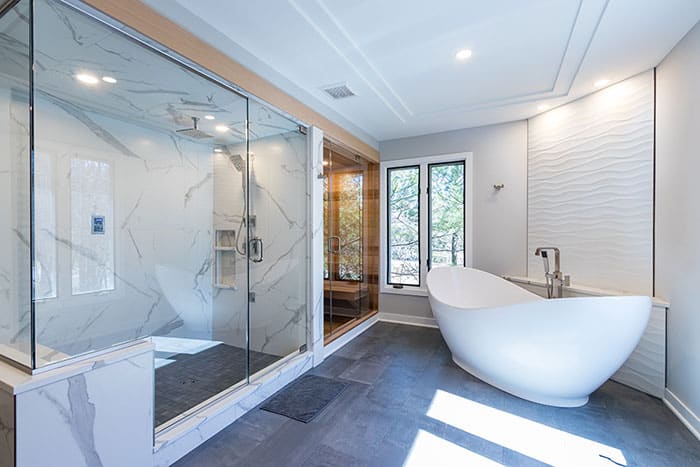 Ready to remodel your bathroom? Or not quite? Every remodeler needs a nudge in the right direction for bathroom projects. Remodeling your bathroom is a big decision. Choosing what to remodel, how to go about it and tens of other questions pop up. However, a little inspiration can go a long way.
Nothing inspires the willingness to act more than hearing about other success stories. Hence, we've curated a list of before and after bathroom projects to help you get started with the bathroom remodel of your dreams.
1.    The Right Placement
Image Source: Sweeten
This particular bathroom remodel is a testament to the fact that natural light plays a huge role in your bathroom space. The alignment of the shower after the remodel allows for more light to pass through — changing the way the bathroom looks.
Similarly, the white tiles, along with the concrete sink give it just the right amount of contrast and edge.
Key Takeaway: Even if you have limited natural light coming in, use it to your advantage. Play with the layout of your bathroom to maximize the benefit. Stick to a white theme to make the bathroom appear bigger and brighter.
2.    Simplicity is Essential
Image Source: HGTV Canada
You don't always have to opt for a full remodel to give your bathroom a new look. Sometimes, a fresh coat of paint and small changes can do just the job for your bathroom project. If you're low on budget and still want to revamp your bathroom, nothing beats a good paint job.
Key Takeaway: Consider adding items like frames and other kitschy elements to your bathroom as well. This lends a certain character to the bathroom space and breathes new life into it.
3.    A Contemporary Remodel
Image Source: HGTV Canada
How to take a space from drab to fab for your bathroom project? This is how you do it.
As you can see, the bathroom was in need of urgent repairs. Structural repairs aside, it also needed a major overhaul in terms of design.
The newly remodeled bathroom boasts a uniform wall with no wooden furnishings. The grey floor-to-ceiling paint gives it a clean and contemporary look. Along with the walls, the black tiles add to its sleek and modern charm.
Key Takeaway: If you want to open up any space, remove all the distractions. The wooden finish gives the appearance wall being split in two — making it appear much smaller than it is. On the contrary, the grey wall opens up the bathroom space considerably.
4.    A New Vanity
Image Source:  remodelaholic.com
A vanity is pretty much the focal point in every bathroom. So, when it comes to choosing your vanity, make sure you give it enough thought. Just like it was done here.
The homeowners replaced their sink with a double-sink vanity. Not only does it increase the storage capacity of the bathroom, but it also avoids the usual morning rush hour race to the sink.
Key Takeaway: When choosing fixtures for your bathroom, consider the value they add. Aesthetics matter, but the practicality matters even more. You need to figure out how a particular fixture will add value to your daily life after the remodeling is done.
5.    Storage Solutions
Image Source: HGTV Canada
The homeowners did a stellar job in converting an old and dreary bathroom space into a modern and chic one. What's worth noting is that they paid attention to one critical aspect: Storage.
Many homeowners tend to overlook the importance of storage. Here, they incorporated it seamlessly into the design. Instead of opting for cabinets, they went with open shelving. Besides adding a unique touch, open shelves tend to expand the bathroom space and works well for storing bath essentials too.
Key Takeaway: Don't overlook the importance of storage in your bathroom project. Also, don't restrict yourself to just bathroom cabinets. Being creative with storage can be the thing that separates your bathroom from the rest. For instance, open shelves are a great idea, especially if you're working with a small bathroom.
6.    Open up The Bathroom
Image Source: HGTV Canada
In this bathroom project, the difference between a boxed up bathroom and an open bathroom is clear as night and day. The homeowners have replaced the curtained bath space with a more spacious shower cubicle.
The mosaic tiles and the light also add a rustic yet modern charm to the bathroom space. By opening up the bathroom, the remodelers have made the most of the square footage available to them. Hence, this idea works especially well in guest bathrooms.
Key Takeaway: By removing the tub and creating a shower space, you are making the most of the bathroom space. You can also create a dedicated frameless shower space, as pictured here.
7.    Add Some Color
Image Source: Studio DIY
Bathrooms don't always have to be monotone. If you love colors, you will love what the the homeowners did to this bathroom. They took an old and dreary bathroom and made it their own.
The emerald green tiles in the shower cubicle and pink tiles in the dry area give the bathroom a much needed 'pop'. The contrasting colors and tastefully done interiors are what make this remodeling project a bright hit.
Key Takeaway: Colors are not your enemies. You can experiment with your style and incorporate it easily with your new bathroom.
In Conclusion
We love renovating bathrooms. However, we also need inspiration sometimes. We hope these before and after bathroom remodels have done just that. When you remodel your bathroom, you have many things to consider. Be sure to modify these ideas as per your liking.
Remember: In a bathroom remodel, everything from storage, tiles, layout, decor, and even window placement matters. An attention to detail will go a long way in adding personality to yours as well.
As such, these remodeling projects are a step in the right direction for your remodeling mood board, and will help you with curating the right look for your own remodel.