Your kitchen is arguably among the most important room in your home. So, it goes without saying that it's crucial to keep the kitchen functional at all times too.
If your kitchen is in for some repairs or has been very cluttered lately – you are looking at a kitchen remodel. Whether you're looking for a minor remodel or a complete overhaul of your kitchen, there are countless design ideas waiting for you.
Browsing these ideas can be a bit daunting for some. This is why we have curated some stunning before and after kitchen projects for you to get inspired by and find the right direction for your kitchen.
1.    Remove Unnecessary Obstacles
Before                                                                                                        After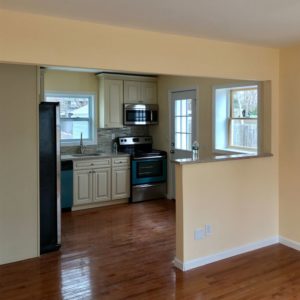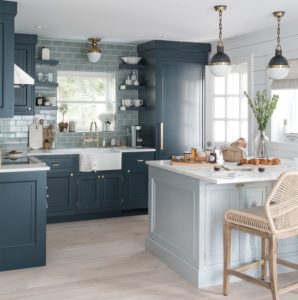 Image Source: Bright Bazaar
The barrier between the kitchen and the living space makes the kitchen feel smaller than it actually is. The 'after' picture is enough proof that removal of these unnecessary barriers can open up any space.
The homeowners added a breakfast nook to make the space more functional, and some industrial pendant lighting to add an extra source of lighting. The darker wood flooring was also replaced with something much lighter, adding to the openness of the space.
Key Takeaway: Something as small as a partial wall can have a significant impact on the space of your kitchen. Opening up your kitchen, and allowing it to flow into the living/dining space makes it appear bigger than it is.
2.    Minor but Significant Changes
Before                                                                                                   After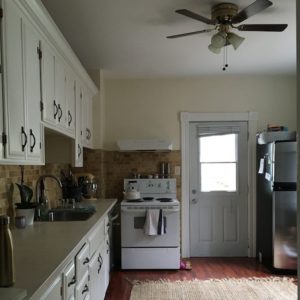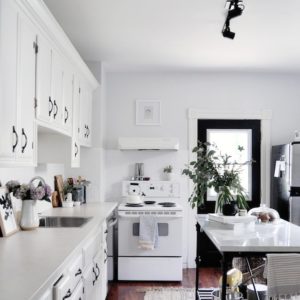 Image Source: Lark & Linen
Not all remodels are about gutting the kitchen to its bare shell and starting all over. This kitchen project is a perfect example of a minor remodel done right.
There weren't any major structural changes required, so the homeowners decided to keep the layout as it. All they did was add a fresh coat of white paint to the cabinets, and bring in small decorations. The results speak for themselves.
Key Takeaway: You don't need major changes to make an impact. You should start the remodeling process by analyzing your needs. Sometimes, something as minor as a fresh coat of paint has a bigger impact than you think.
3.    A Modern Touch
Before                                                                                                    After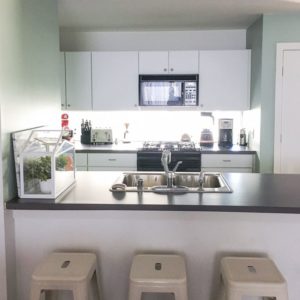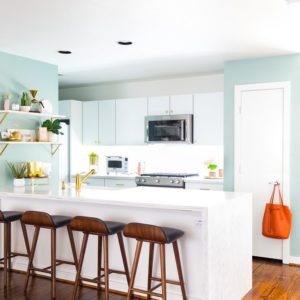 Image Source: Sugar and Cloth
Working with a small kitchen is always tricky. However, with the right design choices, you can make it work. The new white countertop and teal wall paint make the kitchen look much larger than it was before. Similarly, they also made use of the countertop wall by adding some open shelves.
In that way, open shelves are the perfect balance of design and functionality. A perfect choice to add some character to any kitchen too.
Key Takeaway: Open shelves are ideal for small kitchens. Not only do they act as storage but they also help with the decor aspect of the kitchen.
You can incorporate them instead of upper cabinetry to open up your kitchen and add some character to it as well.
4.    Devil's in the Details
Before                                                                                                  After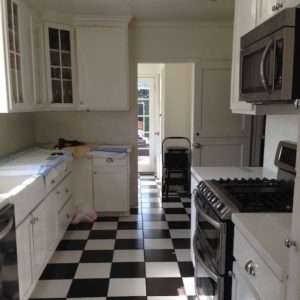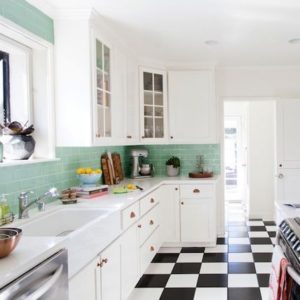 Image Source: The Effortless Chic
Another example of how small changes and attention to detail can transform a space. The original space was not bad, to begin with. However, it wasn't amazing either.
The remodeler transformed and elevated their space by making small changes. One of them is adding a beautiful backsplash. The stunning backsplash transforms the kitchen into a Pinterest-like dream.
Along with the backsplash, they also painted the cabinets and added accessories in the kitchen to give it a personal touch.
Key Takeaway: A stunning backsplash can transform your kitchen with minimum effort. Don't forget to add your personal touch by placing accessories throughout the kitchen space.
5.    Don't Shy Away from Experiments
Before                                                                                                   After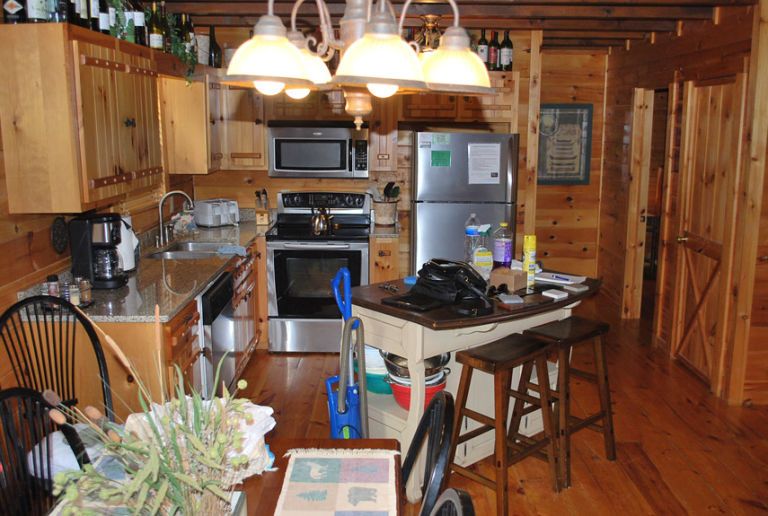 Image Source: Sarah Dorio
This project transformed what was nothing more than a busy corner into a dreamy kitchen space.
People usually steer clear from dark colors but you don't have to. The homeowners knew what they were doing when they revamped the space with black cabinets and black appliances to go with it. They ensured there was ample of natural light as well as pendant lighting on the breakfast nook to keep things balanced.
Key Takeaway: You don't have to stick to lighter colors in your kitchen. If you're opting for a dark theme, ensure you have enough lighting to counter it. Stick to white flooring and ample natural and artificial lighting to make things work for you.
6.    A New Layout
Before                                                                                         After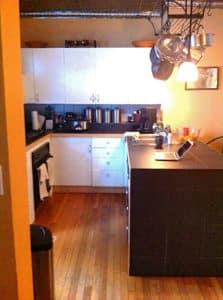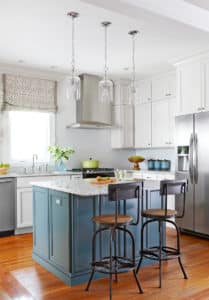 Image Source: Better Homes and Gardens
Some kitchen projects call for a complete overhaul. The peninsula layout along with the outdated decor of this kitchen wasn't working for the homeowners. The overhaul transformed the space into something functional and incredibly aesthetic.
They replaced the peninsula with a gorgeous island that has a marble countertop. Not only did it improve the overall flow of the room, but it also connected it seamlessly with the living/dining space.
Fixtures like taps and sink were moved to the exterior wall, thus freeing the kitchen from clutter and introducing uniformity.
Key Takeaway: A new layout can work miracles for opening up the kitchen space. Try visualizing your kitchen with different layout options to see what works for you and proceed with the remodeling process.
In Conclusion
Remodeling your kitchen is not an easy decision. It is also not an inexpensive one. The choices that you make are going to stick around for a while. Hence, it is important that you take your time with all the decisions.
These kitchen projects prove that there are many ways to transform your kitchen. You just have to find the one that works best for you.