Garage Storage Ideas and Tips That Will Help You Maximize Your Space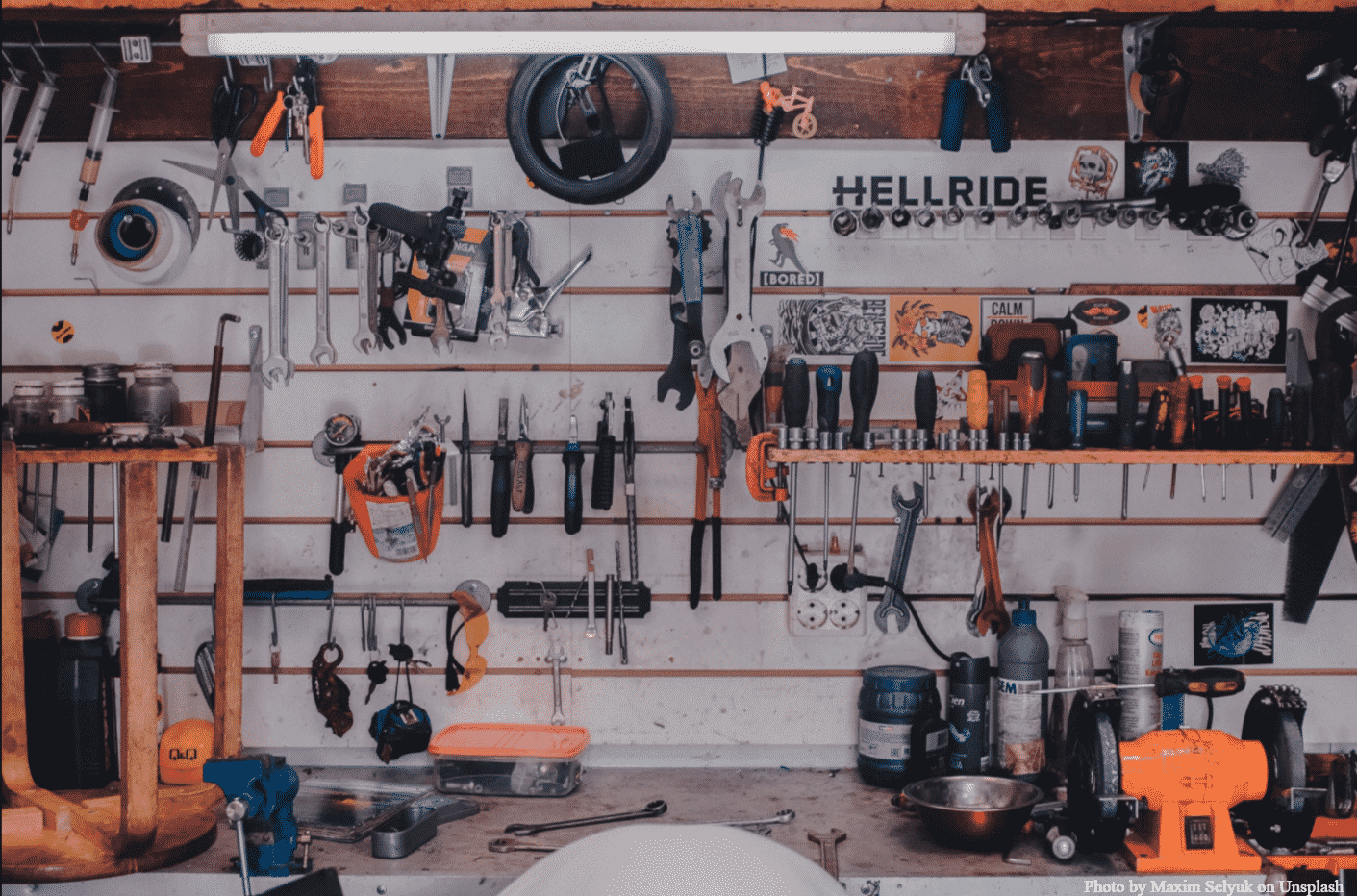 A garage is a place in your home where you do the least maintenance. You stack all the household items there, including lawn care, bins, power tools, sports care, hardware, etc. This is a space that needs the most organization but gets the least attention. Keep reading to learn about simple yet effective garage storage ideas that will save you from the giant mess in your garage.
The Preparation
To maintain your garage, you need to install cabinets and shelves so that your garage can look maintained, and you can find the things you have stored in there for years.
Before you start building any cabinets or shelves, the first thing you have to do is clean the garage. You should categorize all the goods available in your garage.
You also need to separate the tools, from household stuff, from supplies to sports gear, and you have to throw out the useless things in your garage.
There is no need to store the items you don't use; you can either give them to someone or throw them away if it has no more functionality.
Now that you have separated all the things from each other, you should now measure the required shelf and cabinet size that you need to build.
Your garage must be dirty because of all the things stacking up in there. So, before you start making shelves, first get your garage walls and floors clean.
You might even encounter an extra leakage, some overly grown fungus, and even a piece of long-lost equipment. After cleaning the walls and floors, you are now ready to nail these tried and tested garage storage ideas.
(Tip – When you build the shelves or the cabinets, remember not to cover the electric outlets or plugs. This will make it hard for you to use electric appliances.)
Hooks and Baskets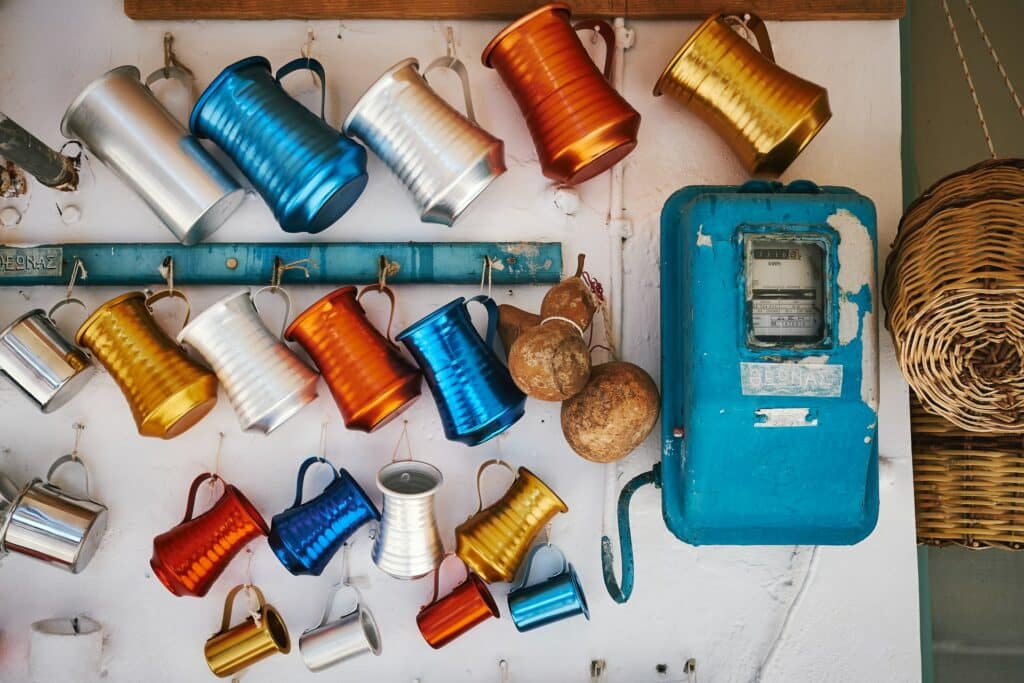 Starting from the easiest way to organize your garage is wire shelving. It requires shelving by using baskets and hooks big enough to store the things you have in the garage. All you have to do is install the hooks on the wall and hang a basket on it. Put all the stuff inside them, and you can even label it if you want by name or by category.
Storage Towers
If you have some skills in carpentry, then you can build storage towers yourself. Put all the bins or baskets inside them to make your shelves look more organized. You can also install hooks on the tower storage side for you to hang pipes, brooms, wires, gardening tools, etc.
(Tip – For your garage to look more spacious and find the things in your garage effortlessly try to store more stuff on the walls than on the floor. You can install racks almost everywhere in a garage.)
Canvas Covers
Looking for some garage storage ideas for your tools? Maybe they are lying open or stuffed in a basket or a box, right?
You can buy canvas bags to protect them from rusting and dust, and they will look well-kept in your garage. It will also be easier to find them than to keep them lying around. Do remember, when zipping those bags beware of insects and moisture.
Ceiling Track Storage
Well, how about a garage ceiling track storage? Seems exciting, right? You need to put those huge plastic storage bins onto the ceiling with ceiling framing and some screws. You will need professional experience or help to build the ceiling storage. It may be a little tedious but will save a lot of floor and wall space in your garage. It is not recommendable if you have a low-ceiling garage.
Wooden Strip and Hooks
You cannot put the shovels, and gardening accesories in the store without it getting messy. You should install new wooden strips on the wall with hooks on them to hang those extensive tools. These are good for even drying them up after use, to prevent it from rusting. It will also prevent them from falling off if you keep them rested on the wall.
Corner Shelves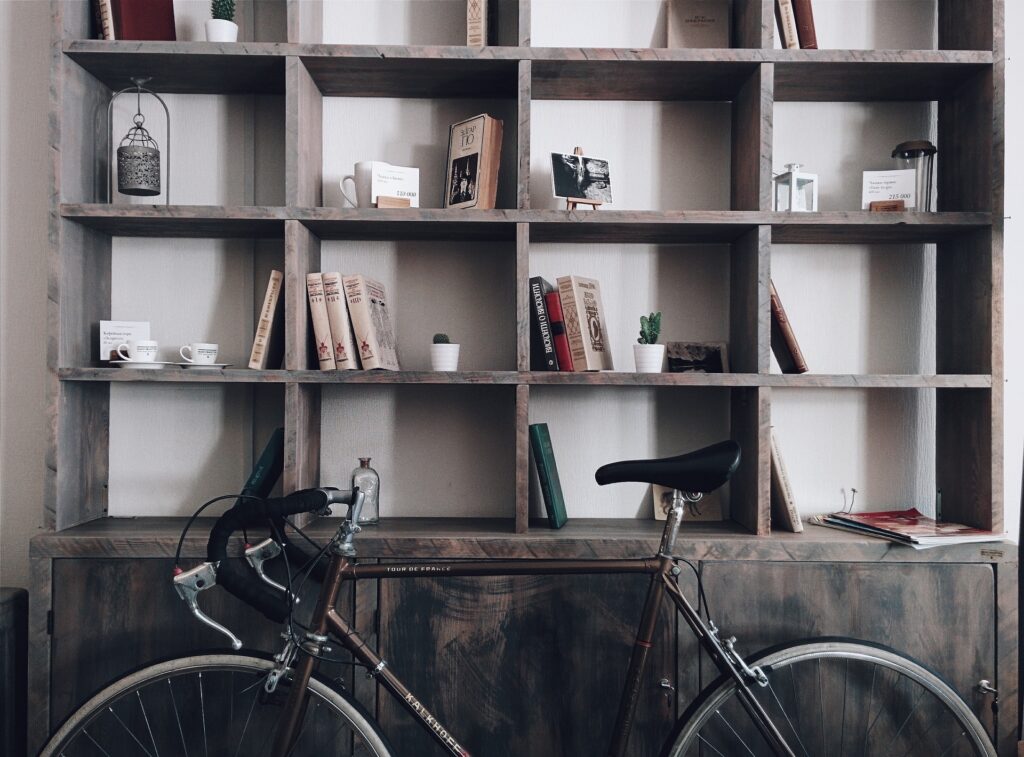 What about the corners? Those corners can be left unused, right? So why not build shelves in your garage? It is fast, easy, and cheap. It is also an excellent way to store small things like screw boxes, paint bottles, glue, etc.
For this, you need to cut wood at a right angle to fit into the wall and then install cleats and wall studs for it to stand.
Cabinet Drawers
If you are making cabinets make half of them sliding ones, like drawers, to fit in household products and supplies. This will make it easier for you to get them whenever you need them and not open up the whole storage to find that single product.
Use Your Wall Wisely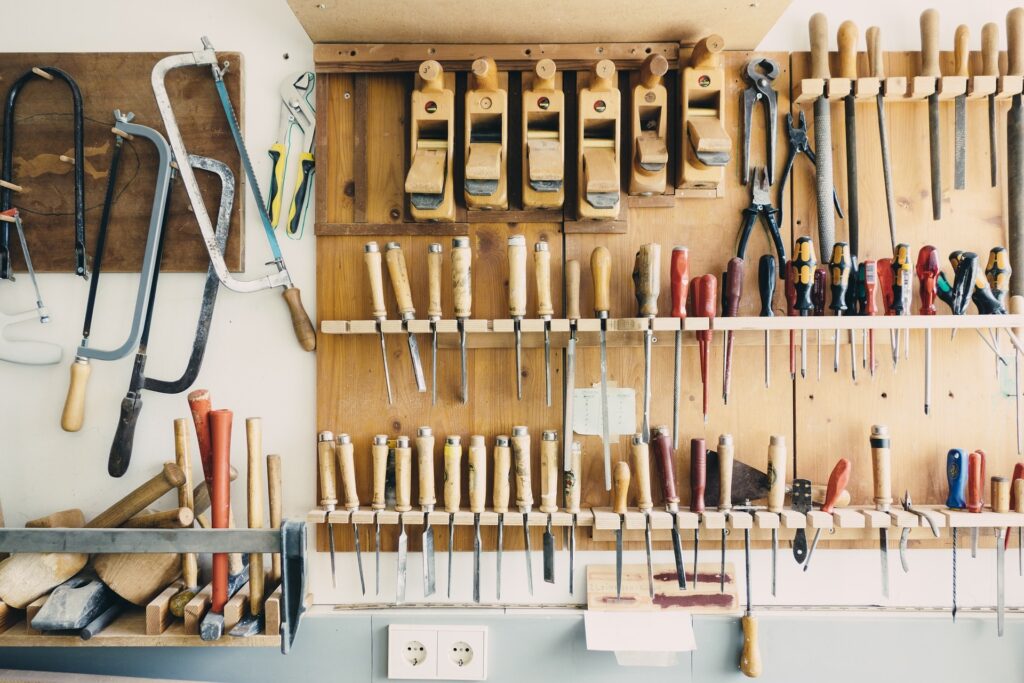 To store your paintbrushes, shoebrushes, or any other item, you can install a Canvas wall hanger in your garage. It has pockets in it to put the brushes separately into separate bags, which will make it easier to find them.
(Tip – Don't forget to keep a foldable table in your garage to paint or sometimes relax while you work. On it, you can also use it to keep things like your food and coffee while you clean the garage.)
Freestanding Cabinets
If you don't want to build or do some DIY, you can also buy free-standing cabinets, which don't require any installation. But keep in mind that it will take up the floor space.
There is an advantage to it. You can put the bulky items on the cabinet's low shelves and the other lighter items on the upper shelves. You can add casters or wheels to the free-standing cabinets to make it easier to move them or relocate them when needed.
Sliding Shelves
There is another popular choice among garage storage ideas called 'sliding shelves.' They look like cabinets, but is like a drawer, and will add up 50% more storage for long hand tools and all sorts of items that take up too much space.
High Space Cabinets
What about the high space in your garage? You can build permanent custom deep shelving for cabinets near the ceiling to hold the stuff that gets used very rarely or in a particular season, for example, holiday decorations, pool, camping gearing, etc.
Workbenches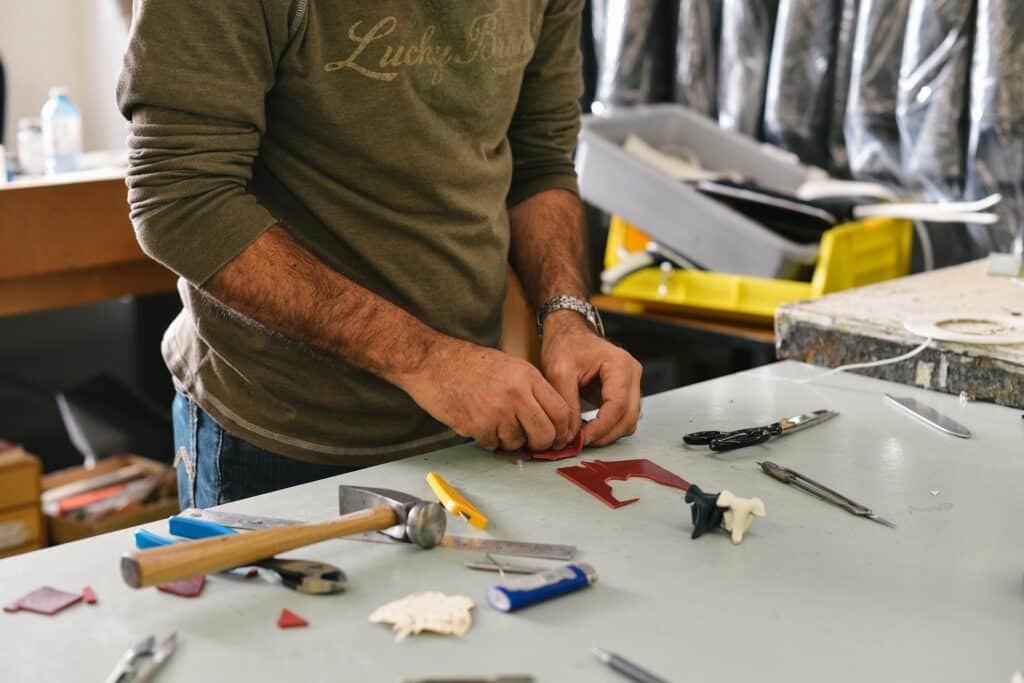 Last but not least, install workbenches in your garage. Don't forget to include the adjustable legs to work either way while sitting or standing. You can also build a storage cabinet or a tool chest so that you can access the tools from your workspace itself.
Check Out Some Of The Best Garage Storage Ideas For Your Inspiration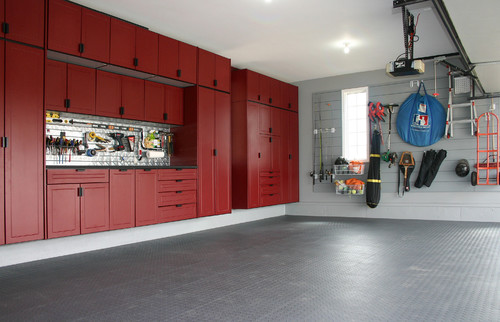 A neat and organized garage with extensive cabinetry, wall hangings etc.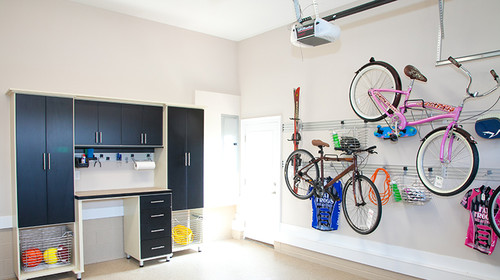 Another well-organized garage with the best storage ideas.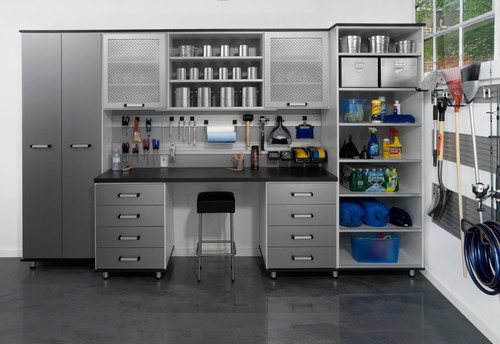 A garage storage idea with a functional work bench.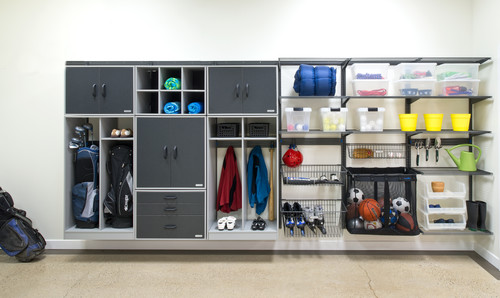 An excellent example of optimum usage of space through wire shelving.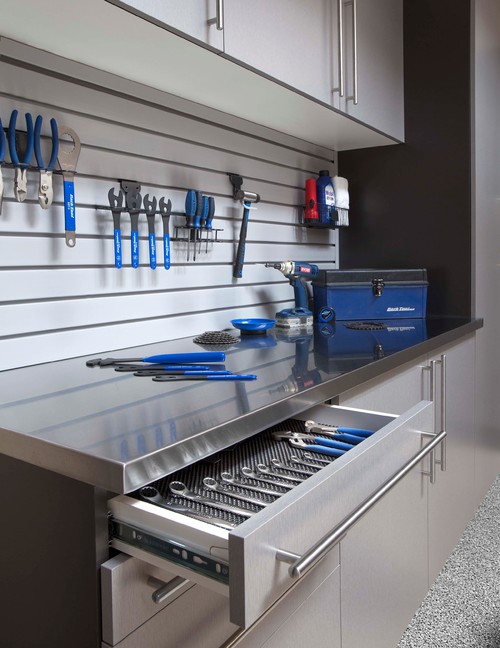 Sliding shelves for maximizing cabinet space.