Garage Door Paint: How To Do It?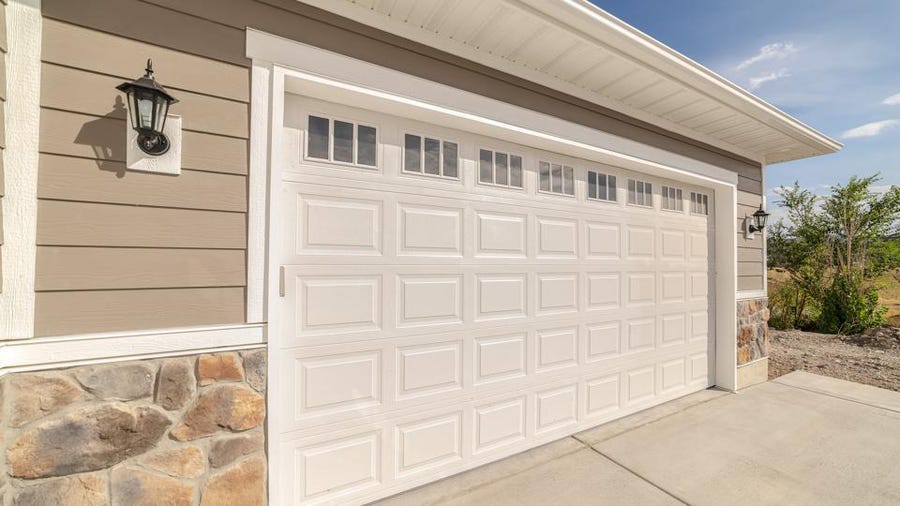 Looking for a project to enhance your house that won't need weeks, significant money, or a crew of experts? Your curb appeal will increase immediately if you opt for garage door paint.
You pass by your garage door daily as you enter and exit, and so will your neighbors and visitors. A fantastic option to refresh the external appearance of your home is to paint your driveway door to make it seem younger and to complement the house design.
You can do this job in a day or two, depending on the dimensions of your door frame. Paint and materials may run between $50 and $100, making it a cost-effective endeavor.
But how to paint garage door efficiently? Are there any steps you can take to get the job done perfectly? The answer is yes. Read on to discover the necessary steps you must take when taking up the task of painting your garage door.
How To Paint Garage Door?
Step 1: Clean, Wash & Wipe Down
Before starting with garage door paint, it must first be washed to remove all of the stubborn dirt and grime.
One cleaning error you should avoid is scrubbing too much. It may cause part of the current paint to flake off. Cleaning the door of all the heavy grime and dust is sufficient. You don't have to approach so closely that the paint flakes off.
But if you unintentionally do, go along and scrape the extra paint off of these areas using a scraper. When the surface is smooth, you may leave everything alone and go to the next stage.
Once you're done cleaning and washing, wipe the garage door dry before the next step.
Step 2: Primer
If you have an unpainted door, coat the whole surface with a primer. Otherwise, apply spot primer to any bare places and repaired areas and let it dry. To make the freshly primed areas mix in with the door's surface, sand them.
Sand the remaining door portion gently to eliminate any sheen and improve the new paint layer adhesion. Be careful not to scrape through the primer's thin coats. In such a case, move back and spot prime once again.
Step 3: Tape
Mask off any border you don't want to repaint. This includes gaskets, knobs, hardware, and any other section that you do not wish to paint.
Step 4: Pick A Color 
Look for paints in the various shades you believe in going with your garage door. Make sure you only consider paints explicitly created for exterior painting. Because they won't fade as quickly in the sunshine, brighter colors like white, beige, or pearl are excellent for most garage doors.
Generally speaking, it's a good idea to complement the garage door's color with the home's hue. The illusion of depth surrounding the door will be produced using contrasting colors.
Continue using a hue similar to the one you have been using, or take advantage of the chance to experiment with new ones that alter the appearance of your house overall.
On the other hand, you must also ensure to ensure the right paint type that suits your garage door material like vinyl, aluminum, wood, etc.
Step 5: Add details
Use a brush to add detail to the tiny regions. Start using a handheld brush to paint the panels' difficult-to-reach recessed areas. Thanks to the brush's compact diameter and manual control, you can reach deeper into sculpted downturns and crevices. Painting the interior panels one at a time requires long, meticulous work.
Look over the door to ensure you have noticed bare or thin areas.
You may need to carefully apply several coats to get a strong finish, according to the color and overall state of your garage door.
Step 6: Paint Again
After painting the interior panels, use a large paint roller to paint the door's broad outside surface. Using a roller is quicker and more comfortable than painting with a hand brush. Additionally, a roller ensures a uniform finish and won't leave any noticeable strokes or seams. Overlap the jagged edges of each stripe while painting in long, steady strokes.
One coat of paint is often sufficient for most simple painting projects. It can take several layers to get the color to show up if you're changing to a more robust hue or painting a brighter color over a darker one.
Before adding more coats, let each one around 12 hours to dry. To paint a particular region, manually set the door's operation to raise or reduce it as necessary. This will save you from continually kneeling, crouching, and standing.
Run a sharp pocket knife along all the door's seams after painting it to prevent smearing the door shut. Alternatively, you can paint the door in parts.
In conclusion
Peel the tape from the garage doors when the paint has thoroughly dried. To keep your garage door paint appearance fresh, you need clean it every few weeks to prevent the accumulation of dirt and dust. The points given above would help in each step of painting your garage door.