Eye-Catching Tray Ceiling Paint Ideas To Get Inspired From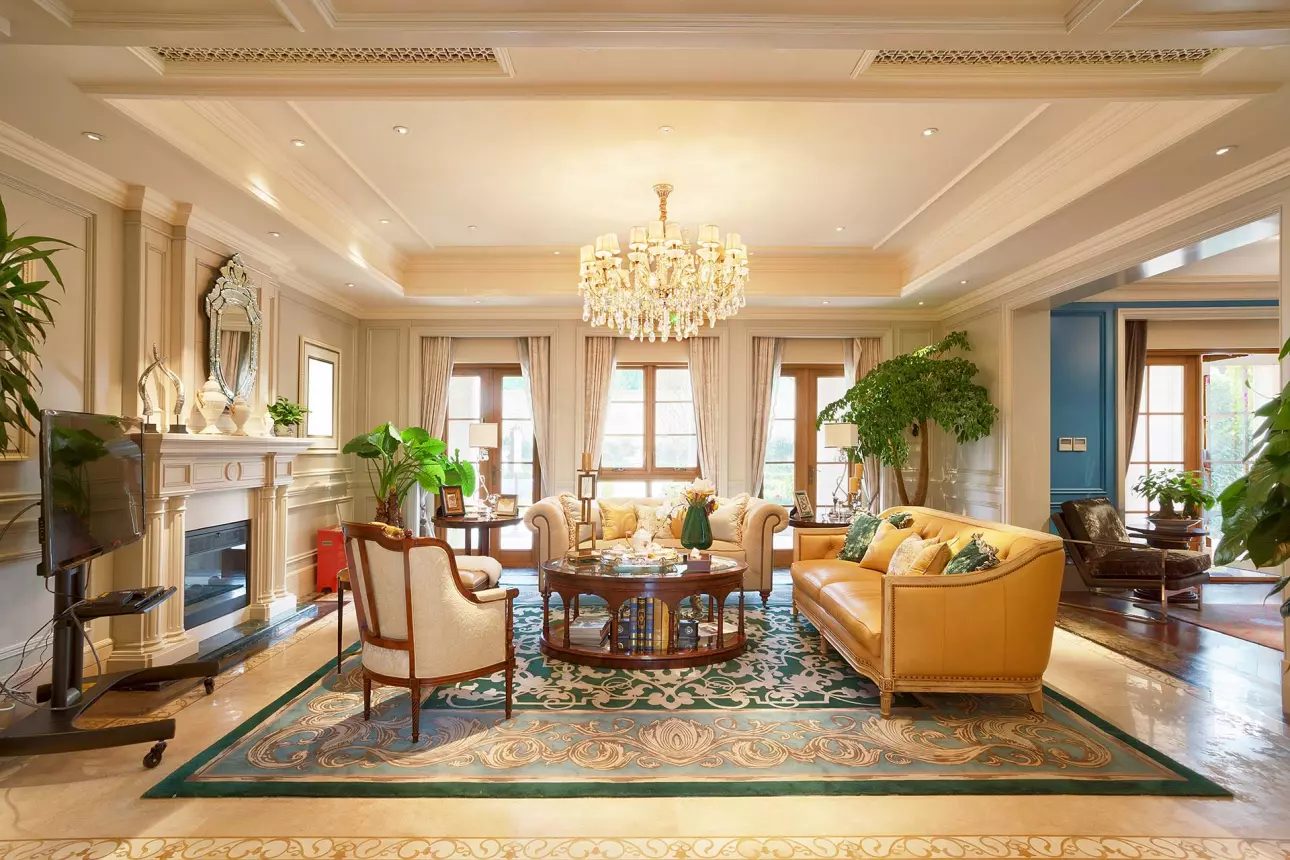 For those who have the luxury of a  tray ceiling in your home, know that you've got a lovely built-in focal point to your room. When it comes to tray ceiling paint ideas, consider what room you're painting, its lighting, and how much focus you want the ceiling to attract. 
Here are some ideas for painting tray ceilings to help inspire you to make the most of this design. 
Use Complimenting Light Colors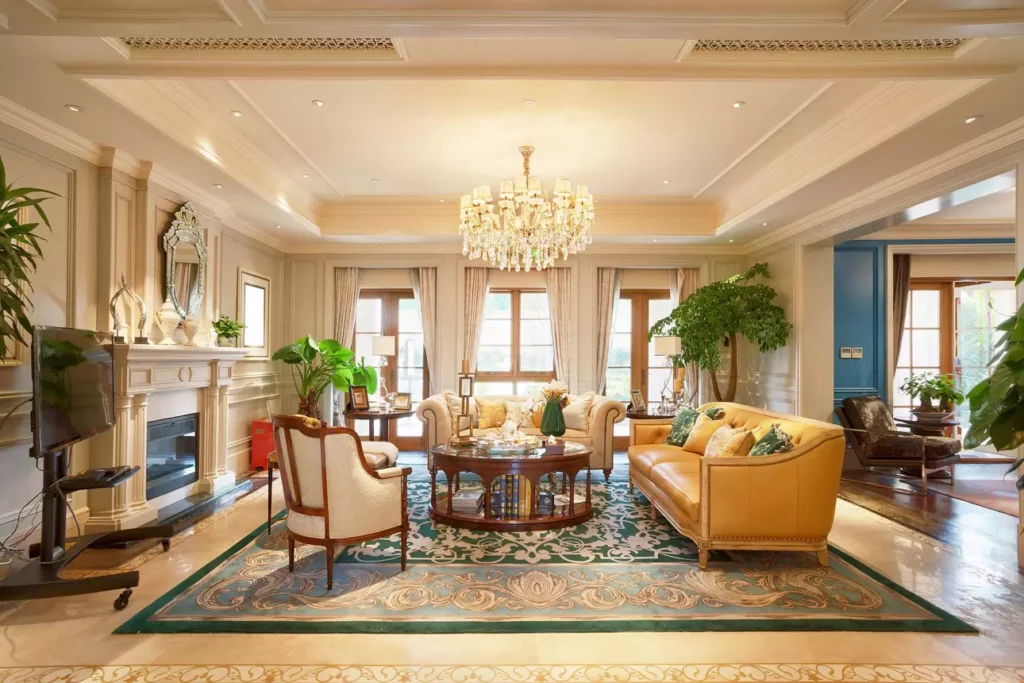 For rooms with light-colored walls, paint your tray ceiling in a different yet complimenting color. For instance, if you've got cream walls, paint your tray ceiling ivory white. Adding a mix of different light hues in a room breaks up any monotony without disrupting the calm aesthetic. 
Use Contrasting Dark Colors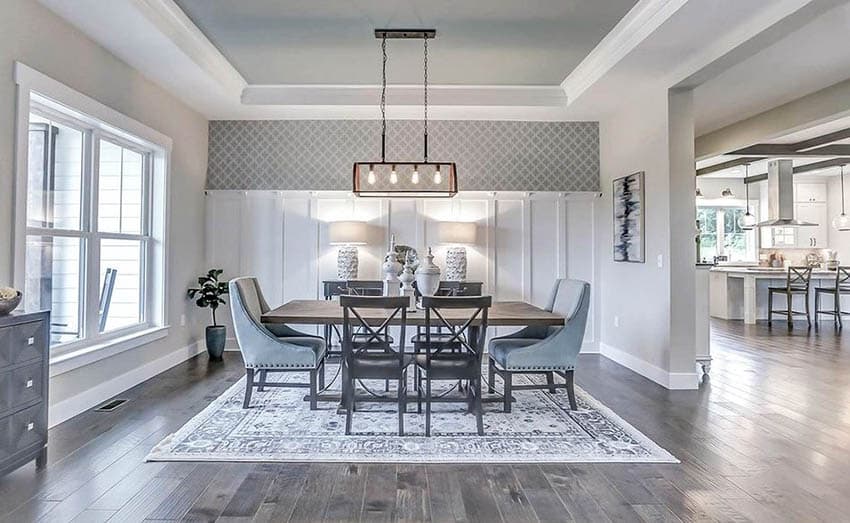 For rooms with dark or light-colored walls, paint your tray ceiling in a contrasting darker shade. For example, gray walls look great with an even darker gray ceiling or an earthy green. Other color combinations such as off-white walls with a maroon tray ceiling and white walls with a navy blue tray ceiling, create drama and focus. 
Using a dark color for your tray ceiling creates a natural gathering point. This works well in spaces like studies and dining rooms. 
Paint The Ceiling With One Color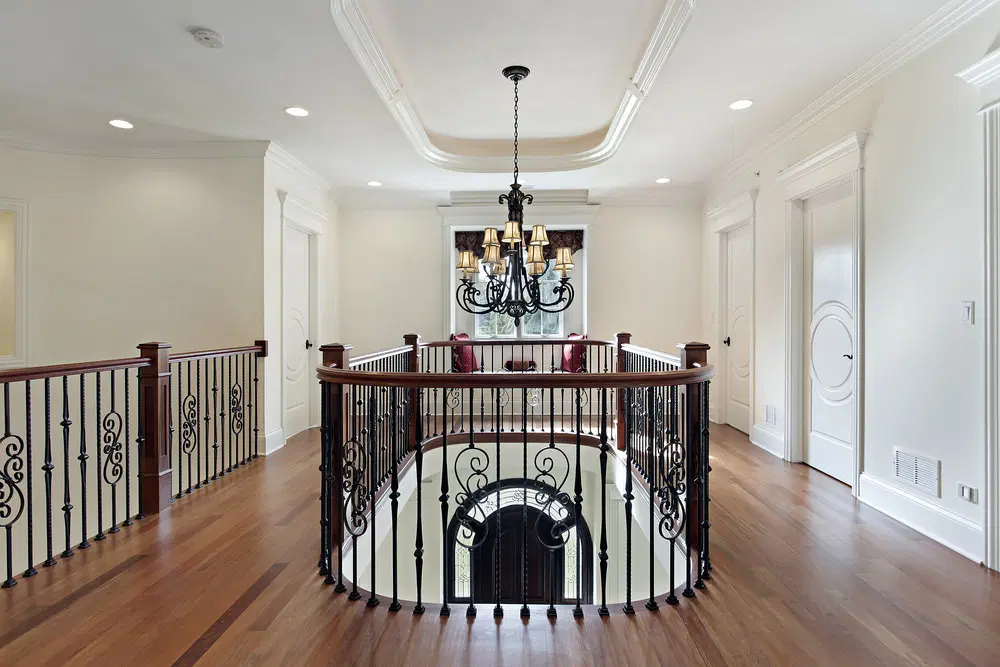 Paint your ceiling and tray ceiling the same color for a clean look. Add texture to the tray ceiling borders with crown moldings. This creates a natural frame and focal point without using multiple colors. 
Go Classic With White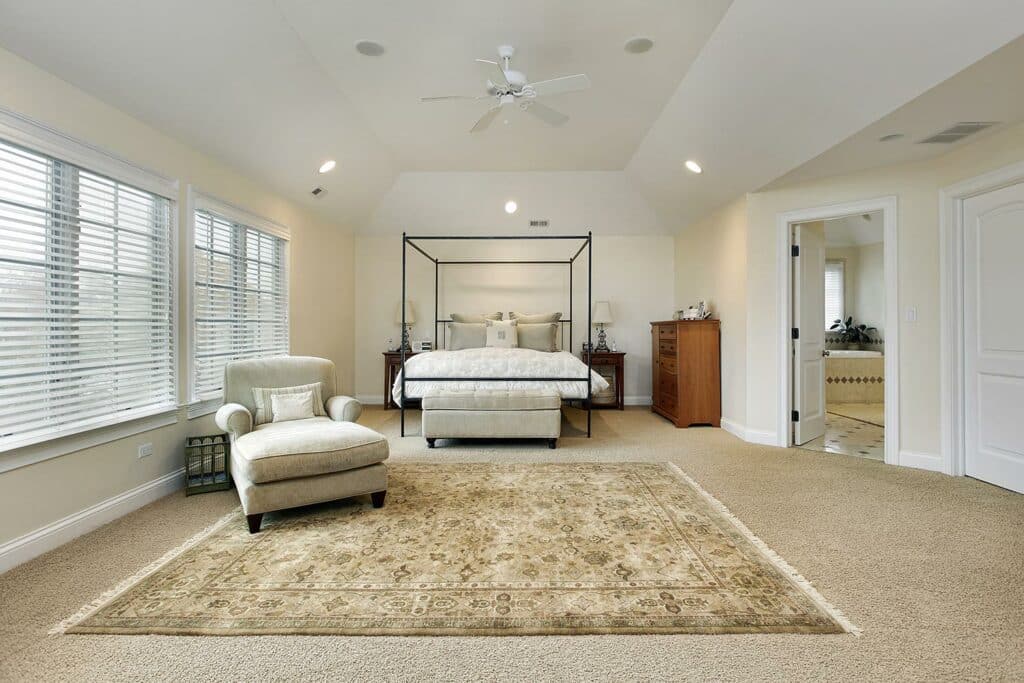 A white ceiling and white tray paint ceiling is anything but plain. It's clean, calm and streamlined look goes with any room. A white tray ceiling also leaves plenty of room to add color and texture through other elements such as furniture and decor. 
Match The Walls With The Tray Walls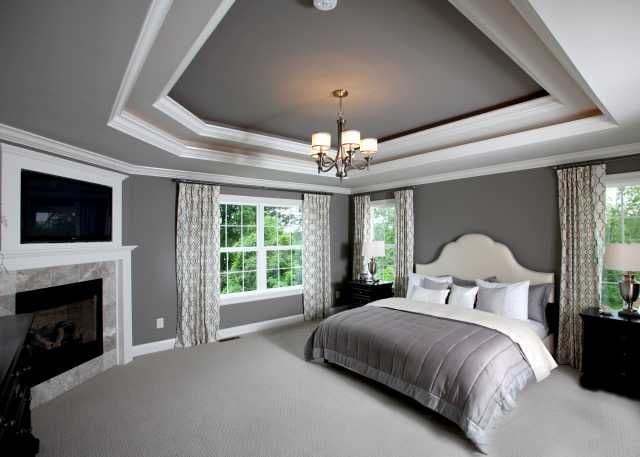 With just two colors,  effortlessly create contrast and cohesion by painting your walls the same color as your tray ceiling walls. Pair this with painting your room ceiling the same color as your tray ceiling. 
Match With The Furniture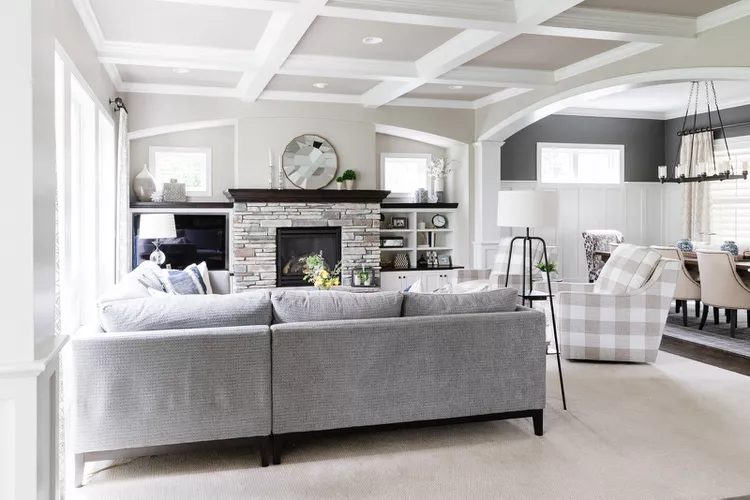 The color of your walls isn't the only factor to consider when looking at tray ceiling painting ideas. You can match your tray ceiling with your furniture to fully anchor the color scheme of a room. 
Break Neutrality With A Bold Color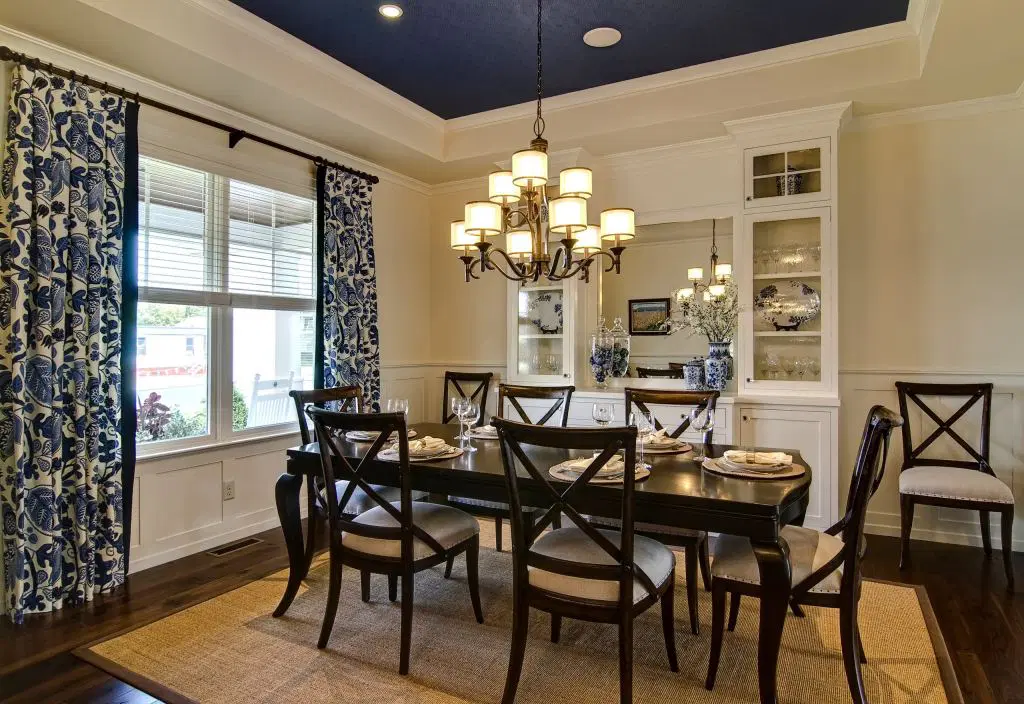 In a room with an otherwise neutral color scheme, make a pop of color on your tray ceiling. Try a deep blue to keep the overall look soft. 
Merge With The Mantle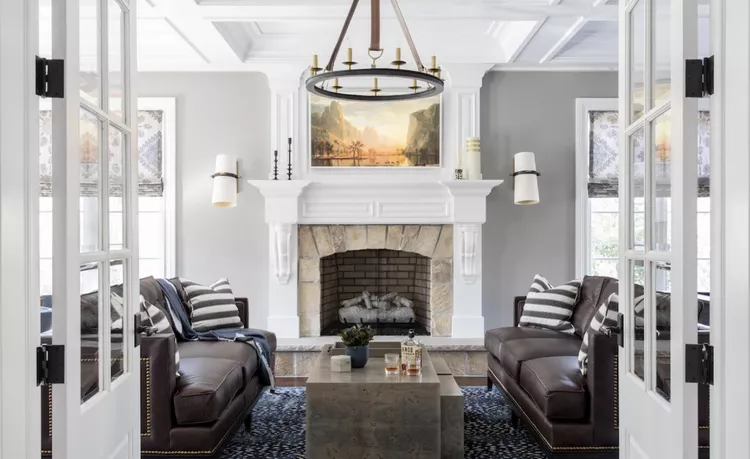 Any fireplace mantle should be highlighted and a focal point in the room. With a tray ceiling and a mantle being two architectural points of interest, it's a good idea to create continuity. Paint the mantle and the tray ceiling the same color for a natural flow. 
Stick With Soft Neutrals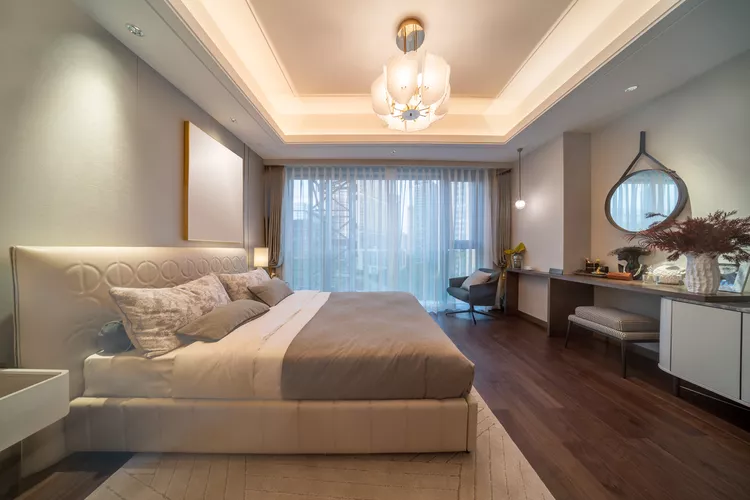 Neutrals are timeless, classic and the choice of many for a reason. Know that whatever neutral color palette you choose for your walls and tray ceiling, it's hard to go wrong. You'll always end up with a space that looks peaceful and polished. 
Use A Metallic Finish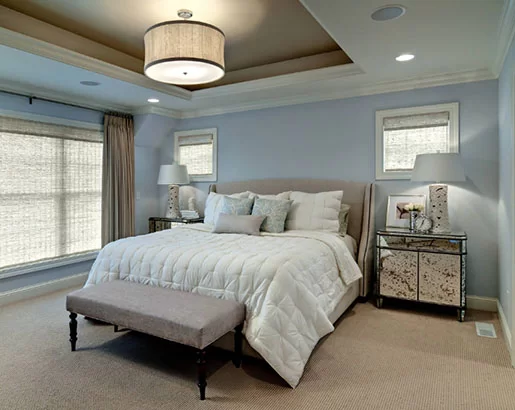 Enhance the innate luxury of a tray ceiling by giving it a metallic finish. Gold works well to warm up the room while a silver finish feels more airy and open. Either way, adding a little sparkle to a tray ceiling compliments its luxury without being loud. 
Work With Shadows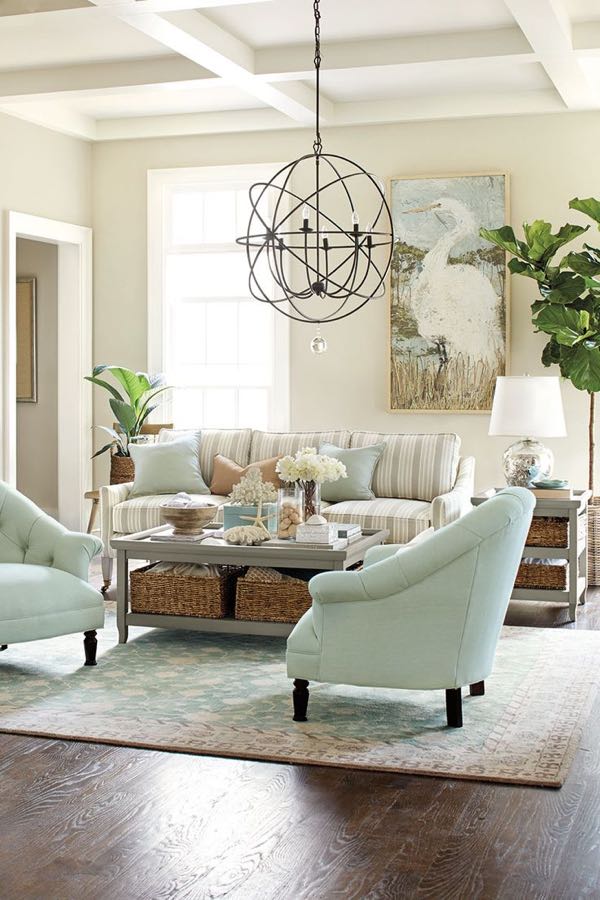 One of the advantages of a tray ceiling is your ceiling has inherent depth and texture that breaks up any color monotony. You can paint your tray ceiling to match your walls, floor, and ceiling and you'll still be left with an interesting space that doesn't look washed out. This is because the tray ceiling naturally creates shadows. Any room with a tray ceiling and plenty of natural light can be painted the same color through and through. The shadows in the ceiling will give enough depth and variation. 
Yes To Drama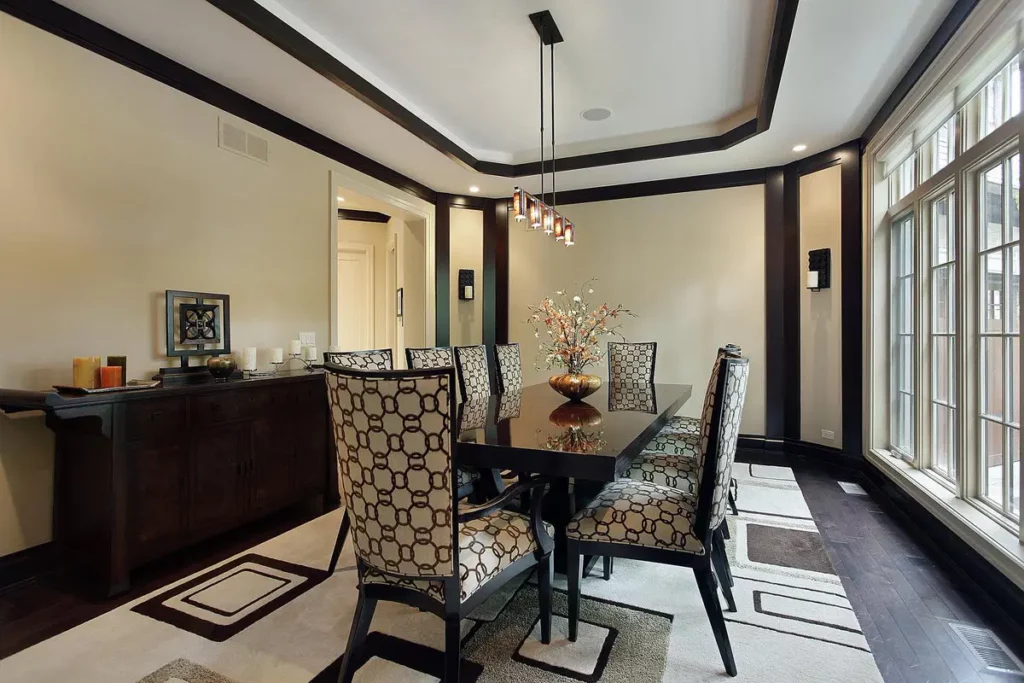 Use dark and light colors to frame a tray ceiling. The more dramatic the contrast, the better the depth. You end up with an unexpected yet elegant look. 
Create Coziness With Deeper Colors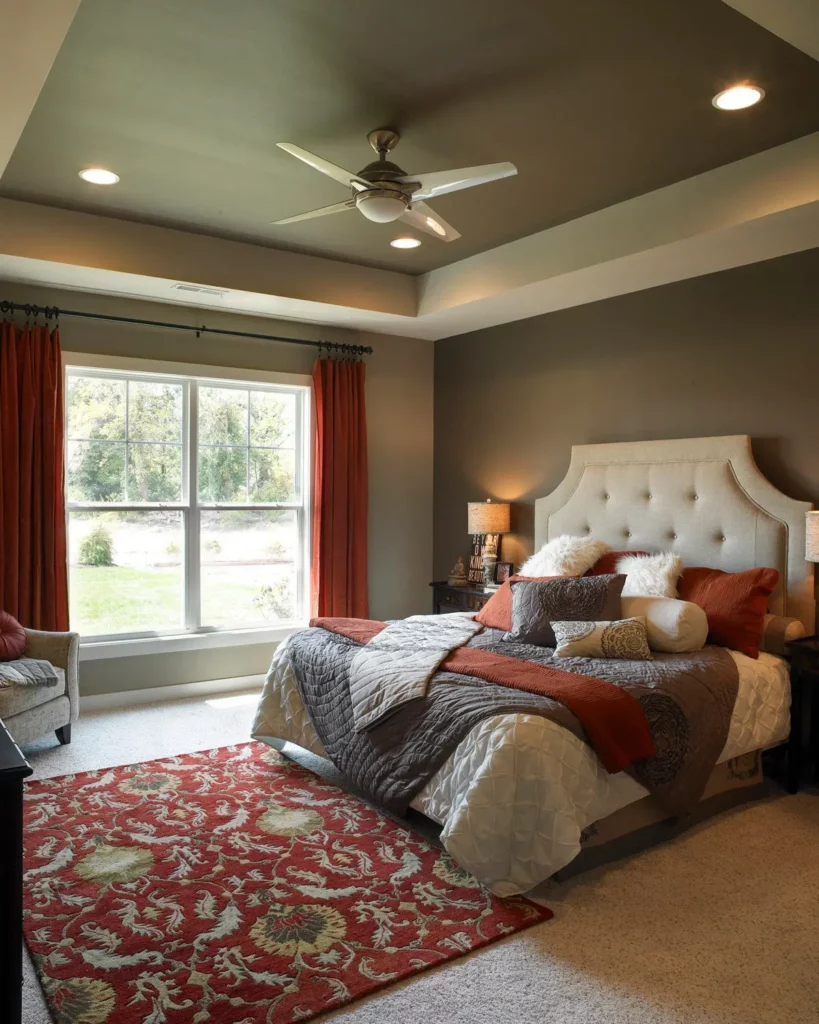 Tray ceilings can make a room feel open and airy or enclosed and cozy depending on what color you choose. If you want to make a space feel cozier and closed off, a dark color is one of the best tray ceiling paint ideas to opt for. 
Paint With Pastels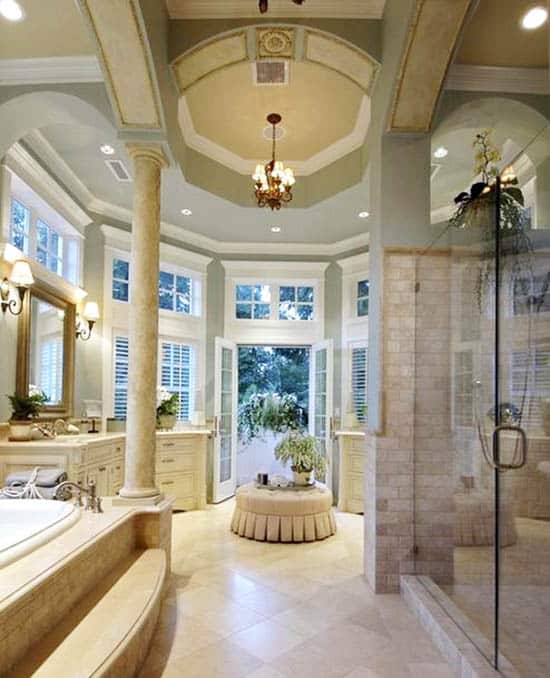 If you want something more colorful than neutrals but still want a soft and subdued look, paint your tray ceiling in pastels. Light sage and a soft yellow give a luxurious yet calming vibe. 
Try Some Jewel Tones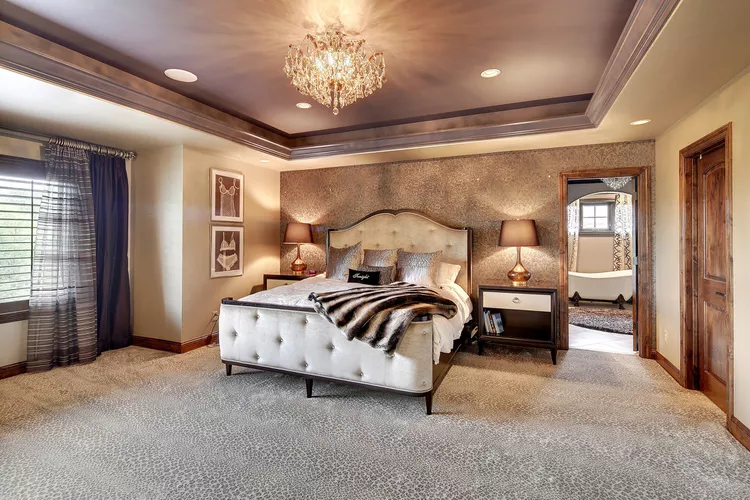 Go the unexpected route and paint your tray ceiling in a soft jewel tone. Jewel tones naturally add a feminine touch which would fit in well in spaces like dressing rooms and powder rooms. Using jewel tones make a tray ceiling pop while still working with the other colors and elements in a room. 
Choose A Solid Earthy Color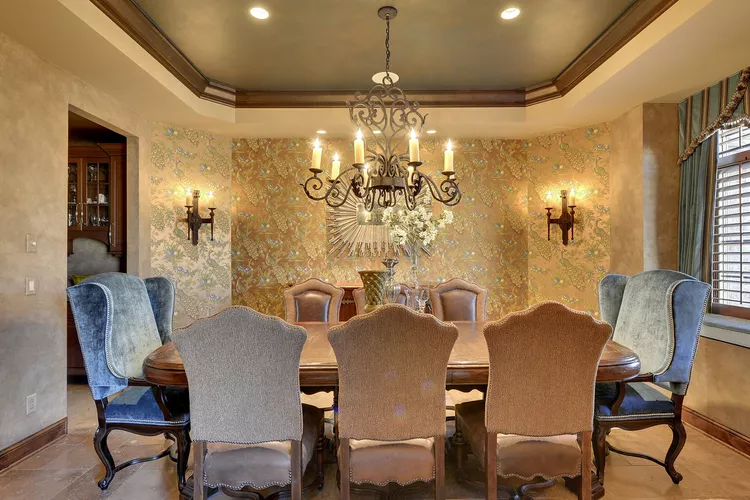 For rooms that have a tray ceiling and already eye-catching wallpaper, opt for a solid earthy color for the tray ceiling. The solid color helps to tie the entire room together without making the room look too visually crowded. Earth tones help to soften up the look further while still standing out. 
Match The Carpet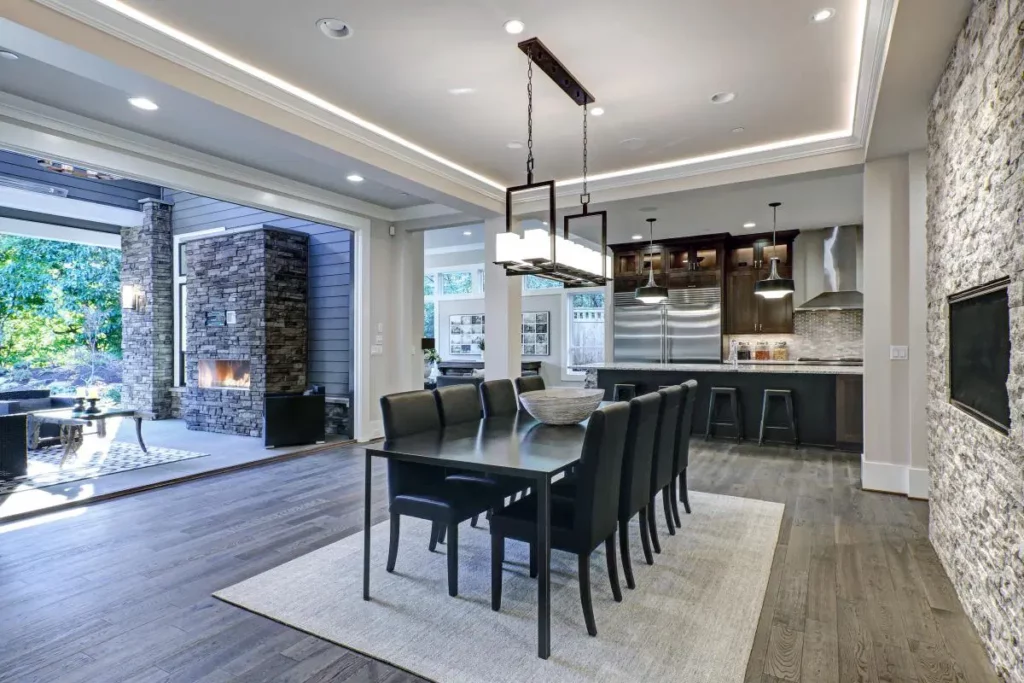 Color symmetry between the elements on the floor and ceiling create natural cohesion in a room. Matching the tray ceiling color with your carpet also defines a space perfectly in an otherwise open floor plan. 
There are so many options when looking at tray ceiling paint ideas. Consider the walls, the furniture, the function of the room, and the lighting. These are all elements that a tray ceiling should compliment or contrast accordingly. But as mentioned, tray ceiling painting ideas ultimately should match the space and your aesthetic. No matter what you decide, make it yours and make it something you like!