The All Time Favorite Amongst Remodelers: Herringbone Flooring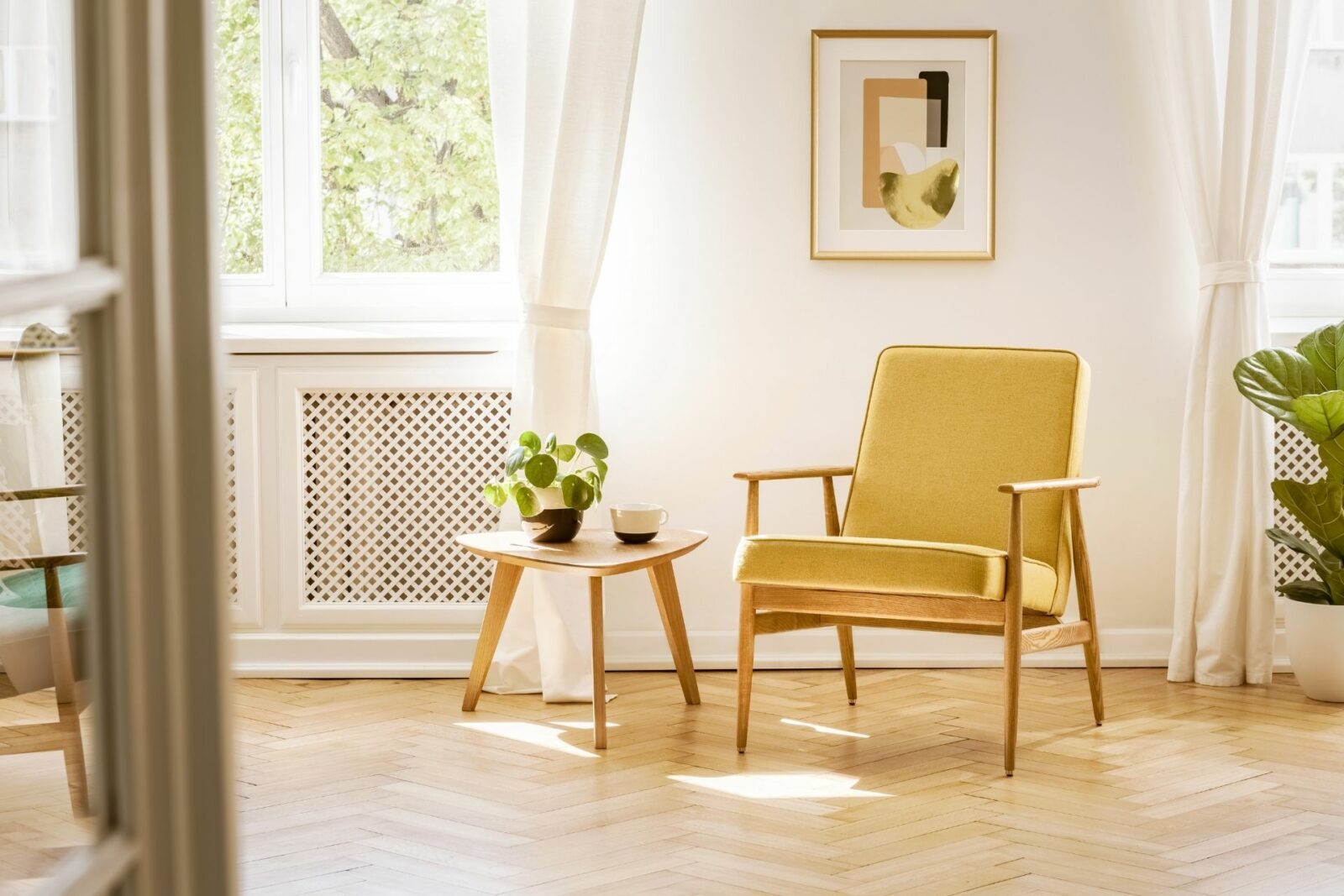 Herringbone flooring is distinctly known for its angular and geometric layout using rectangular boards. Boards are laid out in a V-shape weave throughout the entire floorspace. Inspired by nature, particularly by the bones of a herringbone fish, herringbone floors merge uniformity with style. 
With that said, there is so much you can do with herringbone flooring design. With a little creativity, herringbone floors can be unique and versatile, beyond its traditional v-shape weave. Through selecting the style of boards and the angle to how they're laid out, you can create your own unique flooring. 
Here Are Herringbone Flooring Ideas You Can Incorporate Into Your Home
Traditional V-Weave
The quintessential herringbone floor features its trademark V-weave, creating a zig-zag throughout the entire floor. This layout is the most common and expected when you hear herringbone flooring. 
This traditional flooring pattern works anywhere. We especially like it in home offices, where the texture adds plenty of visual appeal without looking distracting. 
Double Herringbone
You can play up the traditional layout of a herringbone floor by pairing two layers of floorboards. This gives plenty of options to not only mix and match plank sizes but also floorboard colors. Upgrade your kitchen from the classic checkered floor with a double herringbone floor instead. Use light and dark planks for a modern twist on a classic. 
Herringbone With Square Insert
This herringbone floor design alternates the traditional herringbone v-weave with a row of squares. Alternatively, you can also insert a square block at each end of a herringbone floor board. It's a great way to break up the fish bone pattern and give your floor more character while retaining its symmetry. Lay out your floor this way especially if you want your floor to be an unobstructed visual piece. 
Long And Narrow Herringbone Boards
Traditional herringbone floors use short floor boards, but you can play around with the length of floorboards to create a different effect. Try to use long and narrow floorboards for herringbone flooring to create a more distinct zig-zag. Using narrow planks to create a larger zig zag compliments open and airy-spaces. Try incorporating narrow herringbone boards in a master bathroom, patio or living room to complement the open flow of the space. 
Blocks And Dashes
Similar to herringbone floors with a square insert, you can use two square blocks on each end to add more character and texture to your floor. This works especially well with an open floor plan between two rooms such as a dining room and kitchen. 
Tips For Installing Herringbone Flooring
Due to the visual nature of herringbone flooring, here are a few things to keep in mind to ensure that the layout is done right. 
Prep The Subfloor
As with any floors, your floor will only be as smooth and as level as the subfloor it's laid on. This is especially critical for herringbone flooring because an uneven foundation will be more noticeable in the floorings pattern. 
Determine The Layout
Before you lay out herringbone flooring, establish where you want the natural line of sight to flow. This is tied to the central V line. Center the sight line to the primary V pattern for optimal flow in a room. For instance, for a hallway with herringbone flooring, it would be ideal to keep the V centered with the hallway to follow and complement the natural path. 
Along with working with the natural line of sight, have the pattern lines marked out for the entire floor space you'll be working on. This will save you from costly and time-consuming redo's with an incorrectly laid floor. Again, because of the visual nature of herringbone flooring, any pattern inconsistencies will be noticeable. 
Costs Of Herringbone Flooring
Whether you opt for hardwood herringbone floor boards or synthetic floor boards, expect to pay an average of $3000 to $6500 for a 200 square meter floor space. You'll also be spending roughly $4 to $7 per square foot in installation costs. The costs will vary on who your installer is, the state of your subfloor as well as the type of floorboards as well. Refer to the chart below to get an idea for the type of herringbone floor board options you can use.
| | |
| --- | --- |
| Material | National Average per square foot |
| Maple | $7 – $11 |
| Red Oak | $2 – $5 |
| White Oak | $3 – $8 |
| Teak | $9 – $12 |
| Mahogany | $5 – $8 |
| Pine | $1 – $3 |
| Vinyl Plank | $3.50 – $6 |
| Sheet Vinyl | $1.25 – $2.50 |
| Laminate | $2 – $3.50 |
Herringbone flooring is a timeless and popular flooring option for a reason. Although distinctly known for its v-shaped weave layout, there is so much room for creativity. You can have a unique herringbone floor of your own by varying the color, size of the planks, and adding other floorboard shapes to create a custom floor.