Easy Backyard Improvements for Entertaining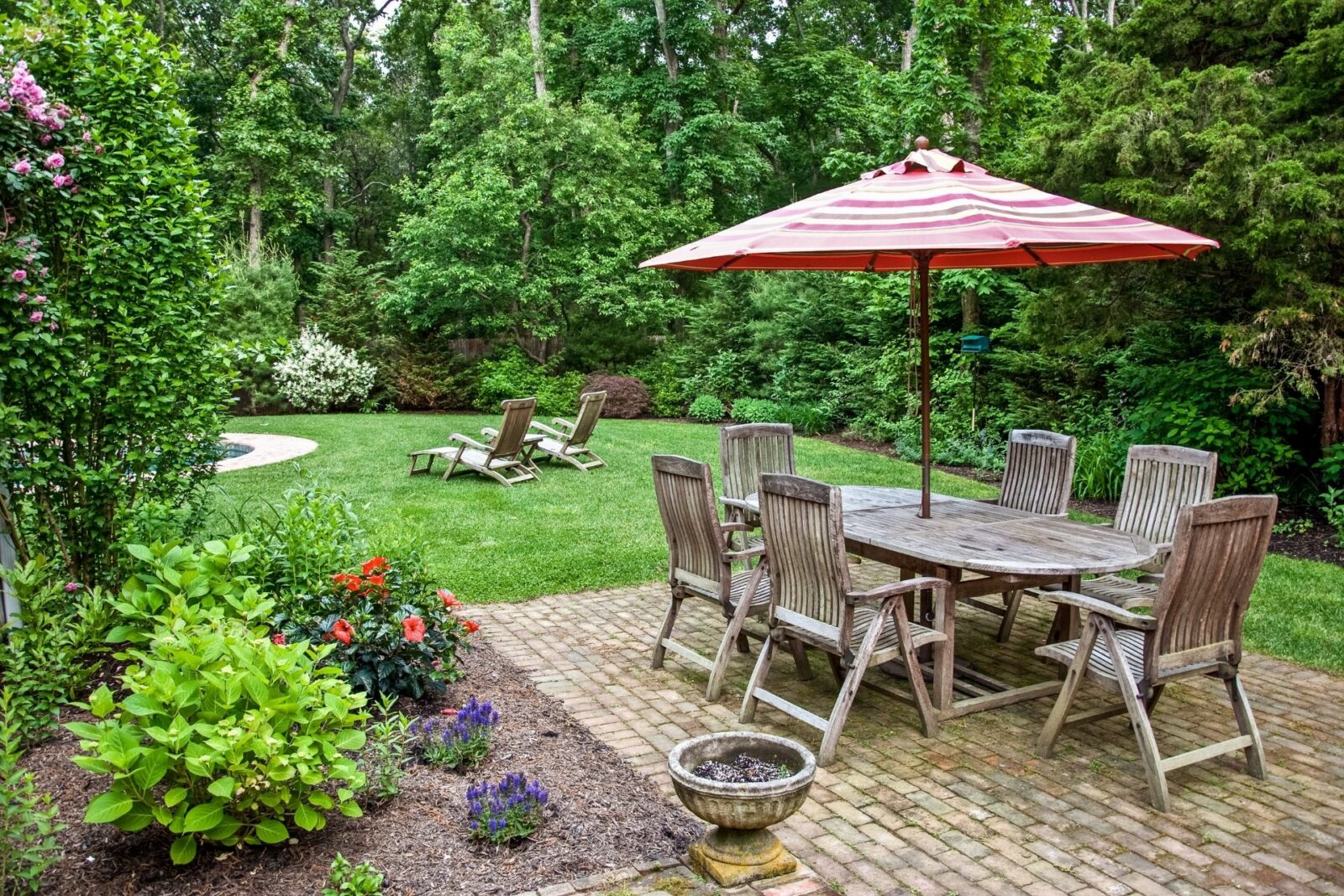 The backyard is such an integral and yet such an underused part of your home. While most homes do have a beautiful backyard, it doesn't meet its true potential. So, if you've decided to remodel your backyard, you've made the right choice.
While it may seem like a daunting task to plan your backyard remodel at first, we can assure you that it's well worth the effort. By making some decisions, you can use your backyard as the perfect space to entertain guests. And these easy backyard improvement ideas will make your home the perfect space for hosting your friends and family.
Start by Cleaning
When it comes to improving your backyard, you don't need to start with a blank slate. You do need a clean slate though. For instance, those leaves that haven't been raked? Start clearing them out. Trim all the trees and make sure that there's nothing excessive in your background.
By going through a "deep clean" of sorts, you're able to identify the real look of your backyard, and by doing so you'll have a clear idea about the process.
Pay Attention to The Patio
Your patio is one of the most important elements of your backyard. If you do have a patio space, you may want to start analyzing it; and if you do not have a patio, you should consider getting one.
The patio acts as an ideal buffer between your home and your backyard. If you have an estimated number of guests that you usually host, then you can start by understanding whether your patio can accommodate them.
You should also look at the condition of the patio. If it needs some TLC, then it's time to update it. You can choose the material of your patio, from concrete to wooden to brick and more too. Remember that each of them has its own pros and cons. Be sure to study those before you make a purchase.
Create an Outdoor Room
When you remodel your backyard, you have to remember that your backyard serves multiple purposes. It's a transitional space as well as an individual one. One of the best ways to make a backyard ideal for entertaining is to add an outdoor room. Not just any room but a room without walls.
Pergolas are covered outdoor spaces that often act as additional rooms. By adding a pergola, you're giving your backyard a cozy feel for your guests. You can enjoy a nice outdoor brunch or relax with a glass of wine while the sun sets. The usability of a pergola knows no limits.
Have A Theme
Your backyard should be in sync with the rest of your home. However, it does have more flexibility than the other rooms in your house.
While improving your backyard, make sure that you choose a theme and stick to it. If your remodeling project has a theme, you'll have an easier time making decisions and finishing the project in time for your next party. You can choose from plenty of themes, from a wooden escape to a luxurious layout — the possibilities are endless.
Install A Kitchen
If you have a backyard that you plan to host parties in, it would be a big inconvenience to run back and forth between your kitchen and the backyard.
A simple re-stocking process could take considerable time out of your fun evening. While remodeling your backyard, make sure that there's provision to heat up and store food. You can create a well-furnished outdoor kitchen with a barbecue to make it more efficient. If you choose not to, just make sure that you have the bare minimum covered.
Have A Transitional Space
Your house, specifically your living room and the backyard should look like they're simply an extension of each other. By creating the feeling of a smooth transition, you're opening up your house to, quite literally, new opportunities. Not only does it feel more natural but it's also more efficient. By installing French windows or even collapsible windows, you're allowing your guests to move from one space to another in a seamless fashion.
Create Walkways
It's important to remember that your backyard is just a piece of land. It's up to you to design it to your own needs. By implementing simple design formulas, you can transform your backyard into the perfect space for entertaining. One such idea is to include walkways.
By including walkways in your backyard you're giving it a "flow". What this translates to is that you and your guests will have a certain direction to follow in the backyard.
It can act as the thing that ties the entire backyard together and creates a sense of unison between different elements. By creating a walkway, you're giving your guests an opportunity to explore the backyard and not wander around.
Landscape Your Backyard
If there's one thing that you should do your due diligence in, it's landscaping.
By landscaping your backyard, you're giving it a purpose. A space without a purpose is a design catastrophe. When you invest your time in researching all the different elements in your backyard and deciding what goes where and more importantly why — you're creating a foundation for a chic and functional backyard.
It's not enough to know that you want a patio, you have to realize the need behind it and the exact purpose that it will serve. The same applies to all the elements of your backyard.
The Bottom Line
Improving your backyard is not an easy (and cheap) task. It's definitely not something you'll do time and again. To make sure that it is the perfect space for entertaining, you can use the points mentioned above and tailor them to suit your unique needs.