Home » Hardscape Ideas On A Budget That You Shouldn't Miss
Hardscape Ideas On A Budget That You Shouldn't Miss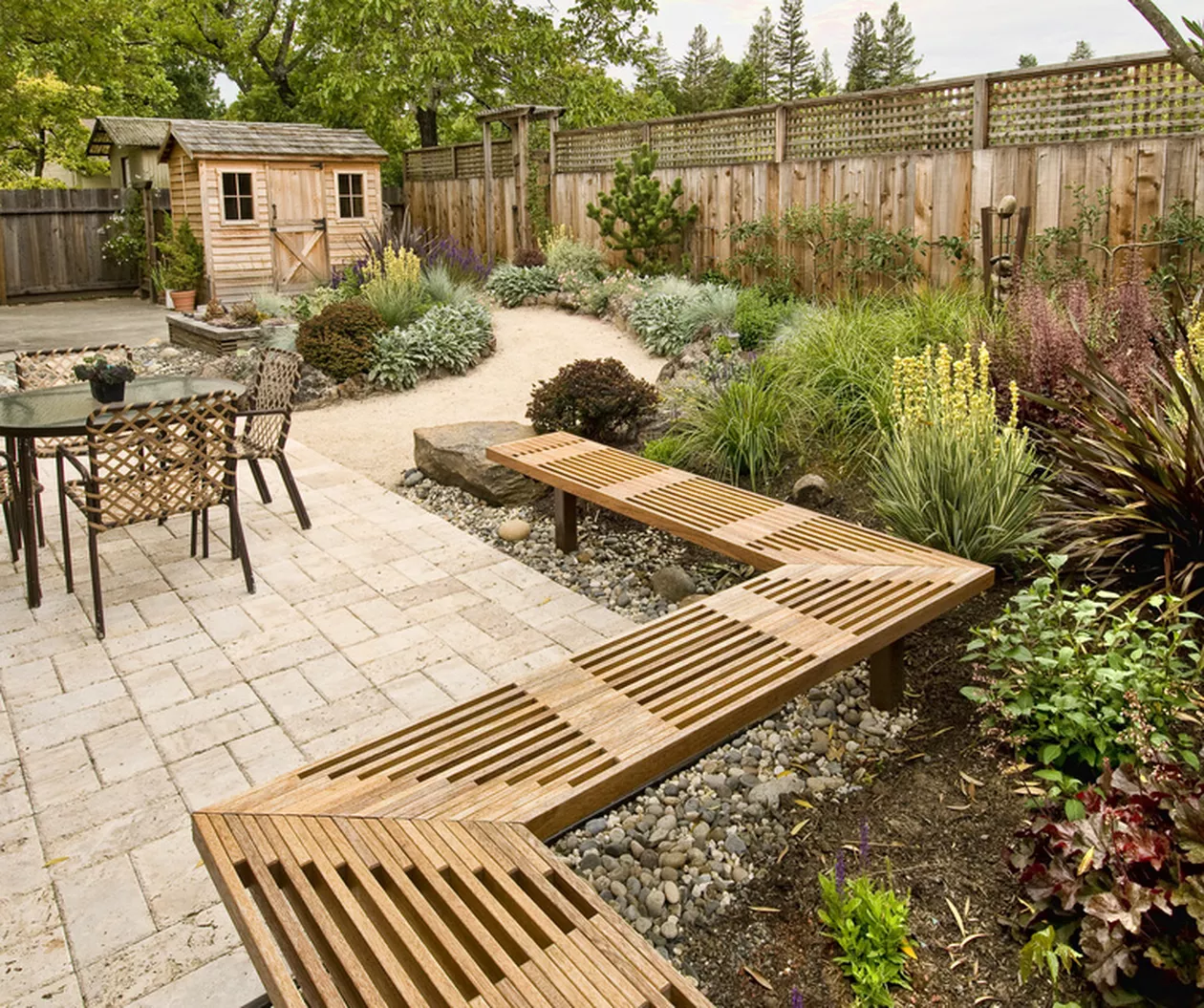 Hardscapes are wonderful additions to any home. Although used interchangeably with the term 'landscapes', this article refers to hardscape ideas on a budget as any non-living elements that you add along driveways, pathways, patios etc. Think walls, decks, fire pits, fences etc. 
When done right, hardscapes always look impressive and make your garden all the more inviting. Contrary to how they look, hardscapes aren't just reserved for those on a large budget. There are so many hardscaping options to bring a plain or dull garden to life. 
Here are hardscape ideas on a budget to give your garden a much-welcomed upgrade. 
Cement And Resin Planters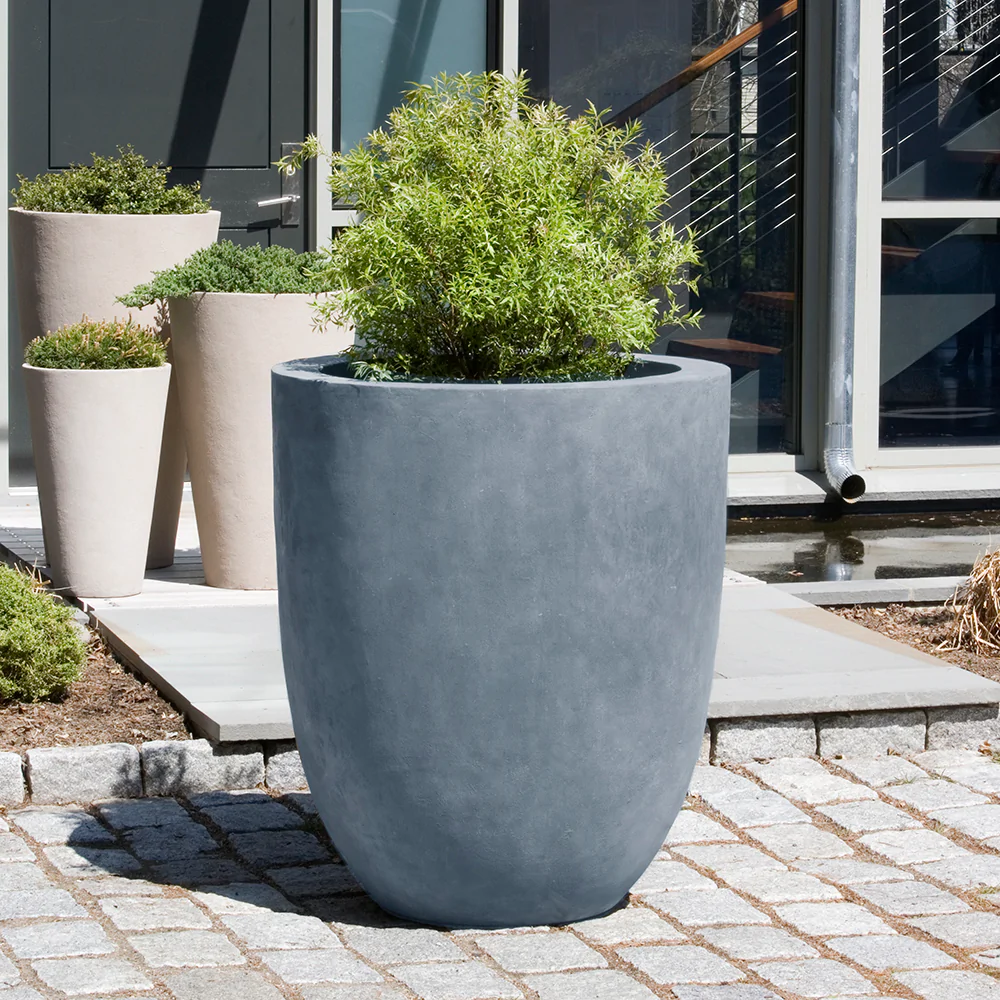 Cement and resin planters are a beautiful way to pot your plants. Cement planters range from $20 to $150 while resin planters range from $11 to $70. The size of the planter will determine the cost here. Using affordable planters as hardscape pieces grants you to buy as much as your budget allows. 
The beauty about planters is you can space them apart or together. Either way, they define areas like pathways, firepit entrances, along the corners of a patio etc. You don't need a lot of cement or resin planters to create statement pieces that help tie together your outdoor area. 
Stepping Stone Pathway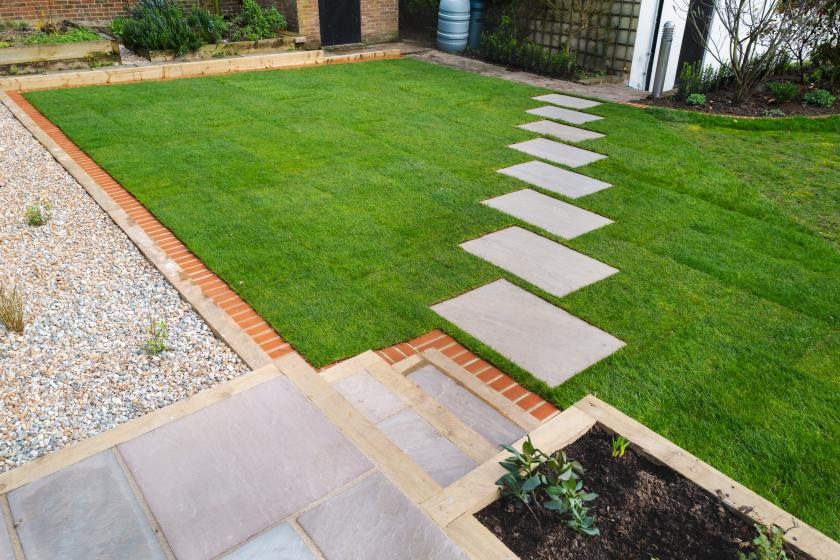 Instead of spending on a professional to lay out a pathway, you can do this yourself. Use minimal materials like stepping stones. Stepping stones give you a defined pathway without spending too much. 
Stepping stones cost between $5 to $8 dollars per piece. To install them, all you need to do is lay them along your desired path. Mark a hole for the stepping stone and cut out the turf to place the stepping stone in. This sort of DIY job can take about a weekend to complete. The results, a budget friendly and charming pathway. 
Outdoor Shower
There's something magical about showering outdoors. Perfect for hot summers or homes near a beach or lake, an outdoor shower is a standout hardscape piece on its own. 
A simple wall-mounted outdoor shower will set you back approximately $100 to $500 for the shower and to install it. A shower enclosure can range from $1000 to $4000 depending on how intricate the design is. 
The beauty about outdoor showers is they add an exciting feature in your backyard regardless if there's plenty of other hardscape elements or not. 
Unique Benches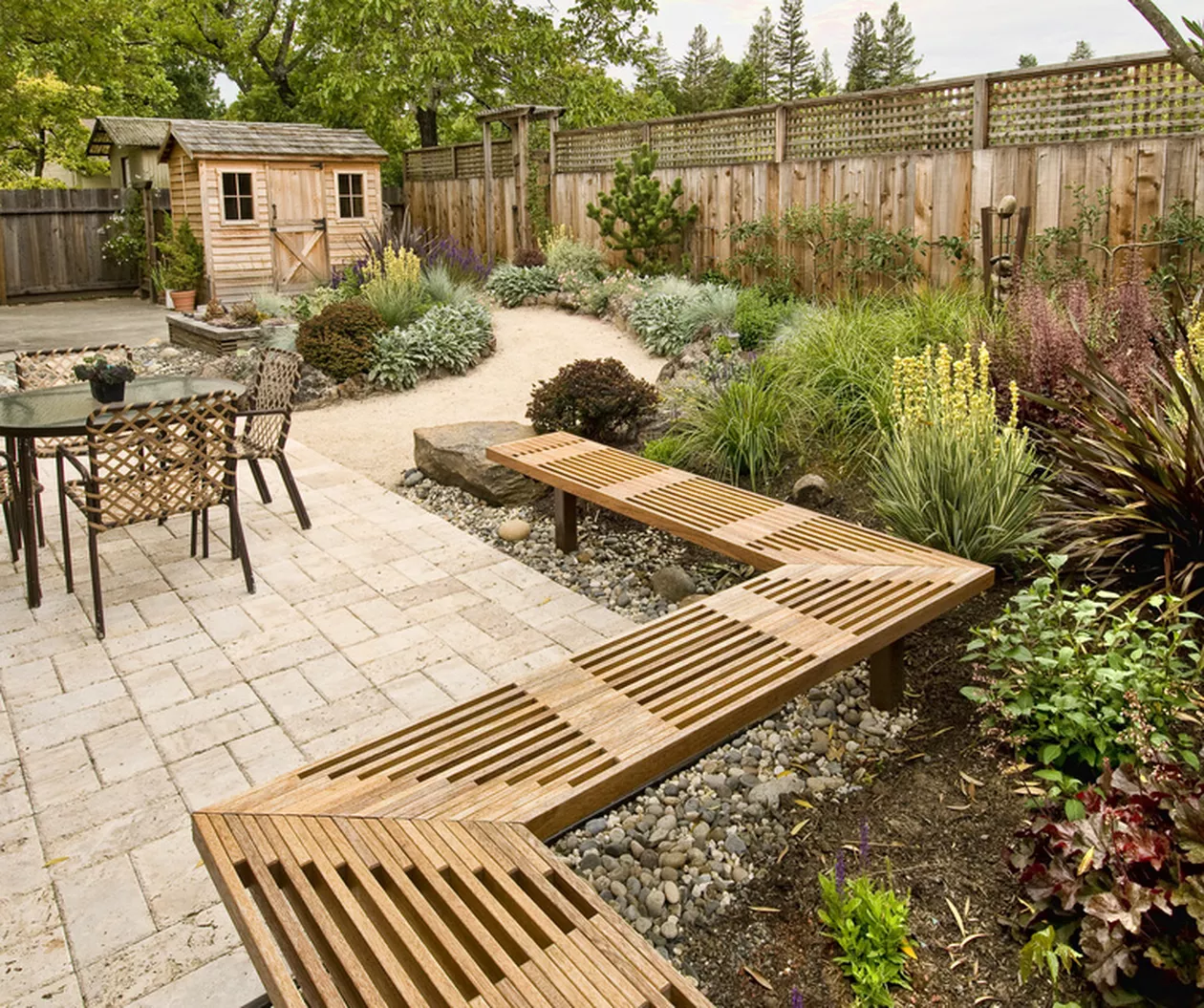 Whether placed in the middle of an empty garden, next to a pool, under a pergola etc, having a unique bench is a lovely and affordable addition to your backyard. A bench doubles as a decorative sitting piece. 
A bench can cost anywhere between $250 to $5000. Get creative with your design to make the most of it as a decorative piece. Simple long benches can be combined and connected in different directions. Garden wheel benches add a fairytale vibe. You can build a wrap-around bench under a tree for an instant shaded seating area. 
Get Some Gravel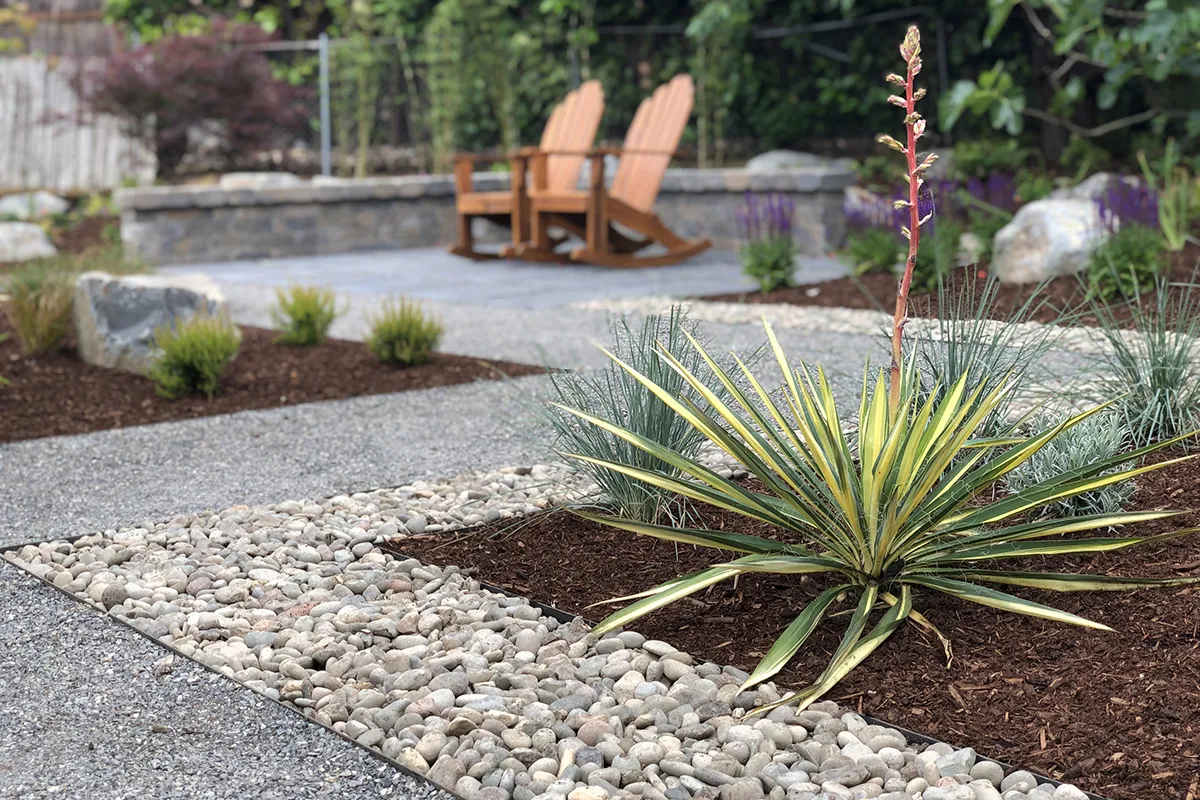 Gravel is an effective and inexpensive material to cover up and beautify your home. Use it along walkways and throughout any bare patches in your yard that you'd like to cover up. Gravel on average costs $30 per ton so you get plenty to work with across multiple areas in your yard. 
Beautify With Bark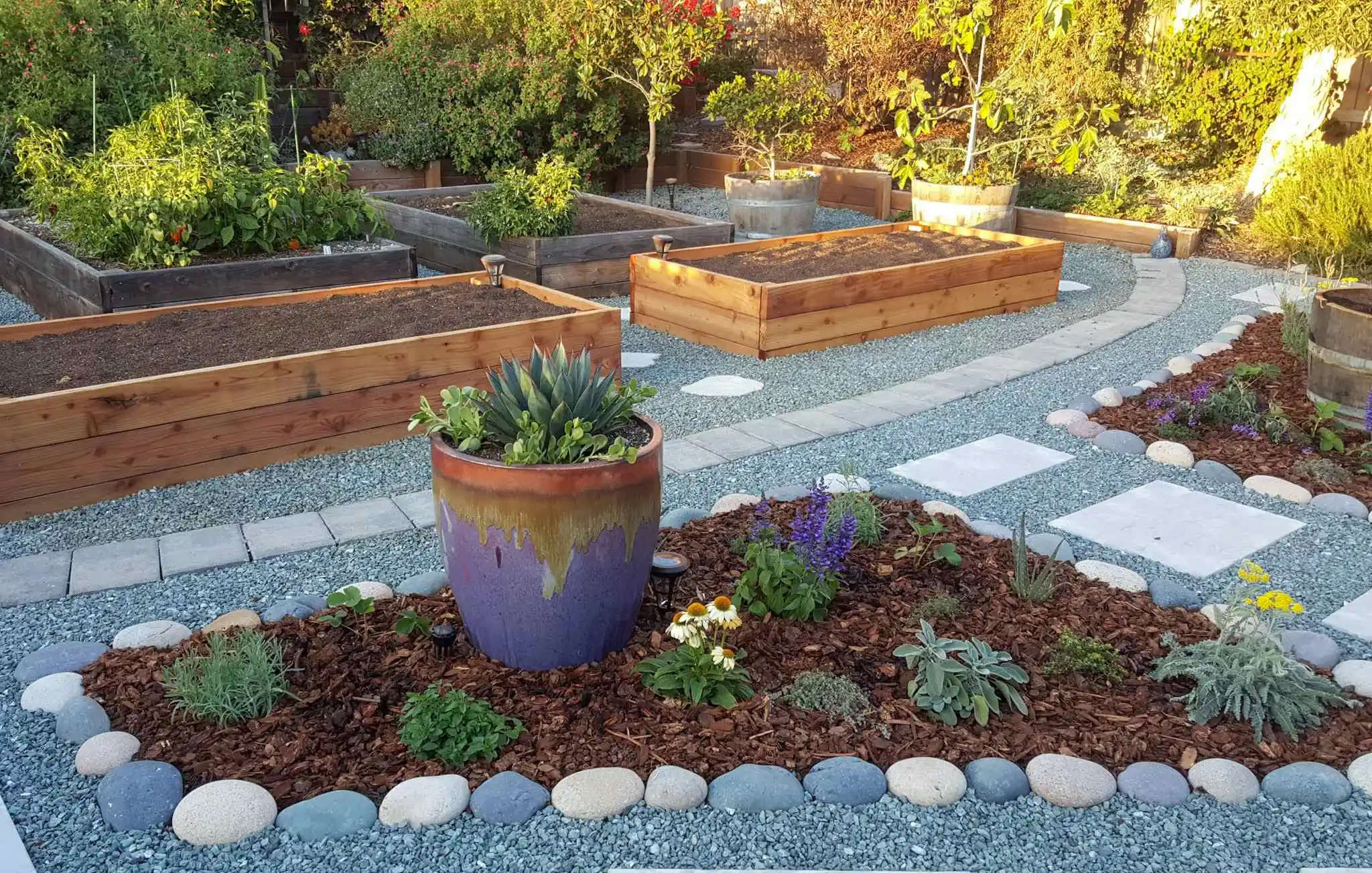 Like with gravel, you can use bark to cover up any patches in your yard that could use a pick-me-up. They look great covering any exposed soil in your landscaping. For instance, you can place them over flower beds to make the area look more polished. As a general rule, use 3 inches of bark to layer throughout your yard. 
On average, bark will cost approximately $45 to $130 per cubic yard and is one of the best hardscape ideas on a budget to have We recommend using bark to cover flower beds and tree planter boxes. 
Stack Firewood In Style
Instead of haphazardly stacking your firewood, double up its use and set up the firewood as a decorative piece. You can create a purpose-built display niche for where you store firewood. 
Woven Fences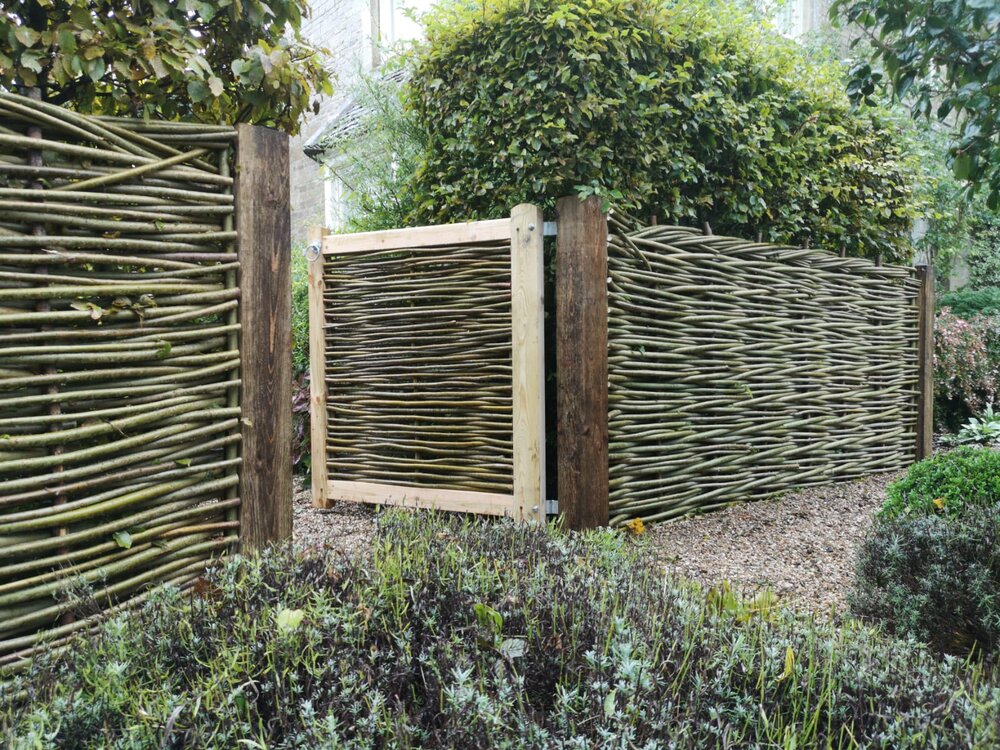 Woven fences are made of panels put together in a continuous weave. The fence is usually made out of willow or reed but bamboo works too. One of the excellent hardscape ideas on a budget, woven fencing costs $1,670 per square acre or $0.40 to $1.50 per linear foot. They're a charming hardscape addition to your backyard. Not only do they give a down-to-earth look, but they are also actual functional fences. You can use it to enclose a vegetable patch, an outdoor shower enclosure, run along the edge of a terrace etc.
Repurpose Old Tires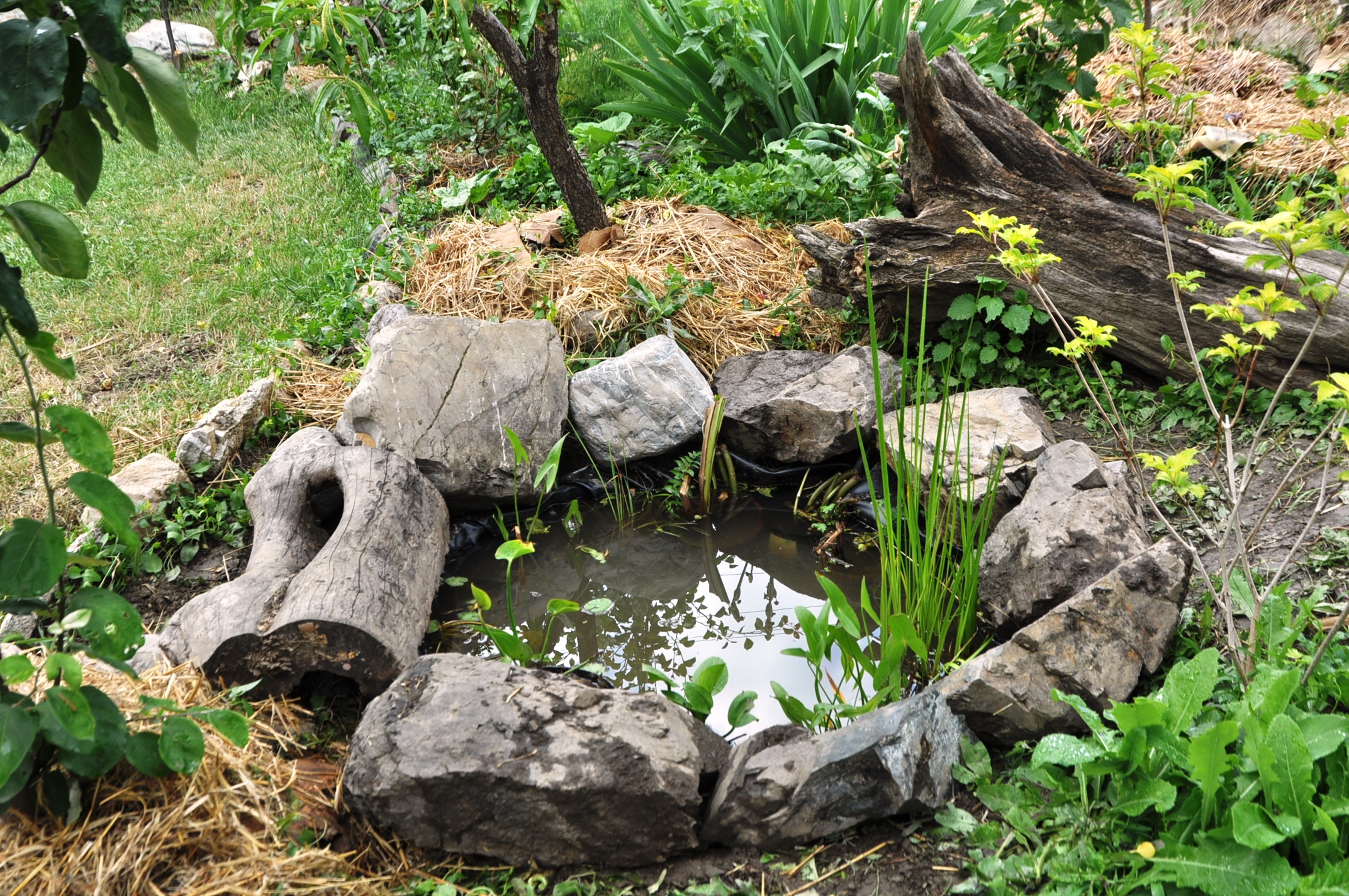 Give old tires a new purpose by adding it to your backyard. Old tires make for an excellent tire swing, hanging planters, a base for a mini garden pond, and even tire climbers for children. 
Add A Trellis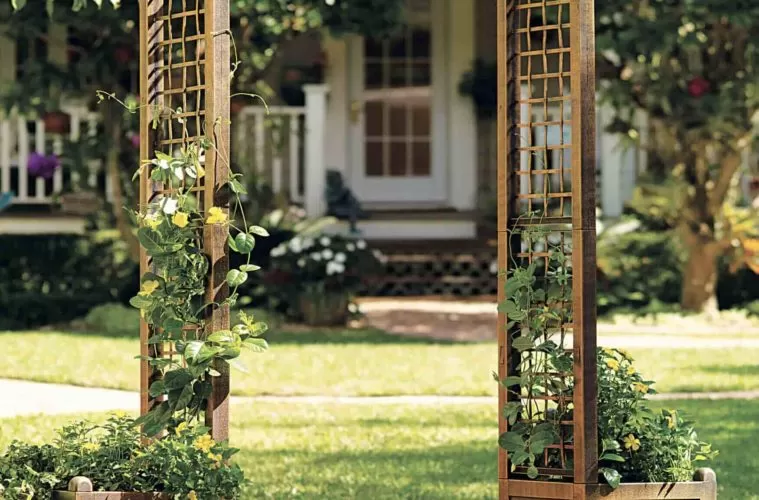 A trellis uses minimal materials but provides so much visual impact to your yard. A trellis typically costs $60 to $350 per square foot so you can scale it up or down as much as you want. Place them around your home, along fences, scattered throughout pathways, or anywhere you would like to put a privacy screen. 
A trellis is a lovely piece, without or without plants climbing up on it. Choose quality wood or metal to create a piece that doubles as a decorative piece as it supports your plants. 
Make The Most Of Your Garden Shed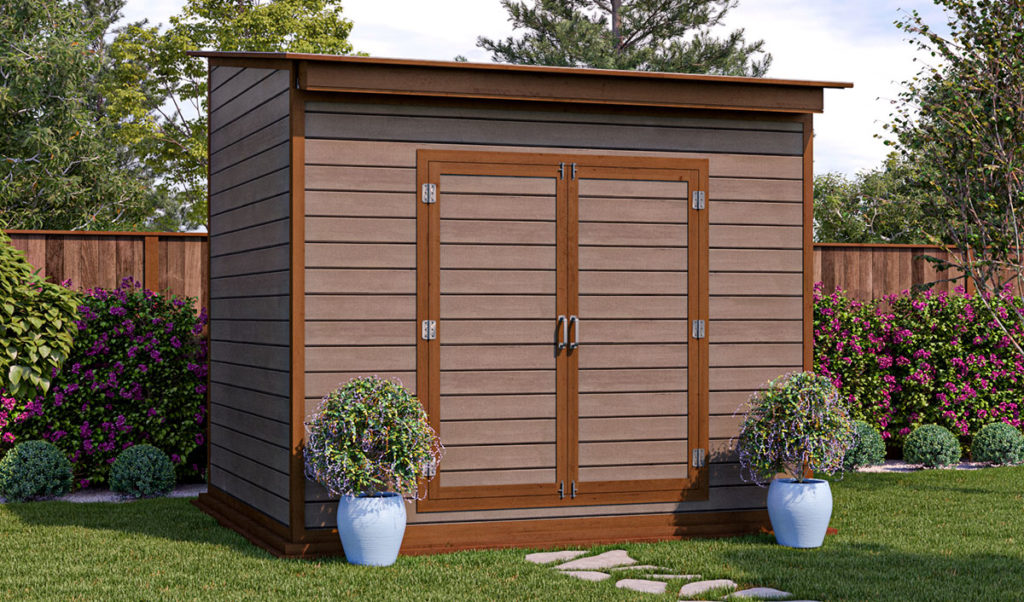 Anyone with a backyard will have a shed to store gardening tools. If your garden shed is treated as a run-down storage shack, know that you're missing out on a key piece that can beautify your yard.  
A garden shed can be as eye-catching as it is useful. Give it a fresh coat of paint, organized shelving and storage fixtures, clean windows and decorative pieces. Think of it like a mini house out in your garden. You can spend between $5 to $150 per square foot of shed building or remodeling. If you're working on a budget, you can tackle specific areas that will give your shed the biggest facelift. 
Regardless if you're a DIYer looking for hardscape ideas on a budget, you can always incorporate a hardscape element to bring your garden to life. It's a matter of creativity, combining what suits your home style and what's cost effective. Eye-catching elements don't need to break the bank to make your garden a go-to place in your home.