Home » Choosing Shower Doors: Everything You Must Know About
Choosing Shower Doors: Everything You Must Know About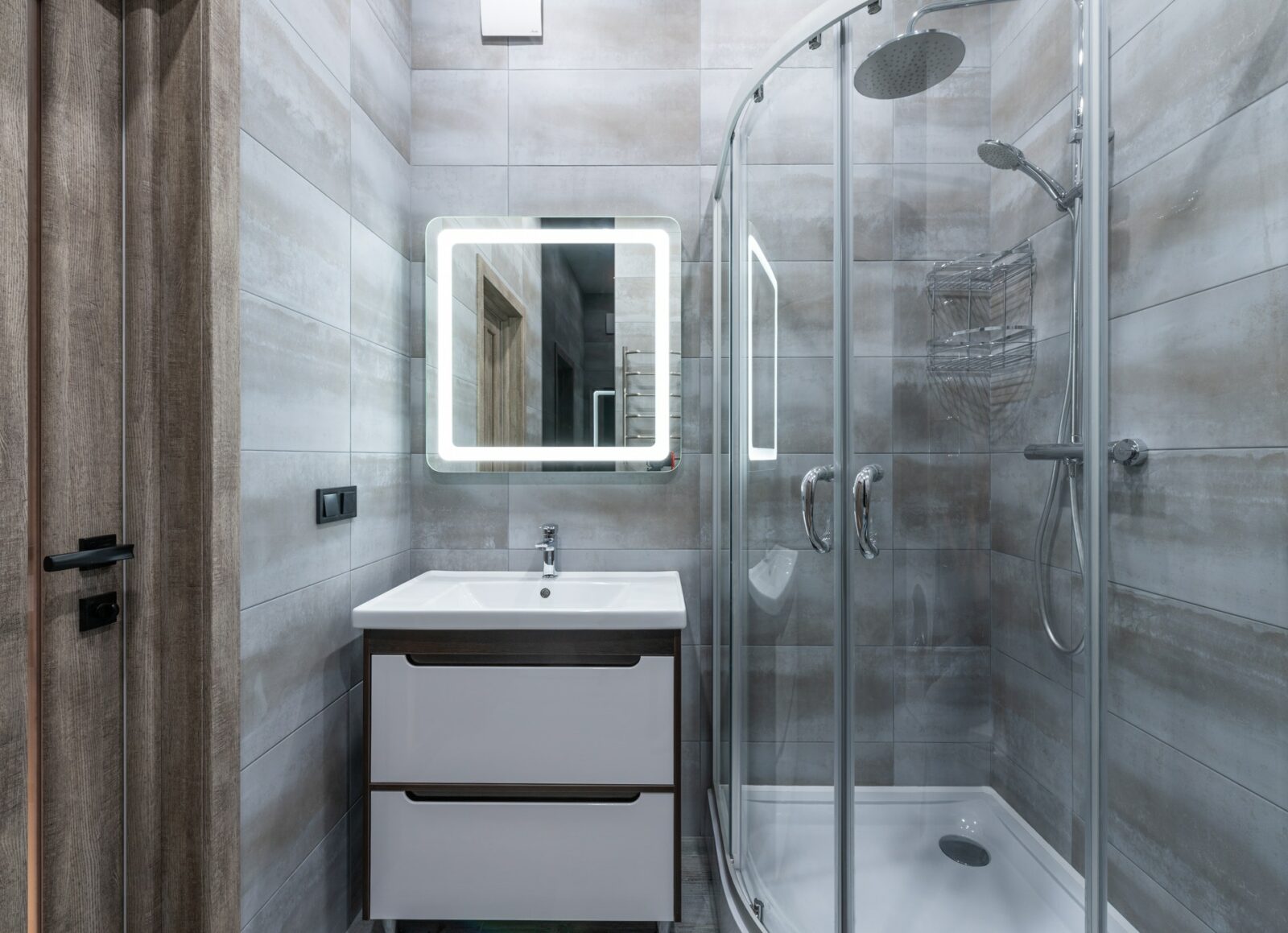 When upgrading your outdated bathroom, shower door can be crucial feature in a modern bathroom design. Besides providing an aesthetic appeal, shower doors can also be functional by offering privacy. A sturdy and chic shower doors can also be a way of attracting potential buyers, thereby increasing your home's resale value. In this article, we are going to discuss everything that you need to know about shower doors when remodel bathroom.
Types of Shower Doors
Depending on your preference, you can design your shower door using various styles. Below are a few types of shower doors that you might want to check out.
Sliding/Bypass Shower Doors
Sliding or bypass doors are the most preferred choices when it comes to shower doors. They take very little space as they can slide from side to side. You can opt for two or three panels on the track. This allows for just one door to slide while the others remain fixed, or you can arrange it so that each panel is mobile.
Pivot Door
Pivot doors rest on a hinge mounting from the floor that allows for a 180° rotation. The hinge can be attached to either side of the door as per the available space. They can open both outwards and inwards. While such doors are sleek and modern, they cannot fit into compact spaces.
Hinged Door
This type of shower doors swing on hinges attached directly to the wall or shower or the glass panel. Due to the limited angle on the hinge, it works like an actual door and swings only in one direction. Hinge doors are commonly preferred for standalone shower stalls as they require some space to open and close.
Neo-Angle Shower Door
If you have a corner shower or tub, a neo-angle door might be a good choice. These doors consist of two side panels and a flat front edge, creating a 90° angle while opening. This design helps maximize space both outside and inside the shower and is great choice for your bathroom remodeling project.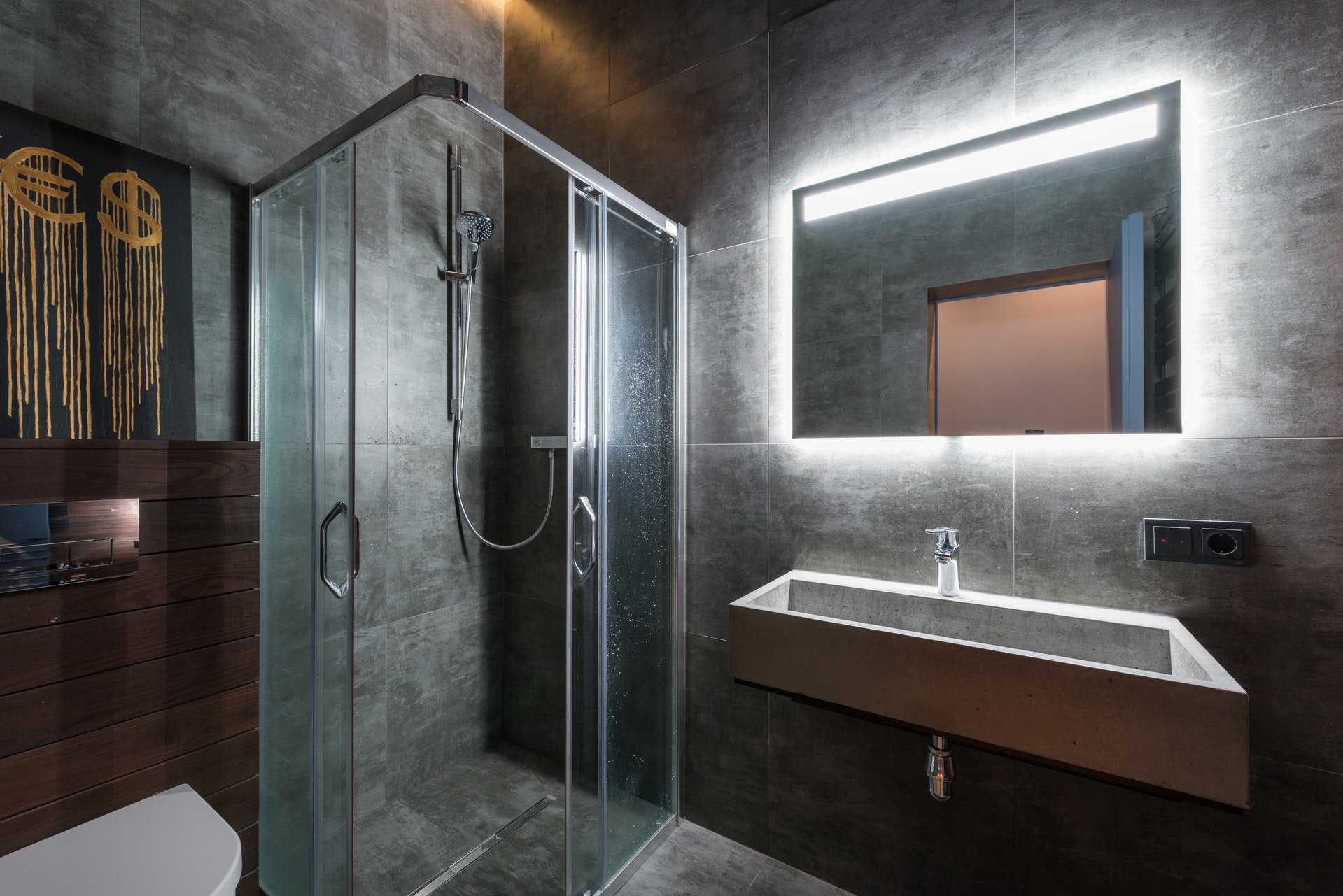 Steam Shower Door
As the name suggests, this type of door enables a basic shower room to act like a steam room. Such doors are designed with airtight hinges that prevent steam from escaping and even the panels have airtight seals on the top and bottom. Steam doors have moveable panels, called transoms, that work like vents.
Curved Shower Door
Curved shower doors are ideal for corner showers and can easily fit into a small space. Due to the curved shape, these doors are super easy to clean and do not accumulate grime or dirt in cracks. The rounded shape also provides more space to comfortably enter and exit the shower without a need to squeeze through a tiny opening.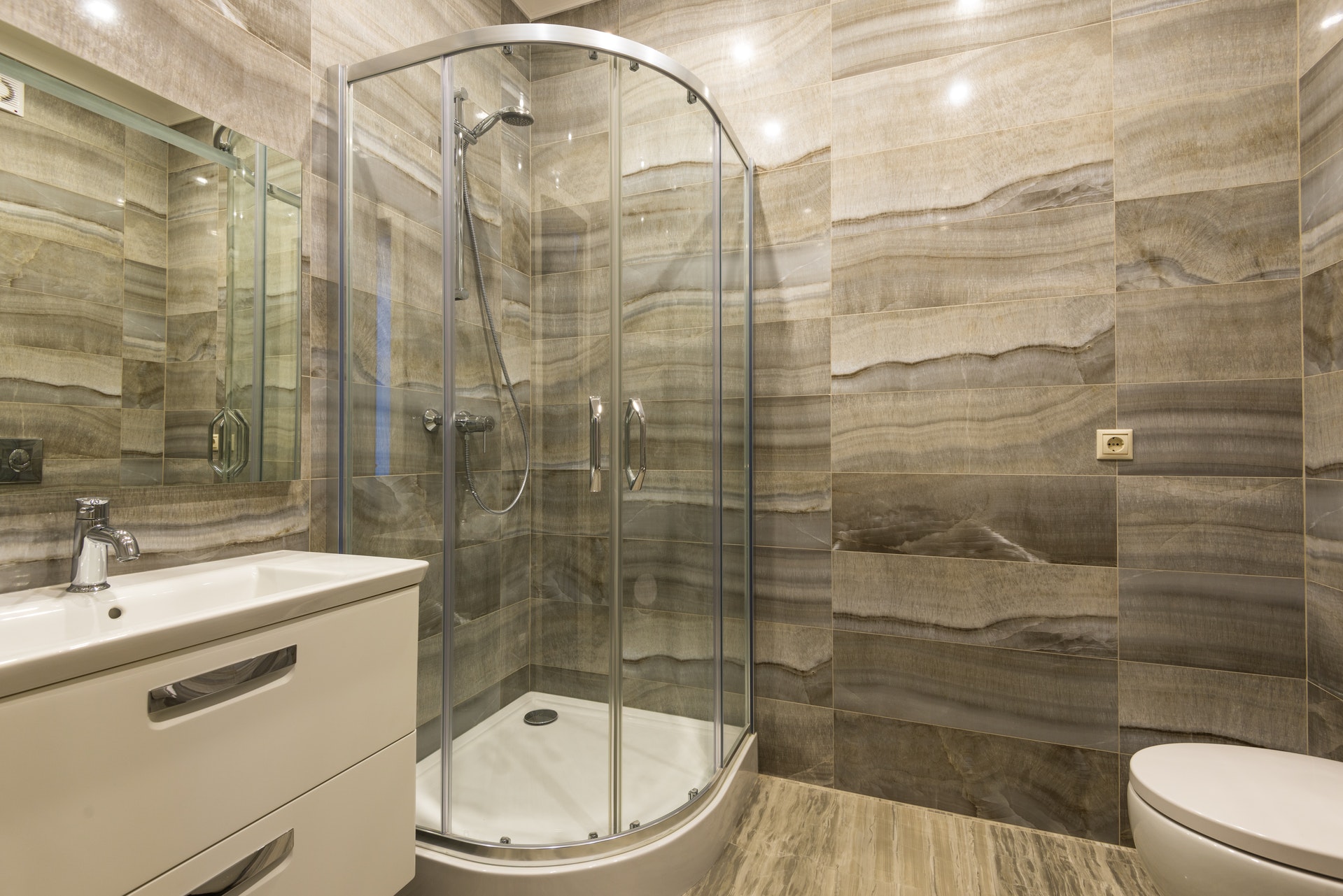 Frameless Shower Doors
Frameless doors are better than the ones with frames as they make the room look more open. Besides, they are the easiest to clean due to its simple design. It is made of a single piece of glass which makes cleaning hassle-free.
However, this type of door require thicker glass for stability which can cost you double the price of installing a framed door. Frameless doors can be worth it if you are particular about looks and have a heavy budget at hand.
Glass Shower Doors
For glass doors, you can pick from among clear, rain, frosted, or tinted glass. Clear glass is the most popular choice as it allows light to come in and looks clean. On the flip side, because it is clear, even the slightest of grime becomes evident if it's not scrubbed regularly. This is why many people go for frosted glass doors as they require less cleaning and is available in a wide array of colors and styles.
Tinted glass doors lend a modern touch to your bathroom decor. If you like privacy, you can choose a darker tone like bronze, grey, or black. If you want the benefits of clear as well as frosted glass doors, you can pick rain glass. It lets in plenty of light while also hiding soap streaks and offering privacy.
How to Install Shower Doors
Installing a shower door is pretty straightforward and you can tackle it yourself if you have the right tools and the basic know how of screwing the hinges. However, if you're not experienced in prior DIY construction or installation, refrain from experimenting and hire the right contractor Although it might cost you a few extra bucks, the job will be well taken care of.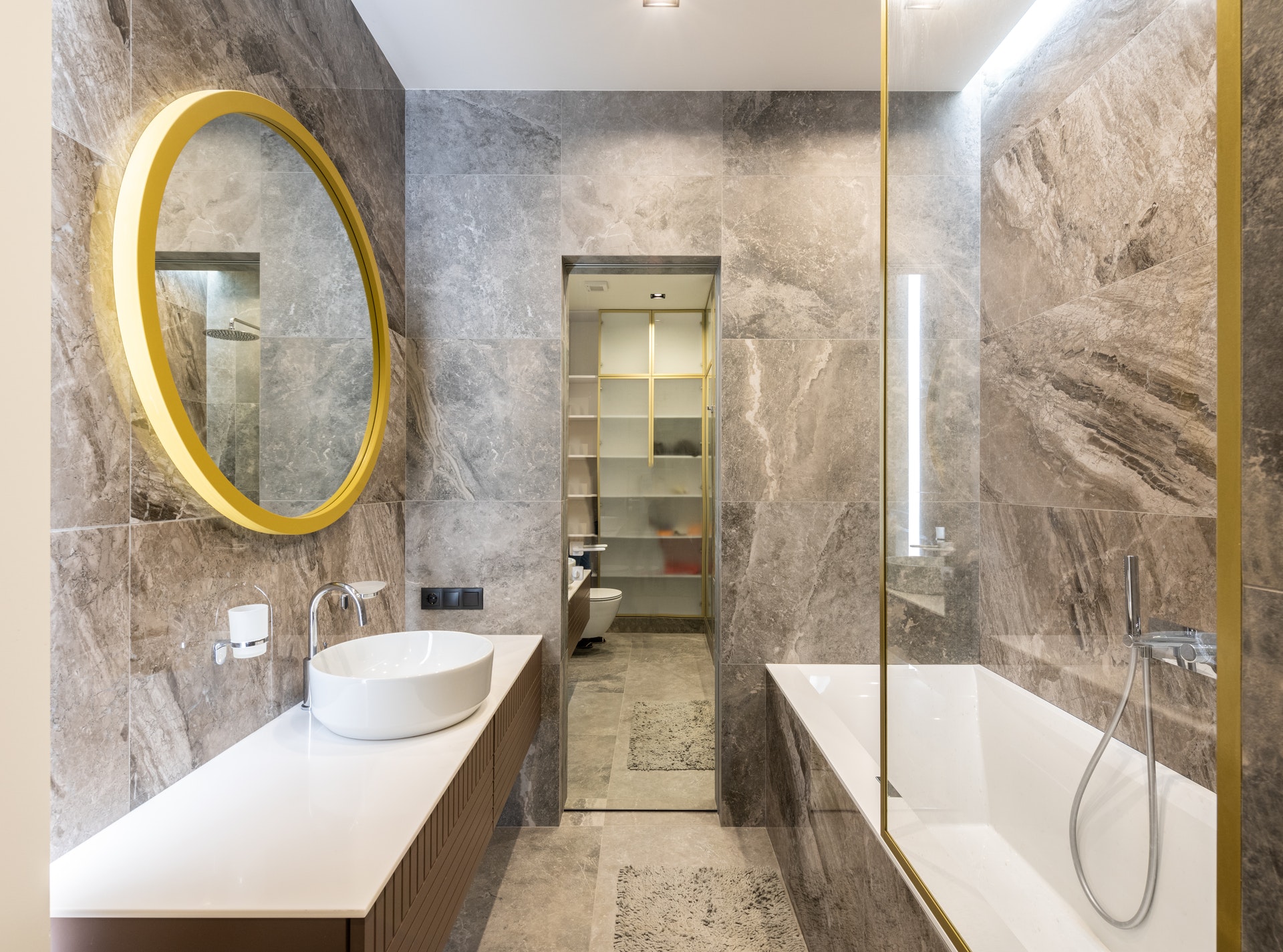 Besides the door itself, the job also requires other hardware like hinges, channels, the bar, door knob, pulls, etc. You will also have to count the labor cost. Overall, it can cost you around $500-$1000. The prices will vary based on the type of door you choose. The state or city you reside in is also a factor as installation rates vary from one place to the other. Again, different sizes will call for longer hours and accordingly the cost will increase or decrease. The standard width of a shower door falls between 45 inches and 60 inches. Below is a table that lists the different prices based on size and type.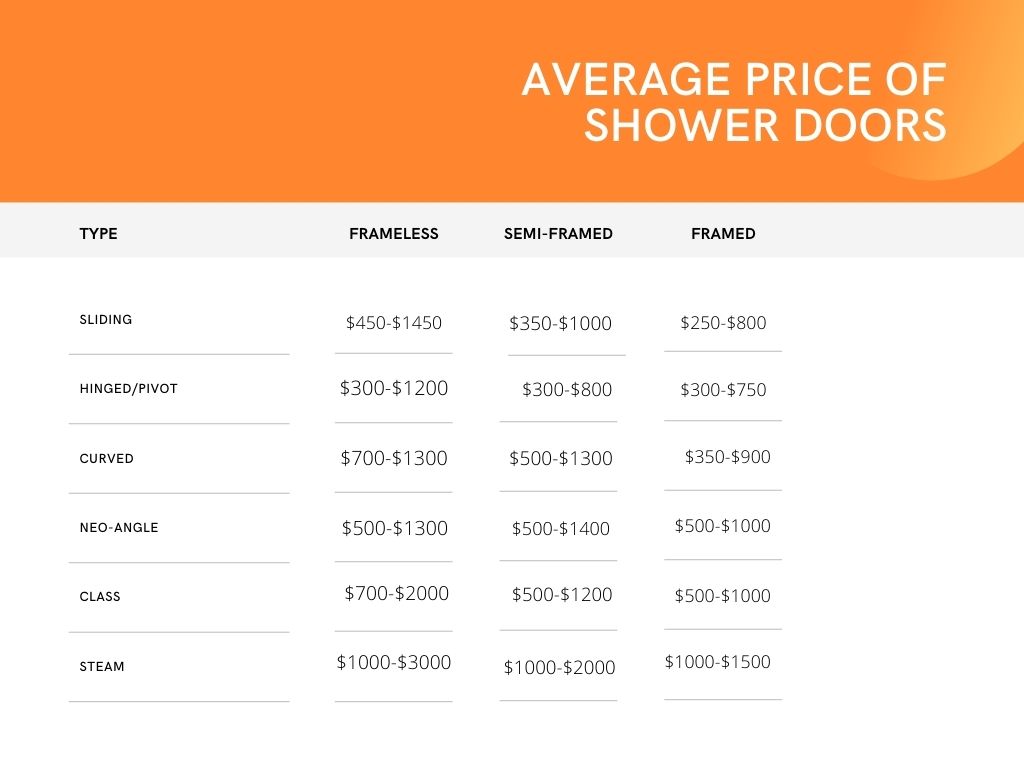 The charges can go up if you want a customized design for your shower door. Shower doors that are taller than 76 inches and wider than 60 inches can be called a custom door. The cost for these range from $1500 to $3500.
How to Clean Glass Shower Doors
Noticed hard stains on your shower door? Well, there's nothing to worry. Although the task might look daunting, it doesn't require bleaching or ammonia unless the stain is greasy. You can clean shower doors with household items like vinegar and baking soda. In fact, these are the best cleaning ingredients for kitchens and baths. To scrub your glass pane, you will also need a squeegee or a cellulose sponge.
Mix baking soda and vinegar into a mug of water and dip your sponge into the solution. Once the sponge is soaked, scrub the surface in circular motions until you notice the stains disappearing. As soda could be harsh on your skin, remember to wear gloves. Once you have scrubbed the entire glass clean, soak a squeegee in clean water to give the panes a second wash. Next, you take a clean, dry towel and rub the surface to keep it dry.
To avoid this hassle, you may scrub the pane with a squeegee after every shower. That way, you won't require any cleaning ingredients and would not have to spend your weekends cleaning the entire door.
FAQs
How to clean plastic shower doors?
You can clean plastic shower doors the same way to scrub glass doors. You may consider adding a little dishsoap foam into the mixture to easily remove grime or dirt.
Can you add shower doors to a bathtub?
Yes, you can add a shower door to a bathtub. You will have consider the available space to decide on a suitable design and size though.
What's the best shower door for small bathrooms?
Folding shower doors are ideal for small bathrooms as they take up less space.
What thickness is best for shower doors?
Typically, shower doors should have a thickness within the range of ⅜ inches and ½ inches.
Do frameless shower doors leak?
No, frameless shower doors do not leak. Although there are small gaps on the sides and in the hinges, there is no chance of water leaking out unless you directly point the shower at these seams.
What is the difference between a pivot and hinged shower door?
The key difference between a hinged door and a pivot door is the hinge itself. The hinges on a pivot shower door allow it fully open in either direction. But in the case of a hinged door, it can only comfortably open on one side.
Closing thoughts
Now that you know all about shower doors, you can plan the budget and style for your next shower addition. Do keep in mind the cleaning tactics and comfort level offered by each type of design. Have a nice shower!