35 Best Butler's Pantry Ideas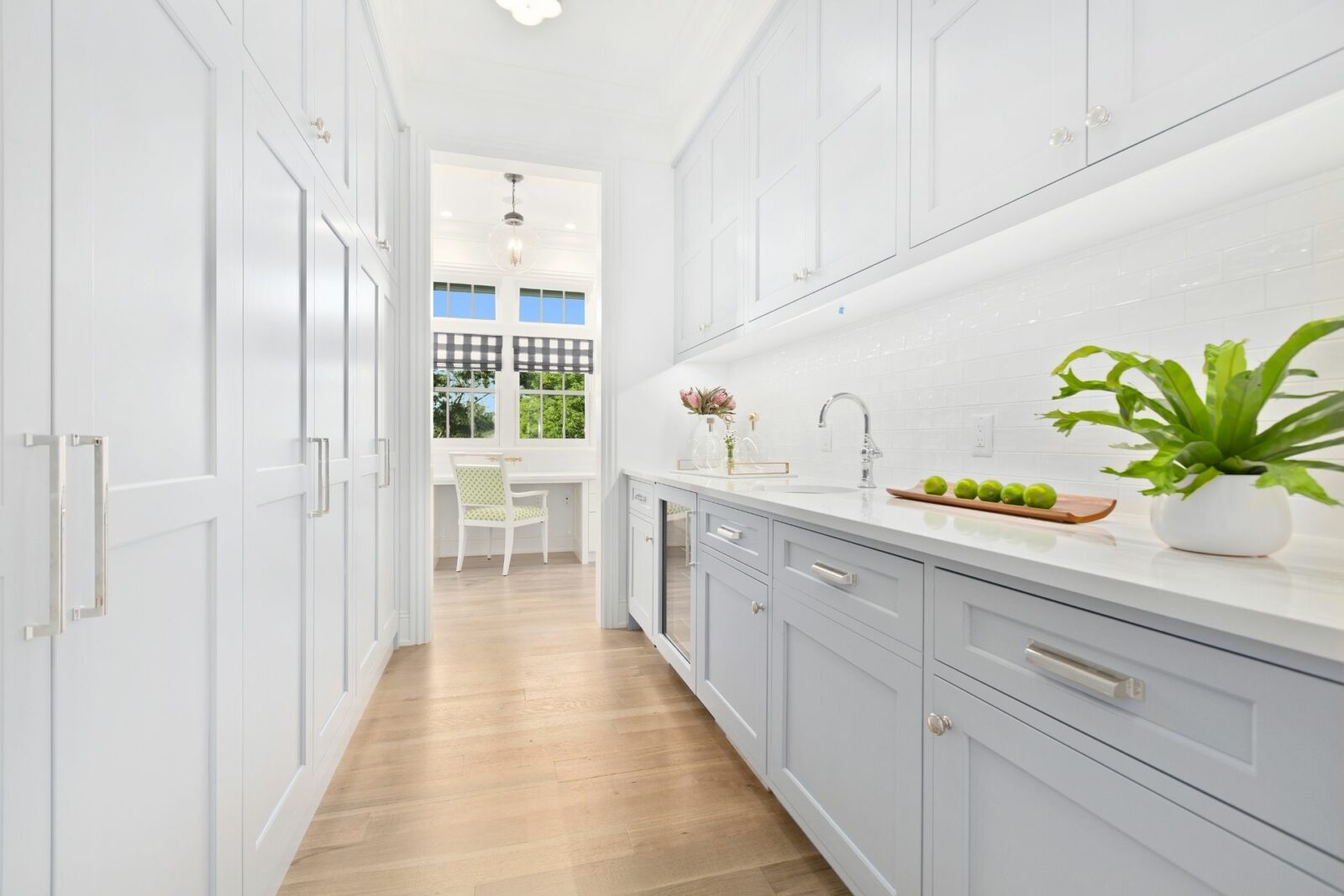 The concept of butler's pantries came into being in the 19th century, resulting in a narrow space between the dining room and the kitchen that held valuable crockeries and family kitchen heirlooms. They earned the name from the fact that a few luckless butlers actually had to sleep in these spaces to keep an eye on the storage items. Coming to the present, the butler's pantry ideas are gaining their momentum back, minus the butler and precious silverware. Homeowners now like to use this space as a preparation area or to entertain guests while cooking in the kitchen. If you wish to remodel your kitchen, incorporating a butler's pantry might be the most feasible idea. 
To help with the design, we have curated these trendy, much-loved ideas to create a butler's pantry in your home. 
Cottage-Style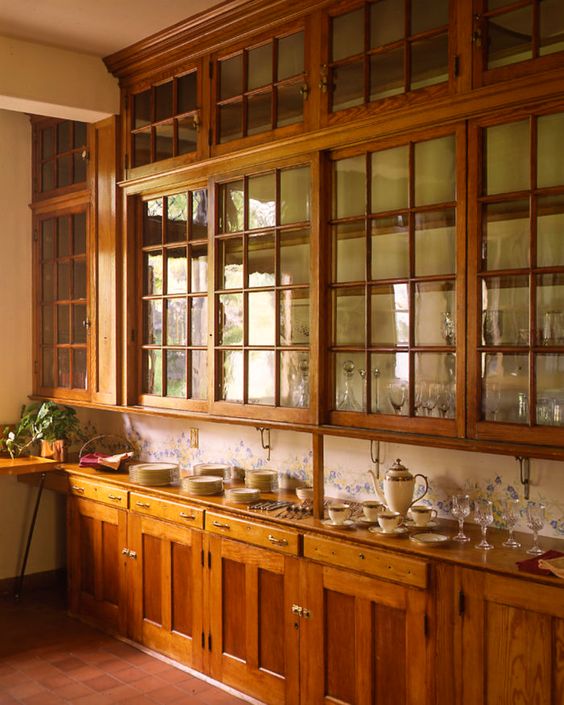 Wooden countertops, complemented by glass cabinets, bring back the old-world charm of the Victorian era. If you have elegant crockery, this might be the ideal way to feature them.
Luminous Glamor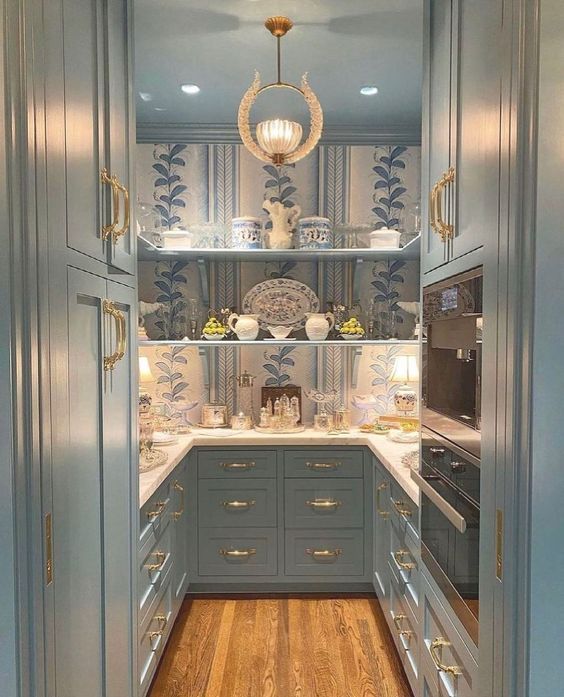 Earthy hues of blue kitchen cabinets, a floral wallpaper, and a Harry Potterish chandelier are all you need to turn your butler's pantry into a magical corner. 
Charming White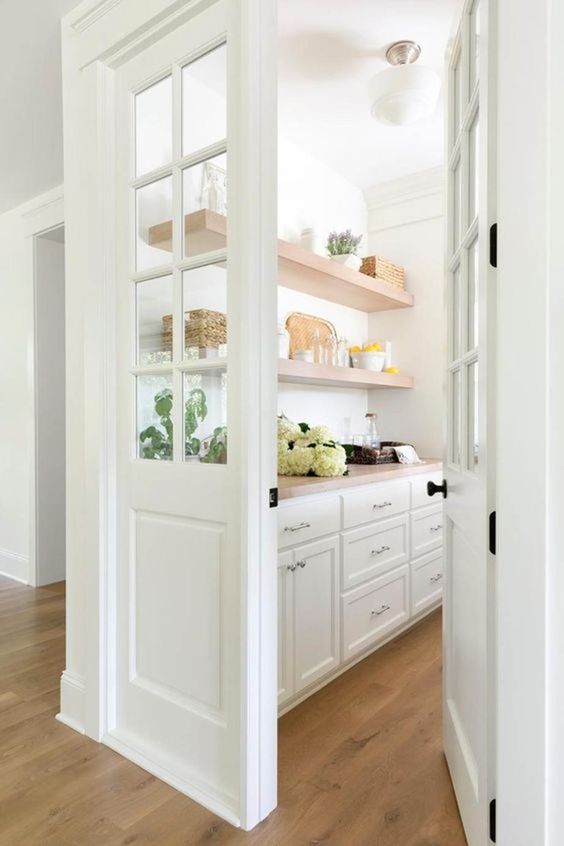 A white butler's pantry cabinet is a timeless work of art, that'll exude elegance and class. This modern butler's pantry works like a separate room featuring open shelves and a spacious countertop. 
Farmhouse Facade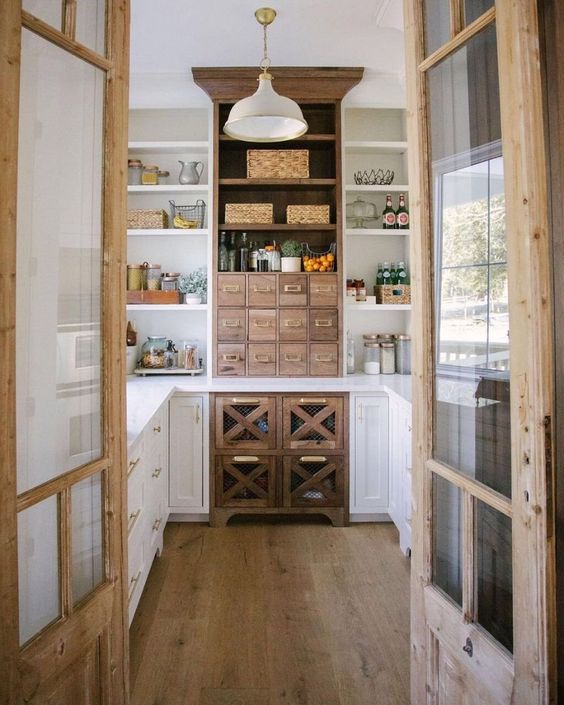 The rustic drawers, cabinet, and door in this traditional farmhouse-style enclosure recreates the aura of the countryside in a modern setup. 
Open Shelving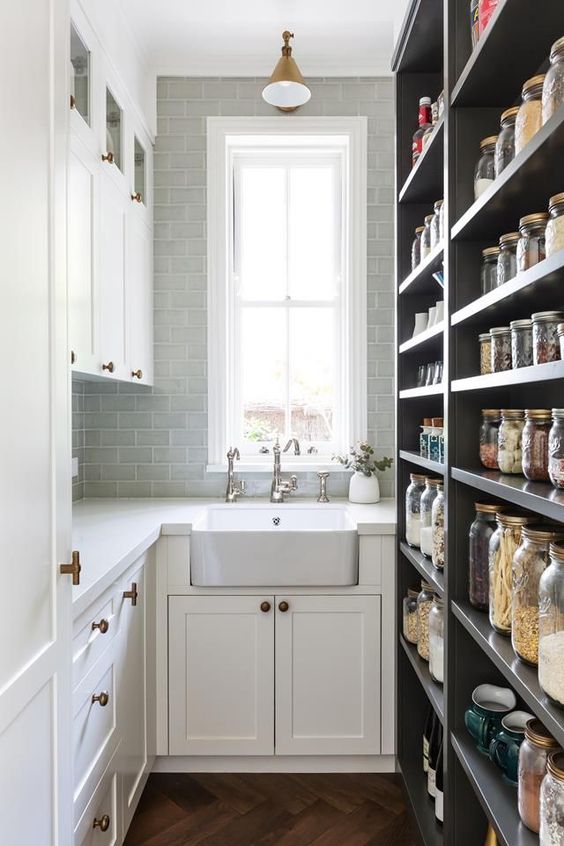 The compact space here is maximized with the inclusion of rows of open shelves while the nickel taps create a befitting contrast against a neat, ceramic sink. 
Caged Cabinets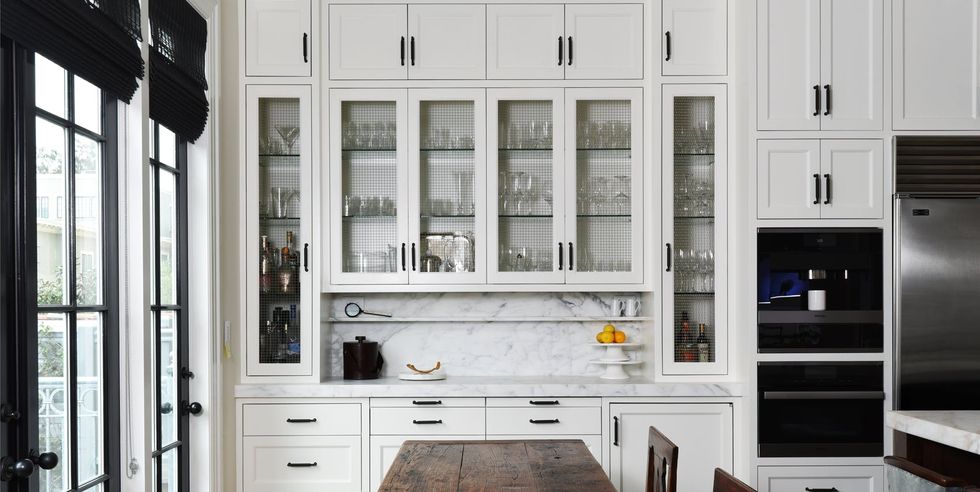 If you wish to add a modern touch to your cabinets in the pantry, go for something like these caged cabinets that cleverly blend contemporary and traditional decor. 
High Cabinets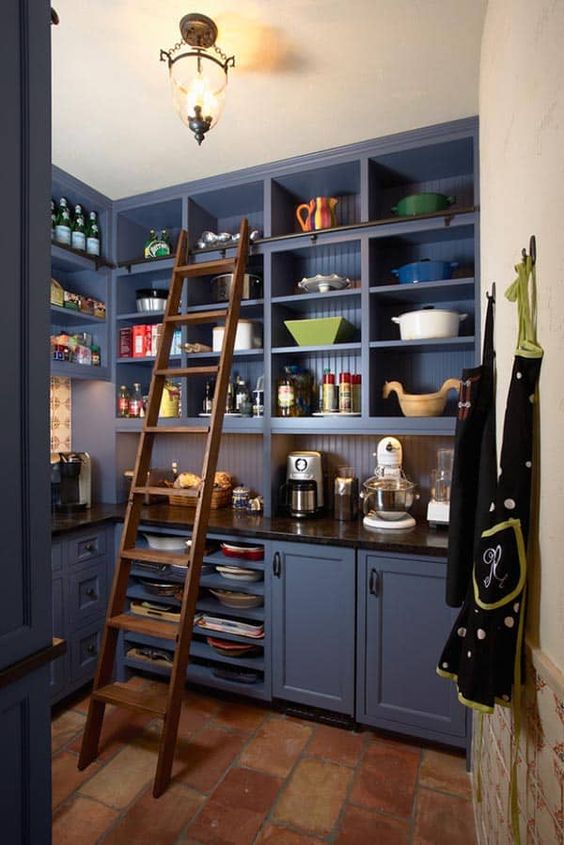 You can increase storage space by incorporating high cabinets over your regular cabinets. Stack less-used items in the higher racks and use a rolling ladder, as and when you need to get the special crockery. 
Hallway Mystery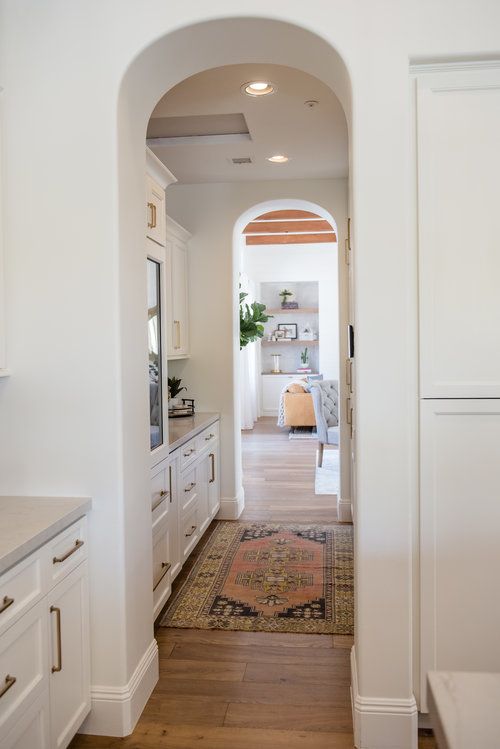 Save space by utilizing your hallway as a butler's pantry. Throw a plush rug or a patterned carpet on the floor to amp up the decor. 
Opaque Glass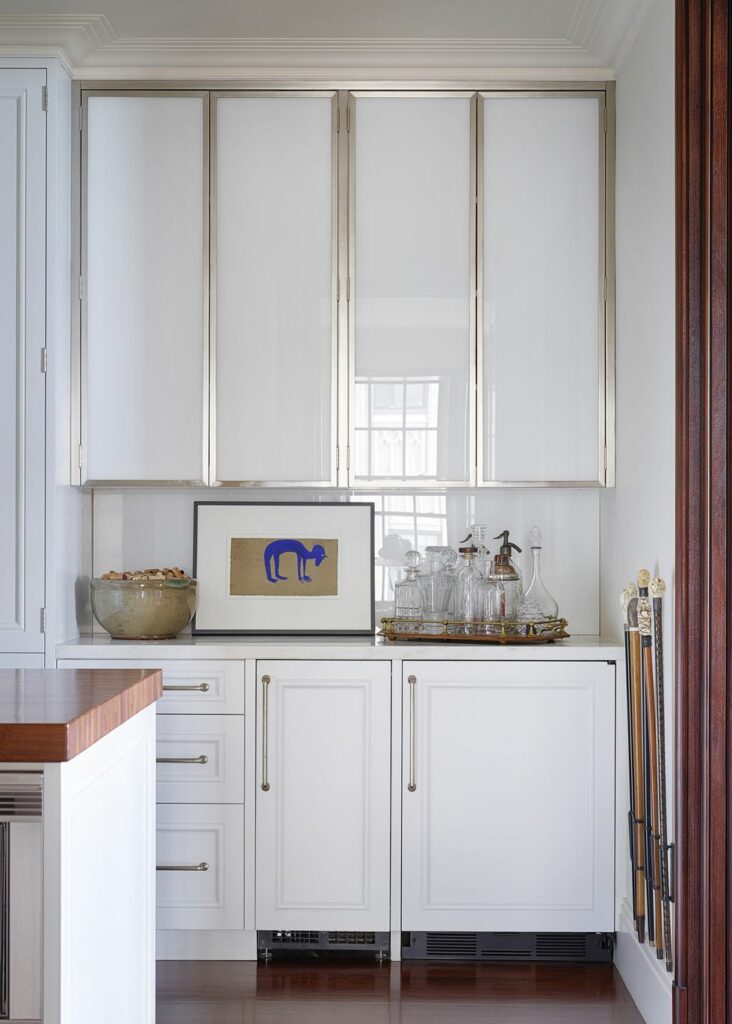 Go for opaque cabinets to uphold a minimalist vibe and create a cleaner look. It is one of the most chic butler's pantry ideas.
Sliding Door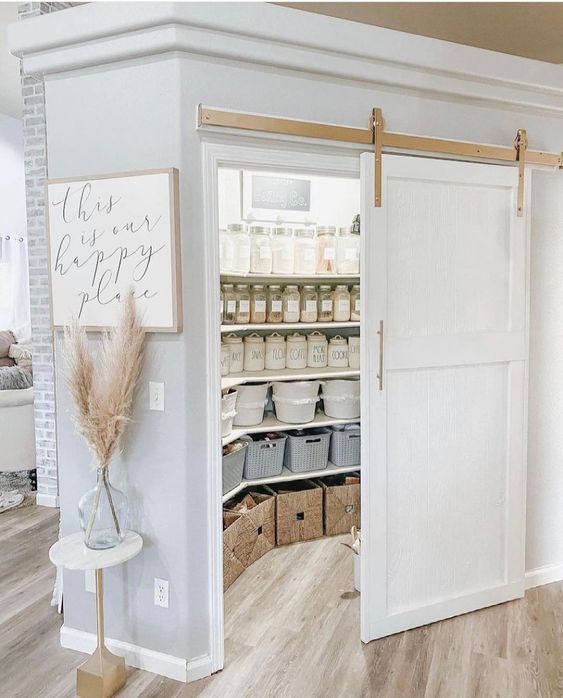 Turn an ignorant corner of your home into a butler's pantry by adding lines of open shelves and covering the space with a sleek sliding door.
Vintage Wallpaper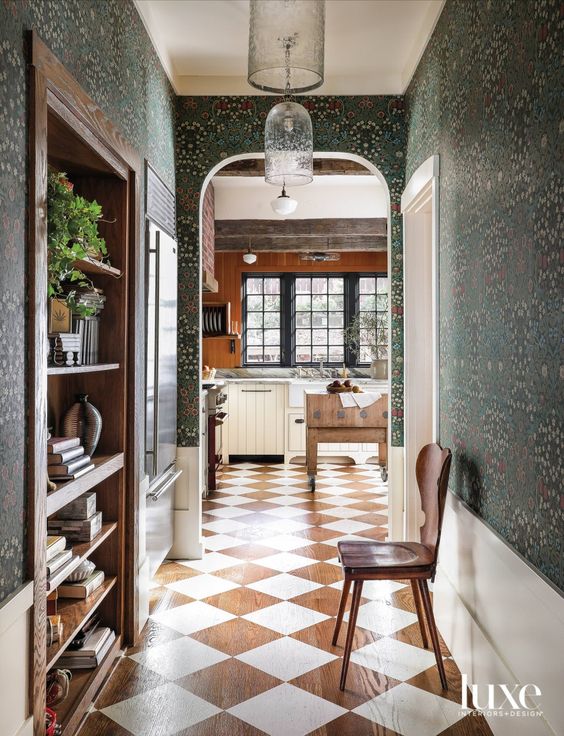 A trick to jazz up your butler's pantry is by ditching the usual backsplash and filling the space with statement wallpapers to add a touch of old-world charm to contemporary decor. 
Arched Cabinets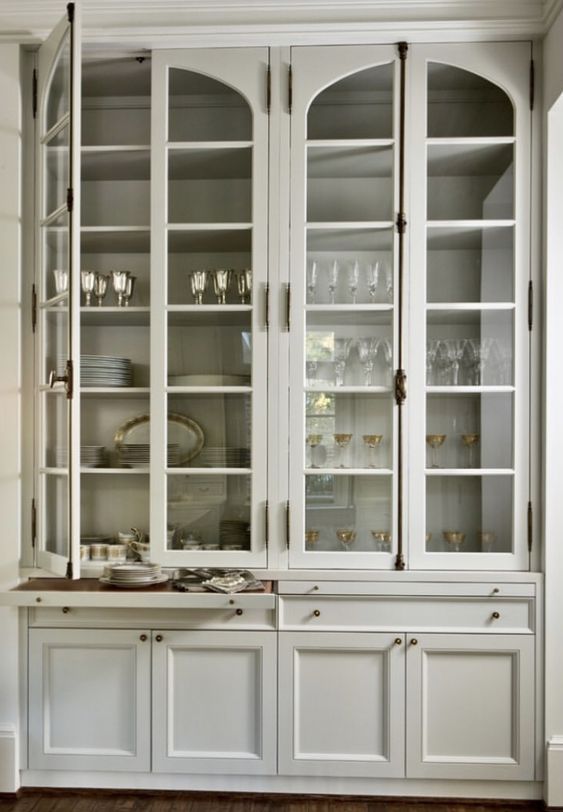 Inspired by the arched window design idea, these cabinets flaunt Victorian architecture in its truest sense, exuding sophistication and a tinge of warm nostalgia.
Dark Wood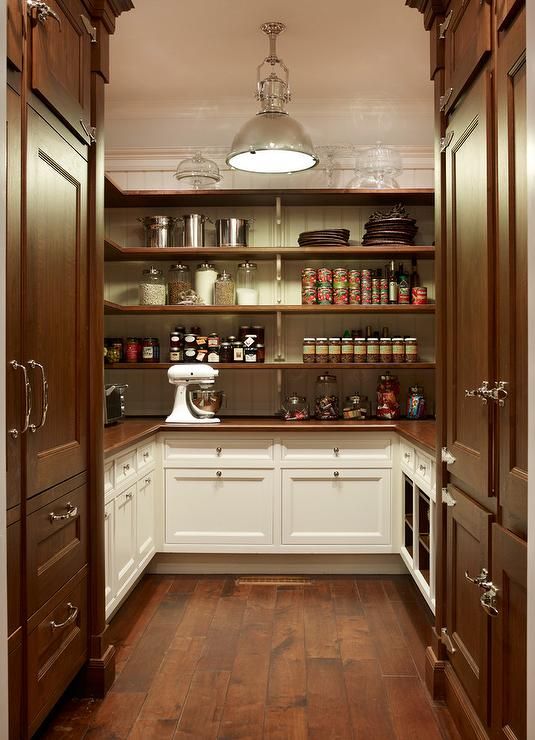 Create a recluse from the daily hullabaloo and get busy whipping up the best recipes in the comfort of this modern pantry laced in dark wood. 
Floorplay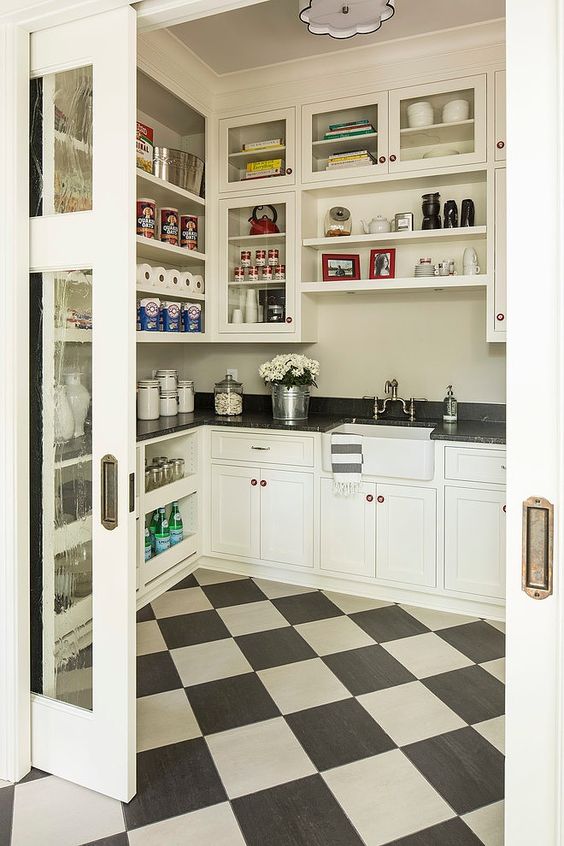 Add some quirk to your pantry by playing with some cool flooring patterns. The chessboard flooring in this pantry effortlessly enlivens the vibe of the entire space. 
Chic and Modern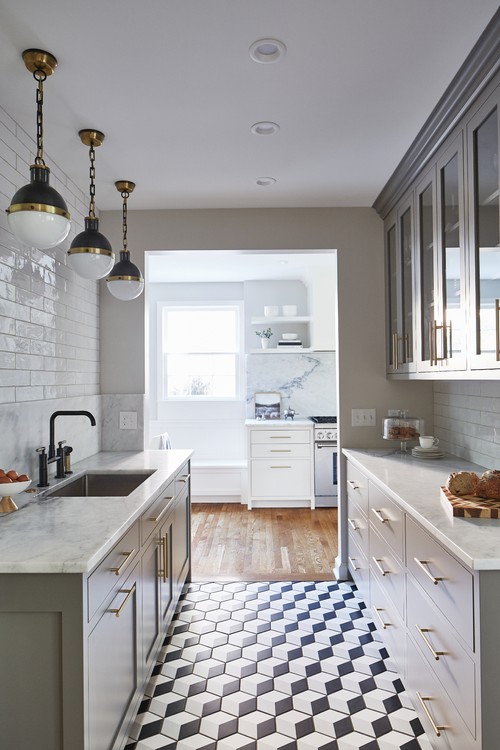 This breezy space with sleek pull-out drawers and a minimal palette sets the bar for contemporary-style butler's pantries. 
Pop of Color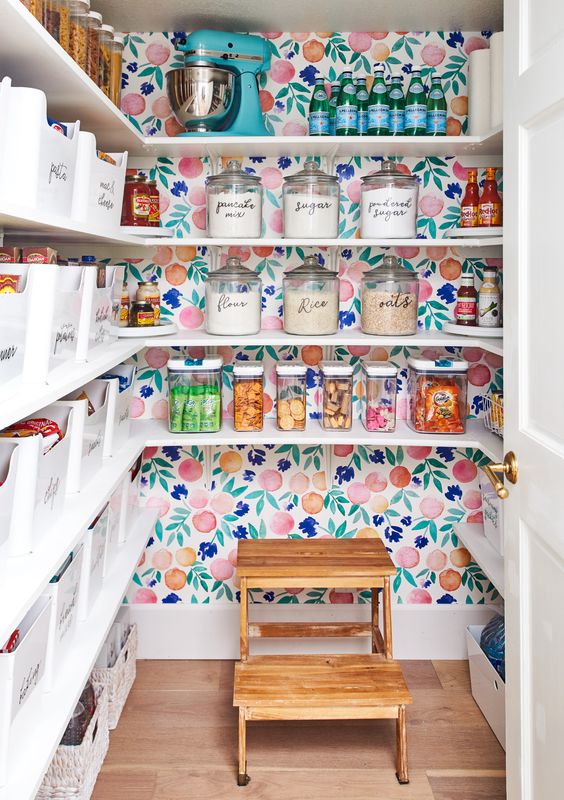 How about layering the walls of your pantry with something as vibrant as this wallpaper? A pop of color wouldn't hurt an otherwise plain-looking corner in the house. 
Keep it Natural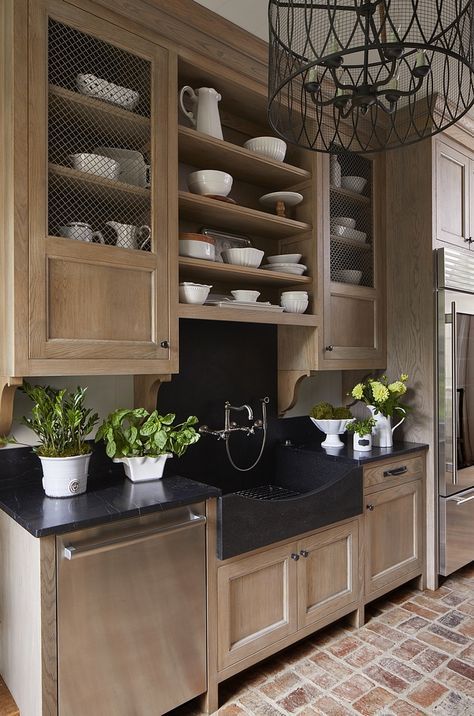 Check out the simplicity of architecture in this unassuming butler's pantry, accentuated by potted plants and a matte black sink as the centerpiece. 
Dining Room Adjacent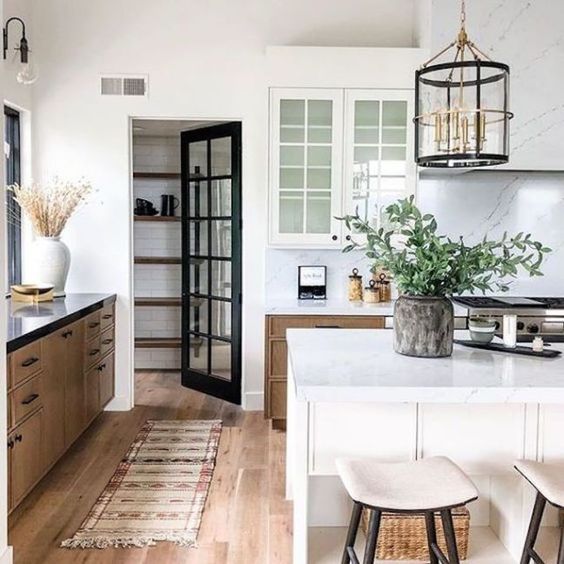 It's always a wise idea to have the pantry next to your dining room or hall for easy accessibility. 
The Bar Angle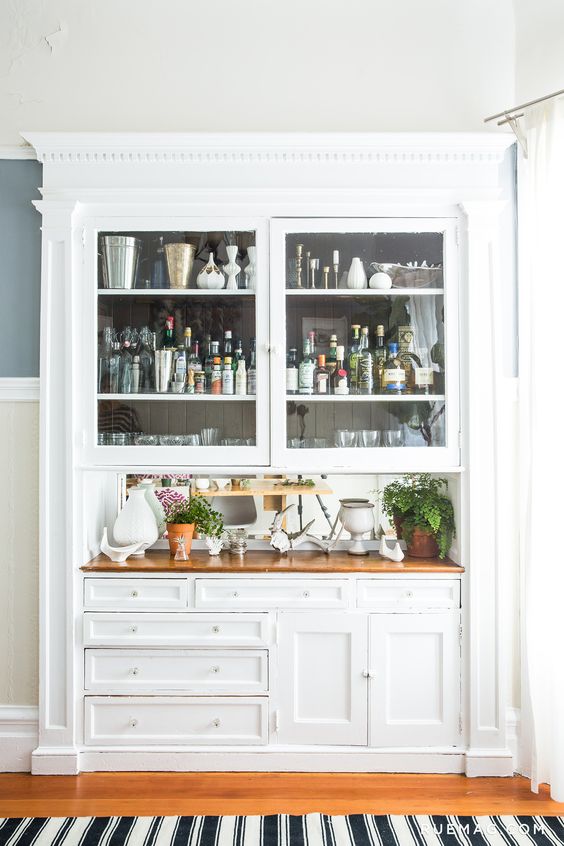 You may consider turning your pantry into a bar when you host dinner parties. It's easier to mingle with the guests in the dining space while preparing dinner. 
Marble Details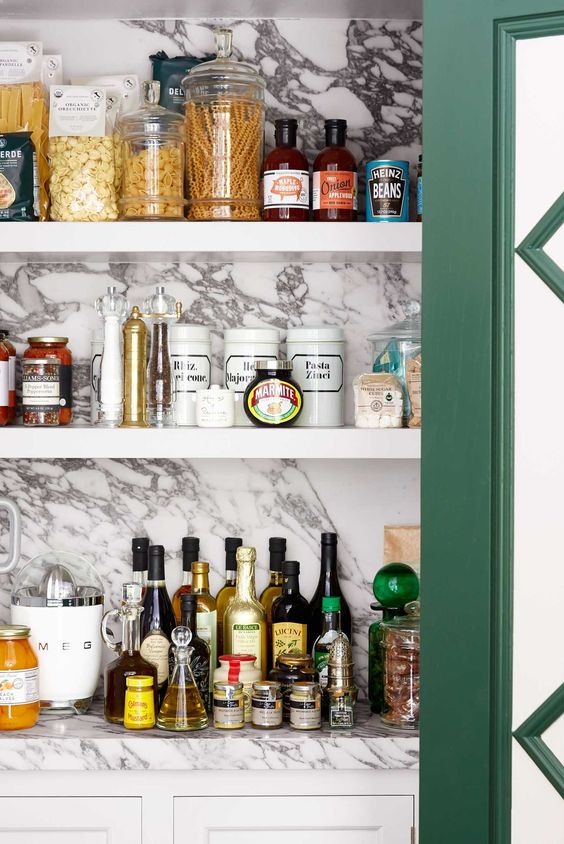 Opt for matching marble slates for the countertop and backsplash to create a cohesive design. 
Pendant Lights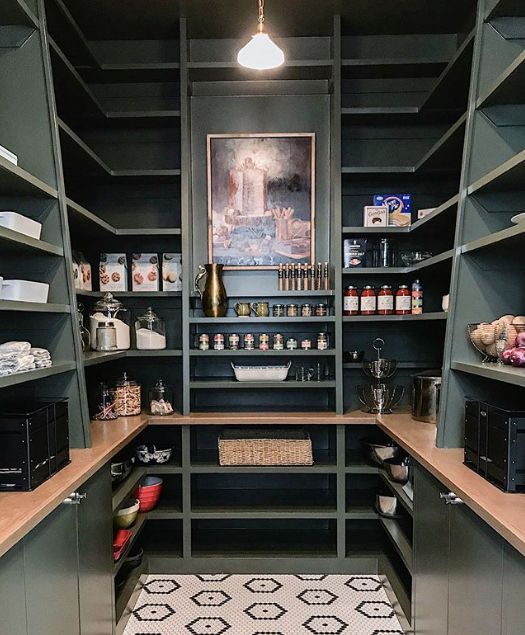 The overhanging pendant creates a mystic aura inside the pantry while also enhancing visibility.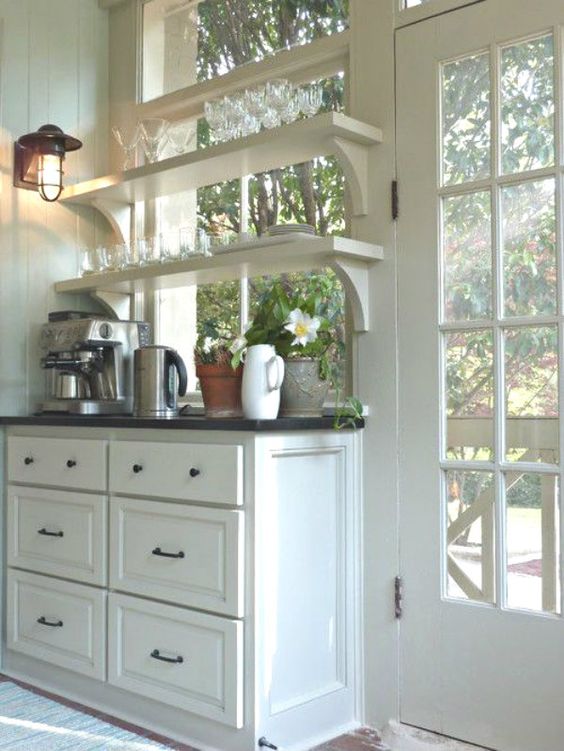 Locate your pantry in a space that offers you a vibrant view of the outdoors. It could be through a full-length glass door or French windows. 
Supplementary Space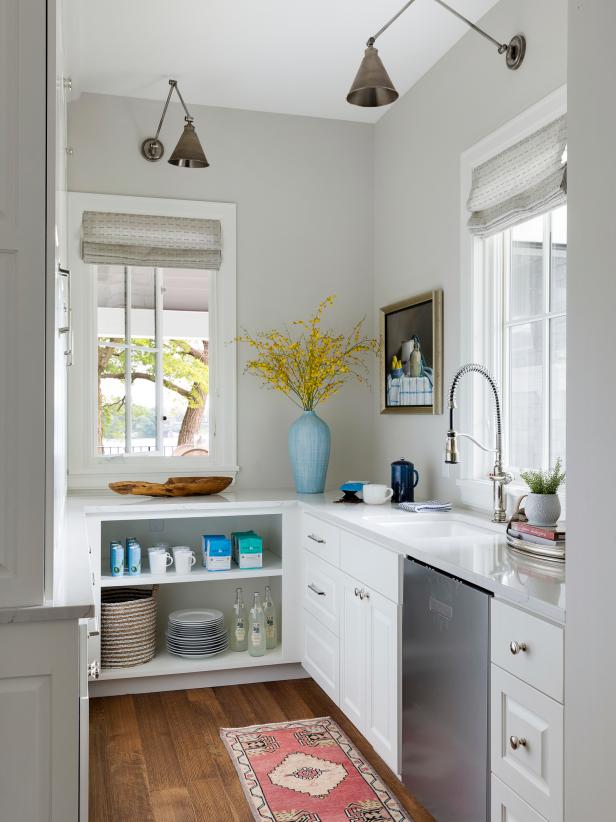 What could be a better way to open up kitchen space than moving MVPs like the oven and dishwater to your pantry? 
Artsy Vision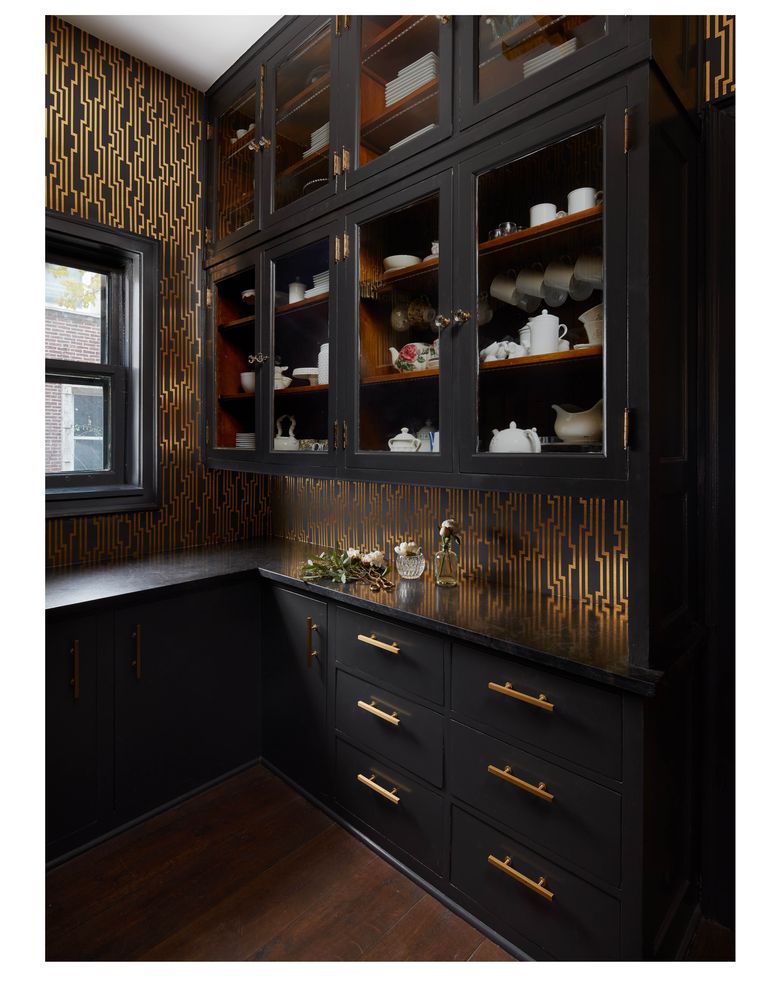 Go bold with an adventurous palette like this black and gold combination. 
A Touch of Gold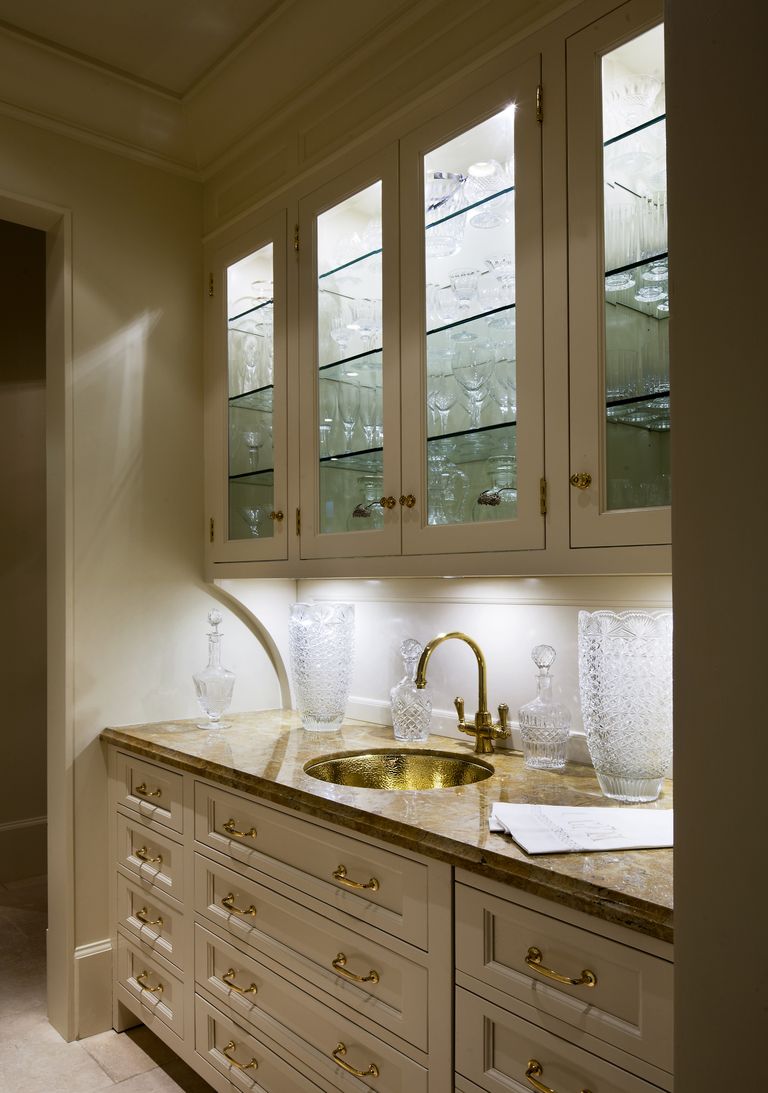 Incorporate a gold-plated sink or taps to lend a bit of majestic charm to your space.
Corridor Link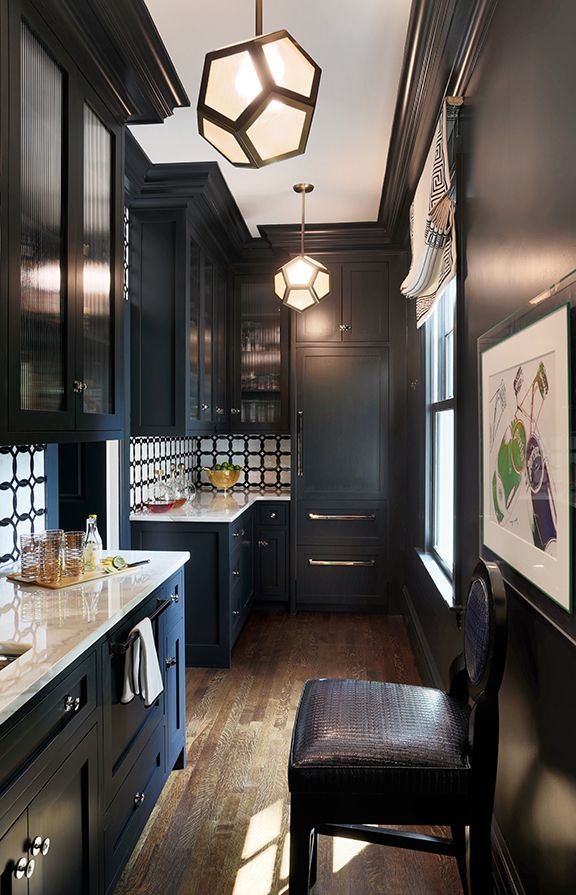 Separate the pantry by a corridor topped by a window in the middle to allow natural light to pour in. 
Suspended Iron Shelves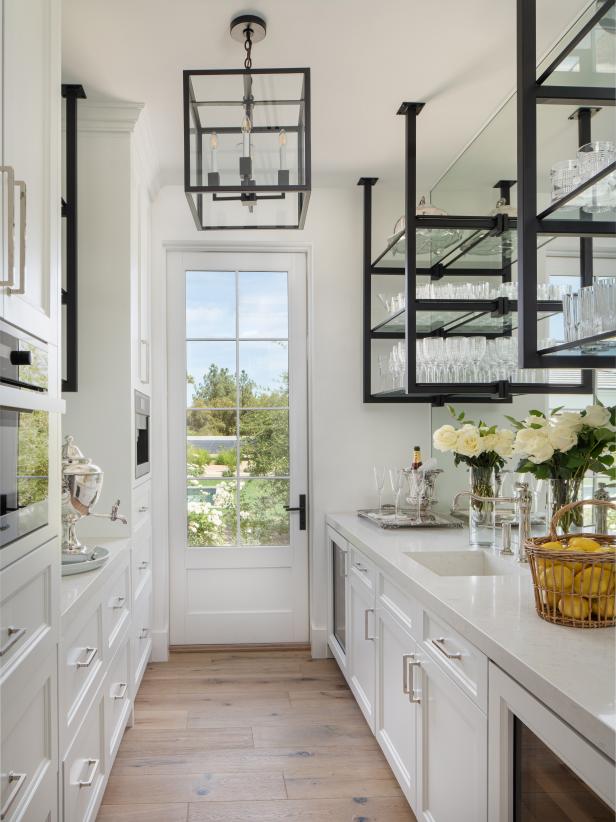 It's time you move on from regular shelving and incorporate these suspended shelves to add a sleek, modern flavor to your pantry. 
Mirrored Glory
If your pantry feels congested, add a mirrored backsplash as the centerpiece to make the space appear larger. 
Wine Holder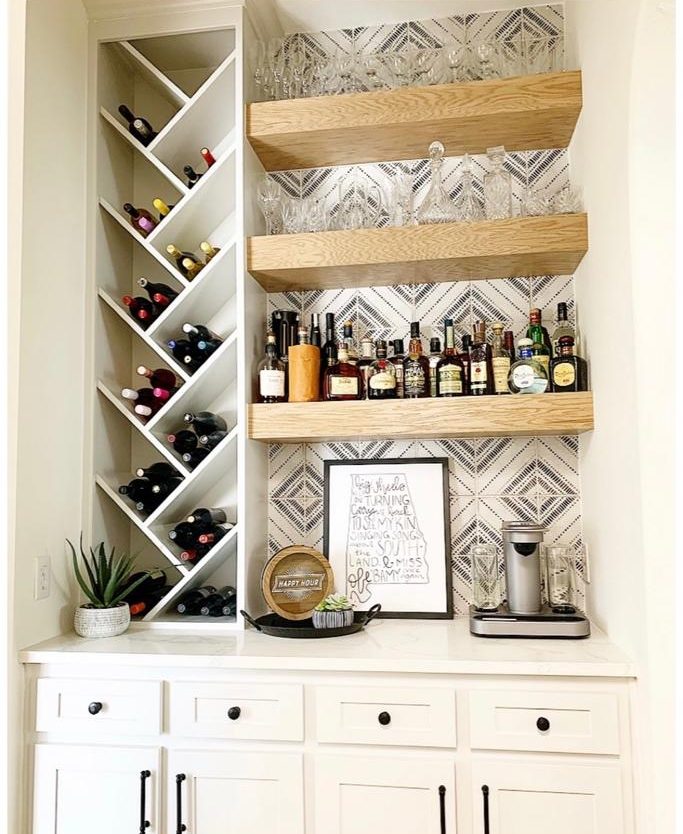 If you're a wine connoisseur, this holder could be the best thing to grace your pantry. 
Traditional White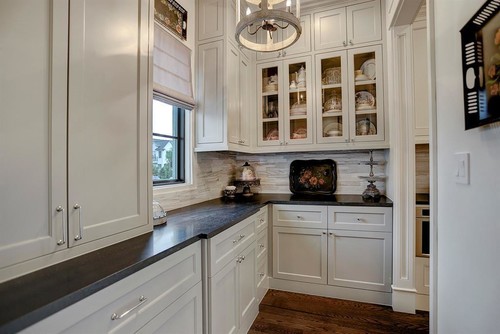 You can never go wrong with a classic all-white butler's pantry idea. Pair it up with pendant lighting and wood-finished flooring and you are good to go!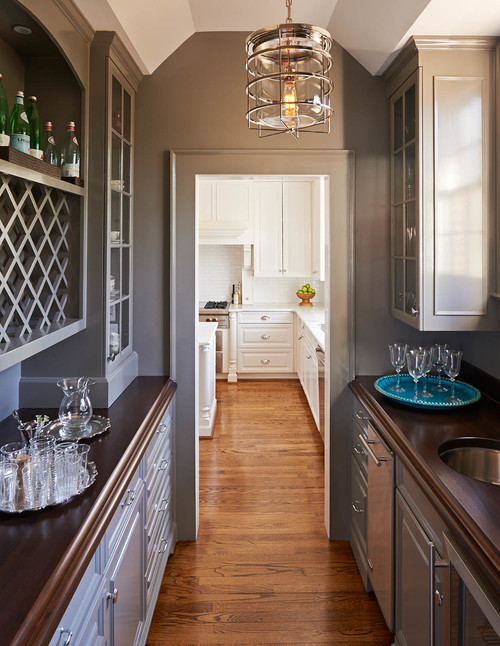 Another one of the best butler's pantry ideas – a cool-toned one. Go for a minimalistic, chic look to make heads turn.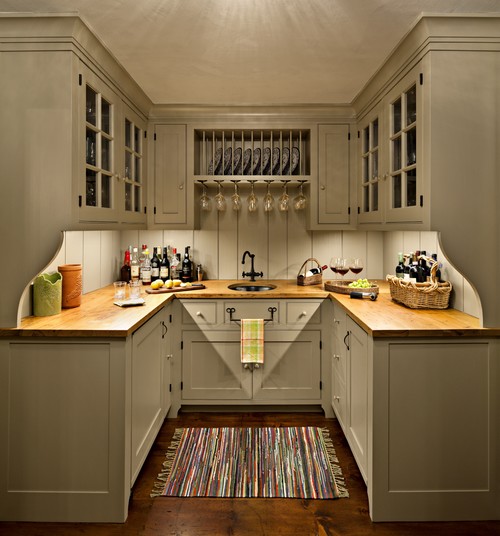 Farmhouse-styled home decor is here to stay. Go for a U shaped pantry with hardwood flooring and contrasting hardware fixtures for a eye-catching look.
Arched Architecture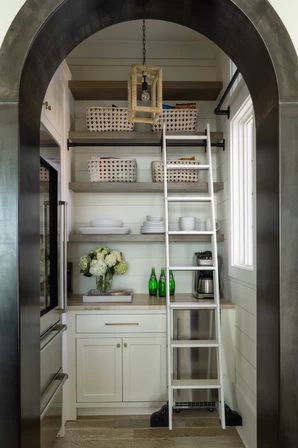 An arched doorway to your butler's pantry adds a classic touch.
Sophisticatedly Styled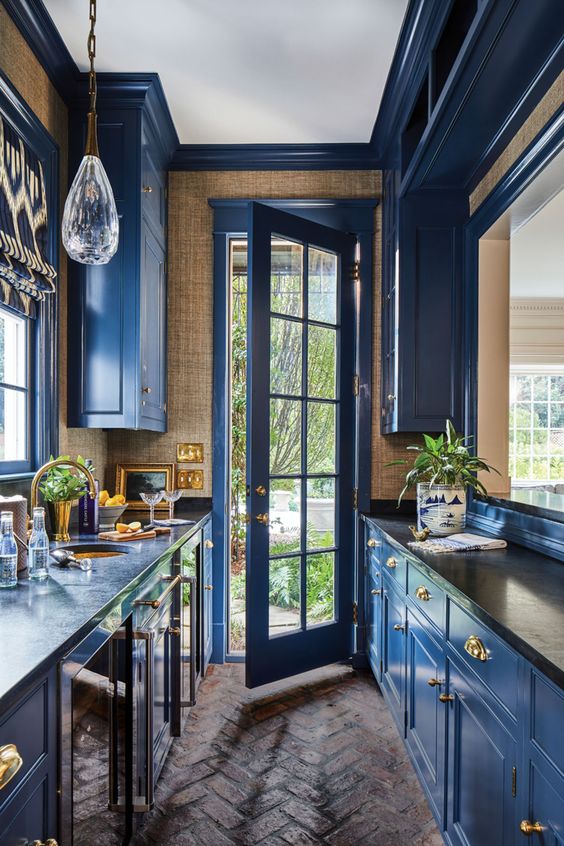 Sophisticated detailing with features like classy brass hardware, gold faucets make all the difference.
Asymmetric Beauty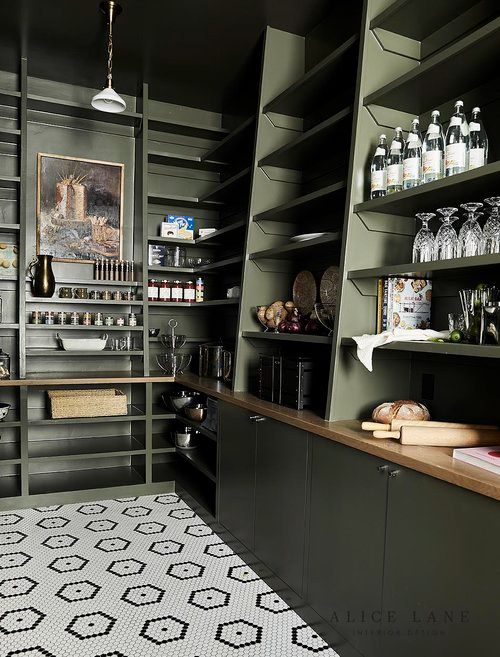 Don't confine yourself to the boundaries of traditionalism and symmetry. Think out of the box just like this butler's pantry idea.
Contrasting Textures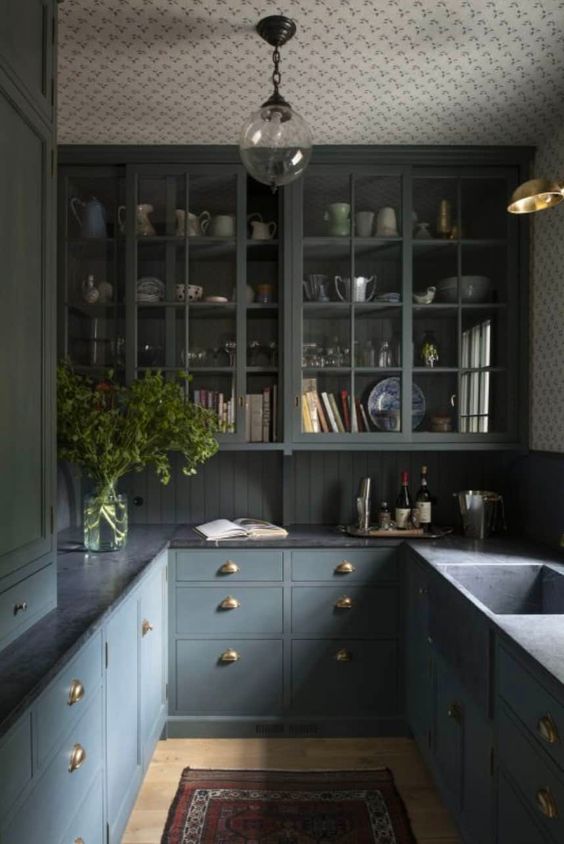 Break the monotony with contrasting textures and colors. Just like this butler's pantry where textured ceiling acts as a refreshing break in this one-toned room.
Play With Wallpapers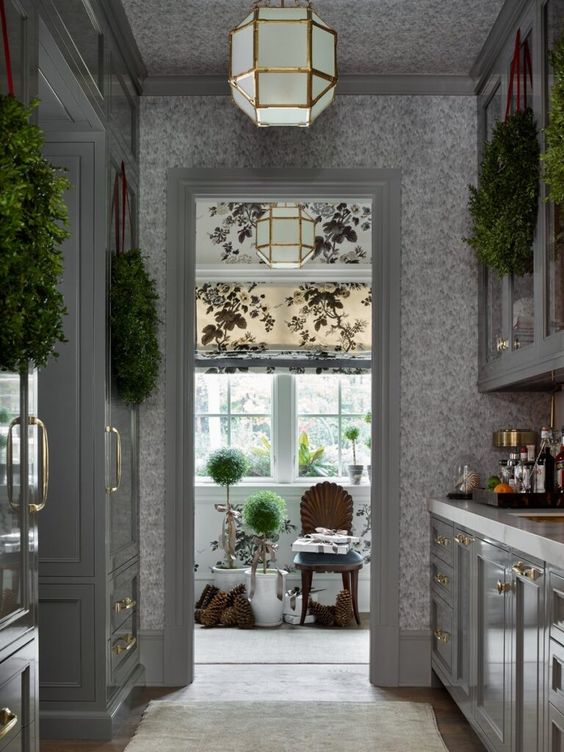 Another one of the excellent butler's pantry ideas is to add exquisite wallpapers to amp up your space.