Home » How to Choose Right Kitchen Backsplash?
How to Choose Right Kitchen Backsplash?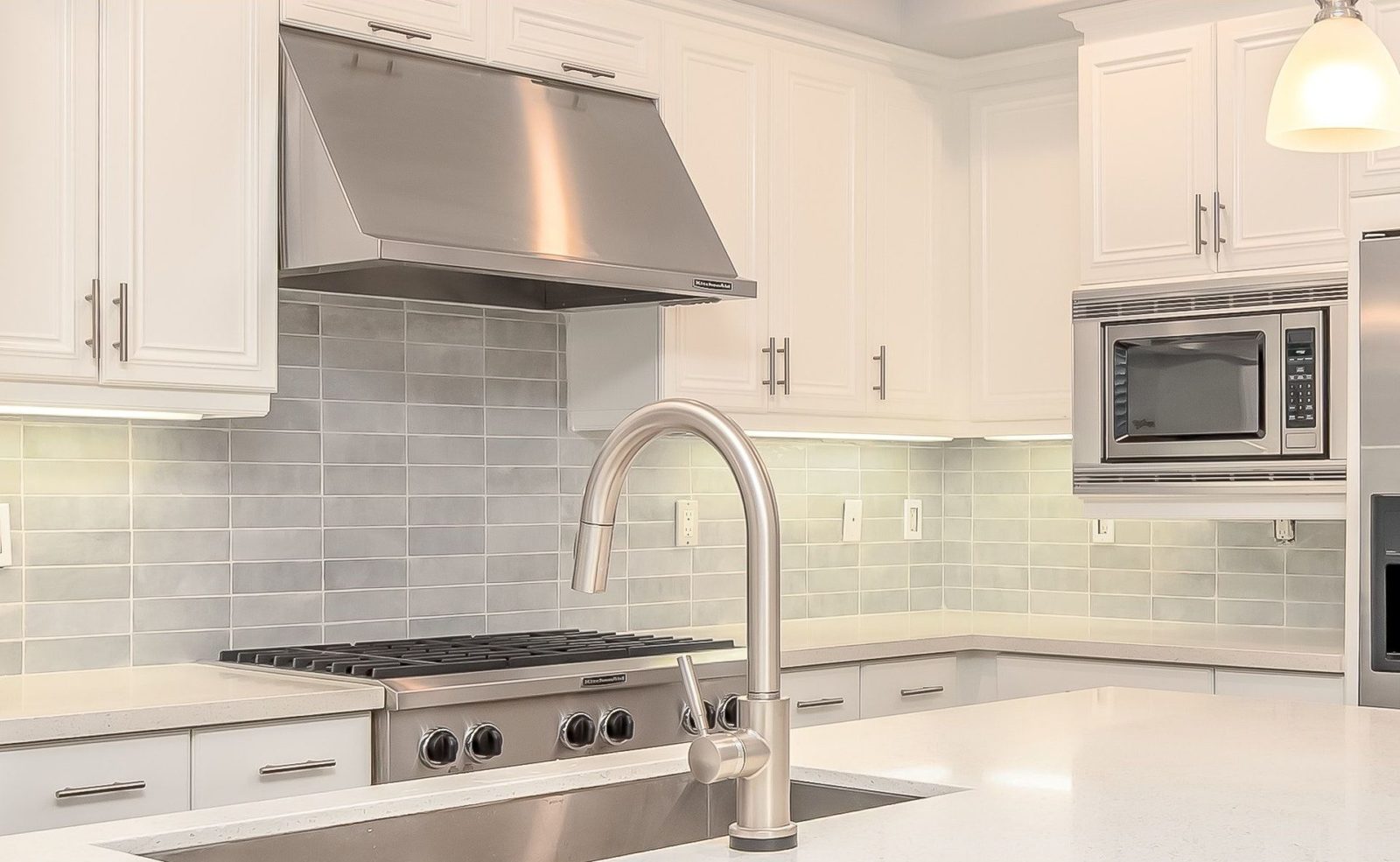 When redesigning kitchen, you often tend to overlook the backsplash. While focusing on new cabinets, countertops, appliances, etc., homeowners seldom remember about changing their kitchen backsplash. 
Although a kitchen backsplash is mostly functional, you can also consider turning it into an aesthetic focal point by altering the design. Having said that, we are faced with an obvious question — how to pick the right kitchen backsplash?
Here's everything you must know!
Types of Backsplash
Before you jump into picking kitchen backsplash, you need to select the right material. Below is a list of the materials you can choose from. 
Subway Tile
The simplicity of subway tiles makes them the most popular option in the market. These tiles, laid in a staggered brick-like pattern, help tone down busy kitchens. You can also tweak the look a bit by placing them diagonally or vertically.
Go for a subtle, pastel hue to create a minimalist effect.  
Mosaic Tiles
Another way to amp up your backsplash is to install mosaic tiles. They are available in porcelain, clay, and ceramic, styled in creative patterns. You can either go for 2×2 inches size or the 1×1 inch style.  
Stainless Steel 
One of the sleekest backsplash materials is stainless steel, as it delivers a spik and span vibe, thereby making your kitchen stand out. You can find steel tiles in a range of shapes and sizes, from large sheets embossed in intricate details to smaller slabs in lighter moods.
Besides, stainless steel is resistant to heat and can be easily wiped clean. 
Stone Slab
Ever thought of installing a backsplash with natural stone? Well, now you can! Pick any stone—marble, granite, quartz, etc.—that matches your countertops. If your cabinets or countertops are minimalistic, you can use a stone with distinctive veining to create a contrasting look and feel. 
Peel & Stick Tiles
This option is for those whose kitchen walls are adhesive-friendly. The peel and stick tile option is affordable and great for DIY projects. You can easily replace the tiles as and when you want to upgrade the backsplash if you get bored with the design.
Peel and stick tiles are available in any local hardware store. 
Glass Tile
This might not seem like a common option, but just so you know, glass is 100% impervious to water which makes it the best choice for kitchen backsplashes. You may pick from a varied range of colors. However, remember to check if the glass has been reinforced to prevent scratches.
It is recommended that you get it installed professionally as the translucent nature of glass can reveal the underlying grouting if done poorly. 
Things to Consider While Choosing Kitchen Backsplash
Choose Your Desired Height
Before selecting the material, you need to measure the area available for the backsplash along with the height. Although the standard height is 4 inches, you may go higher if you want to cover a large portion of the wall and prevent it from getting stained and damaged.
Some homeowners even raise it to the level of their cabinets. Cleanliness freaks might even get a full-height backsplash reaching up the ceiling. The choice is yours! 
Sustainable Material
While there are scores of backsplash materials available in the market, consider going for something that's eco-friendly. Some reliable materials are recycled glass or ceramic and cork. These are stylish, durable, and stain-resistant.
Besides, glass and ceramic tiles come in a wide variety of colors and designs. 
Experiment with Varying Tile Sizes
To create a unique look, you may try combining tiles of different sizes or lay them in various patterns. Asymmetry can be beautiful and eye-catchy too!
Invest in a Suitable Grout
Grout is a crucial component when you're installing backsplashes to your kitchen walls. Instead of buying low-quality grout to save money, buy something that'll last you years and sustain the backsplash. 
Think About the Maintenance
One of the key aspects while choosing any backsplash material is the maintenance process. Whatever material you pick, make sure you learn the pros and cons before finalizing your decision. For instance, glass tiles are prone to breaking while stainless steel can easily get dents.
On the other hand, natural stone will require sealing and proper scrubbing to retain the gloss. All types of backsplash materials require care and maintenance, but it's always a good idea to invest in a durable product. 
Don't Forget the Functionality
While focusing on style, don't stray away from the main purpose of the kitchen backsplash. While it's nice to mix and match colors and materials, make sure you can easily clean the surface and that it can endure heat, stains, and moisture. 
Know the Focal Points
Backsplashes ideally go in two specific areas—above the sink and the space above the range. However, you can install backsplashes in any other space of your choice. But the focal points are where you can unleash your creativity and incorporate elaborate designs. 
Maximize on Magnetics
Natural stone is great for magnetizing. You can attach storage and decor items to amp up the overall look of the space. This will also help declutter your cabinet counters. 
Take Care of the Sealing
As you might know, different tile materials call for different sealing needs. If you're using natural stones like marble, granite, or slate, you might need to seal them once a year, while something like travertine needs resealing every two years.
Budget
Last but not the least, you need to keep a check on your budget. On average, you can expect to spend around $10-$20 per sq. ft., depending on the type of material you use. Try not to go overboard under the pretext of using trendy, premium-quality materials. The practical considerations are more necessary than just the look and vibe.
It might be difficult to choose from among so many options, but it'll be easier if you take your needs into account. You know you've found the right product when it meets 90% of your requirements. Most backsplash materials can aesthetically complement the decor of your kitchen if you keep them well-maintained.
All in all, get something that is looks good, is easy to clean, and highly durable.