Home » How to Save On a Kitchen Remodel: Use These Tips For Your Home
How to Save On a Kitchen Remodel: Use These Tips For Your Home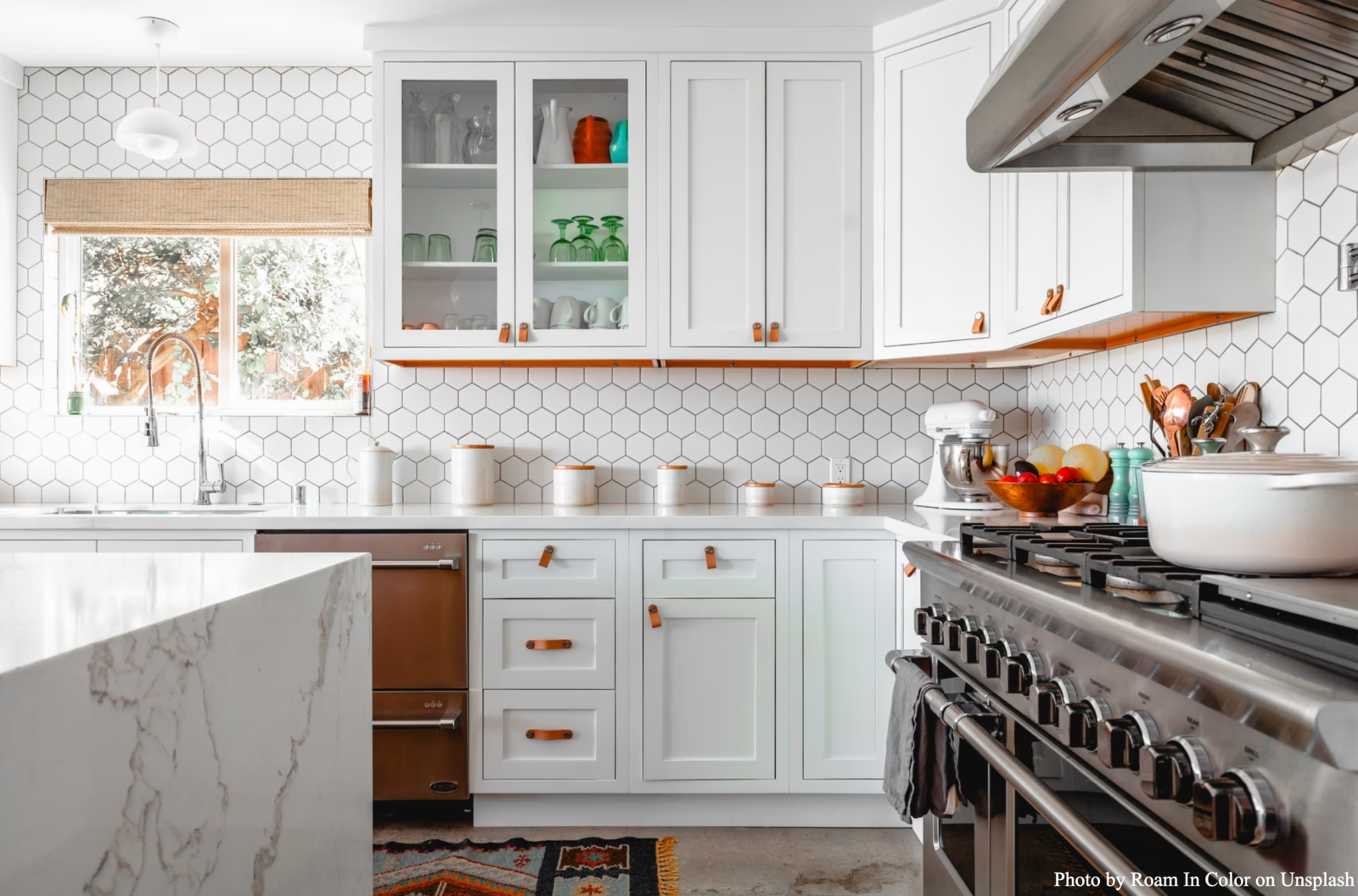 When you are investing in a kitchen remodeling project, you need to make sure that the results satisfy you and add value to your home and save you money. A kitchen remodel can get expensive really quickly. Which is all the more reason to learn how to save on a kitchen remodel.
If you're not careful, the kitchen remodel costs can skyrocket quickly. From appliances, cabinetry and flooring, there are many aspects that tend to add up fast.
As a homeowner, it is ultimately up to you to keep costs down for your kitchen remodeling project. You should have a list of hacks to help you navigate the complex world of remodeling your kitchen on a budget. Here are some tip tips on how to save on a kitchen remodel that will make your project easier.
Keep Appliances Where They Are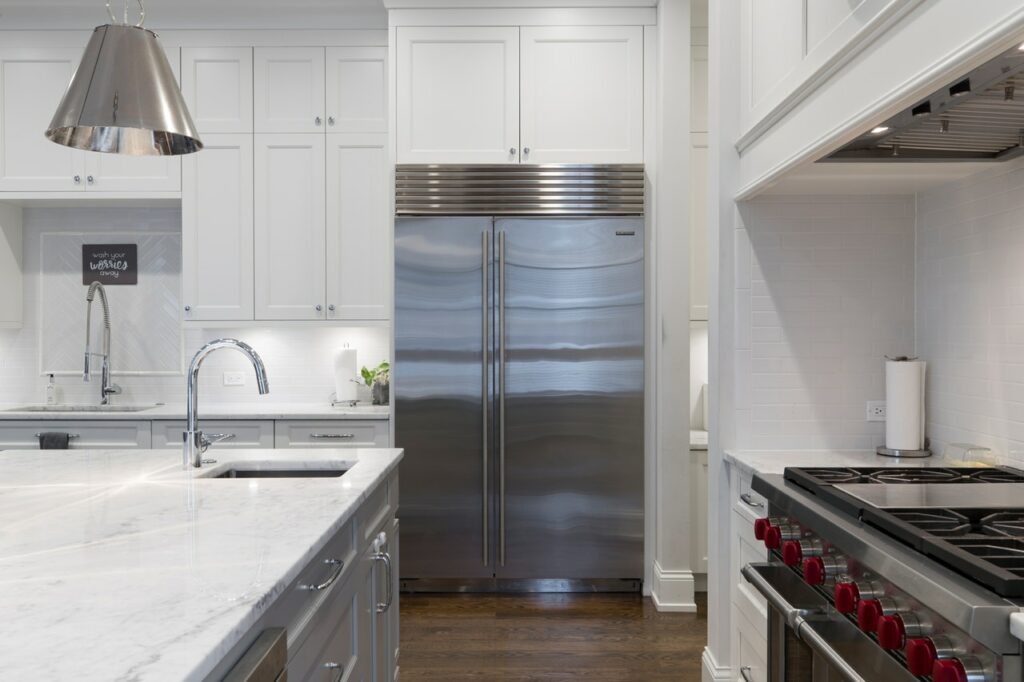 If you plan to get new kitchen cabinets, make sure to keep your appliances where they are. Further, moving the mechanics and electrical for appliances can be expensive. For instance, the ceiling on the floor below and the walls may need to be cut in order to expose the mechanicals. Such extra tasks will add up the labor costs and increase your kitchen remodel costs.
Unfortunately, many homeowners don't think about these costs when planning a kitchen remodel. Keeping the appliances where they are also will save you thousands of dollars. More often than not, moving appliances 1-foot costs as much as moving them 5 feet, depending on where the mechanicals are located.
Opt for Ready to Assemble Cabinets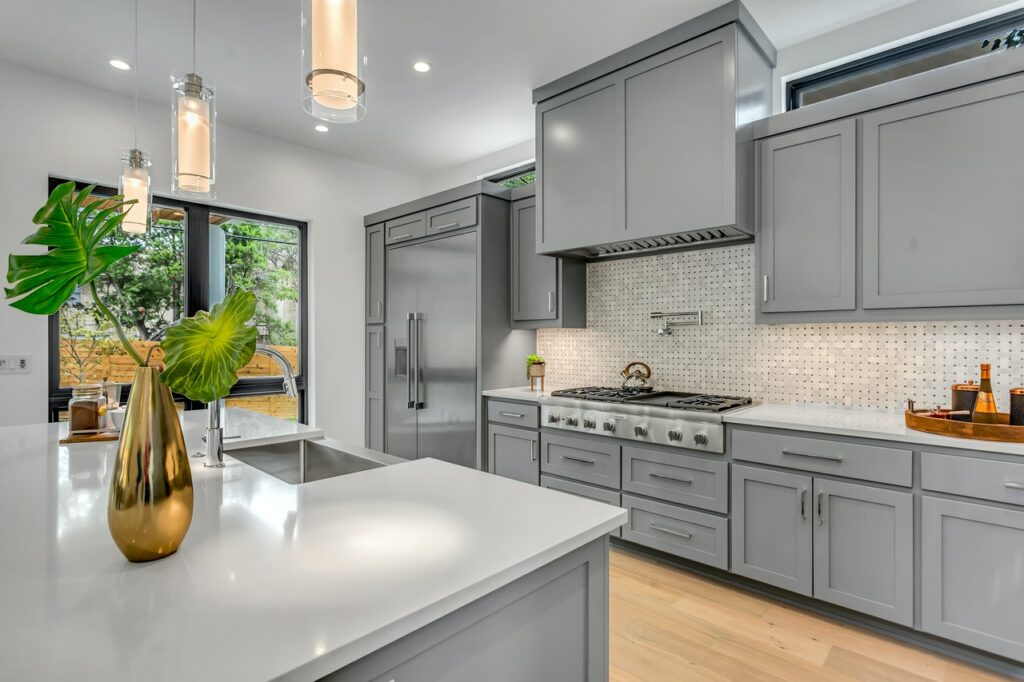 Undoubtedly, the most expensive part of a kitchen remodel is the cabinetry. Of course, the most expensive option is going custom. If you do so, you will have to design the kitchen cabinetry. Similarly, you will also have to spend the time and money to install it specially. 
Furthermore, exotic woods, embellishments, and period styles will add to the cost and delivery time, resulting in a state-of-the-art kitchen. Custom cabinets generally cost around $10,000 to $50,000 as cabinets range between $250 to $1,500 per linear foot.
However, if your budget doesn't allow for custom, but you need new cabinets, ready to assemble is an excellent option. Ready to assemble or semi-custom cabinets can sometimes be half the cost, from around $125 to $700 per linear foot, depending on the installation's style, material, and cost.
If you are a DIY enthusiast, you can assemble these yourself. If not, you will need to hire a remodeling contractor. You can also select semi-custom cabinets. These are prefabricated off-site in standard sizes, with limited options in terms of sizing, materials, finishes, and styles.
Keep the Same Kitchen Layout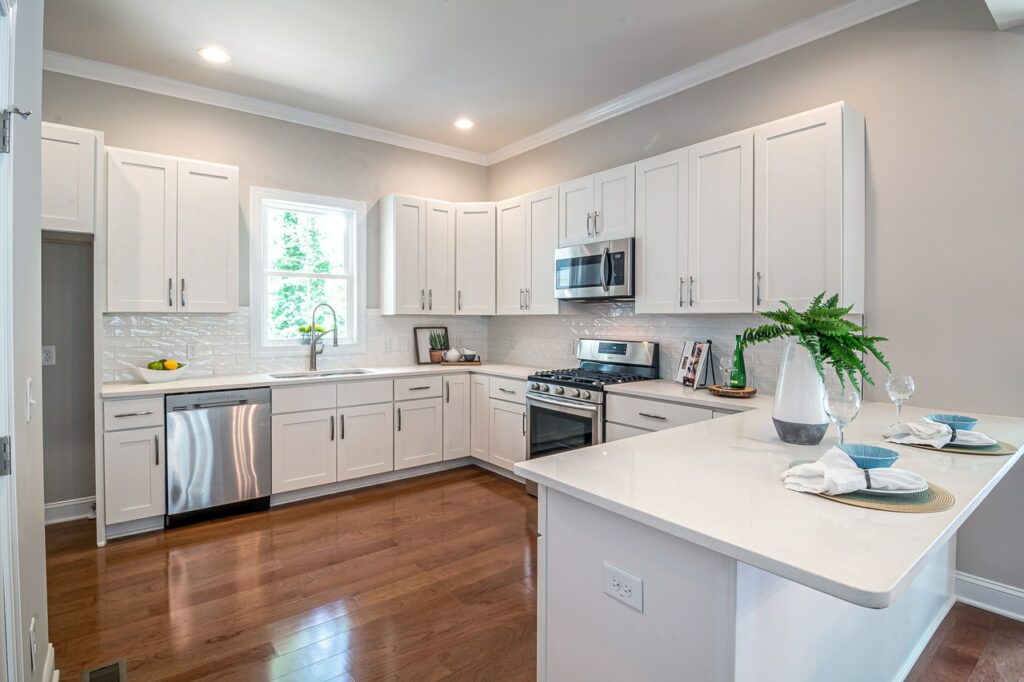 Changing the kitchen layout dramatically is one sure way to drive up kitchen remodel costs. For example, moving plumbing for the sink, refrigerator, or dishwasher required hiring plumbers. Further, they will have to drill holes in your walls to run new pipes, which means an added cost of materials besides labor.
In contrast, keeping your kitchen layout intact while updating the elements within that framework is a great way to save on a kitchen remodel. You usually won't have to add any new plumbing or electrical. You can also keep your existing footprint if you wish. Since flooring often doesn't run under cabinets, you will have to deal with gaps in the flooring if you change the layout.
There are some kitchen layouts where it's quite difficult for you to change them. For instance, galley-style or corridor kitchens often have limited space. Layout changes aren't really possible unless you want to spend a lot of money on major alterations to the home's structure.
One-wall kitchen layouts allow for a little more flexibility because they have an open side. If that's the case, adding a kitchen island is a great way to get more prep and storage space without expensive layout changes.
DIY Your Countertops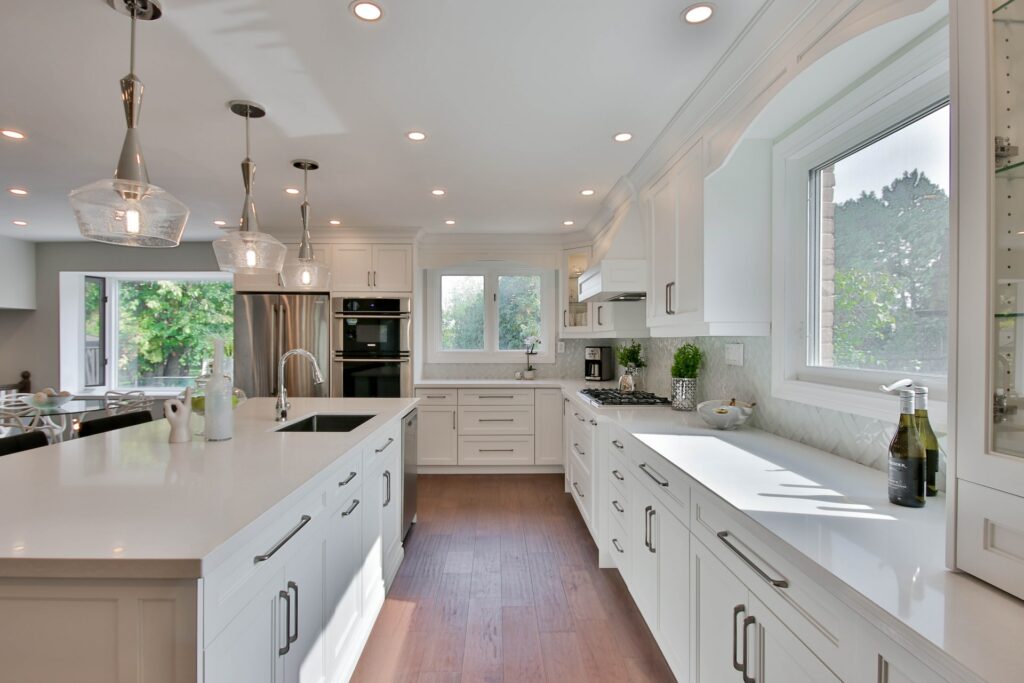 Depending on your level of experience and knowledge, you can save a lot of money on kitchen countertops. Granite is the most popular option right now, and you can check if you can score a granite remnant. However, it can be a bit difficult to find enough remnants that can cover up all of your surfaces.
You can actually make your own countertops out of cement other than classic granite, although it will take some serious work. For the most affordable and easiest options, you can choose to install your own new laminate countertop.
All you need to do is purchase a trim router with a flush-trim bit and a laminate roller, glue, and dowels, and you can have a new laminate countertop on the weekend. Some new types of laminate even allow you to apply the new layer to an existing laminate. But if you choose to install your laminate countertop, make sure to factor in the cost of a plumber to put a new sink in or replumb your sink.
Opt for a Cutout Instead of Removing a Wall
Many of you may want to open the space between the kitchen and your family room to create an open concept kitchen. However, when removing a wall, consider many things if you want to save on a kitchen remodel.
Is it load-bearing? Does it have water pipes or electrical running through it, which you will need to reroute? If so, the ceiling, other walls, and floor may need to be cut into and repaired after removing a wall.
A far less expensive option to consider is a cutout. Besides opening a room, a cutout also provides extra countertop space and an area for additional seating. You will still need to check for mechanics and plumbing, but the floor and ceiling won't need any repairing, which will save you money.