Home » Remodeling Companies in Alexandria, VA That Should Be On Your Radar
Remodeling Companies in Alexandria, VA That Should Be On Your Radar
A remodeling company can make or break your kitchen or bathroom remodeling project. Hence, it's important that you do your research when it comes to choosing remodeling companies in Alexandria, VA. 
To help make this task easier for you, we've shortlisted some of the top remodeling companies in Alexandria, VA.
VKB Kitchen and Bath
VKB Kitchen and Bath is a full-service remodeling agency that services Alexandria, VA.
They offer exceptional home remodeling, design, and efficiency to their clientele while utilizing their tried-and-true design-build house remodeling policies and approaches to ensure cost-effectiveness and on-time delivery in Alexandria, VA. 
As a result, from home extensions to whole-house renovations – or if you need a kitchen remodeling contractor, bathroom remodeling contractor, or finished basement remodeling contractor – they've got you covered.
Furthermore, as the coronavirus outbreak continues, VKB Kitchen and Bath is giving free 'virtual' appointments to explore your home design ideas, aspirations, and issues and also prepare a precise estimate for you and your upcoming project.
VKB Kitchen and Bath Reviews: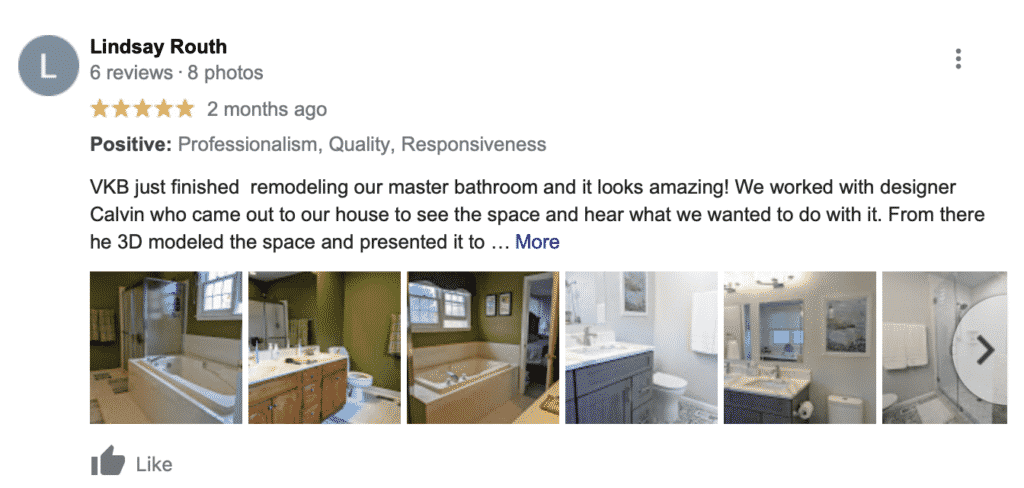 Ashyana Home Improvement
Browse no more if you're seeking the finest remodeling company. Ashyana Home Improvement takes pride in paying attention to every component of your project, from the overall aesthetic of the residence to the local neighborhood's architecture. 
Their award-winning staff knows how to renovate historic Alexandria houses while keeping many of the original design characteristics. Their standing as an architecture remodeler sets them apart from the opposition. 
This means they handle every aspect of the design and construction process in-house. All across the journey, you will have a single point of contact, making communication quick and straightforward. 
Virginia Kitchen and Bath
You've come to the perfect place if you want to refurbish your property. Virginia Kitchen and Bath is a home remodeling general contractor in Alexandria, VA, serving Northern Virginia. They will help you turn your room and make the most of your area, whether you live in a tiny condominium or a large family house.
Because your satisfaction is their priority, they'll spend the time to discuss your home remodeling desires. Moreover, they'll present you with several options and assist you in making the best adjustments for your property. 
They have a dedicated team that works hard to complete tasks on time and budget, and you can rely on them to provide fair pricing and high-quality service.
Services:  
Basement finish 

Bathroom renovations 

Kitchen renovations 

Tiling 

Painting  

Flooring 

Drywalls and more. 
Virginia Kitchen and Bath Reviews: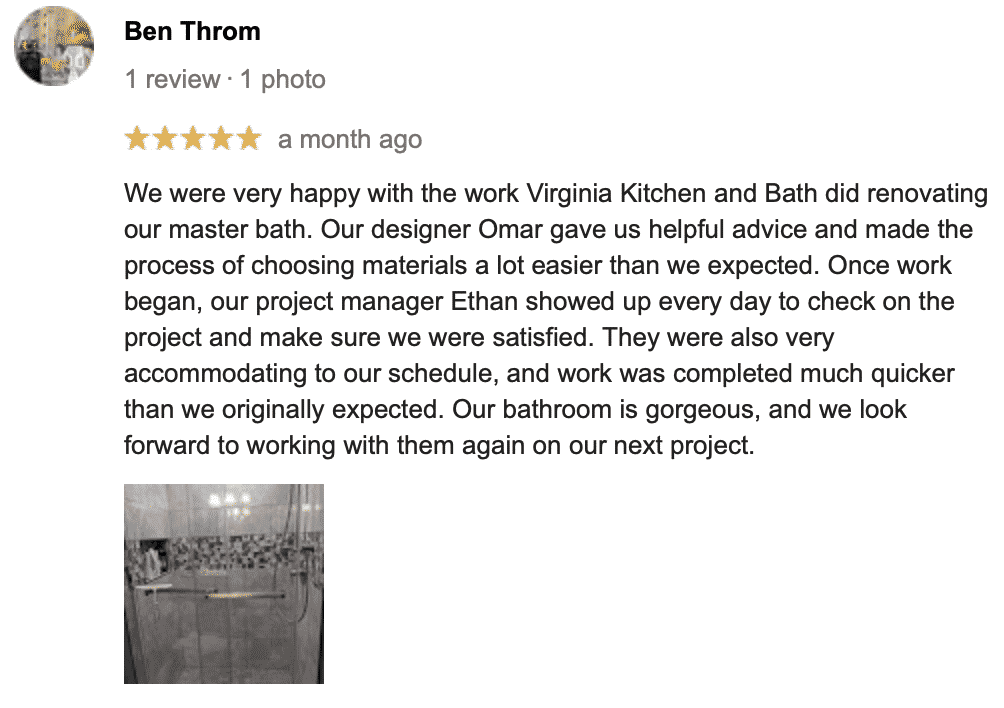 Monova Contractors 
Monova Contractors have developed a reputation for transparency and expertise among their customer base. They do so by operating their firm on the principles of honesty, teamwork, and authenticity. Monova Contractors is a certified general contractor specializing in offering one-of-a-kind, high-quality, and expertly installed items and contracting services for your home.
They are also your solution for bathroom remodeling, kitchen remodeling, basement finishing, painting, tile installation, and drywall installation, among other services. 
NV Kitchen and Bath 
They are a full-service interior design and remodeling firm with clients in Virginia, Maryland, and Washington, DC. NV Kitchen and Bath caters to the high-end market with design and building services. 
They are committed to offering the best design and development services to customers. For instance, they limit the number of projects they take on. They do so because they are uniquely customized to their clients' needs and necessitate meticulous attention to detail. They also consider themselves to be design experts and are willing to offer advice. That stated, their primary goal is to design exactly what their clients desire, as long as it falls within their budget and complies with local construction requirements. 
For instance, they are not bound by stock cabinets or a single tile or faucet supplier. Similarly, you will get the space to express your creative inputs freely to create your dream remodeling project.
NV Kitchen and Bath Reviews: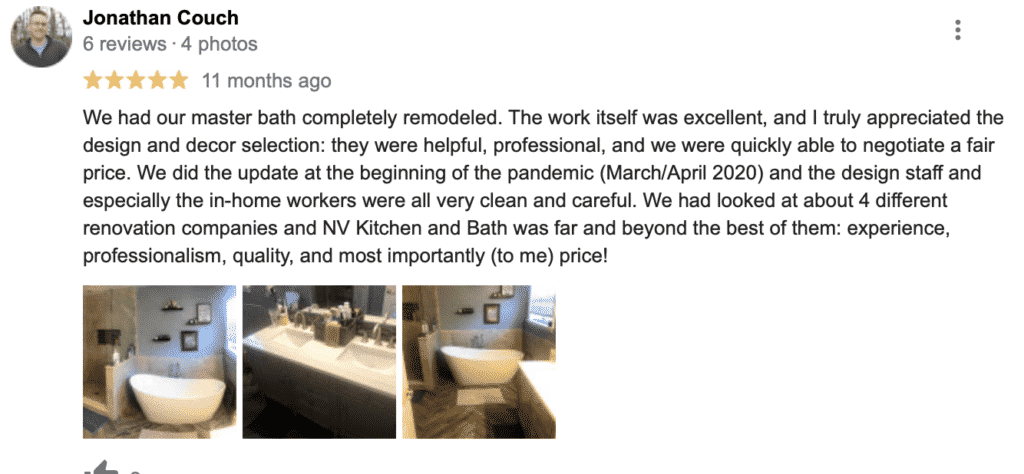 Alexandria Kitchen and Bath Studio
They give each of their clients personalized attention and services to help them design the kitchen and bath of their desires. This makes Alexandria Kitchen and Bath Studio among the top remodeling companies in Alexandria. AK&B's experienced staff is dedicated to offering the highest quality product, design, and customer service from the minute you meet with one of their designers until the conclusion of your project. 
They'll work together to turn your requirements into unique, appealing solutions that perfectly blend form and function. Their diverse selection of goods from numerous manufacturers caters to all preferences and styles, varying from classic conventional to ultra-modern and everything in between. 
Please stop by their King Street store in Old Town and let them assist you in making your remodeling aspirations a reality.
Alexandria Kitchen and Bath Studio Reviews: