Whether your home office is a designated space in the house, a remote workstation, or even merely a nook for organizing your schedule, you deserve more than a boring metal table and chair crammed in the corner of the room!
An office that reflects your taste and offers you the necessary comfort is where you will want to burn the midnight oil. So here are a few home office remodeling tips for you to take inspiration from for your next remodeling project. 
Get Artsy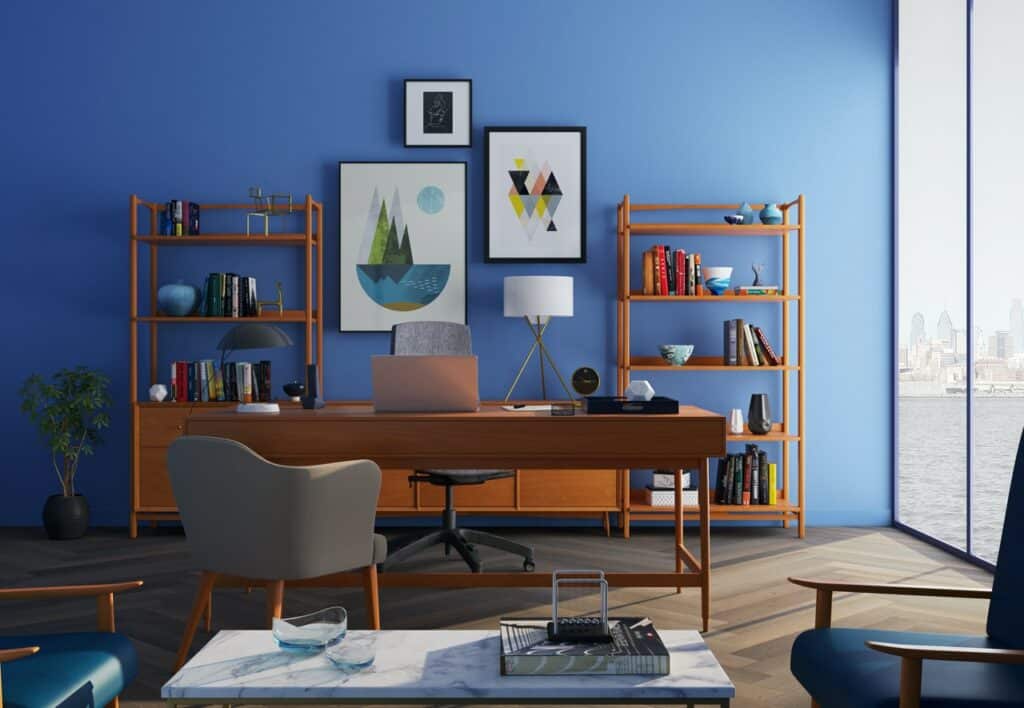 Any space within your house should inspire you and reflect your personality. Your workstation is a space that you spend hours in, and it must fill you up with positive energy.
One of the best home office remodeling tips to do is fill up your office space with work of art, either bought or made by you, to make you feel zesty, hopeful, and motivated throughout the time that you are there. High-spirited spray-painted walls with images that speak with you are a significant motivating and enlivening factor in a workspace.
Mix Old and New
A mix of vintage and contemporary décor makes the house feel personal and warm, without feeling like a hotel or a showroom. Mix up your old wooden work table with a new contrasting colored chair. You can even decorate the table with vintage items bought from antique stores and flea markets. Placing an antique rug in the workroom adds to the vintage vibe.
Let There Be Light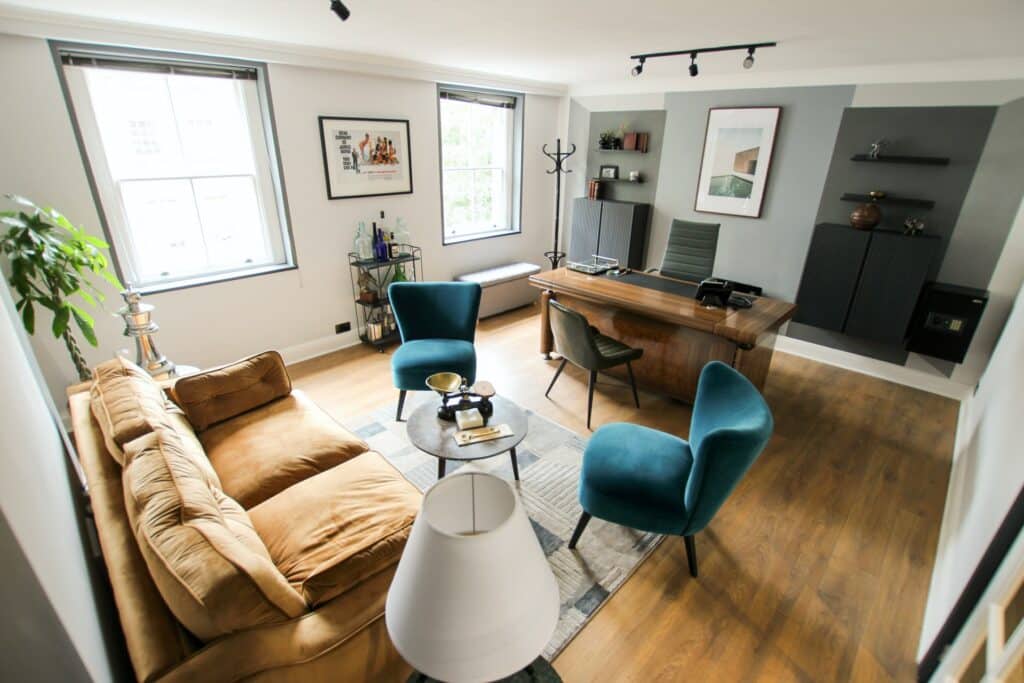 A room that is dark and dull is bound to end up demotivating you and affect your productivity. Light plays a huge role in a room remodeling project, among other factors.
Natural light makes the room look bigger and more spacious and also helps cut down on eye strains and headaches while you stare into the computer screen all day long.
If you are blessed with a window that has sufficient natural light, make sure that you position the monitor away from the window to avoid the glare. You can put a lamp on the desk if there is no direct natural light in the room.
Space Optimization
You are likely to spend a substantial amount of your day in the office if you are working from home, so do not allow your space to be cluttered, messy, or stuffy. A private room with ample seating is a must when it comes to a home office.
But making the most of it does not mean that you clutter it up by tucking printers, filing, etc., in every corner. Space optimization is vital. You must use all horizontal as well as vertical space by adding open shelving to organize the supplies that you instead shove in the cabinets!
Pops of Color
Forget beige and white; you need a color that pumps you up and makes you get going. A vibrant color combo makes the best mood lifter in any room, and a home office definitely needs one!
For some people, colors like orange, yellow, and lime green can do the job. Others need a more somber and soothing color like botanical green or sea-foam blue to calm the chaos.
You can add a pop of color in the home office room by either painting a wall in a cheery color or contrasting a neutral-toned partition with bright colored furniture is the best way to get your work motor humming!
Accessorize it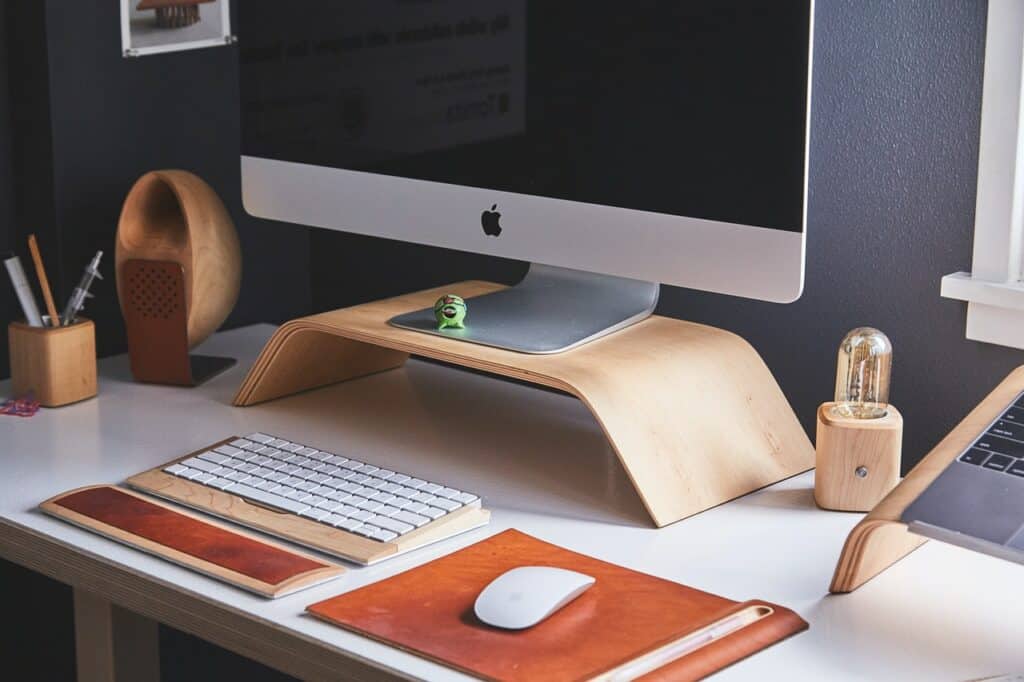 Not everyone wants an ultra-modern, state of the art look for your home office. You can also accessorize the room and your desk with homey accessories that enhance the comfy feeling of home.
You could also use a cute mug as a pencil holder, trendy notepads, highlighters, sticky notes, and a decorative wastebasket to make your office desk look aesthetically pleasing and yet give you the determination to work. Hang up a bulletin board with inspirational prints to minimize the utilitarian look of the place.
Get the Right Chair
Irrespective of where you are working, you will need a chair. And you are bound to spend hours sitting in that chair with all the work of that day. So don't you think you deserve a good chair? A beautiful, comfortable, and ergonomic chair makes the best seating for you to work. It is relaxing and stress-free and needful in a place like an office.
Choose a View
Who does not love to work in a place with a good view? The right view is as important as the right office. If you are tired and need a break, you will not like staring at a blank wall! Position your desk in such a way that you can look at something exciting and alluring when you take a break from the computer screen.
A window's natural light is the best, but what if your office is in the basement or a room with no window? You can hang up a picture above the desk or position your chair to face the door of the room.
A home office needs to be a sophisticated place secluded enough to be away from the homely distractions but lively enough to keep you engaged and stimulated all day long. These home office remodeling tips will inspire productivity and breathe and some life into your home office space.
Work From Home Essentials You Must Have