Home » Budget-Friendly Basement Bedroom Ideas That Are Worth Considering
Budget-Friendly Basement Bedroom Ideas That Are Worth Considering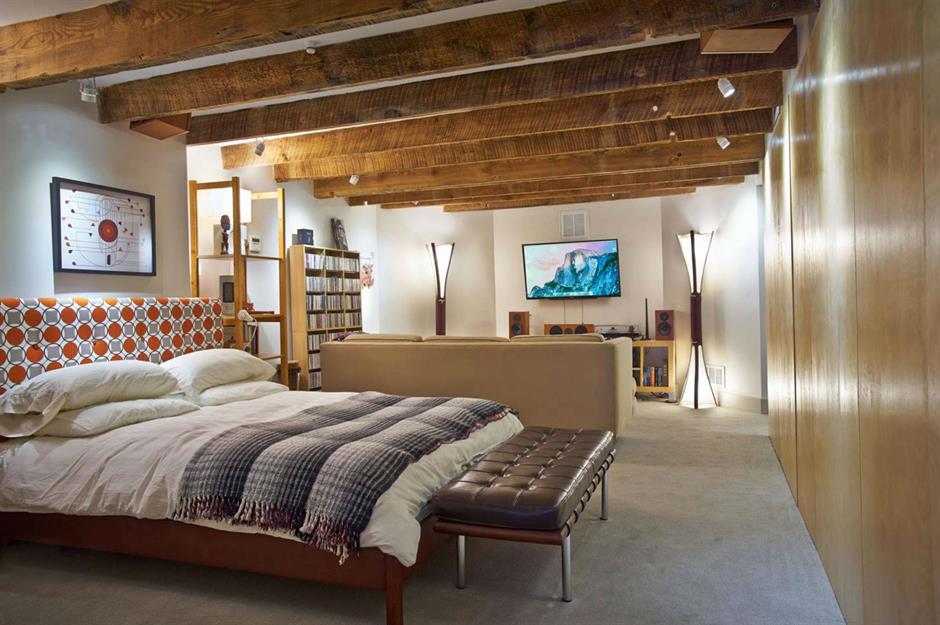 A bedroom is a sanctuary. It's the start and end point of your day. With that said, basement bedrooms are distinctly cozy and the perfect place to sleep. When done correctly, an unfinished basement bedroom can turn into a sleep sanctuary. Ranging from inexpensive unfinished basement bedroom ideas, to basement bedroom ideas on a budget, here are some of our favorite basement bedroom ideas to get you started. By incorporating essential functional and design elements, you can transform your basement into a comfortable and attractive space for sleep. 
First Things First, Finish Your Basement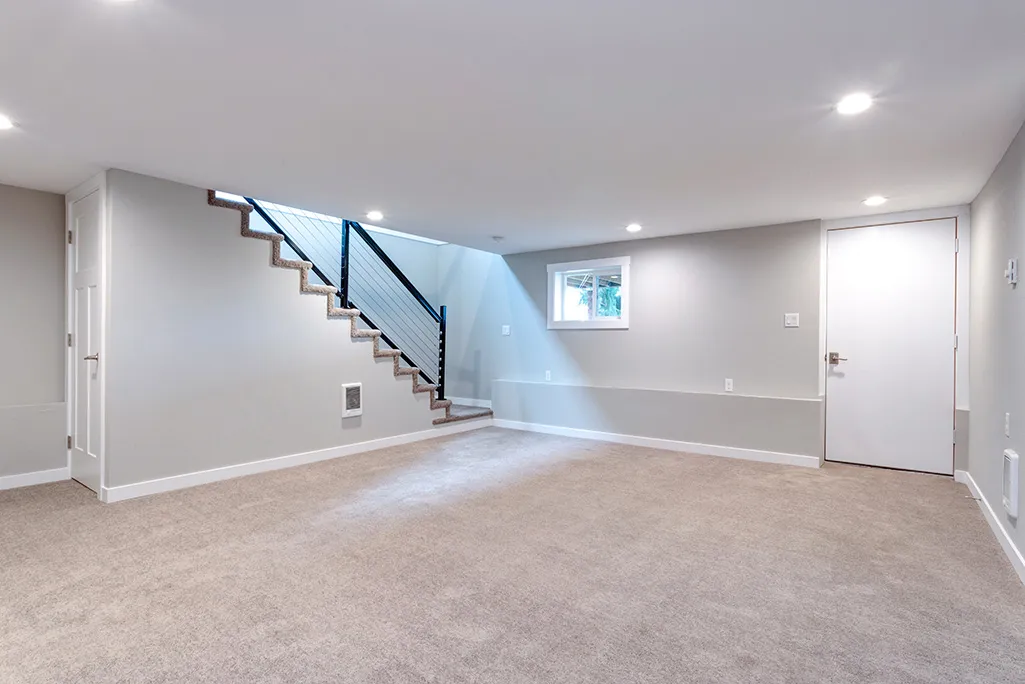 If you're looking to set up your basement bedroom, finish your basement first. This is for safety and functionality reasons. 
Finished basements cover the basics of a working room, making it safe and habitable. Ensure that your electricals, plumbing, and waterproofing is in order. Other areas of basement finishing includes a sturdy staircase, established ventilation and working egress windows. 
Make Use Of Existing Space 
The first step in setting up your basement bedroom is to assess the existing space you have. Measuring the room will help you narrow down the size and type of furnishings and fixtures you can add. Typically, you'll want to assess the space in accordance with a bed, storage and bedside tables. 
Pre-determining what furniture and fixtures you'll need will give you a better idea of how you can arrange the space you have. This will also allow you to set a realistic budget.  
Layer Your Lights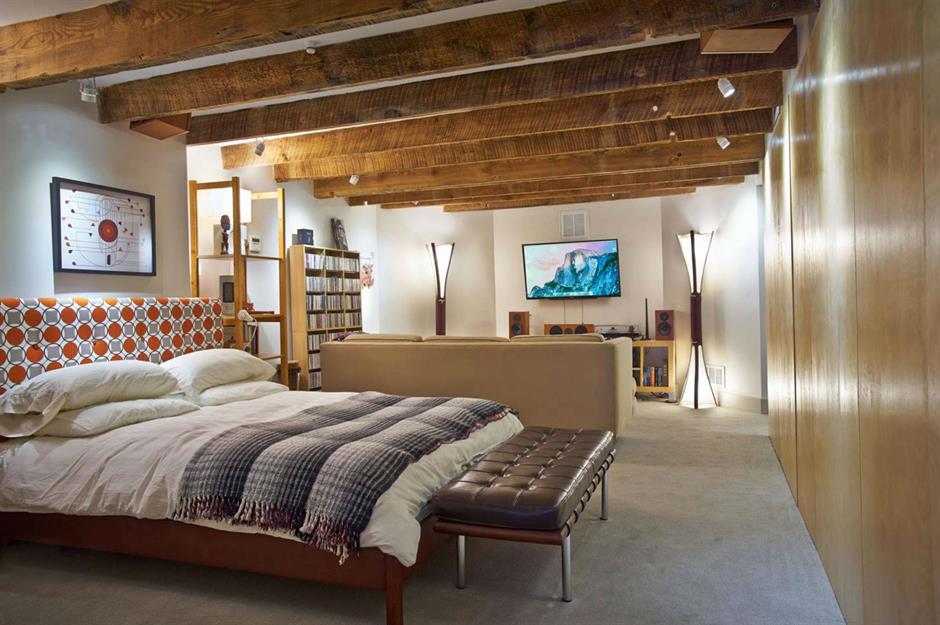 Basements are inherently dark so it's important to install lighting fixtures to brighten up the room. We suggest layering your lights so you can control how bright a basement bedroom is throughout the day. Overhead lighting is essential and should be installed first. 
Once you have your overhead lighting, mix and match wall sconces, floor lamps, table lamps, LED lighting and even headboard lights. Layering ambient lighting with accent and decorative lighting will ensure a warm and cozy atmosphere. For practical reasons, you do need to provide adequate light for such a dim space. 
Having good lights will make a basement bedroom comfortable and inviting and keep it from feeling dark and dingy. 
The cost of basement bedroom lights will depend on the type of lighting you choose. For example, LED lights may cost around $20-$50 per bulb, while fluorescent bulbs may cost around $20-$30 per bulb. Don't forget to factor in the cost of installation and wiring, which can range from a few hundred dollars to a few thousand.
Incorporate Insulation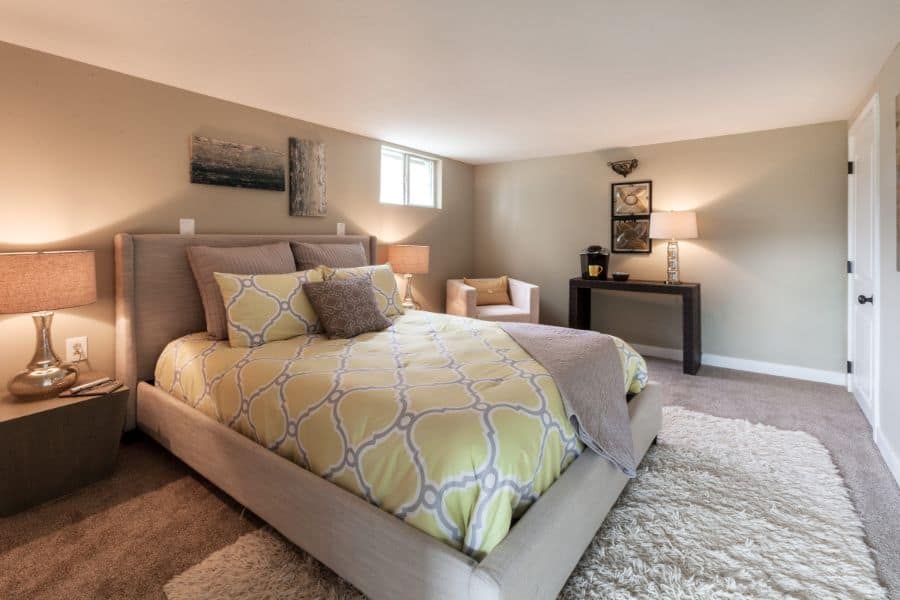 Basements tend to be cold and damp and this does not mix well for a bedroom set up. If you don't set up the insulation properly, you'll quickly find yourself in a cold and uncomfortable room. 
Get your basement insulation in order to keep it warm and dry. Insulate the floors and walls to keep in the heat and keep out the damp cold. Not only will this ensure you sleep in a warm and dry environment, it also makes the room more energy efficient. 
Basement insulation is usually part of the basement finishing process, but you may want to bolster it and add more bedroom-worthy insulation. We suggest using foam board insulation. It's one of the most effective ways to insulate a basement bedroom. 
The average cost of basement bedroom insulation can range from $1,000 to $3,000. This cost includes materials and labor.
Make The Most Of Natural Light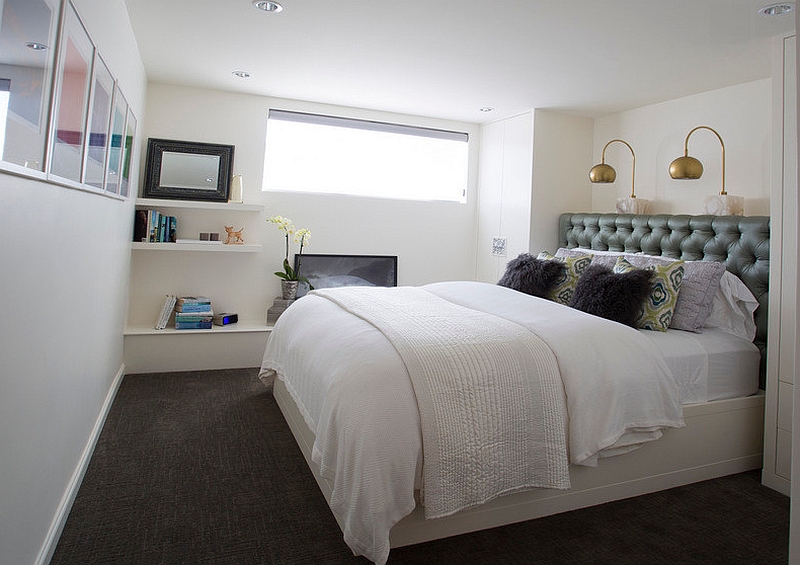 All states will have their local housing codes for basement egress windows. This is a safety requirement for emergency escapes. Check in with your local states egress window requirements to know what they are. This covers how large the window is, how high up it is from the floor and how wide it should open. 
With that said, egress windows can be used to brighten up a basement bedroom. Keep the window panel as open as possible to get the most light. 
The cost of installing a basement egress window typically ranges from $1,500 to $4,500. 
Maximize Ventilation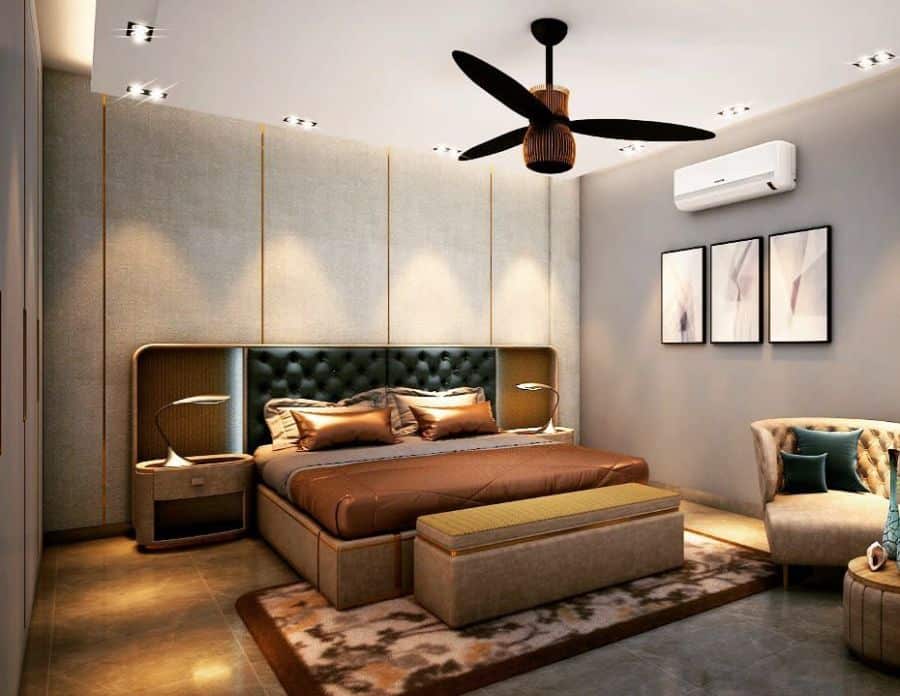 If you're thinking about using your basement as a bedroom, proper ventilation is essential for keeping the air quality high and your sleep comfortable. Without proper ventilation, you could be subject to stale, damp air, and even dangerous levels of carbon monoxide.
For basement bedrooms that will face hot summers, we suggest installing a ceiling fan and/or air conditioning. Getting a good night's rest is difficult when it's hot and stuffy. Ensure good airflow with the help of windows, fans, and an air conditioning system. 
When it comes to proper basement bedroom ventilation, you'll want to make sure that you have both an exhaust fan and an intake fan. An exhaust fan will help remove air from the room, while an intake fan will help bring in fresh air. Both of these fixtures should be installed near the ceiling to ensure that air is moved throughout the room. 
A basic exhaust fan can range from $50 to $150, while a more powerful system could cost anywhere from $200 to $2,000 or more. Installation costs can range from $100 to $1,000 depending on the size of the basement. 
Choose The Right Flooring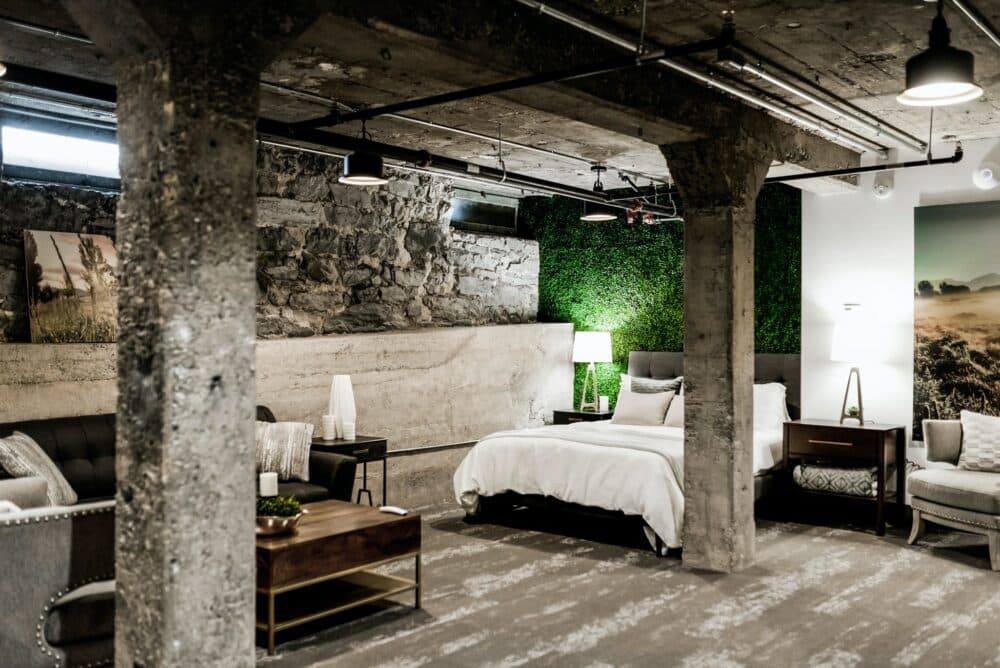 When it comes to basement flooring, there are a few things to consider. Comfort, durability and the risk of water damage should be a priority for basement bedroom flooring. 
Carpet flooring for instance is a great option as it helps to insulate the room and keep it warm. The softness also dampens sound. Carpet flooring is ideal for areas that experience cold winters but obviously you wouldn't want this if you experience hot summers. 
If you're worried about potential water damage, you may want to consider vinyl flooring. Vinyl flooring is a great option for basement bedrooms because it is waterproof and easy to clean. Many vinyl flooring options are also slip-resistant and have a softer feel than tile or hardwood. 
For a traditional look, consider hardwood flooring. Hardwood floors are a timeless and elegant option for any basement bedroom and are worth the splurge. They are also easy to clean and maintain, and can last for years with proper care. 
The cost of basement flooring varies depending on the type of material chosen. For example, carpet may cost around $2-4 per square foot, while vinyl or laminate may cost about $2-5 per square foot. Other flooring options such as hardwood can cost up to $10 per square foot.
Using various bedroom basement ideas  to convert your basement into a bedroom is a great way to add another layer of comfort to your home. Ensure that you make the most of the basic functional and design elements. Even just the right lighting, flooring leaves plenty of room to work with basement bedroom ideas on a budget. Doing so will turn your unfinished basement bedroom into a beautiful, functional and inviting space.