Home » How Much Does It Cost to Build a Deck? [2022]
How Much Does It Cost to Build a Deck? [2022]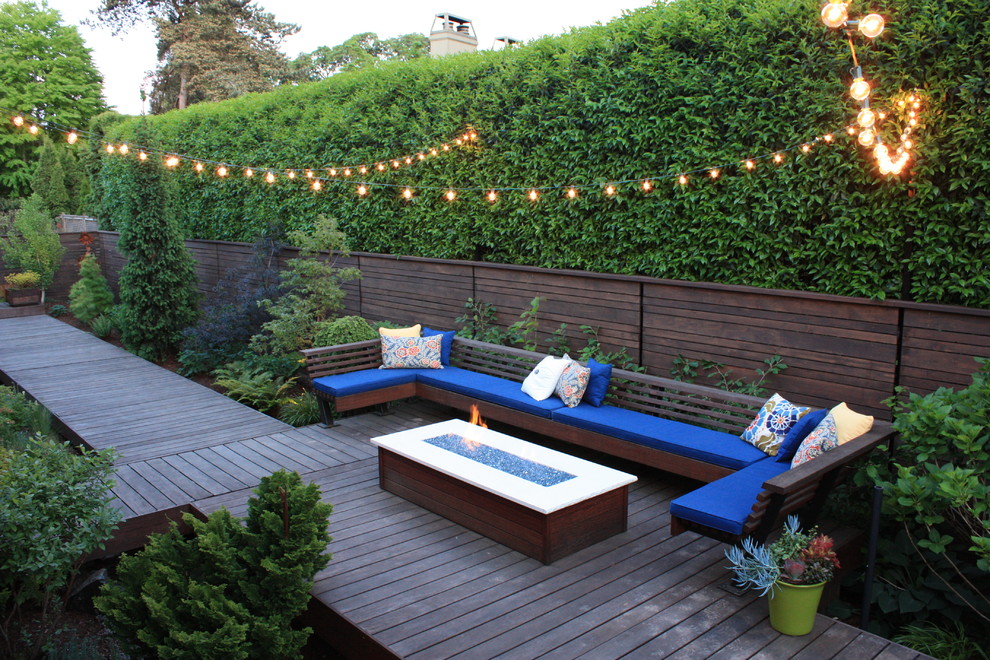 The average cost range of building a medium-sized deck is between $3,600 and $8,400 in 2022. Depending on the materials used in building your deck as well as the size, the price of your deck may well exceed over $20,000 since the cost of lumber and construction went up significantly in 2022.
For a 10×10 foot deck, a homeowner may need to spend $2,200.
14×20 deck: $6160
20×20 foot deck: $8,800
On the other hand, creating the same with composite, hardwood, or pressure-treated wood is about $25 per sq ft. this includes the cost of the materials and their installation. 
The final price of building a deck depends on several factors, including materials used, construction of stairs, level of the deck, size, and inclusion of additions such as built-in seating. 
Cost Per Square Foot to Build a Deck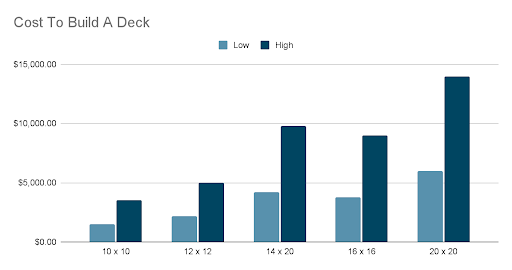 The average cost to build a deck per square foot is $25.
 In total, homeowners spend between $4,300 to $10,100 total. While entry-level deck building materials cost $15 per square foot, it costs around $35 per square foot to use premium materials. 
The Average Cost to Build a Deck by Size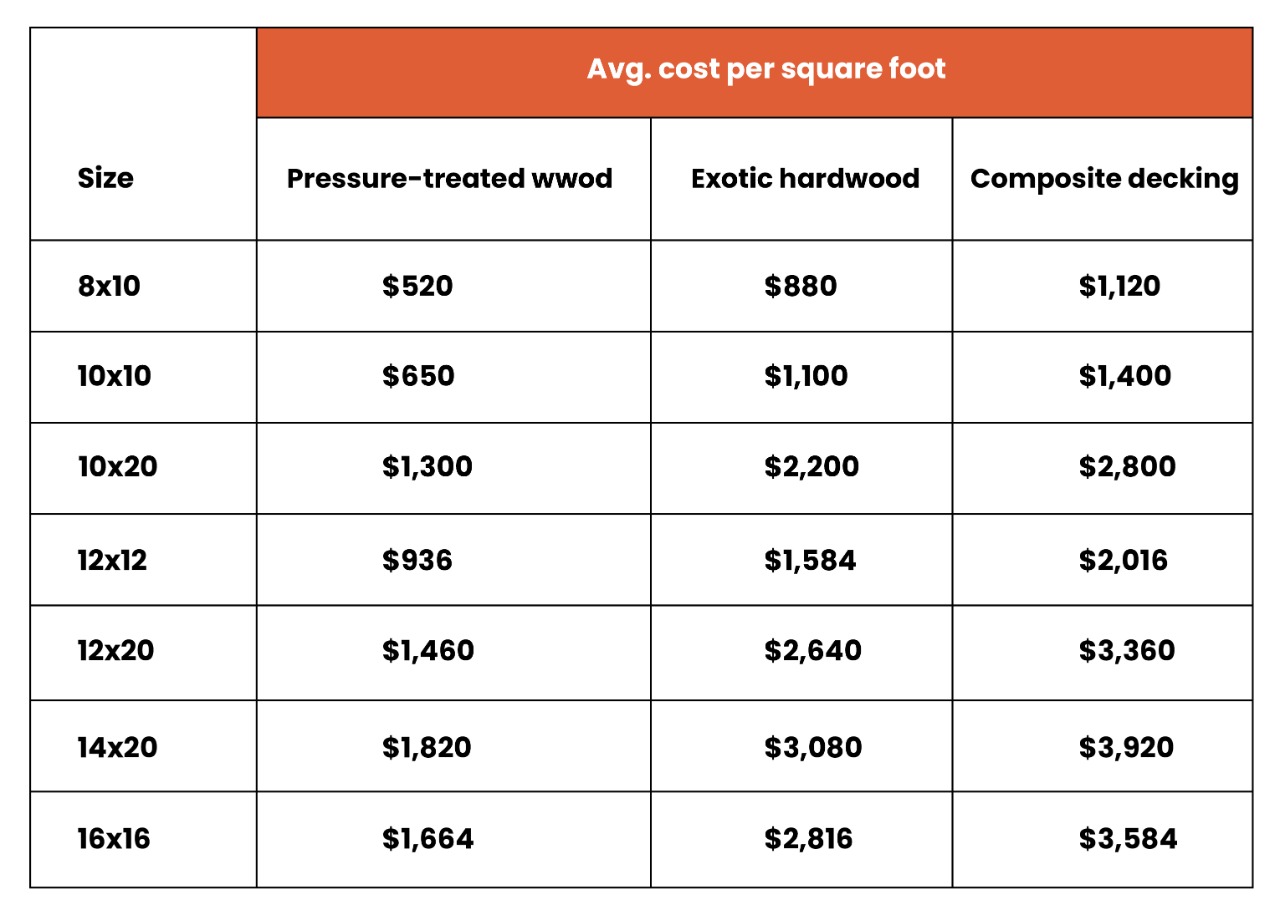 The cost to build a deck will also depend on the preferred size and use of material. If you are looking for a budget-friendly option, you can choose a less expensive material like pick pressure-treated pine. It would cost you approximately $3 to $6 per square foot. 
More luxurious options include LPE or Redwood, which range between $7 and $15 per sq. ft. Another alternative for wood decking is Trex which can cost $5 to $13 per sq. ft. 
The good thing about Trex is that it is pretty low maintenance compared to other types of natural wood.
Here are a few things that you'd need to consider in terms of your deck size regarding pricing. 
Measure the total area (square footage) of the deck plan. 

Calculate the depth, height, and width of your planned structure. 

Finalize the design, and don't forget to take extra charges based on any possible additions. For instance, if you decide to add a shed roof, it might cost you quite an additional sum. 

Choice of materials will also determine the overall cost, as different materials come for different prices. The price can also vary from place to place, be it a country or a state. 
We've curated a list of the different pricing depending on the materials you plan to use and the deck size. 
Labor Cost to Build a Deck
Labor charges comprise about two-thirds of the total cost of building a deck. Most contractors' average price is approximately $35 per square foot. 
For instance, if the size of your deck is around 200-500 sq. ft., you can expect your labor & installation charges to be about $7,000-$17,000. 
If you have the right tools and some prior experience, you can build your deck yourself and save thousands of dollars. However, if you do not have the basic know-how, it's better to assign the job to a professional. Many people also prefer to tackle the installation by themselves to prevent excess charges. 
What is The Cost of Lumber? 

Whether you want to build your deck or hire a deck contractor, you can't avoid lumber costs. Currently, lumber prices are rising, making deck building a pretty expensive job. Lumber costs start roughly at $2000 for a low-end project and can go up to $22,000 depending on the design and customizations. Having a comprehensive budget plan can help save you money and time. 
For a basic deck design, you can expect to pay a minimum of $8 to $10 for every sq. ft. However, the prices will vary depending on the quality of lumber and the type of materials you use. We researched and found the average pricing for different materials and lumber quality. 
Cost to Build a Deck Yourself (DIY)
If you're handy with power tools and do not need your deck urgently, DIY can be an affordable option for you. This one is for those who want to cut down on labor and installation charges. A DIY project is likely to reduce the total cost by two or three times, and you can utilize the savings to employ a better design or premium quality materials. 
The starting price for a DIY project can range between $15 and $20 per sq. ft. However, this will vary if you pick exotic materials. One downside of DIY is that you only get a warranty for the materials you buy and not on the craftsmanship. 
Hiring a Contractor and Return On Investment (ROI)
Building your deck can save you a lot of money, but if you want a professionally designed deck that can increase your home's resale value, you might want to hire a contractor. While starting to plan for the project, homeowners tend to underestimate the time, expertise, and money that go into crafting a high-performing and long-lasting deck. While you might have the technical knowledge of constructing the deck, you might not know its market value or the related financial aspects. 
A 2015 survey by Century 21 stated that adding a deck to your property can increase its worth by at least 10%.
According to the Cost vs. Value Report by Remodeling Magazine, a homeowner can get a return of up to 65% of the cost of building a composite deck. Surprisingly, an interior addition like a bathroom will offer roughly 57% of the total investment. Besides, deck building doesn't require you to take out a mortgage. It is one of the affordable ways to enhance your outdoor living space while increasing the value of your home. 
The cost of installing a deck itself comprises 80% of the total investment, but you can maximize your ROI by choosing the right materials. This is where a contractor comes into play, as they can simplify the process and save substantial research time on material quality and building processes. 
You can rest easy when hiring a reputable professional, as work is guaranteed. A certified deck builder is experienced in constructing decks and brings their expertise in anticipating and quickly solving unforeseen issues like bad weather, missing materials, warranties, etc., during the installation. They also provide valuable suggestions and advice when it comes to deck maintenance.
Cost for Additions in The Deck
Let's say you have an existing deck. But you now want to add extensions, like turning your slab patio into a deck or extending your deck to make more space. You will have to install new beams and footings to support the extended portion. And that'll require you to hire a contractor or get more material to get it done yourself. 
The average price per sq. ft. starts at $15 and can go up to $50 based on your location, the type of materials you plan on using, and the design. If you want to incorporate an elaborate design, you will most likely have to pay extra. 
Cost of Deck Flooring
Common materials for deck flooring include composite lumber, hardwood (cedar, Ipe, etc.), and PTW. Most homeowners prefer PTW decking as it's slightly less expensive than other flooring materials. But, if you're considering durability and maintenance, it's better to go with hardwood or composite. These are rot-resistant and can save you additional charges in terms of yearly maintenance. 
As you can see, the price difference isn't huge, but the quality might vary from material to material. Hardwood and composite flooring can cost you around $15 to $40 per sq. ft. Pressure-treated wood will cost roughly $15 to $25 per sq. ft. 
Cost of Deck Framing
Framing isn't an inherent part of a deck as it holds the structure together. Even ground-level decks require sturdy frames, but you can build them on blocks. 
Ideally, people pick pressure-treated wood to build deck framing. On the other hand, a raised platform will need ledger boards, joists, concrete footings, posts, and beams for support. You can select any other material of your choice as per your budget. 
The cost to build the frame will depend on the size, height, and how it is attached to your house. Similarly, lumber prices will vary based on your location. You might have to spend somewhere between $85 and $100 per sq. ft.
Cost of Removing Deck
While deck building can be costly, its removal can cost you a fortune (or not), depending on the condition of your deck. If your deck is decrepit and rotting, it must be removed or at least renovated. 
An old deck might be easier to demolish as it's already weak. It'll roughly cost you $5 to $15 per sq. ft. 
But if you're planning to demolish a sturdy deck, it will cost you an overall sum of $600 to $1000. If you're wondering why the removal is so costly, it involves a lot of tough jobs like pulling off the top railings, removing balusters and deck boards, reversing screws, disassembling the joists, beams, posts, etc. and much more. The effort and time required to remove a deck makes it so expensive. 
Final thoughts
Given that decks are so customizable, it can be challenging to understand how much it would cost to build a deck and plan a comprehensive budget. 
Whether you want to try a DIY project or seek help from a professional builder, a basic idea for the project can come in handy. We have curated the article above that contains all the details related to various aspects of deck building. We hope the information provided above, along with the cost estimates, will be helpful in your next deck-building project.