Home » Farmhouse Bathroom Ideas for Your Next Remodeling Project
Farmhouse Bathroom Ideas for Your Next Remodeling Project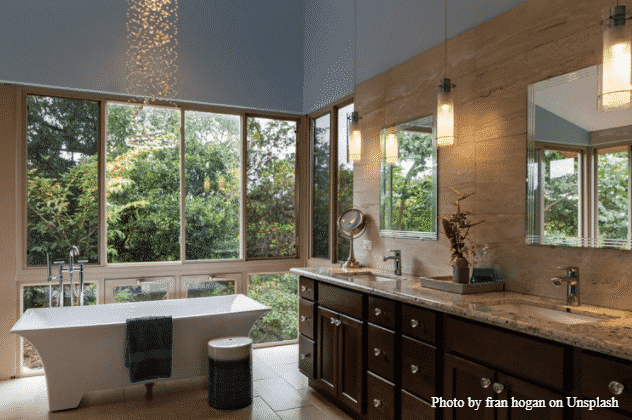 A farmhouse always has a warm and inviting feeling to it. But you do not have to live on a farm to have a farmhouse bathroom at home. The simplicity and homely feel of farmhouse décor are in high demand, and everyone is looking to incorporate a farmhouse style modern bathroom. And to help you with that, there are a plethora of farmhouse bathroom ideas.
The idea of a farmhouse bathroom starts with wooden furniture and metal everywhere around the bathroom. It is also about sweet bathroom color palettes, a lived-in look, and materials that are the epitome of simpler times, comfort, and relaxation.
A good thing about the farmhouse style décor is that it is not restricted to being rustic with weathered materials or a perfect vintage look. A farmhouse bathroom can even have a modern or industrial look with everything primed and polished.
So whether you live in the cool countryside in a big old house or within a fast-paced city with a bustling crowd and modern home décor, here are a few farmhouse bathroom ideas that will inspire you to experiment with your bathroom and bring home the new trend! 
Pick the Right Aesthetics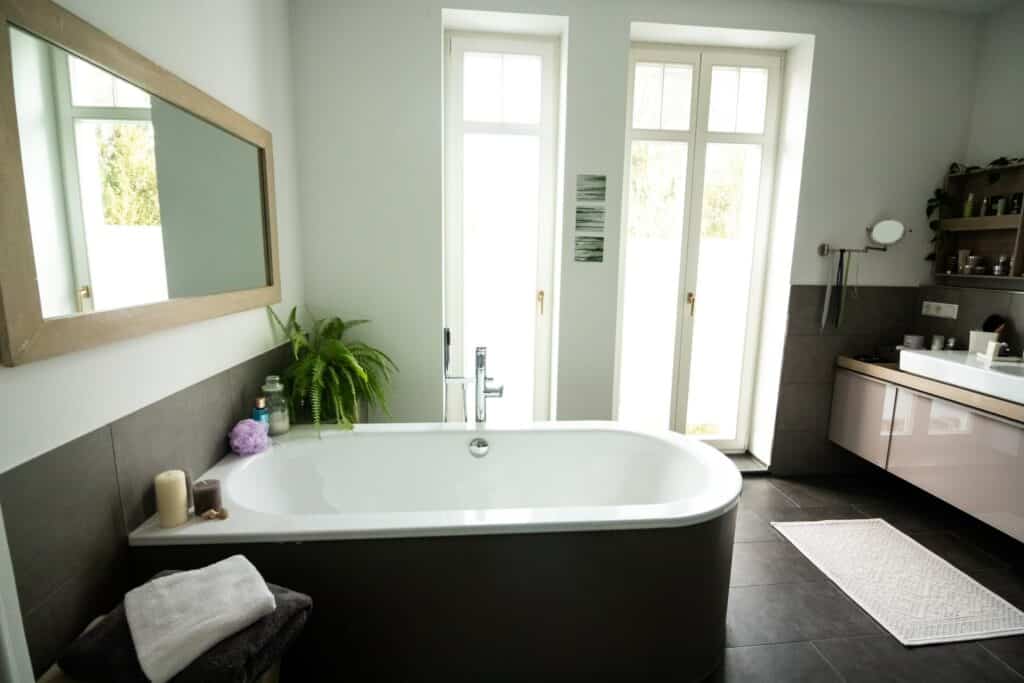 The bathroom is the perfect space to experiment. If you are looking to give your bathroom a new look, you must start with the aesthetics and bathroom design. A farmhouse style bathroom has particular attractions such as rustic décor, so that is what you need to focus on!
You must pick the right pieces to give your bathroom a welcoming and warm farmhouse style. Since the vanity is one of the bathroom's most significant components, you can start with that. A vanity with legs and open shelving would make an excellent piece for your bathroom. If the vanity has a rustic wooden look and porcelain drawer pulls, it will help augment the overall look.
The vessel sink on the bathroom vanity needs to look aesthetic too. You can visit any vintage shop and choose a sink that has been picked from an old building. You can even eliminate the vanity and mount the sink to the wall with curtains down below to hide the pipes. This will help give your bathroom a bare essentials vibe. 
Go All White
An all-white bathroom has been a trend since time immemorial, and it does not plan on going anywhere for a while! So why not incorporate this timeless classic in your home for a beautiful bathroom makeover? Another trick to give the room an authentic look is to use as much wood as you can!
The trick that all designers adopt to give you the perfect all-white bathroom is to accent and texture the bathroom in non-white elements. An all-white bathroom has a monochromatic look, and you can achieve that by installing white subway tiles in the shower, white wood vanity with an old sink, and a white shiplap wall next to the bathtub or shower area.
Once you have designed the monochromatic look, you can accent the bathroom with different colors and textures on the bathroom's components. To keep your bathroom from looking too white, go for black hardware for your cabinets, racks, and light fixtures. You can even incorporate a wrought iron design for a classic and vintage look. 
Aim for the Rustic Look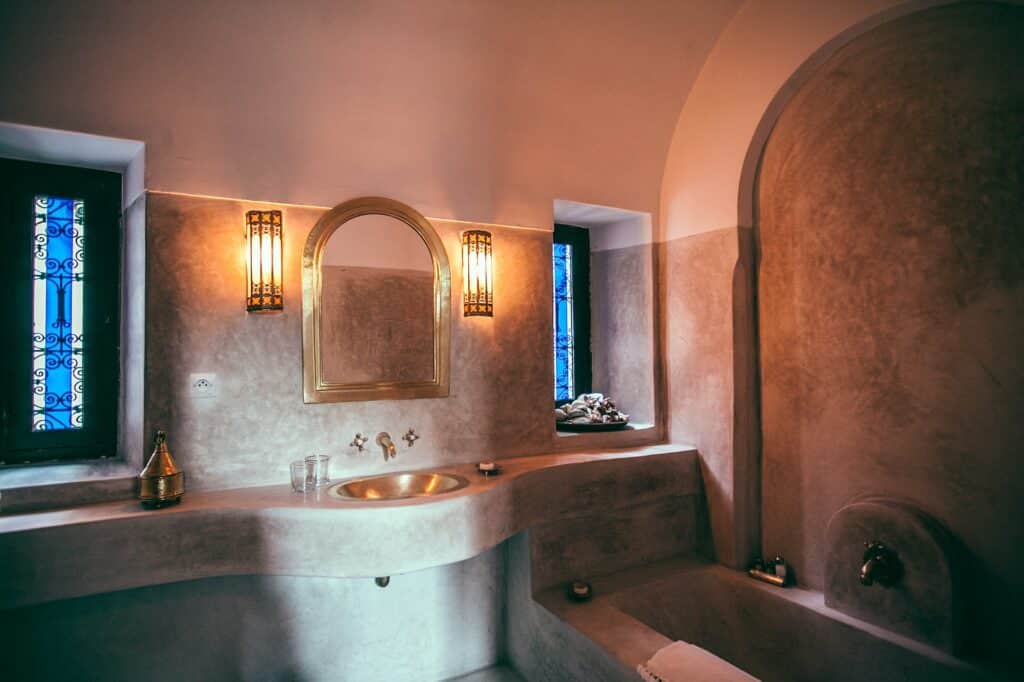 When we say rustic, it does not mean that your bathroom has to look weary and worn out with everything rough and tumble. You can add a few elements here and there that will inspire the authentic look you aim for. And to get that, go for key pieces that look aged or slightly used. The best place to get such materials is a thrift store!
These pieces have imperfections that augment the natural look in them and suit your farmhouse bathroom look perfectly. For example, you can get a vanity mirror with a rustic wooden frame. It perfectly aligns with the theme of your bathroom and also creates a focal point. This is one of the most popular farmhouse bathroom ideas currently!
Another way to set the right tone for this farmhouse bathroom is to go for a large rustic or vintage dresser. This element in the bathroom will surely be an eye-catcher! You can also place open wooden shelves above the toilet since that is the place that many guests notice. Add the final touches by incorporating a hand-hammered copper sink for a stunning traditional rustic theme! 
Shabby yet Chic!
If the rustic old look gets too overwhelming or unappealing for you, you can always mix it up with something different and modern! The best option for you in such a case would be to turn your attention towards the shabby and chic direction.
A shabby chic bathroom involves rustic farmhouse bathroom elements combined with modern and luxurious touches to elevate the entire look. It gives an elegant look to the bathroom and works best for the master bathroom in the house.
One of the best ways to gain this look would be to go for a freestanding clawfoot tub instead of just an old tub. Hang a gold or silver caged chandelier above the tub for a vintage-inspired look. A framed vanity with intricate designs, ornate detailing, and sconces around it adds to the room's chic design.
Traditional Wainscoting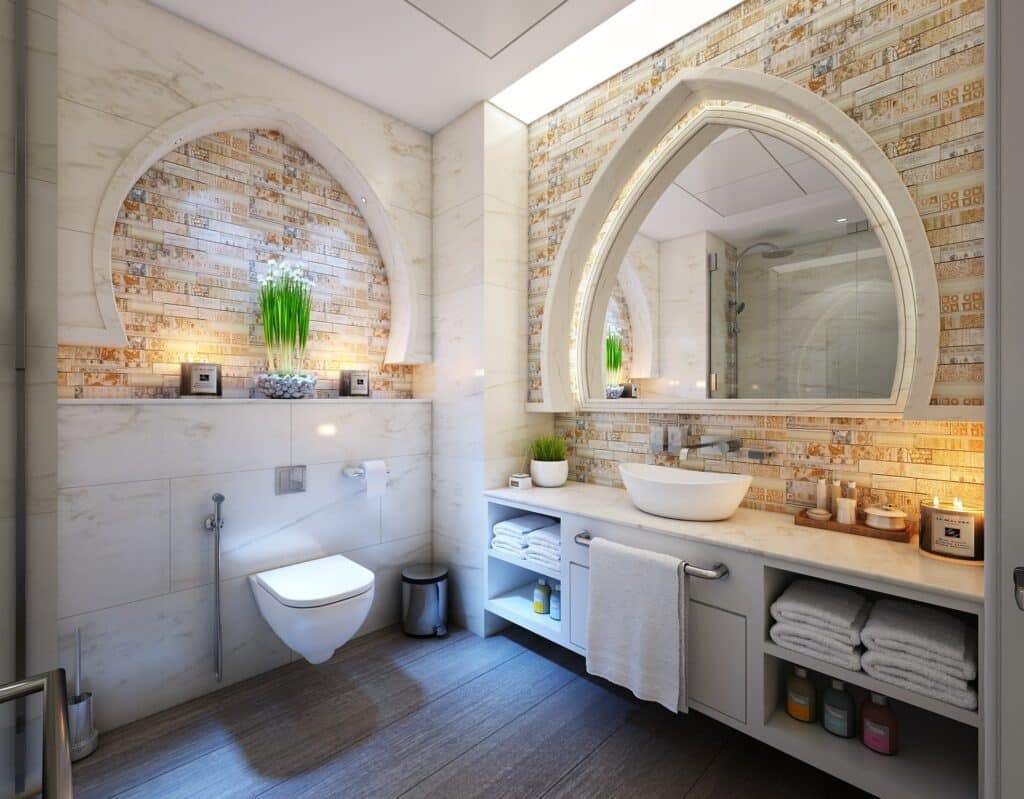 One of the most prevalent farmhouse bathroom ideas is wainscoting. Wainscoting is an old practice among designers to make your bathroom walls look traditional. Wainscot the lower part of your walls with shiplap for a country feel. You can either go for the standard vertical lines or do something different with your bathroom and opt for horizontal lines.
To spruce up your bathroom a bit, you can leave the wainscoting part white and go for floral wallpaper above it. Or you can even flip the traditional wainscoting practice and color the wainscoting in a different shade, and keep the above wall white.