Home » Everything About Laundry Room Flooring
Everything About Laundry Room Flooring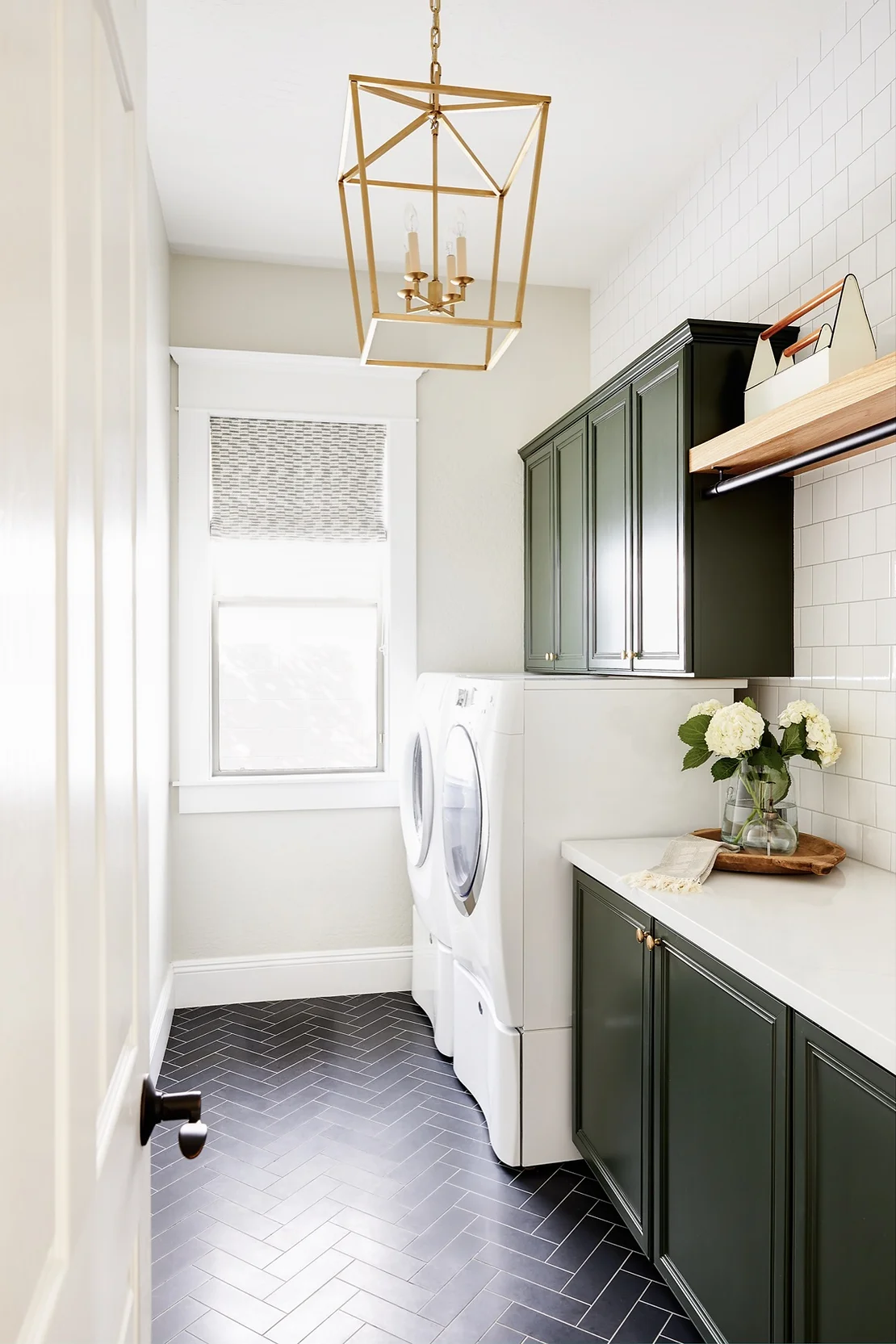 Your laundry room floor surely takes a beating. From dirty, muddy shoes to heavy appliances, it endures it all. Hence, its imperative to have the best laundry room flooring in place.
The laundry room does not necessarily require aesthetic decor and an elaborate design layout. However, there's no harm in trying to create a space that looks nice and is functional as well.
It is particularly important to pick a sturdy material as the floor will tend to get drenched from wet clothes from the washer or it might be stained by spilled bleach. Laundry rooms are also prone to developing mold due to appliance leaks or the floors can get warped due to the swapping of heavy appliances. 
Considering all these factors, you will need to pick a flooring option that is durable, sturdy, and resistant to stains. To help you in the process, we are bringing you a list of the most reliable laundry room flooring options. Let's take a look. 
Tile Flooring
Here's the classic, tile flooring for a laundry room. Ceramic and porcelain tiles have been around for ages; they are very easy to clean and durable. They are also water resistant when installed in a correct manner. 
On the other hand, they are resistant to any damage from bleach or petroleum-based products.
While they can be cold to stand on for long periods of time, the same can be tackled through gel mats or radiant heating. 
Pros & Cons of Tile Flooring for Laundry Room
| | |
| --- | --- |
| Pros | Cons |
| Durable in nature | Can be cold |
| Easy to clean | Flawless installation can be tricky |
| Waterproof (when installed correctly) | Grout requires cleaning with abrasive agents |
Concrete Flooring
Concrete flooring is generally the default flooring for a laundry room. Since there can be a lot of wear and tear in a laundry room, you can keep the laundry flooring as it is. 
We agree, concrete flooring may not be the most eye-pleasing among the many laundry room floor ideas. To tackle this issue you can either go for staining or painting or even throw a rug over the floor. 
Pros & Cons of Concrete Flooring for Laundry Room
| | |
| --- | --- |
| Pros | Cons |
| Highly durable and sturdy | Not aesthetically pleasing |
| Easy to Clean | Cold to touch |
| Waterproof | |
Sheet Vinyl Flooring
Sheet vinyl is one of the best flooring for laundry room. This single piece of unseamed sheet vinyl is highly moisture-proof and waterproof. 
To make this flooring option even better, you can pair sheet vinyl with a thermoplastic rubber wall base molding which is a type of baseboard. Doing so enhances its waterproofing nature and can even withstand minor flooding. 
Pros & Cons of Sheet Vinyl Flooring for Laundry Room
| | |
| --- | --- |
| Pros | Cons |
| Waterproof | Tricky for DIY installation in big spaces |
| Moisture-resistant | Has a plain restaurant |
| Not expensive | |
Luxury Vinyl Tile Flooring
More expensive than sheet vinyl, Luxury Vinyl Tile or LVT is another great option laundry room to have in your home. It is waterproof, thicker than sheet vinyl and also better looking. 
Some of its other great qualities are moisture resistance, dent resistance, and high foot traffic and humidity resistance. It is also easy to clean as it does not have grout.
Pros & Cons of Luxury Vinyl Tile Flooring for Laundry Room
| | |
| --- | --- |
| Pros | Cons |
| Can mimic high end materials | Water can leak through seams |
| Inexpensive | |
| Durable | |
Laundry Room Flooring Options to Avoid
While there are endless options to choose from, below listed are some of the ones you must avoid. 
Carpet
Even though it is an inexpensive option, it is definitely a big no-no. Carpets in laundry room flooring can absorb water from appliance leaks and overflow. This can give rise to mold and stains along with unpleasant musty smells. 
It will also take a lot of time for the carpet to dry. On the other hand, carpeted flooring ready traps fabric lint which can cause difficulty in cleaning. 
Solid Wood 
Wooden flooring is highly prone to swelling and shrinking when exposed to water. This can be highly damaging to solid wood and may require complete replacement even before its lifespan expiration. 
On the other hand, solid wood flooring is also highly structurally unstable and can incur damages from laundry detergents and bleaches. 
Bamboo 
If you plan on hopping into the sustainability wagon, bamboo laundry flooring is one option that you must avoid. Bamboo as a flooring option can either swell when exposed to water or shrink in dry conditions. 
On the other hand, bamboo is prone to scratches and dents from high foot traffic.
While purchasing laundry room flooring, ensure your chosen option ticks the following criteria: durable to high foot traffic and appliance operations, moisture and stain resistant, waterproof, easy to clean, aesthetically pleasing, and affordable.