Home » 8 Smart & Stylish Basement Remodel Ideas For Your Inspiration
8 Smart & Stylish Basement Remodel Ideas For Your Inspiration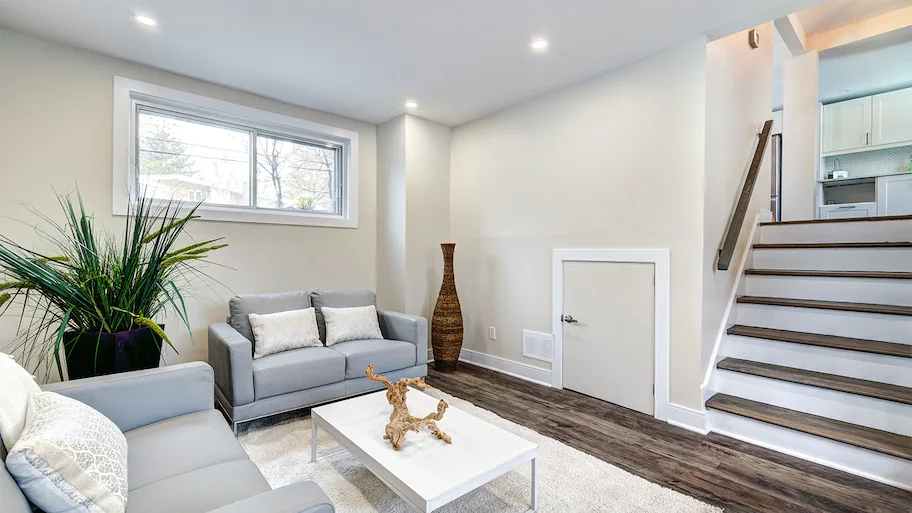 Is your basement is dark and dingy, a storage purgatory, or simply long overdue for an upgrade? Here are 8 basement remodel ideas to derive inspiration from.
Make the most of your basement to fully maximize the space with the bonus of increasing the resale value of your home. 
First Things First, Finish Your Basement
Before remodeling your basement in any sense, you need to finish your basement first. Basement finishing ensures that all the essential aspects of your basement are set up so that it's a safe and functioning space. Basement finishing covers plumbing, wiring, insulation and waterproofing. It also calls for a well built drywall, staircase and egress windows.  
Before you even consider remodeling your basement, get everything from your electricals to waterproofing in order. This is a safety issue and you'd be remiss to remodel your basement before it has even been finished. 
8 Best Basement Remodeling Ideas
Basement Living Room
There's a distinct coziness when going below ground. With the right furniture and lighting, a basement living room is as cozy as it gets. Treat the basement as a second living room and fill it with everything that makes it the perfect shared space to gather with your family.
Set it up with plush blankets, an assortment of pillows, warm lighting, a reading nook, etc. Pair cozy furniture with key storage spaces like chests and built-in shelves. These are perfect for stashing or displaying items like board games, books, blankets and even your kids artwork. 
Basement Home Theater
Make the most of the natural darkness that comes with a basement by converting it into your own home theater. Ensure that you've got a good wifi connection in your basement and you're halfway to having your own private theater!
Set up lounge chairs, couches and an area rug for the perfect seating area. Invest in a high quality projector or a large flat-screen TV and surround sound speakers. We recommend installing recessed spotlights with a dimmer switch as well for a full theater effect. 
With the right seating and screen, a basement home theater is a luxury that doesn't require much to set up. 
Basement Bar
How cool is it to have your own basement bar. It's the perfect space to transition away from everyday life at home, without having to leave your home. There's an array of beautiful at-home bars that you can purchase or you can even have one custom built. Install built-in shelves to display your favorite liquors or purchase a liquor cabinet. 
A mini kitchen is in order too so make it efficient and gorgeous. We recommend an undermount sink, mini fridge and decent counter space for chopping fresh ingredients. Having a basement bar is the perfect space to unwind and entertain without leaving the comfort of your home. 
Basement Office 
A basement office would be the perfect space for those who find that quiet seclusion is their key to productivity. Make it a space dedicated for creativity and work. Set up a work desk, install good lighting, a shared work table, and bookshelves. You can set up a corner with a coffee nook or even a space for meditating. For full effect, add a bathroom to make it a space for work truly. 
Basement Kids Playroom
Believe it or not, you can have a fantastic kid's playroom with minimal equipment. If you've got an empty finished basement, you can quickly convert it into a fun and safe playroom for kids. 
Brighten up the space with a fresh coat of paint and good lighting to make it feel welcoming. A combination of a plush area rug and rubber play mats can line the floor. That is already an excellent setup for kids to run around in. 
If you've got a surplus of toys scattered around your home, transfer them to the basement and store them in cubby holes or toy baskets. If you'd like to add more fixtures, we recommend mounting a chalkboard to the wall and other open-ended play items. A tent, a triangle pickler and a reading nook work great to entertain children of all ages. 
Of course, make the space safe as well. Install monitors, a baby gate at the bottom of the stairs, bump cushions around corners, and wherever else you see fit.
Basement Wine Cellar 
For wine connoisseurs and enthusiasts alike, the basement is the perfect storage space and tasting room to share your fondness for wine. The first order of business would be to install quality air conditioning to maintain the temperature and humidity for optimal wine storage.
Opt for built-in wine racks and shelves that go from the floor to ceiling for a beautiful wall display. Add a simple seating area so you and others can gather around comfortably as you sip your way through new and favorite wines. 
Basement Gym
Like with a kid's playroom, an empty finished basement can easily be converted to a gym. A great starting point would be to add recessed spotlights to ensure that it's well lit for any workout. Install floor-to-ceiling wall mirrors around your walls for a professional studio feel. 
Along with proper lighting, ensure that there's good ventilation. You can do this by expanding your egress window to allow as much fresh air as possible. Alternatively, you can install air conditioning to keep a basement gym cool and well-ventilated even amidst the sweatiest workouts. 
Finally, add your gym fixtures. Whether that's a treadmill, a weight set, or mounts for your aerial yoga practice, plan the space accordingly with the space you have. 
Basement Family Room
One of the best ways to make your basement a space that's suitable for everyone in your household is to make it a family room. Add couches and a TV for a media center and add on from there according to what you and your family enjoy doing together. 
You can reserve a corner for a mini reading nook and bring down several toy baskets and board games. If you have the space, you can incorporate a mini bar or even close off a space for a home office. Add pet cushions if you have pets. Essentially, bring a little piece of something that will suit everyone living in your home. 
A basement family room is a lovely extension to your home as it makes all its inhabitants feel welcome. 
An empty basement or a basement that's being underused to its full potential is the perfect blank canvas. As you probably know with all the basement remodel ideas out there, your basement has the potential to become whatever you want or need it to be.