Paint Color Ideas For A Small Bathroom Remodeling Project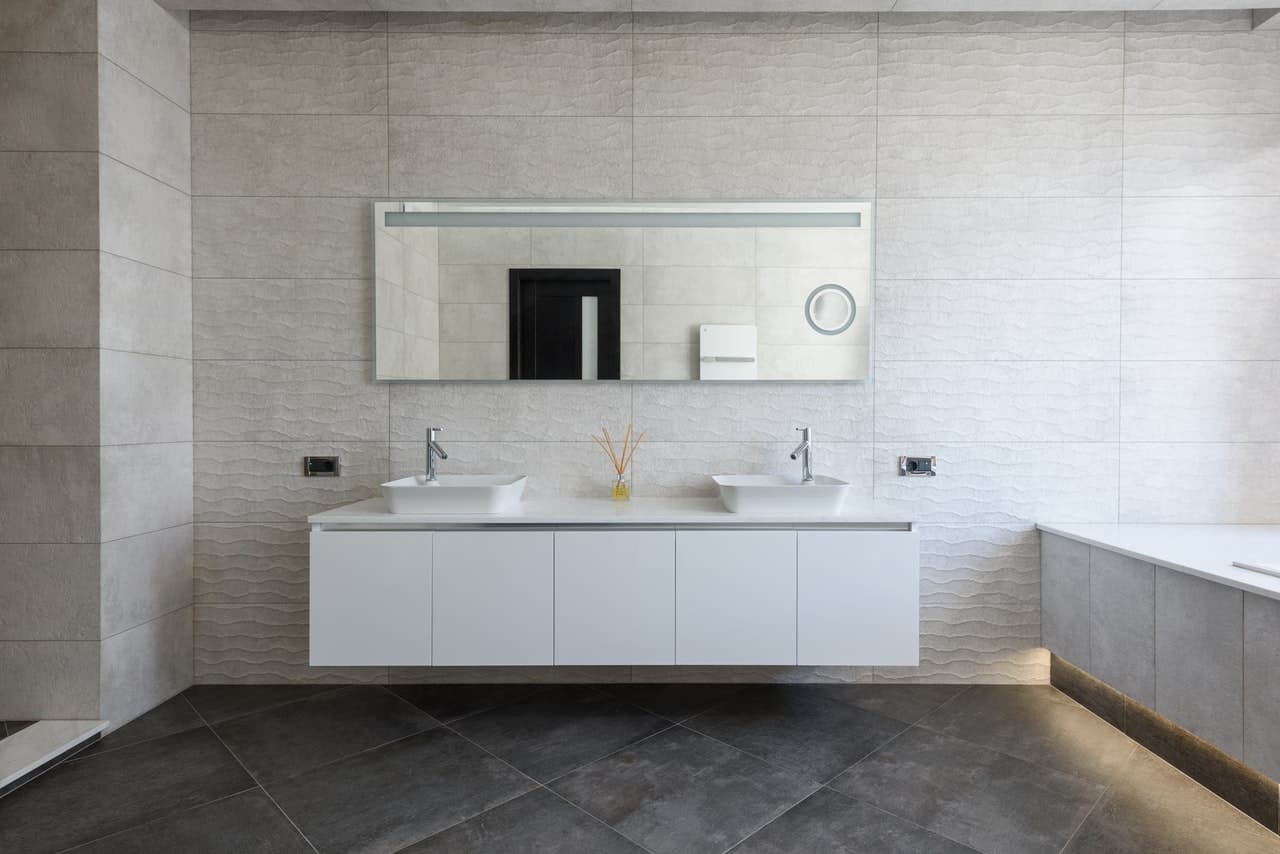 The bathroom colors you choose will have a significant impact on the overall ambiance. A bathroom can feel lively and rejuvenating, relaxed and soothing, or anywhere in between, depending on the colors you use. 
A few splashes of color, especially in a small bathroom, can make the place look unique. However, with different paint color ideas for a small bathroom to choose from, deciding the correct shade can be a difficult task. 
You can also consider the overall atmosphere you want to create to narrow down your options, then design your color palette from there. Additionally, you should consider tiles, light fixtures, carpets, and accessories like bath towels and decorative pieces when adding color to a small bathroom. 
Since you won't have much space, you'll want to choose the best tips while remodeling your bathroom. Here finding the perfect balance is crucial. When remodeling or updating your bathroom, consider these vivid paint color ideas for a small bathroom. 
There's A World Beyond White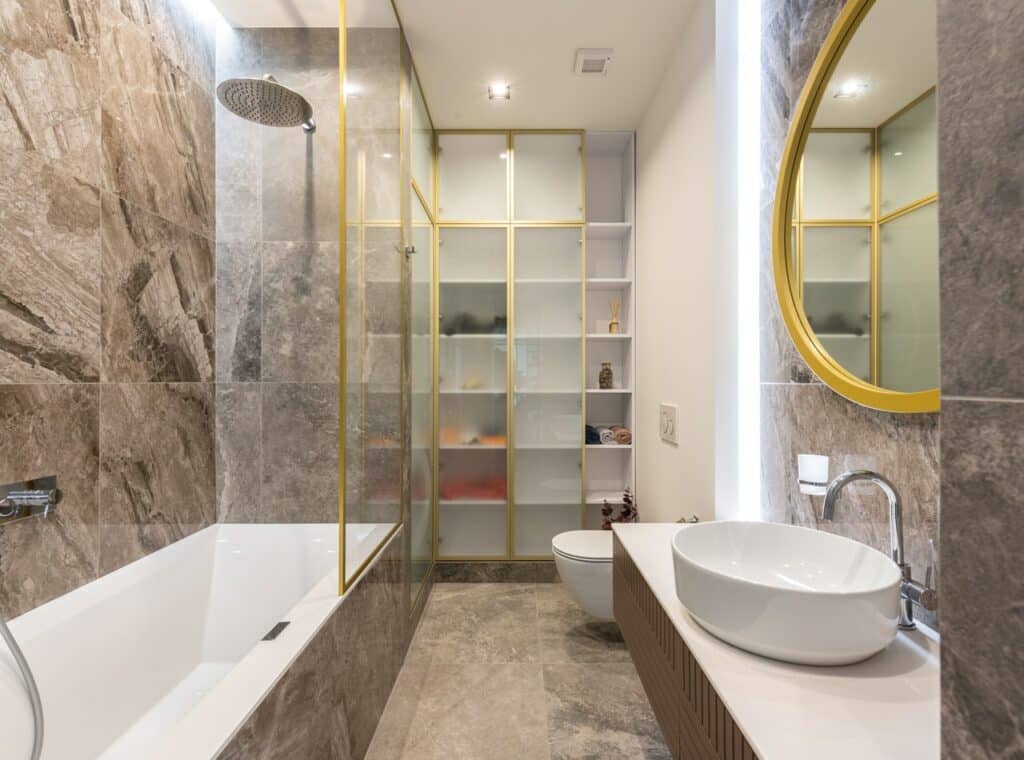 Because of its light, clean appearance and capacity to make a small bathroom feel bigger, white may seem like a modern bathroom color option. However, if all-white rooms aren't your thing, it doesn't have to be your norm. 
Small bathrooms, such as powder rooms and guest bathrooms, are a great place to experiment with darker colors and designs that you might avoid in broader living spaces. Also, to pack big style into a small room, you can couple a bright wall color with an eccentric floor tile to make a statement.
Add A Neutral Base To Balance Vivid Colors 
A bright color is a perfect way to brighten up a small bathroom, but it may look flashy if you use it too heavily. You can also consider applying a vibrant shade, such as coral or teal, as an accent color on the shower panel, via a vivid tile backsplash. 
Then, in other areas, use neutral colors to match the lighter hues. White walls and finishes, for example, will provide a subtle base that complements several colors. Beige, tan, or gray textures, based on the accent color you choose, can help the lighter hue stand out.
Pay Attention To The Trim
Trim, whether you stain or paint it, will affect the design of your bathroom remodel. When choosing colors for larger surfaces like walls and flooring, it's especially vital to consider how the colors will pair with trim. 
You can paint swatches of potential colors next to the trim to see how the undertones contrast with the final look. However, you can still paint the trim, even if the shades collide rather than balance.
Find Inspiration 
Look for paint color ideas for small bathrooms that you like online on Pinterest or offline. Evaluate fabric, paint chips, wallpaper, and floor samples and choose your favorites to help you complete your design ideas. 
Then, to find trendy themes, make a mood board. You can also choose colors by looking at items such as antique vases, flowers in your gardens, and more. It's a lot more interesting than paint chips. 
Introduce Accessories
In a small bathroom remodel, decorations can be an easy way to add contrasting colors or beautiful designs. When people think of paint, they usually think of walls. Color in accessories, such as carpets, pillowcases, and art, creates a stunning impact without going overboard on the walls. 
Another place to experiment with color is in the bathroom window decorations. Use a contrasting color for emphasis if your bathroom's view isn't fantastic; also, if the window still sticks out, combine the curtains more with the walls. 
Test Small Swatches Of Paint
It's essential to experiment with different shades and tones, even after you've picked out your faves. To avoid blending the shades, test samples on a surface at least 3 feet apart.
Paint swatches in various locations throughout the room, such as close to the window, around the trim, in a hidden corner, and a bright nook. Allow yourself to experiment with different colors, and don't be afraid to create a mess until you find the ideal match.
Match The Color To Your Lifestyle 
Maybe you want your bathroom to have a serene aura. Perhaps you prefer a calming, cheerful, and lively setting. Using various paint color ideas for a small bathroom will assist you in achieving your ideal mood. 
A creamy yellow, for example, is much lighter and more soothing than a sunny yellow, which seems upbeat and vivid. Consider lights, darks, and the whole color spectrum while deciding what colors will fit in your tiny bathroom.
Mix and Match Neutral Shades
If you're nervous about using too much color in a tiny bathroom remodel, stick to a neutral color palette. Experiment with the contrast to prevent it from appearing dull or bland. 
Instead, use off-white on a ceiling or trim to mix and match textures. When you place a warm white next to a pigment, it always appears bright and clean.
Maintain The Continuity Of Color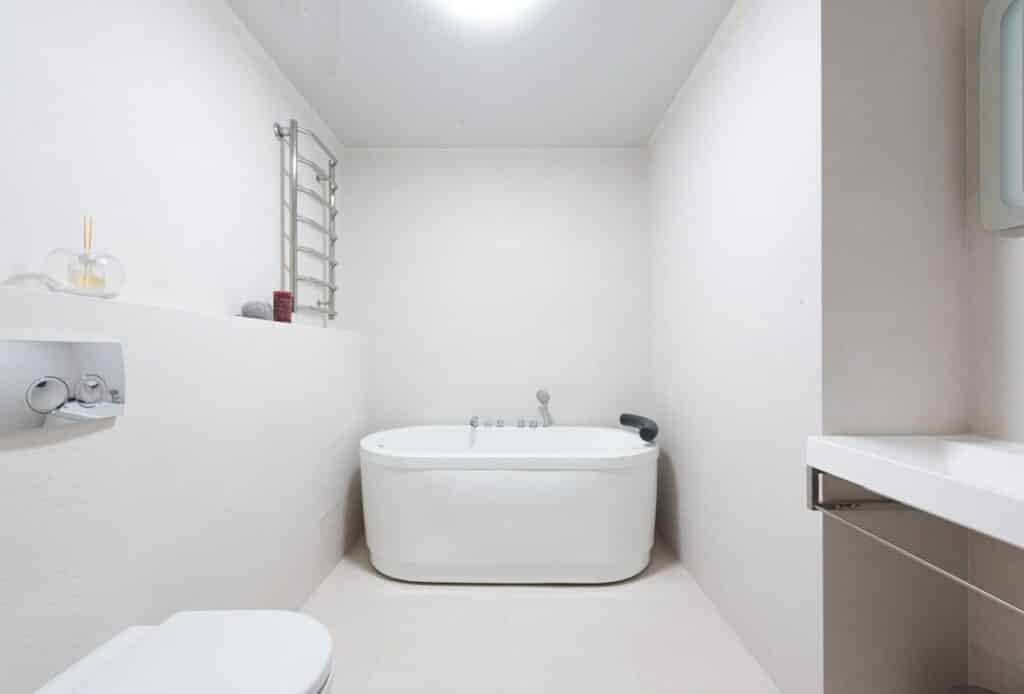 In a small bathroom, the walls are typically the primary color. If you're afraid of using too much color, follow this advice. 
Leave the walls in a small space in the same shade as the existing furniture. You can use a chair or stool or even the sink drawer in a small bathroom to do so. This way, your space will appear to be twice as large.
Look For Your Accessories 
Take a look in your wardrobe and see what colors inspire you. The colors that dominate your closet will help you come up with small bathroom color schemes. 
The best advice here is to invade your accessory closet. There are likely to be more colors that inspire you in your designer bags, belts, and jewels.
Don't Fear Bold Color Choices
Bold, dark colors should not be out of the equation only because the room is tiny. When you pair a dark color with pure white trim, or a white vanity can make a small bathroom feel intimate and stylish. 
Metallic elements, such as brass hardware and accessories, will add a gleaming sheen that will break through the darkness.