Home » Modern Mudroom Ideas: How to Design the Perfect Space for Your Home
Modern Mudroom Ideas: How to Design the Perfect Space for Your Home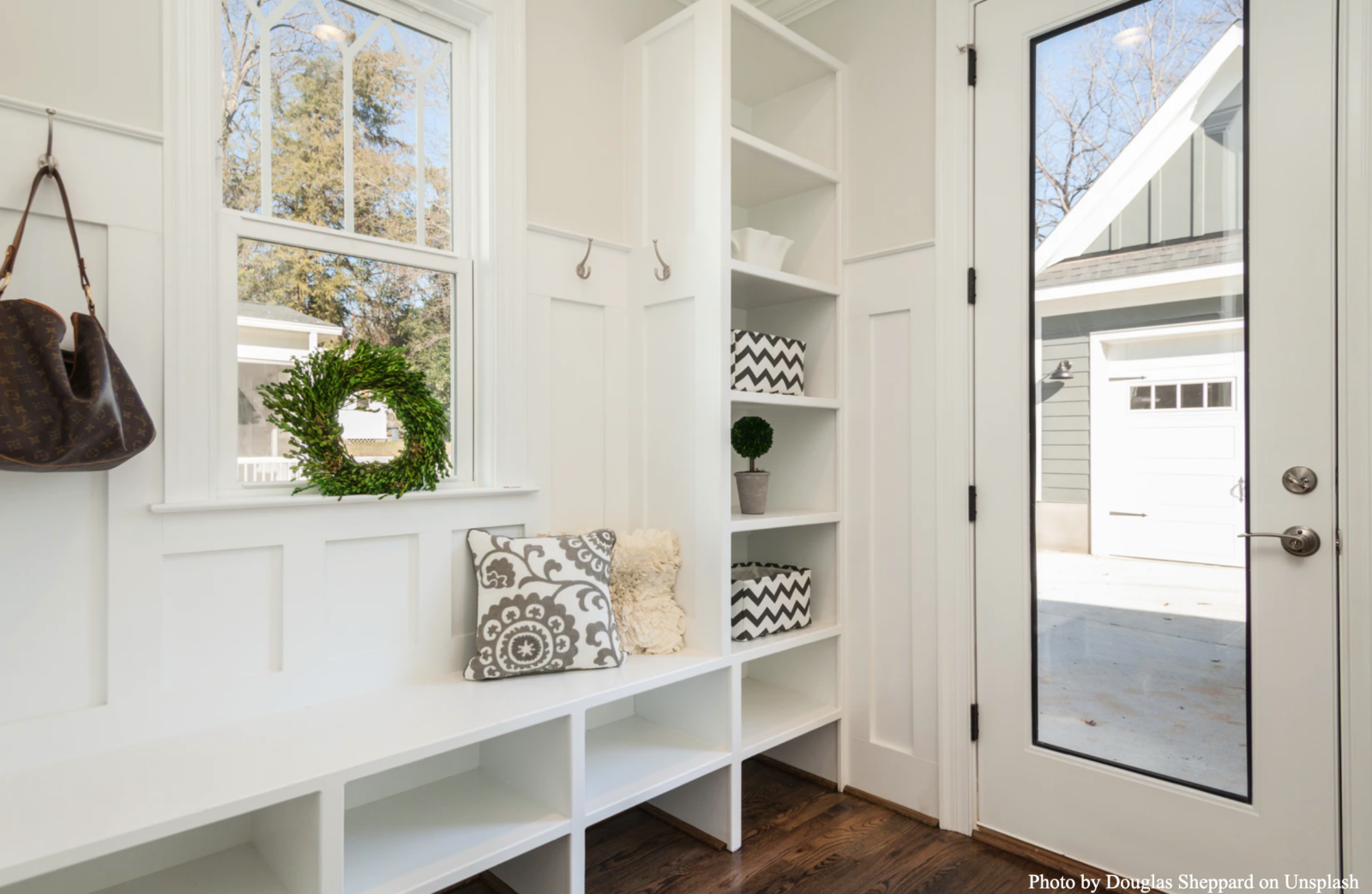 From complete furnishing elements for large spaces to tailor-made solutions for smaller ones, here are the best modern mudroom ideas to create a functional and comfortable room. Usually, a mudroom is the first space that welcomes your guests, so it should be aesthetic and functional. If neatly organized and designed, mudrooms can significantly impact the overall decor of the house.
Furthermore, mudrooms are extremely useful for keeping the house clean and tidy. Muddy boots, wet overcoats, or an umbrella, everything goes to the mudroom, not disturbing the house's interiors. Mudrooms that are well-designed will have a place for everything and, if well-planned, will also provide valuable storage space.
The best-designed mudrooms are practical, clean, orderly, and elegant, whether traditional, transitional, or modern decor. And, we will show that there are numerous innovative and easy ways to personalize a mudroom. Make your mudroom both functional and appealing by drawing inspiration from the following collection of ideas that will give your home decor a modern twist.
Analyze Your Needs
Before you start the makeover of any room in your house, the most important thing is to analyze your needs carefully. The same goes for the mudroom. When we get home, we need a place to drop off all of our things immediately. 
Therefore, the first step to furnishing your mudroom is to analyze your habits and needs and apply solutions accordingly. Also, consider the dimensions of the mudroom. 
It's a hallway that connects the outside to your home's interior. Being a passage area, it must have enough space to allow easy movements. Therefore, make sure that the makeover does not restrict the space or make it a cramped, suffocating place.
Create an Easy-to-Clean Environment
The ideal mudrooms are the ones that have easy-to-clean surfaces. Because the mudrooms receive a lot of foot traffic and there's no shortage of muddy boots, pools of water on a rainy day, damp umbrellas, coats, and even a little snowmaking their way inside during winter, it's critical to have an easy to clean space.
You should ensure that the room is devoid of everything extra. A decluttered space is easy to tidy up. Additionally, the floor should be robust and slip-resistant to allow easy movements. Finally, to warm up the ambiance of your entrance, consider installing a large rug.
Choose Practical and Functional Furniture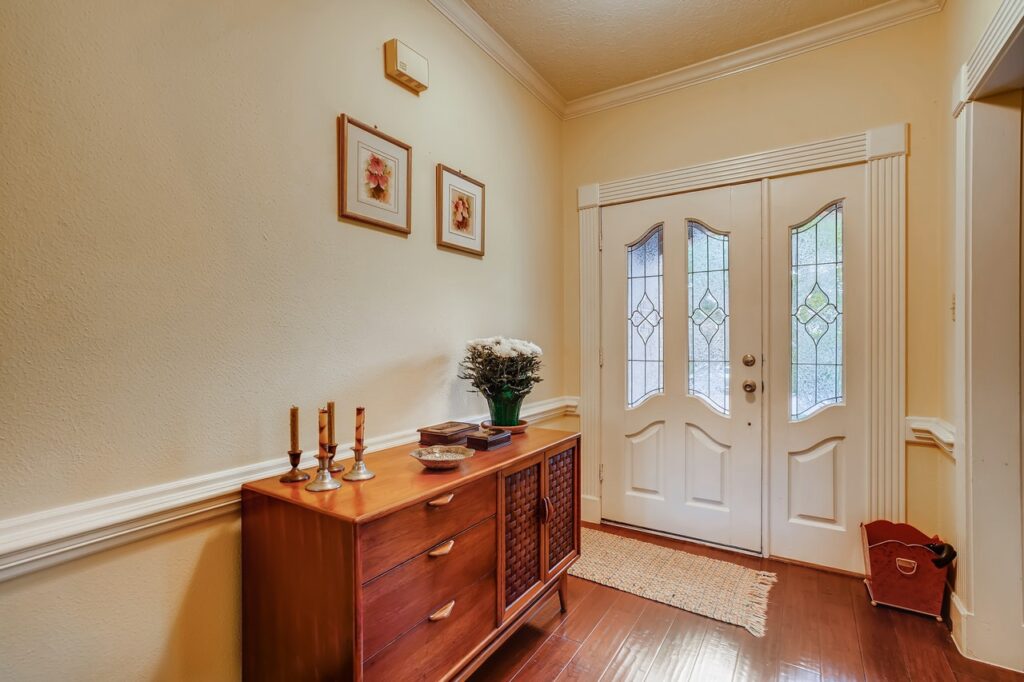 Needless to say, functionality is as important as aesthetics. Therefore, while designing your modern mudroom, it's critical to give proper thought to the functionality aspect too. 
In this context, choose furniture that is practical and functional. There are numerous creative ways to boost up the functionality. You can select a sideboard or console with drawers to store small things. 
Also, a standing coat rack, a shelf with hangers at different heights, or a shoe rack are some of the pieces of furniture that will help you keep everything organized, under control, and at hand. 
Besides, if you want to save and optimize space, compact furniture is the ideal solution to store everything in a few square feet.
Make the Most of Wall Space
Most of us tend to overlook this aspect of a modern mudroom design. The mudroom walls can provide ample storage with a series of shelves, drawers, and hooks that promise to tuck away practically anything you can bring in. 
Adapt wall space to organize day-to-day objects in homes with modest entry areas. Further, use hanging baskets to collect grab-and-go items like toys and scarves. 
But do not overdo it, or you will create a chaotic, cramped environment. Keep things subtle and uncluttered, and use the space optimally to create a welcoming space.
Install Ample Lighting
No one can deny how important statement lighting is to any room in the house. And even more at the entrance of the home. No one likes to traverse a dim-lit pathway. Therefore, the mudroom should be well lit, preferably with bright light. 
The light source in the mudroom must be warm and discreet. To create a focal point in the mudroom, use a modern minimalist chandelier suspended from the ceiling. Moreover, you can add recessed lighting with the help of colorful lamps and LEDs that fit in with the decoration.
Create a Mudroom Out of a Closet
With a few adjustments, a walk-in closet can transform an entry into a practical mudroom. Apply adhesive wallpaper to the back of the closet to give it a new look. 
Adjust the shelves to meet your specific needs, such as a top-shelf for baskets, slots for flat shoes, and a tall gap for boots. You can add hooks inside to hang jackets, hats, and luggage. 
Make a closet feel like an extra room by adding decor elements. Further, to store additional objects, hang baskets on the wall, and store jackets on hooks rather than hangers to save space.
Add Vertical Decoration
Wall compositions can profoundly impact the aesthetics of the modern mudroom. If you have a narrow and long hallway for a mudroom, you can apply Vertical wall decorations to create a pleasing and appealing mudroom. 
Consequently, don't give up on creating a unique environment due to lack of space. You can install an eye catchy painting of larger dimensions to cover more area.
 You can add extra prominence to the artwork by covering the wall in light shades like white or gray tone paint. This way, you will make it central to the mudroom and enhance its decor. Additionally, bet on furniture with very little depth to free up more space.
Decorate it With Plants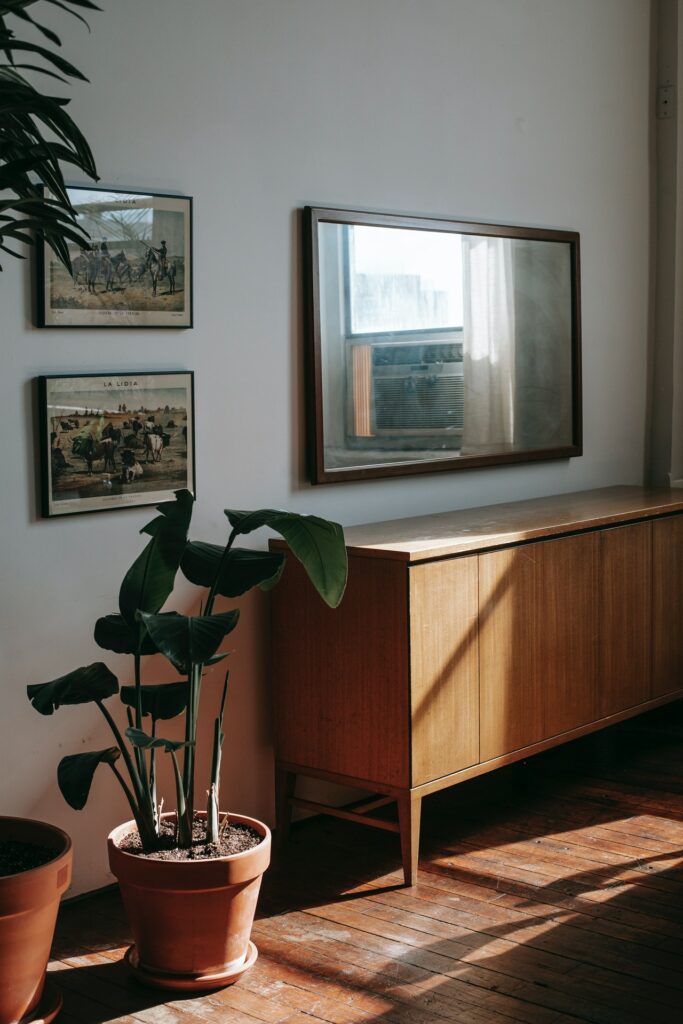 Another ideal decor choice will be to add plants to the room. However, consider the amount of natural light your mudroom receives to choose the most appropriate varieties when choosing plants. 
The key is to create a decorative and straightforward atmosphere, highlighting the compositions. If applied correctly, adding plants as decor elements can significantly improve the appearance of the mudroom. 
If you opt for a large variety, place it next to the wall so as not to obstruct the passage. Plants in hanging pots around the corner can also be a good option.