Coastal Living Room Furniture: Feel the Breeze of the Beach
Think about walking into your living room and feeling like you're at the beach. With beach-style furniture, you can make your room feel peaceful and stylish. This furniture often uses natural materials and soft blue and white colors. Right away, you'd see a blue couch that's comfy and fits the beach look really well. In this article, we'll talk about coastal living room furniture and provide you with some product recommendations!
Choosing the Right Coastal Living Room Furniture
Understanding the Palette
Cool Tones: Incorporate shades that represent the sea, sky, and sand into your living room.

Natural Materials: Use furnishings made from materials like wood, wicker, and jute to bring a natural touch to the room.

Accents and Accessories: Enhance the coastal vibe with accessories like blue living room curtains and a matching blue living room rug.
Comfort Meets Style
When selecting coastal living room furniture, comfort should be your priority. Opt for couches and chairs that invite you to sit back and relax. Consider adding a cozy blue living room couch as a statement piece in your living room.
Functional and Aesthetic
Furniture pieces should not only be beautiful but also functional. Consider choosing furniture with built-in storage to keep your living room neat and organized.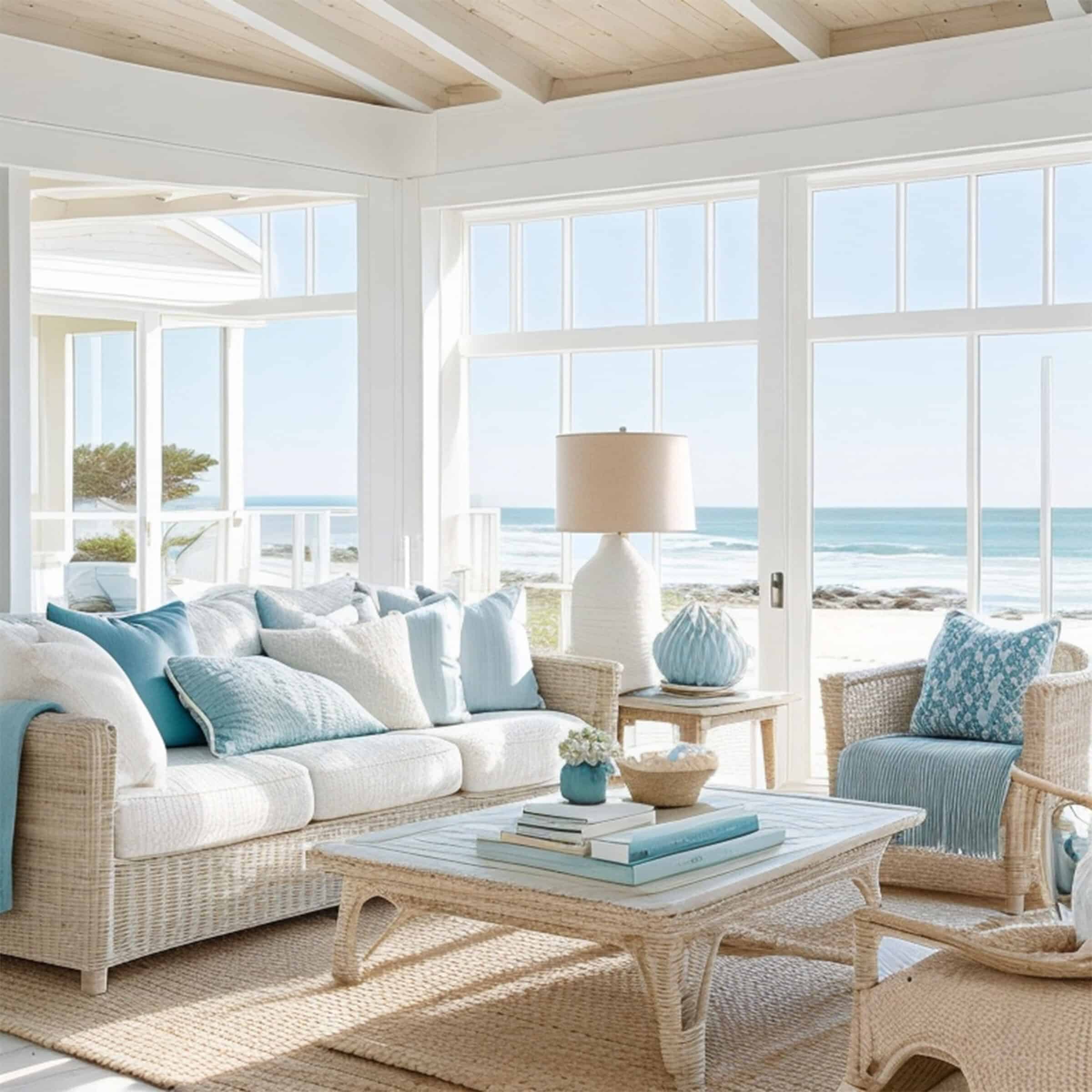 Styling Tips for Your Coastal Living Room
To get that beachy living room look, here are some easy decorating ideas:
Lights: Pick lights that look like things from the beach, like shells or wood.

Pictures: Hang-up art that shows calm beaches or ocean views.

Plants: Add some indoor plants. They make the room feel more natural.
Colors: Stick to calming colors like light blues, whites, and sandy beiges.

Throw Pillows: Use pillows with beach designs or patterns, like seashells or waves.

Textures: Think about adding things made of rope, wicker, or rattan.

Shelves: Put up some wooden shelves and display beach treasures like seashells, starfish, or beach glass.

Rugs: Choose rugs with a natural look, like jute or sisal, to give that sandy feel.

Furniture: Go for light-colored wood furniture or pieces that have a weathered, worn look.

Accessories: Decorate with things like lanterns, sea glass vases, or driftwood pieces.
Making Your Room Feel Like the Beach with Coastal Living Room Furniture 
As you start changing your room, you'll see how everything fits together. A blue rug that reminds you of the ocean can be a main piece in your room. Add things like blue pillows or a vase, and your room will look complete.
Make Your Room Feel Breezy: Questions Answered 
What is beach-style furniture made of? 
Beach-style or coastal-style furniture is often made from things like wood, wicker, and glass to give it a fresh and natural look.
How do I add coastal living room furniture without making the room too blue? 
Add a bit of blue with things like pillows, rugs, and curtains. This way, it won't be too much blue.
Can I mix other styles with beach-style furniture?
Totally! You can blend different looks with the beach style. Adding some modern accessories can make it feel more today and still beachy.
Transform Your Space with Coastal Vibes
In conclusion, choosing beach-style furniture makes your home feel fresh and calm. Use soft colors and natural stuff to make it cozy. Don't forget things like a blue rug and curtains to make everything look good together. Try the coastal living room furniture now and make your room a peaceful place. Happy decorating!