From my years in design, I?ve developed a deep appreciation for home interiors, especially the undeniable appeal of traditional living room furniture. These aren?t just ordinary items; they?re storytellers of elegance, warmth, and days long past. I?ve stepped into rooms that transport me back to grand ancestral homes, bringing back fond memories of time spent with family or reminiscent of classic cinema. So, what really sets a piece apart as ?traditional?? Let?s embark on a journey to unravel the core of traditional living room furniture.
Key Characteristics of Traditional Furniture
Rich Wood Tones: Often crafted from woods like mahogany, cherry, or oak, traditional furniture typically flaunts rich, dark finishes that exude a sense of luxury.
Intricate Details: Look for carved wood, tufting, or nailhead trim. These details are a staple in traditional design.
Symmetry: Traditional spaces prioritize balance, so pairs of chairs, matching side tables, or identical lamps might be commonly seen.
Example: A classic Chesterfield sofa with deep button tufting and rolled arms is a perfect embodiment of traditional style. Surrounded by wooden side tables with carved legs, it can create a harmonious and elegant living room setup.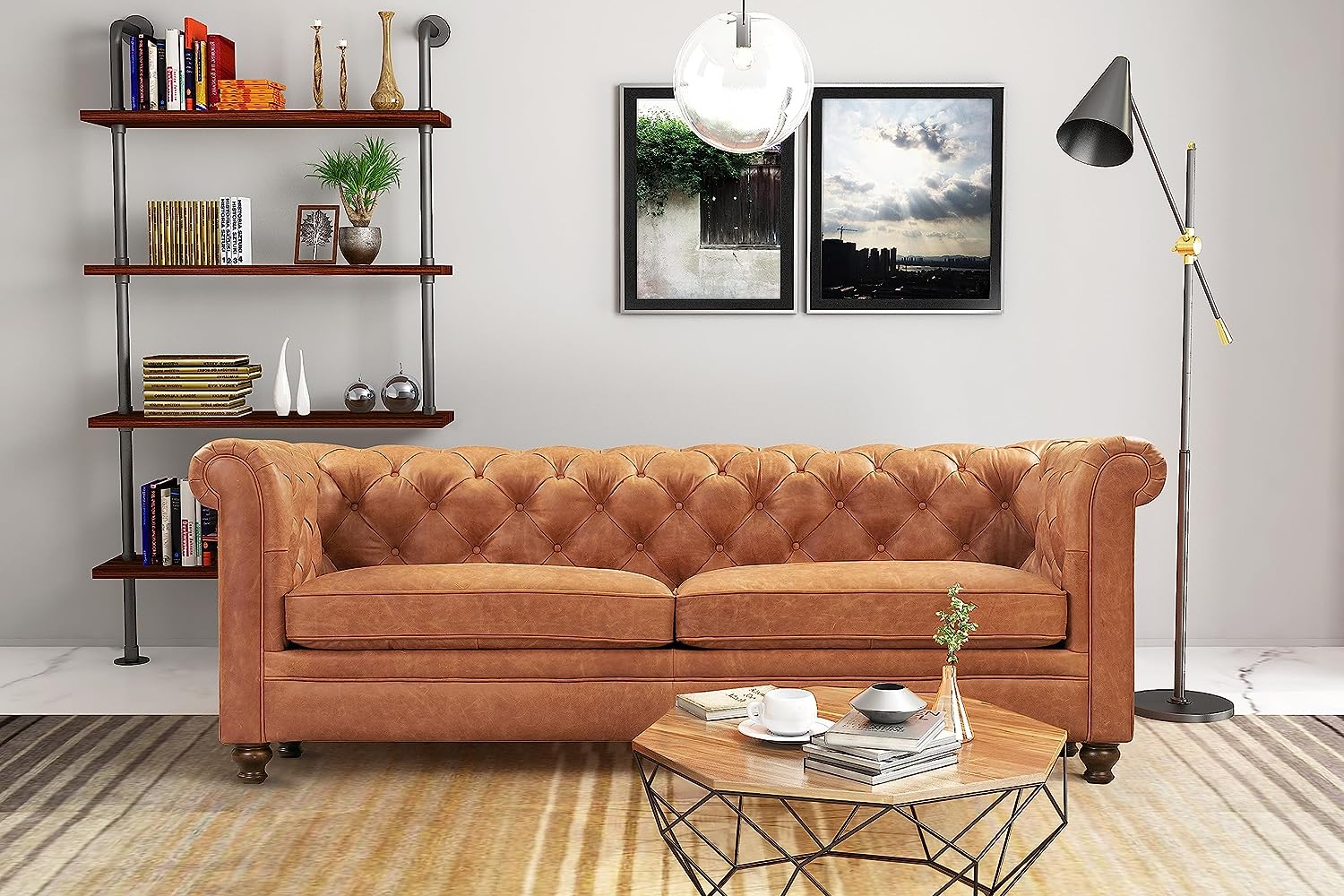 The Timeless Appeal of Traditional Living Room Furniture
As a designer, I?ve seen how the heart of a living room beats with its furniture. Classic pieces, with their soft fabrics and detailed designs, instantly make anyone feel welcome. It?s not just about how they look. It?s about the feelings they bring, the memories they remind us of, and the coziness they offer. Think about this: Picture sitting in a big, old-fashioned chair, a standout item from past designs, reading as the rain falls. It?s not just about being comfy; it?s like a small trip back in time.
Modern Spaces Meet Classic Comfort: The Ideal Mix
It?s a misconception that traditional living room furniture is all about bygone times. Quite the opposite, many of today?s homes seamlessly integrate these classic elements, adding richness, depth, and a touch of soul to fresh designs. Ways to weave tradition into modernity:
Play with Opposites: Match a classic sofa with a minimalist, chic coffee table.
Thoughtful Touches: Balance the ambiance with contemporary art or a trendy rug.
Blend and Build: Marry the deep woods of age-old pieces with the sleek metals or glass of today?s designs.
The Journey of Classic Furnishings
Though the soul of traditional furniture stays true to its roots, it?s seen changes over time. From embracing new materials to blending styles, these pieces have become more comfortable and versatile. This adaptability makes traditional living room items a favorite, even in the most contemporary homes. For instance, several makers now produce classic-style sofas but with the added touch of memory foam, merging age-old beauty with today?s comfort.
Frequently Asked Questions
What sets traditional living room furniture apart from other designs?
Traditional furnishings stand out with their warm wood hues, detailed patterns, and balanced layouts. They bring about feelings of fond memories and enduring beauty.
Do classic furnishings generally cost more than contemporary items?
Not always. Pricing varies based on material, craftsmanship, brand reputation, and other considerations. That said, antique items in good condition might carry a premium.
How should I look after classic wood furnishings?
To keep them in top shape, dust regularly, shield them from direct sun, and use protective coasters or placemats. For thorough cleaning, opt for wood-specific products.
Conclusion
In a rapidly changing world, the timeless charm of traditional living room furniture offers a touch of stability, elegance, and warmth. Whether you?re aiming for a room that?s entirely classic or just want to infuse some vintage flair into a modern setting, traditional pieces are versatile enough to suit your vision.