Home » The Best Above The Ground Pool Deck Ideas
The Best Above The Ground Pool Deck Ideas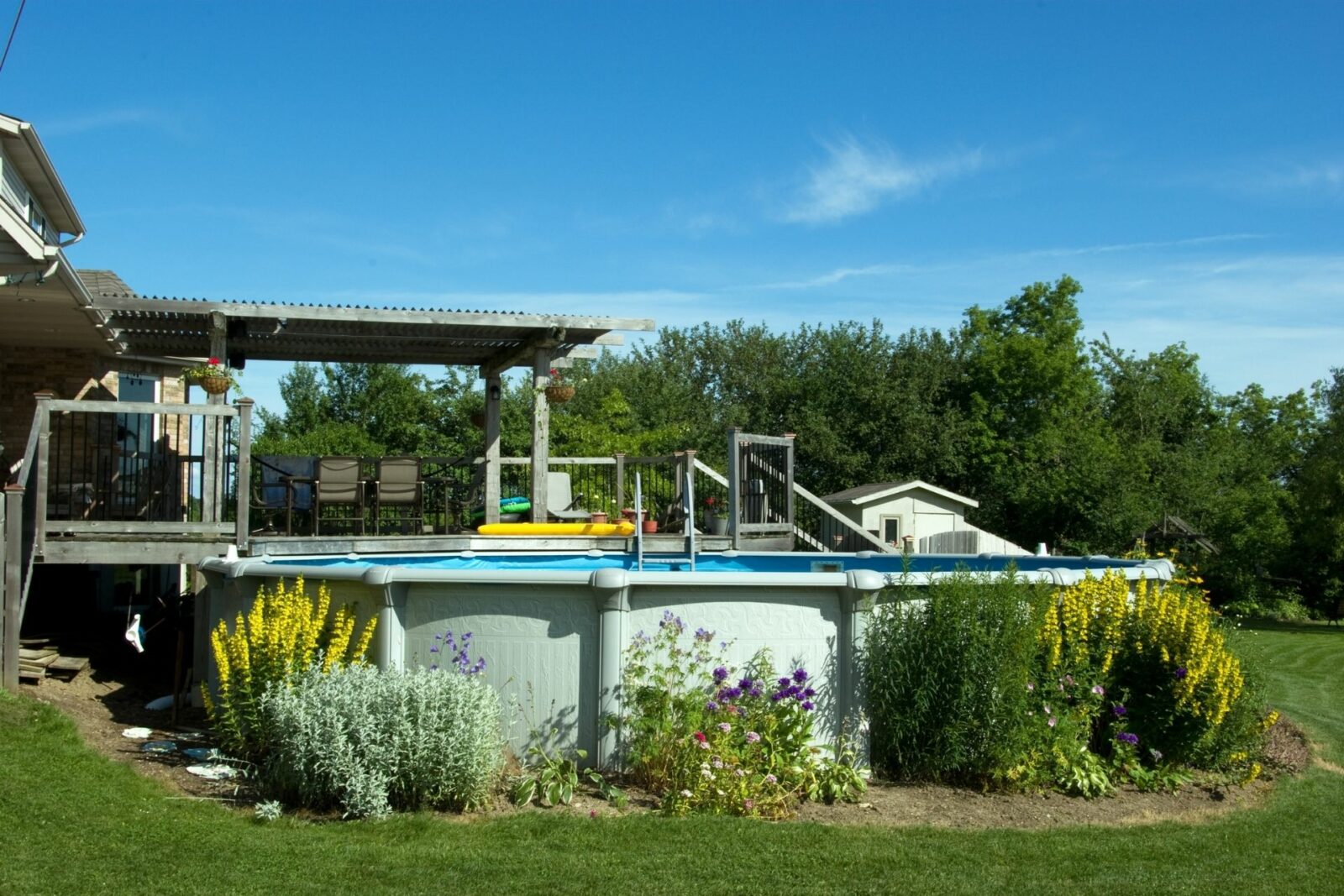 Do you want to create a backyard oasis? If so, you may consider installing any of the below above the ground pool deck ideas which will not only look good but also increase your home's resale value. 
If you already have a pool, you can try upgrading it by building a deck to provide a sturdy base and a space to set up a fire pit or work as an outdoor dining area, or even host BBQ parties. Wondering how to enhance the look of your pool deck? Well, here we have some amazing pool deck inspirations for you to create your poolside dream.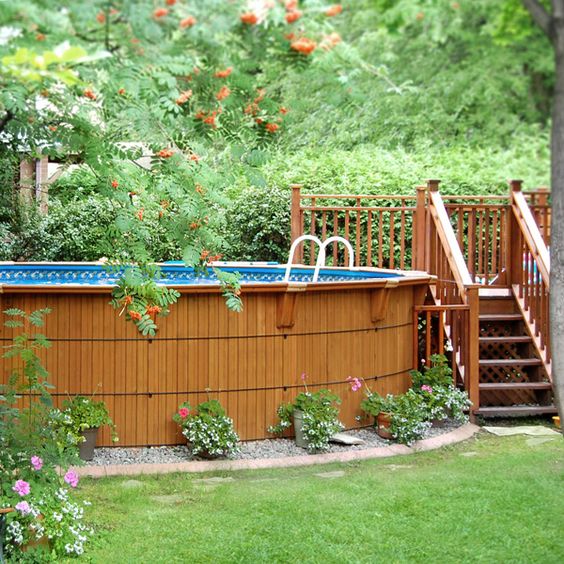 Line up your deck with potted plants like in this setup and create a natural aura around your pool. You can also grow a flowering shrub right next to the pool entrance for a more aesthetic look.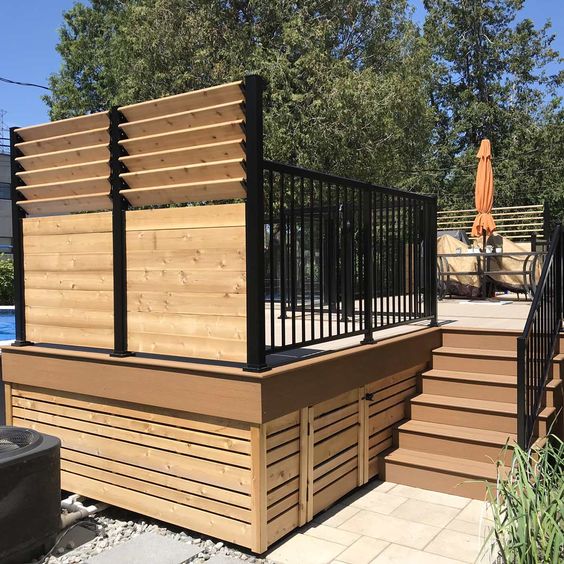 If you have kids around, a deck railing would really come in handy to keep everyone safe. You may choose a glass- or wood-paneled design or a decorative fence to enhance the style quotient.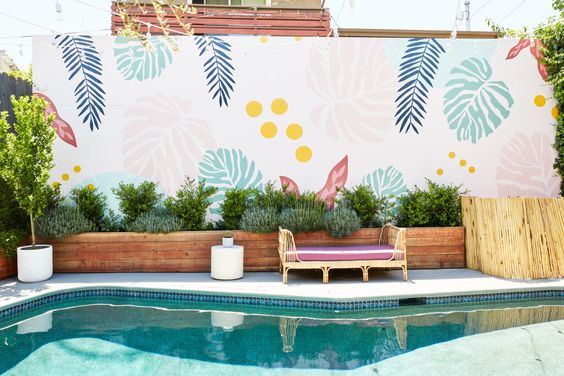 If you have a wood-paneled wall around your pool, you can brighten up the space by transforming the wall into a colorful backdrop like this above-ground pool with a deck idea.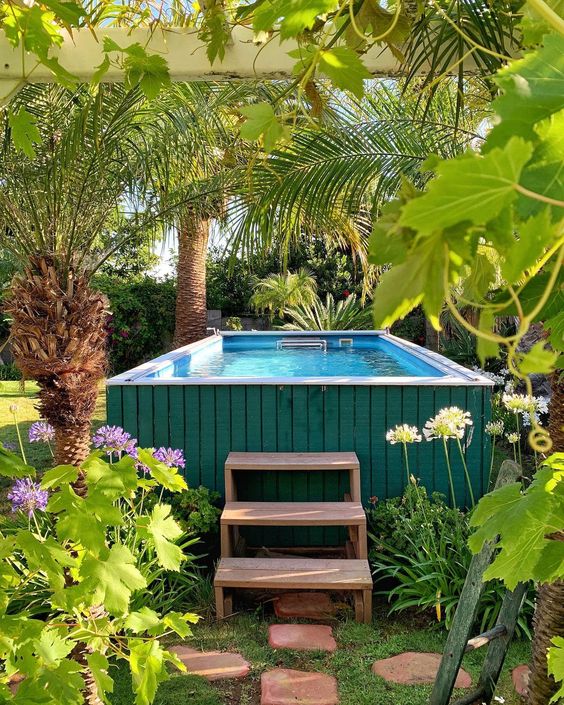 An effective way to bring in a sense of style and cohesion to your pool is by framing it with a wall. This sea green wall around the pool perfectly aligns with its verdant surrounding. 
If the walls around your pool are relatively higher, you may incorporate steps and use them as a seating space. Throw in a few comfy cushions and amp up the vibe like in this above ground pool deck ideas on a budget.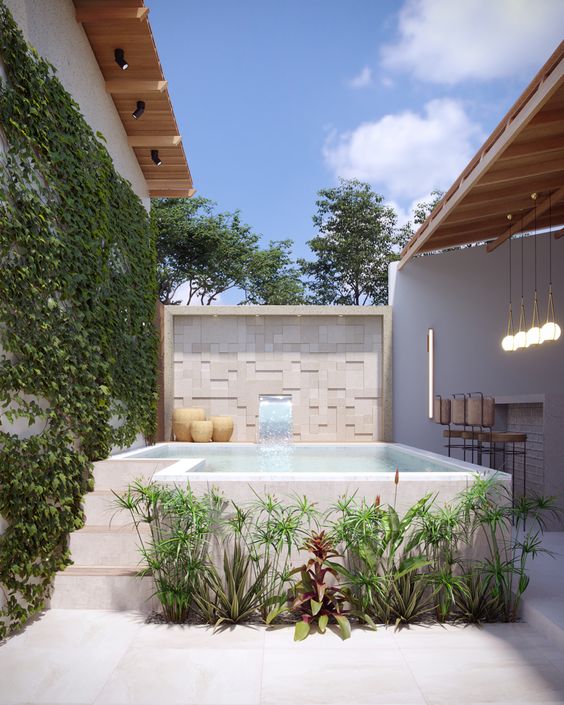 White marble looks elegant and adds a sophisticated character to your outdoor pool. However, you would have to take special care when it comes to maintenance of the deck.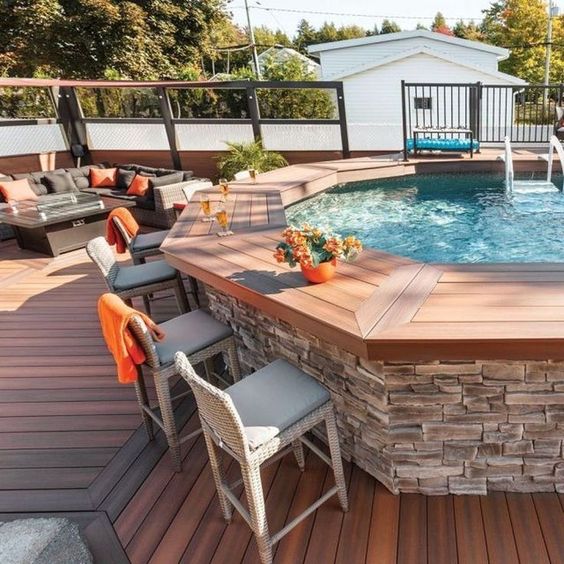 How about creating a bar set up right next to your pool like this? Pull up high-stools or chairs and arrange them around the pool and utilize the wall borders as a table.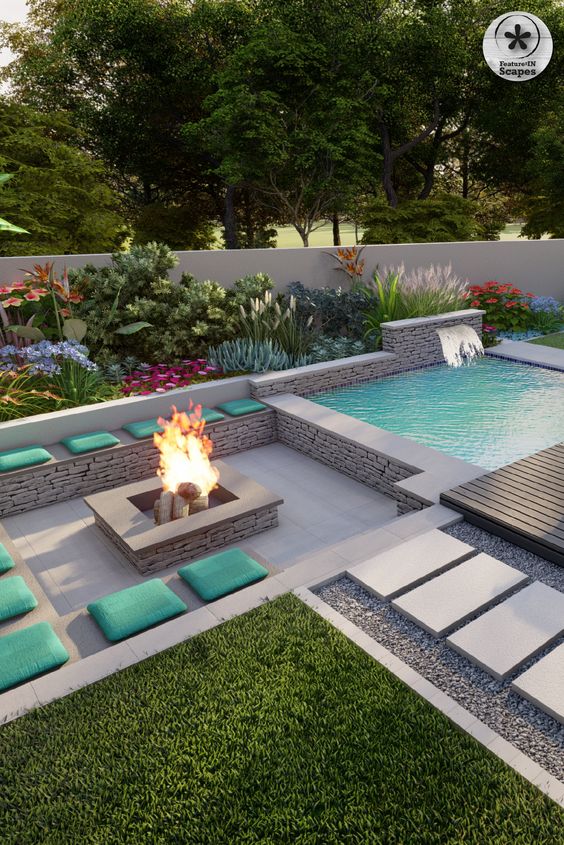 A pretty functional accessory for your pool deck could be a fire pit like this. Whether you want to host barbeque nights or camp out under an open sky or want to spend a romantic evening with your partner, this deck for above ground pool idea can do wonders to the entire setup.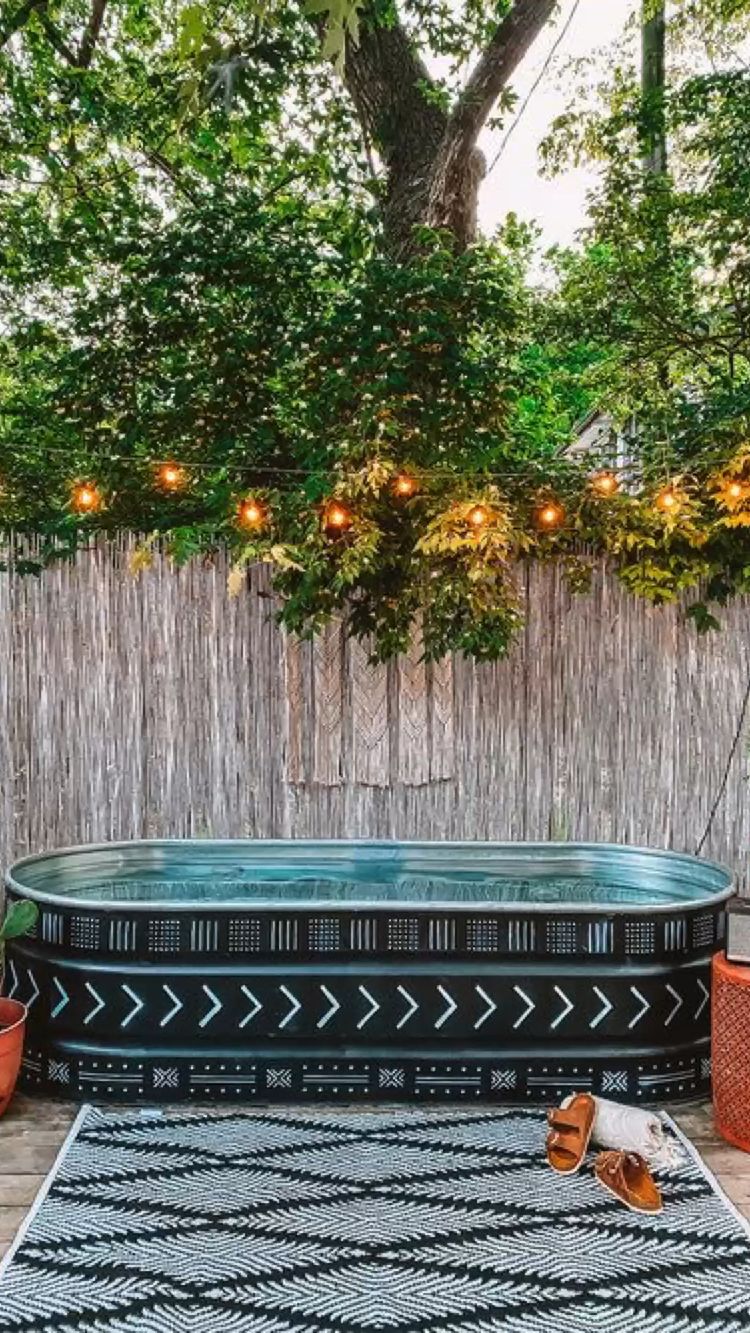 Jazz up your poolside by decorating the walls in eccentric patterns or in a soothing pastel shade. The choice is yours!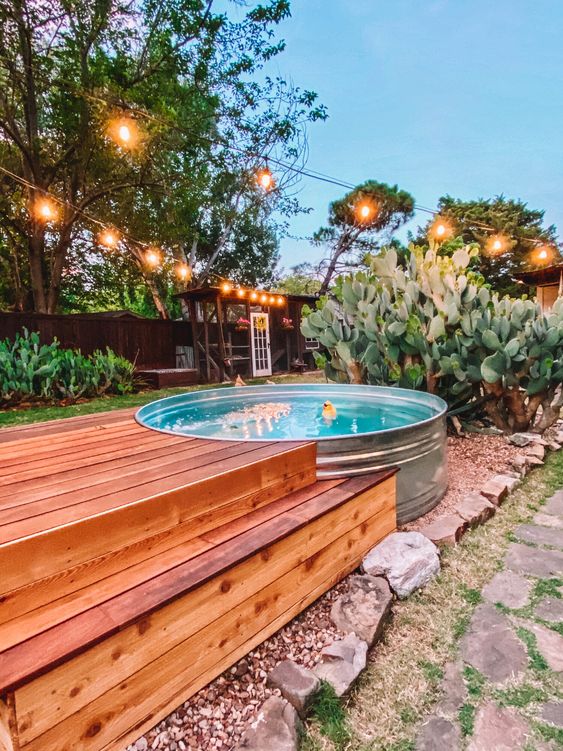 Install LED lights under the pool rim for a glow-up during the dark hours. Another great above ground pools with deck idea is to hang strings of fairy lights over your deck or add a decorative lantern. This will add a warm, cozy vibe to the deck.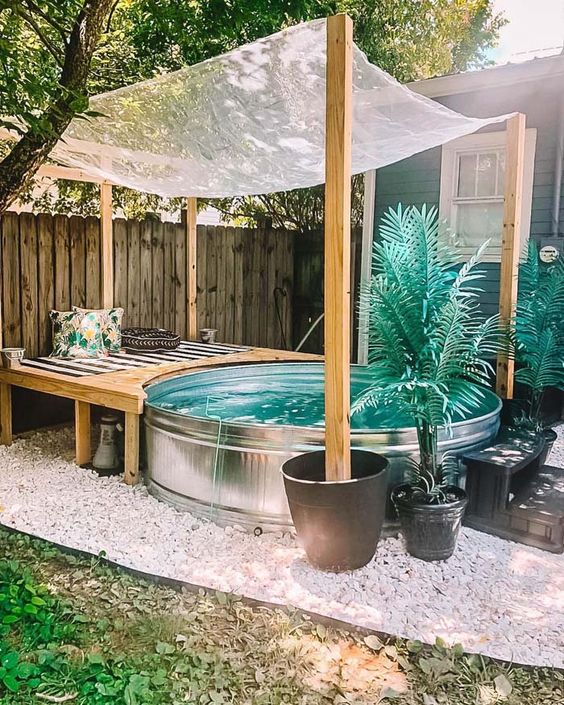 Consider adding a canopy over your pool deck to protect you from the blazing sun. Hoisting an umbrella is another affordable alternative for this above ground pool decking idea.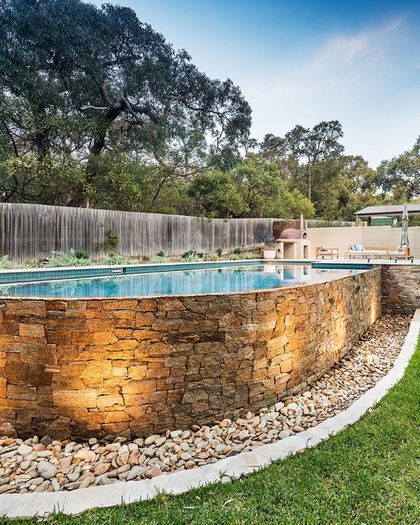 A stone wall like this adds a rustic touch to your poolside, exuding a medieval charm. You may also use illuminated stones to accentuate the look.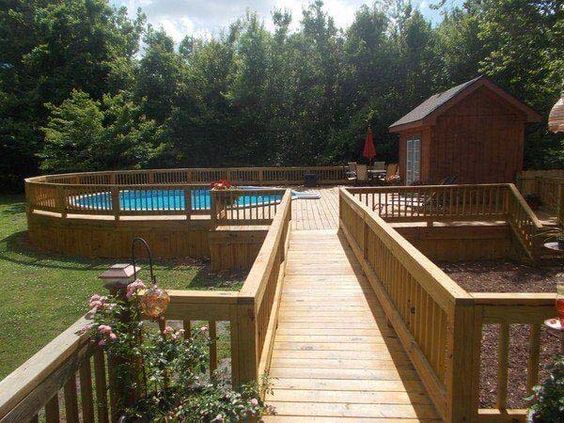 If you have enough space around your pool, you can connect the porch of your home with the deck through a bridge. It not only adds an exotic touch but is also functional when it comes to commuting from your home to the pool.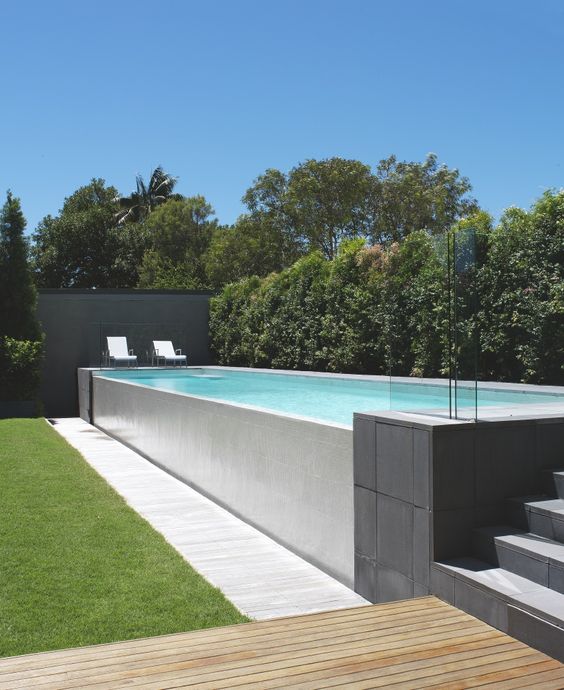 Why go on a vacation when you can create a dreamy destination at home with this infinity pool. Definitely one of the best above ground pool deck ideas.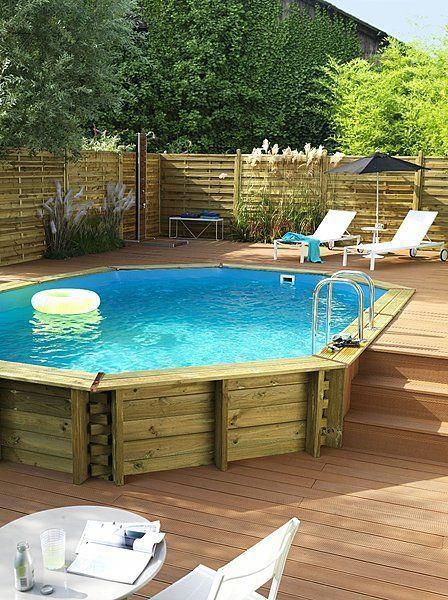 It's time to move ahead of the usual shapes of the square, rectangle, and circle when it comes to your above ground pool decking. Go for something unique and exotic like a nonagon pool and watch how your space transforms.