Home » What Are The Types of Kitchen Lighting To Choose During a Remodel?
What Are The Types of Kitchen Lighting To Choose During a Remodel?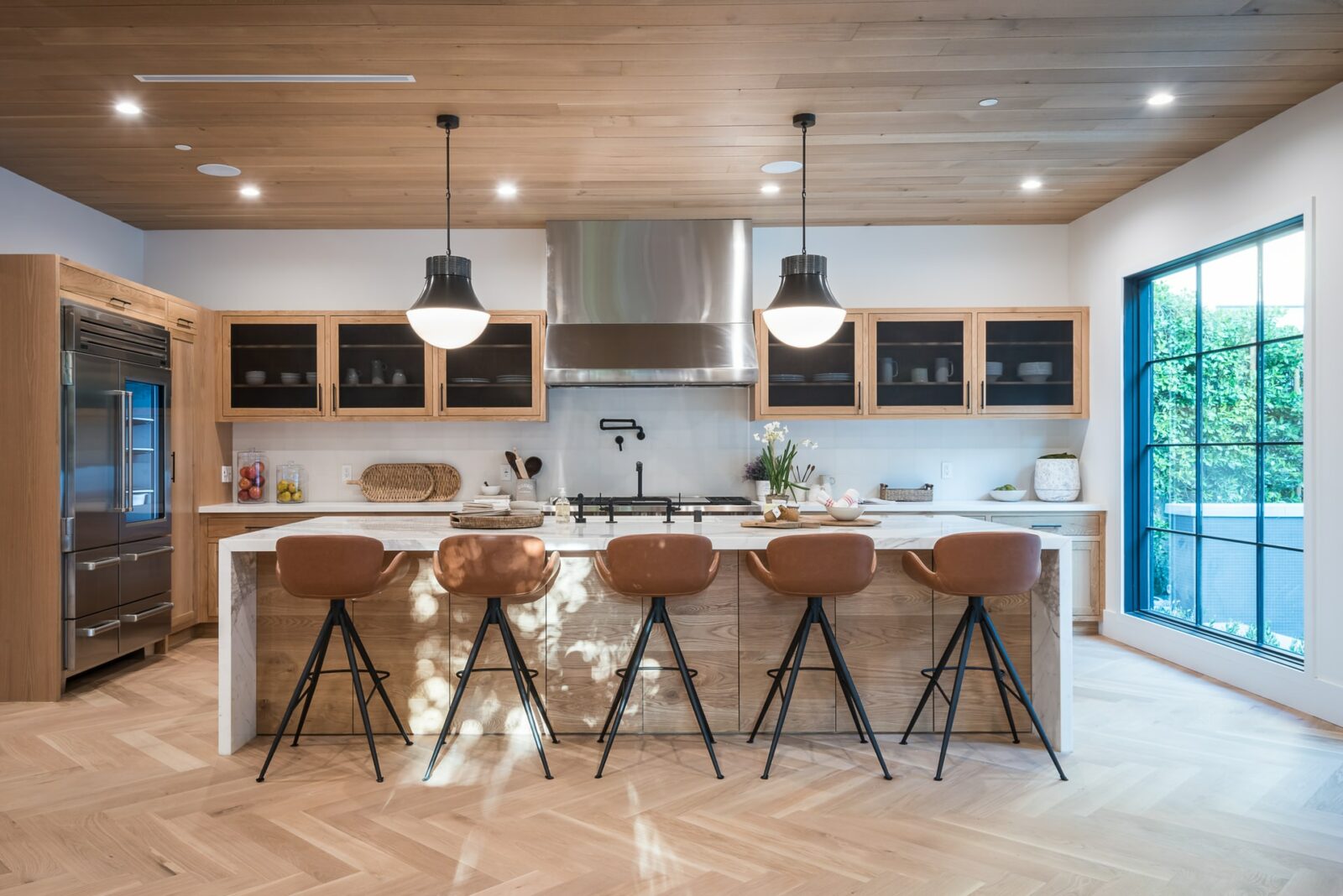 You can have a modern kitchen design, cottage-style kitchen, or a traditional kitchen. Regardless of the design you choose for your kitchen, if you don't choose the right types of kitchen lighting, you won't be able to make the most of your space. You can transform your kitchen from a barely usable room to the focal point of your home with the right kitchen lighting ideas. Since you build the kitchen to serve several functions at once, determining the best lighting layout can be challenging. 
Let's look at the five most common types of kitchen lighting and the advantages and disadvantages of each. By the end of this article, you'll know how to prevent kitchen lighting mistakes that might make your kitchen less functional.
Different Types Of Kitchen Lighting 
Task Lighting
Task lighting is a type of kitchen lighting that you can use for specific tasks. You can illuminate small, specialized zones, such as islands and kitchen countertop prep and cooking areas with this type of kitchen lighting.
A few kitchen light fixtures are essential for general lighting, while others are critical for task lighting, but none of them are great at both. As a result, you'll frequently need to use a combination of different types of kitchen lighting to facilitate functionality and follow kitchen design guidelines.
Pendant Lighting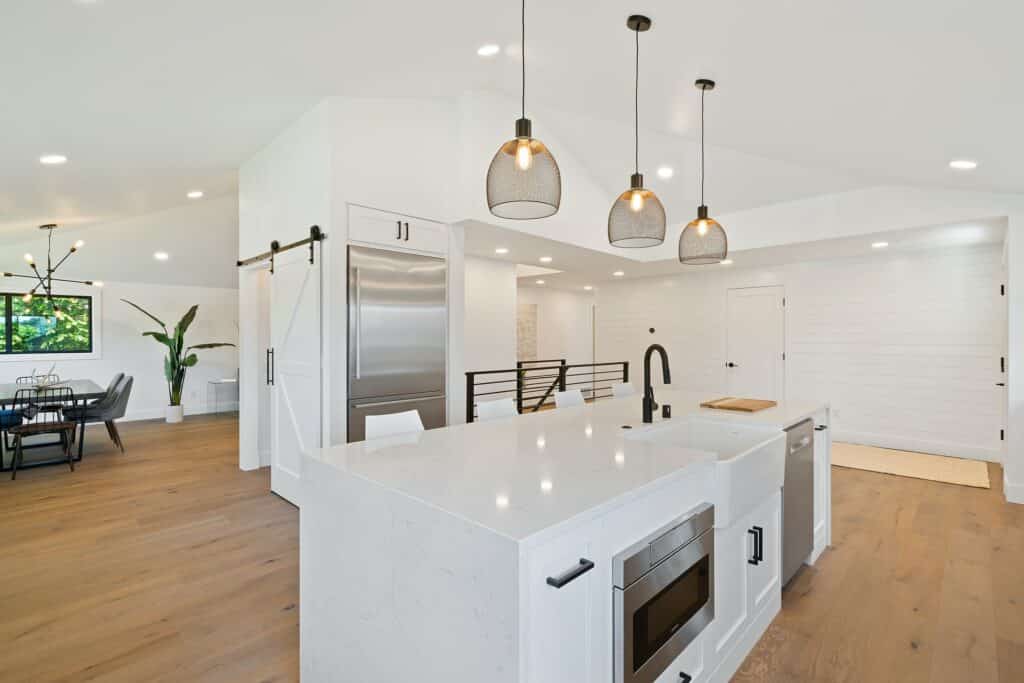 A pendant light (or lights) hung over the island will be the kitchen's charm. It's an important feature that will aid in daily tasks and also set the right ambiance. This type of kitchen lighting, which you can hang from the ceiling by a rope, cable, or pole, is ideal for task lighting. 
The design of these fixtures contributes to the overall look and feel of your kitchen. However, when you select pendant lights for your kitchen, make sure that they do not overpower the ultimate look of the room.
Typically, you will find pendant lights in sets of three or two for smaller kitchens. Some pendant sets have only one junction box since they are wired to a single large base. It's best to go for separately wired pendants with their junction boxes for wider spacing and a minimal appearance. 
You can also install larger pendants overall if you have a higher ceiling and a wider kitchen island. However, if you want to make a statement during your kitchen remodeling process, don't be shy to use pendants. Ideally, you can hang pendants approximately 30-35 inches above the countertop surface for optimal task lighting.
Recessed Lights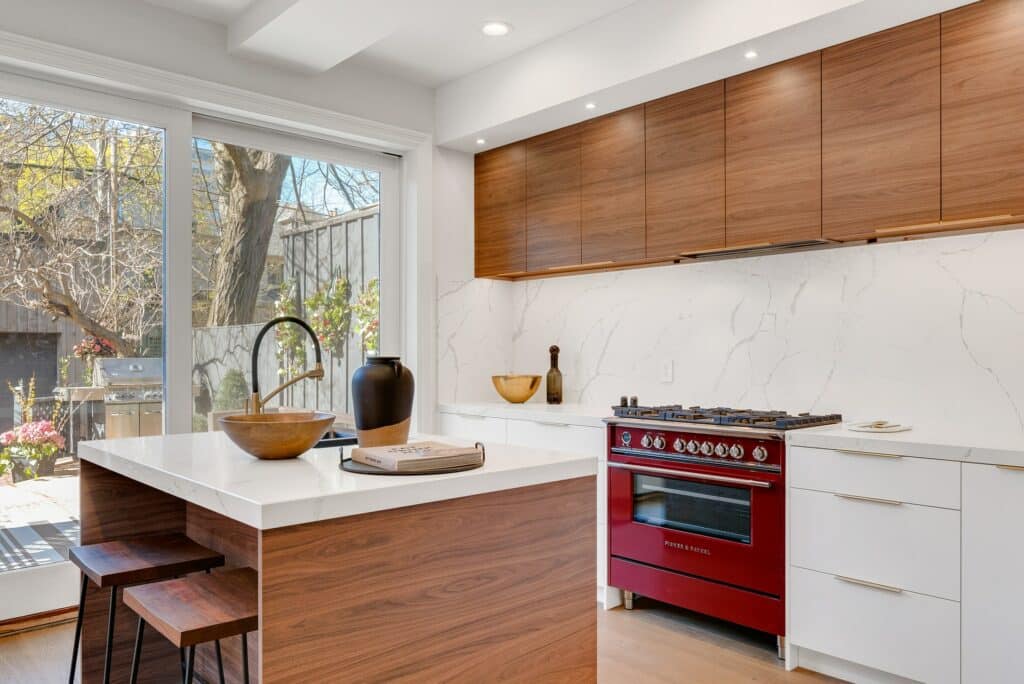 Pendant lights are great for adding a focal point to your kitchen, but they aren't always what you want. Some homeowners favor recessed can light because of their sleek appearance. 
For kitchens with low ceilings, recessed lighting is much more desirable. They're also ideal for small kitchens with islands because they give the impression of more space. 
Pot lights, can light, and high hat lights are all terms that describe recessed lighting. Most new designs now include energy-efficient LED lighting features that last longer than traditional light bulbs. 
While selecting recessed lighting, you should choose your brand wisely. For instance, higher-end versions will have a more flattering light and improved color rendering. Moreover, you can pick the LED feature design to last for several years, perhaps a decade or more. You should make sure you like the color rendering, temperature, and viewing angles.
Similarly, you should take note of how well-focused the light is. You may also use some recessed lights as spotlights that are ideal for task lighting on your kitchen's island. Other types of kitchen lighting create a less-focused floodlight effect, which can be helpful for general lighting in a room. 
However, choose the spotlight design only if you want to place your recessed lights directly over the kitchen island. You can also select a floodlight model of recessed lights for the general area of your kitchen. 
Flush-Mount and Semi-Mount Light
If you can't decide between a group of fluorescent pendant lights and a range of subtle recessed lights, a flush-mount or semi-flush lighting is a great alternative. Flush mount lamps, unlike chandeliers and pendant lights, do not hang from the roof from a rope or string. 
These fixtures will spice up your kitchen with elegant lighting, particularly if you install fewer lights and use the over-island fixtures to help illuminate the entire kitchen. Since you install them right up on the ceiling, flush-mount fixtures can produce a lot of light and have a deeper, more expansive focus than recessed lights. To ensure that the light is radiant, select frosted or milk glass globes to avoid those harsh shadows.
Another advantage of flush-mount lighting is that it collects less dust, requiring less frequent cleaning. This type of lighting is also relatively simple to install.
Under-Cabinet Lighting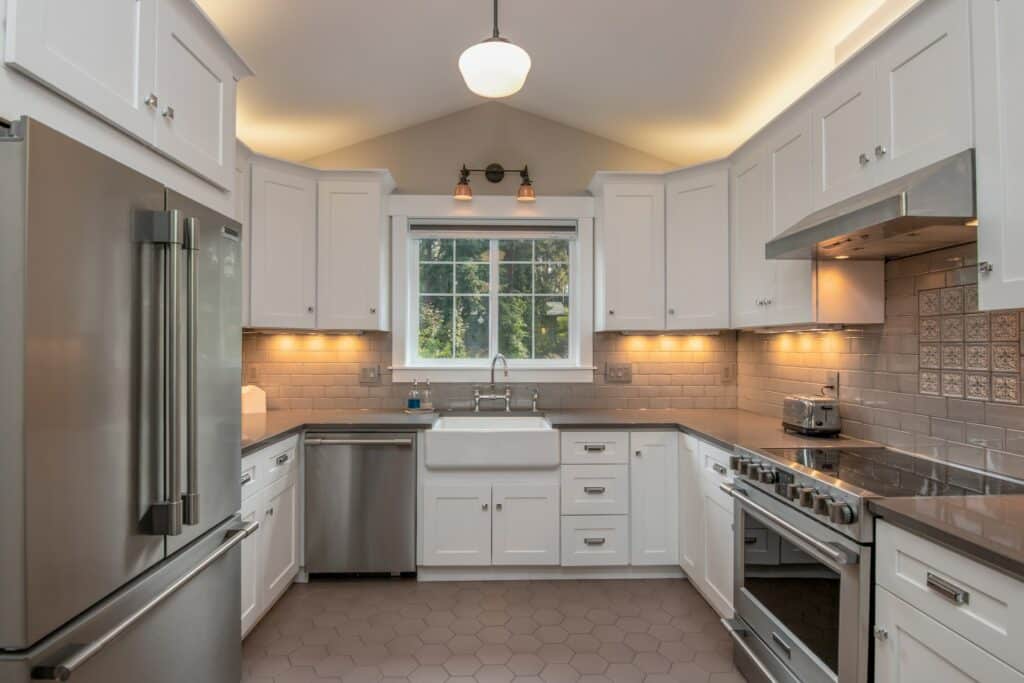 Whichever type of ceiling fixtures you choose, task lighting that reflects directly down from the wall cabinets will almost inevitably be necessary. It is the best task lighting since they cast no shadows, and the illumination is very vivid and concentrated without throwing harsh light into the main kitchen. 
When you install these under-cabinet fixtures, they create an elegant and virtually unnoticeable style. For the best types of kitchen lighting output and energy efficiency, pick LED fixtures.
Track Lighting
Track lighting is among the top kitchen trends that have grown in popularity over the last few decades. Track lighting shares many of the same benefits as recessed lighting, but with fewer of the drawbacks. 
You can move independent light fixtures wherever you desire, and you can install them on the ceiling's surface. Additionally, if you require more or less light, you can add or remove these individual fixtures with ease.
Recessed lights and track lights share a lot of the same shadowing concerns. However, since you can move track lights, you can reduce shadowing by repositioning a light upwards or downwards.
While choosing track lighting, you should look out for "low-voltage" track lighting that uses energy-wasting, ultra-bright halogen bulbs. Energy-efficient LED track lights use less energy, emit less heat, and, like halogens, they can be tiny while still producing a lot of light.