13 Top Kitchen & Bath Remodeling Contractors in Fairfax County [2022]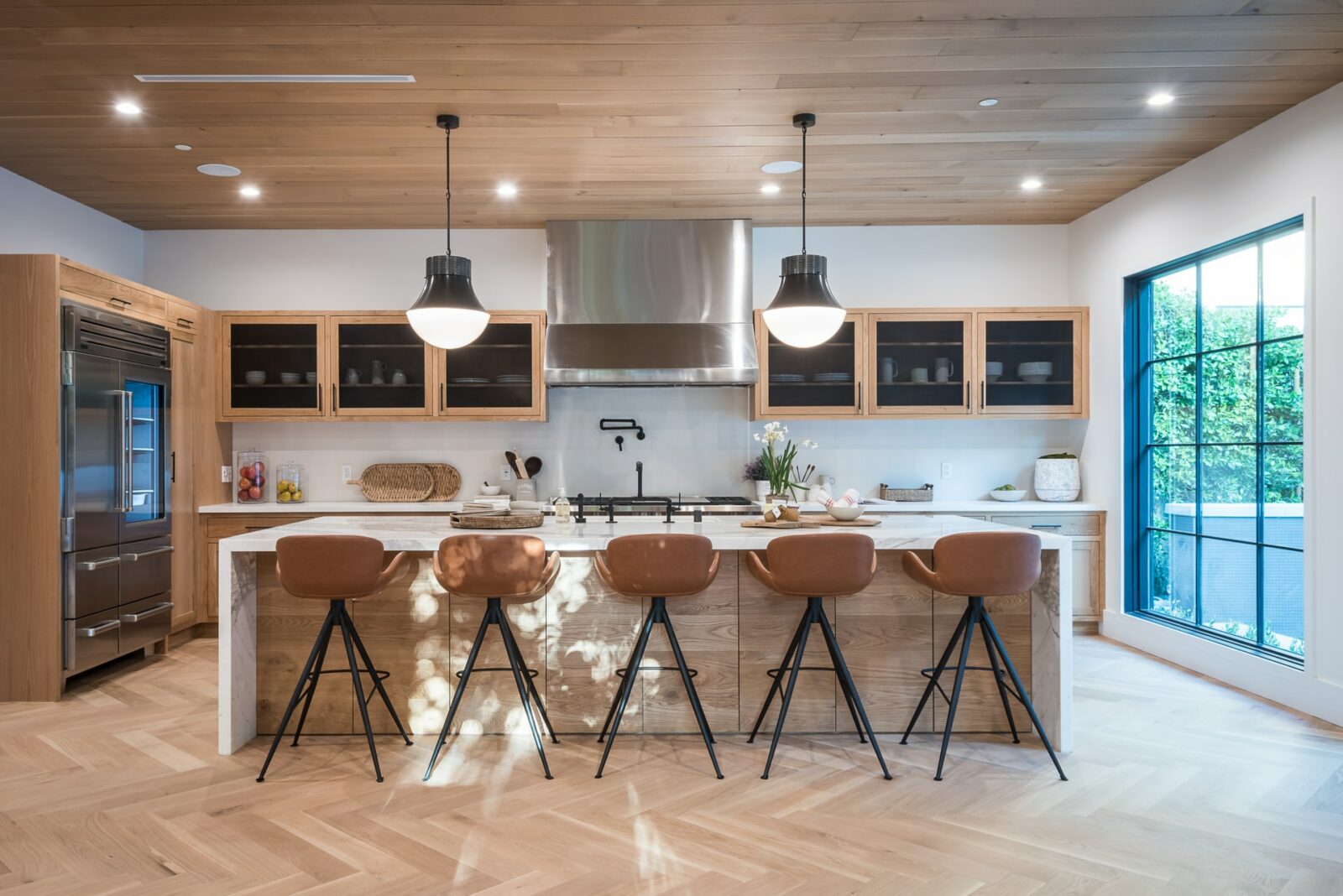 To make it easier for you when you search best kitchen remodeling or bathroom remodeling near me. So, we have gathered the best remodeling companies in Fairfax County for your convenience.
Choosing the best general contractor for your kitchen and bathroom remodeling project is essential to have a hassle-free renovation experience.
There are over 600 kitchen and bathroom remodeling companies with some type of showrooms in the entire DMV region and over 20,000 freelance contractors, kitchen designer and bathroom designer. It is not a good idea to get estimates from more than 5 contractors since all of them will have to visit your house to give you an estimate and/or probably meet you in their showroom to go over the kitchen design, bathroom design along with the estimate.
We have researched tons of construction companies and zoom in on these 13 kitchen remodeler and bathroom remodeler stationed in Fairfax County in Northern Virginia, based on their reviews, average pricing, and project management capabilities. All of these companies do complete kitchen remodel.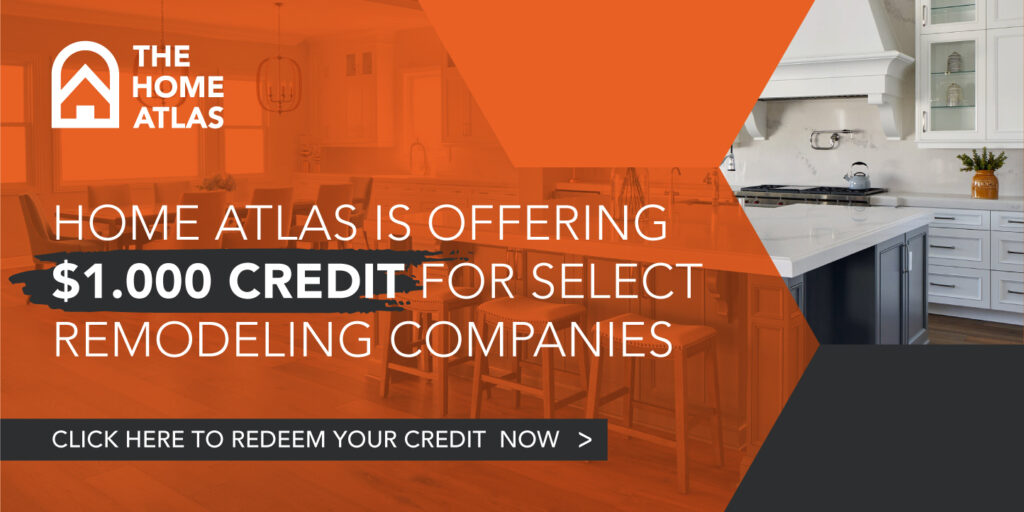 GBC Kitchen and Bath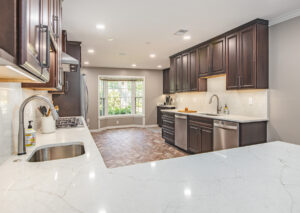 It is one of the oldest remodelers in Fairfax County. GBC Kitchen & Bath is located in Springfield and mostly serve areas that include Alexandria, Fairfax Station, and Arlington. Featured in the Washington Post for providing affordable bathroom and kitchen remodeling packages for customers in this area, this company also has another location in Rockville, Maryland. It doesn't offer financing. The company is licensed, insured and bonded. It is a one-stop-shop complete remodeling company.
GBC Kitchen and Bath is offering a free estimate and design for customers and no obligation to purchase.
GBC Kitchen and Bath Reviews
It was a wonderful experience working with GBC Kitchen! We had our entire kitchen remodeled and are extremely pleased with the outcome. They delivered before time – which was a pleasant surprise! The crew was very professional and reliable. Would highly recommend GBC Kitchen for any remodeling work and will certainly use them for future projects!
Cyrus Construction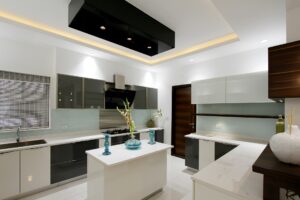 While everyone aspires to live in their dream home, not everyone gets to actualize that. Well, you can improve your home with exceptional remodeling services of Cyrus Construction. Their unique execution policy involves continuous communication with the stakeholders to ensure the execution of the remodeling project as per the plan. With their 16 years of experience, this company can give you solutions that last for years.
The high-quality material cabinets used by Cyrus Construction come with a warranty of 5 years, which is not offered by any other company. They can help you uplift your surroundings without burning a hole in your pocket.
Cyrus Construction Reviews
We recently completed our kichen renovation with Cyrus Construction and could be happier with the results! Russell and his team were great to work with from our initial design, throughout the project, and post renovation. We highly recommend!!
Kitchen and Bath Shop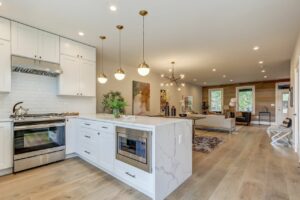 It is one of the largest remodeling companies in the DMV area. With over 15 locations scattered around the region, one of its flagship stores is in Fairfax, VA. Kitchen and Bath Shop has two locations that are serving Fairfax County: Alexandria and Fairfax locations. Featured in national outlets like Washington Post, and local news publications such as DC Post, Frederick News Post, Free Lance Star, and Daily Caller, Kitchen and Bath Shop is the best known for its exception kitchen and bathroom remodeling projects along with corporate structure, experience and smooth process. It offers financing options. The company is licensed, insured and bonded.
Kitchen and Bath Shop is offering a free estimate and design for customers with no obligation to purchase.
Kitchen and Bath Shop Reviews
We did a complete kitchen remodel and replaced flooring throughout our house in Fairfax. We had a great experience with Marco at Kitchen & Bath Shop and his entire team. The kitchen cabinets & entire floor are gorgeous. They stayed on schedule and on budget. It was very easy to communicate with them, and they were always responsive and accessible. The job site crew was very clean and respected our home.We simply LOVE our new kitchen & flooring!
Lobkovich Kitchen Designs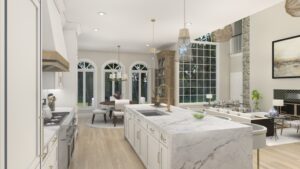 It was founded by J. Paul, an architect who is driven to provide excellent customer service. The remodeling company Lobkovich Kitchen Designs works primarily on the philosophy of working together to create design solutions that complement you. Their work can delight you and your guests for the years to come.
In their journey of 25 years, they have provided kitchen designs all over the country. Their kitchens have also been featured in numerous top magazines and. The team is careful of the deadlines and strives to deliver quality results within the stipulated deadlines. You will start enjoying cooking again in your own kitchen after the remodeling process!
Lobkovich Kitchen Designs Reviews
Here's what you really need to know about Lobkovich Kitchen Designs – they are hands-down the best I've ever worked with. My Lobkovich kitchen is now going on one-year and it still looks amazing. I wanted everything to be functional as well as beautiful and J. Paul and Mike listened to all my ideas and came up with something that works for the entire family. To give you an idea of the complexity of this kitchen here are some of the things I "had" to have… two dishwashers, a single-bowl 36" sink with integrated drain board, a professional grade gas range, floor activated faucet for the prep area, place for cookbooks, seating for 6 at the island, a 15" overhang on the island with no brackets, etc. I interviewed several kitchen designers when I started my project and I'm so glad that I went with Lobkovich.
Michael Nash Design, Build & Homes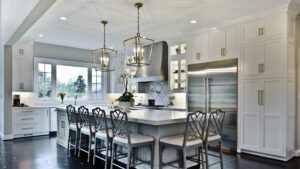 If you're searching for a skilled and professional team of remodelers, your search ends here at Michael Nash Design, Build & Homes.  They have accrued over 30 years of experience in the industry that makes them an expert at what they do. The company is an expert in bathroom, basement and kitchen remodeling, along with home additions.   
The team works closely with the clients to offer them reliable solutions while using their in-depth knowledge of the problems faced by locals. They have won over 300 awards in the last 16 years, making them your go-to choice for any remodeling project in Fairfax.
Michael Nash Design, Build & Homes Reviews
The first project we did with Michael Nash is remodeling our kitchen. The project involved eliminating a large pantry and moving a wall between the kitchen and the living room. All the appliances, except for the dishwasher, had to be relocated. They provided us with a practical, efficient design and helped us with the choice of colors for the cabinets and tiles. Several years later we decided to have Michael Nash remodel the master bath. In both cases, the job was done with quality materials and workmanship and we liked the end result. We also like the fact that the price is fixed and all-inclusive, and that they will come back to fix any adjustments that need to be made. We just decided to have them redo our guest bathroom. This will be our third project with Michael Nash!
Dulles Kitchen and Bath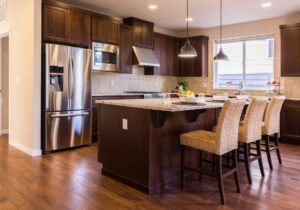 It is located near Vienna, Virginia, and has been serving customers for more than half a decade. According to Dulles Kitchen and Bath, it considers "individual needs" when creating kitchens or bathroom designs and guiding them with the adequate process. The company offers financing. It is licensed, insured and bonded. 
Dulles Kitchen and Bath is offering a free estimate and design for customers with no obligation to purchase.
Dulles Kitchen and Bath Reviews
My small bathroom was completely remodeled starting with removing everything down to the studs. The project was completed efficiently in 6 work days. The work was spectacular!

Workers were very careful of surrounding area and cleaned up totally daily. The project manager, Matt, stopped by daily to check on the work. All in all, this was an easy job (for me) to complete and an exceptional crew to work with. Johann also was great for the design and help in selecting materials. YES, I would use them again!
Kitchen Design Centre LLC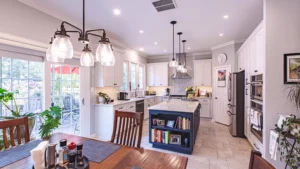 Another top kitchen and bathroom designer in the Fairfax, VA region is Kitchen Design Centre LLC. The company has earned a stellar reputation in the region owing to its integrity, responsibility, and trust. They have cordial relationships with the suppliers as well as consumers to deliver only the best results.
The company deals in the finest countertops, cabinetry, and equipment to help restore your home to its glory. The professionals at Kitchen Design Centre have years of expertise to use their professional expertise and advice in your project. Hire them for their innovative and exceptional remodeling services.
Kitchen Design Centre LLC Reviews
We love our new home – thanks in large part to the vision and renovations carried out by Bella and Ray. The team at KDC was responsive, timely and an all around joy to work with. They stayed on schedule, were always willing to communicate and provide feedback on decisions where we needed the eye of a designer! Our kitchen and primary bath are more than we could dreamed of!

We have recommended KDC to friends and neighbors and look forward to working with them in the future on home projects!
Reico Kitchen & Bath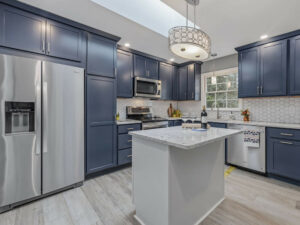 It is another remodeling contractor in Fairfax to help you carry out the renovations in your home. With this Reico Kitchen & Bath, you don't have to worry about safety and security, given their spotless work record of 70 years.
They can help you minutely plan the kitchen and bathroom remodeling project either virtually or in their store. Their team handles every requirement, ranging from custom designs to aesthetic cabinets. You can easily let go of all your worries and let them carry out the entire process from planning to execution. Book an appointment now to re-do your home!
Reico Kitchen & Bath Reviews
Can't say enough good things about Reico Kitchen and Bath. We needed to replace a bathroom vanity and our contractor suggested Reico. So glad he did…we had a custom top made are very satisfied, looks great and for a great price. The staff were friendly and helpful. They give you many options to choose from. They have a brand new showroom which is really nice. It shows you what your dream Bath/ Kitchen could look like! Thanks again Reico!
NV Kitchen and Bath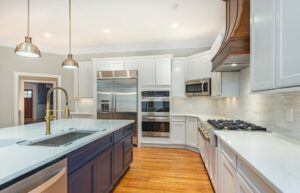 It is another one-stop-shop company serving customers in Virginia, Maryland and Washington D.C. Located in Falls Church, Virginia, NV Kitchen and Bath also opened its second location in Sterling, Virginia in 2020. It prides itself at great kitchen and bathroom designs and quality execution in projects and buildings. It doesn't offer financing. It's licensed, insured and bonded.
NV Kitchen and Bath is offering a free estimate and design for customers with no obligation to purchase.
NV Kitchen and Bath Reviews
We had our master bath completely remodeled. The work itself was excellent, and I truly appreciated the design and decor selection: they were helpful, professional, and we were quickly able to negotiate a fair price. We did the update at the beginning of the pandemic (March/April 2020) and the design staff and especially the in-home workers were all very clean and careful. We had looked at about 4 different renovation companies and NV Kitchen and Bath was far and beyond the best of them: experience, professionalism, quality, and most importantly (to me) price!
Oak Hill Building & Remodeling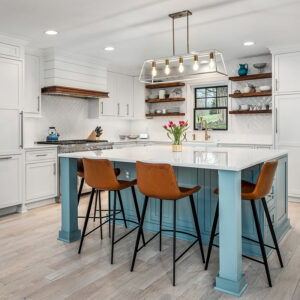 If choosing a reliable and trustworthy contractor to carry out the remodeling of your home is daunting, you must contact Oak Hill Building & Remodeling. Their mind understands the importance of the remodeling decision and assists you through every step of the process. They are a full-service contractor that specializes in residential remodeling.  
The team follows a customer-centric approach that will keep you involved in the revamp of your home. They will help you actualize your dreams of living in the perfect house by taking over complete remodeling. You can contact them for your kitchen, bathroom, basement, laundry room, master suites, and other home additions.
Oak Hill Building & Remodeling Reviews
We had a wonderful experience with Oak Hill Remodeling. They remodeled our master bathroom, and the quality of the work was excellent from start to finish. The work was done in a timely way and showed excellent craftmanship and attention to detail at every stage. Thomas and Nick were great project managers. They are highly knowledgeable and were extremely responsive in addressing any questions or concerns we raised or any changes we wanted to make as the project unfolded. We are very happy with the finished product and would use Oak Hill again for any future projects on our house.
Virginia Kitchen and Bath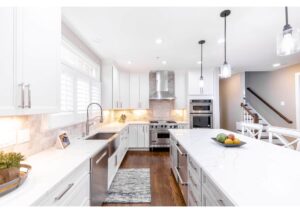 Being one of the oldest remodeling stores in Fairfax County, Virginia Kitchen and Bath has a distinct reputation for home improvement projects of Virginians in the best fashion. Most of its customers are referrals, an indication that most of them are happy clients. According to Virginia Kitchen and Bath, it specializes in every aspect of remodeling and it says "our experience in the job field assures our customers great satisfaction." 
Virginia Kitchen & Bath serves their customers with two locations, one in Chantilly the other one is in Leesburg.
Virginia Kitchen and Bath Reviews
My wife and I highly recommend this company, despite the on-going material and labor shortages associated delays, our project came out great!

We worked with Burak at the Leesburg branch setting up the estimate for our bathroom remodeling. He presented several great options and recommendations, that really came out great in the finished product. Ethan was our project manager on-site and was really pleasant to work with and communicating promptly for our questions and concerns. Also have to call out Jose the plumber, tile man, electrician, and painter, his attention to detail was superb!
Fineline Kitchens Inc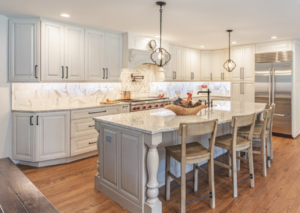 A company known to deliver the most aesthetic products with high functionality is Fineline Kitchens Inc. It is a privately owned remodeling company specializing in bathroom and kitchen remodeling. They have a complete line of custom cabinets, architectural millwork, and many other products sourced from reputed producers.
With a focus on customer satisfaction, they offer aesthetic designs, exceptional quality, and competitive prices. If you wish to give your home a fresh outlook, look no further than the skilled professionals at Fineline Kitchens Inc.
Fineline Kitchens Inc Reviews
Fineline Kitchens did an excellent job on our kitchen remodel.The project was completed in four weeks and that included a week the floors were installed.They did beautiful work and really had a great attention to detail. They were friendly and respectful and very easy to approach with changes and questions. It has been a year and we have not had any problems with our remodel.
Daniels Remodeling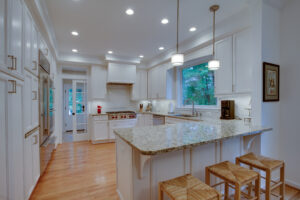 It is a family owned business located in Fairfax, Virginia. Founded by owner and CEO Ted Daniels in 1997. Daniels Remodeling takes prides at great designs and seamless processes in home makeover projects. It is licensed, insured and bonded.
Daniels Remodeling is offering a free estimate and design for customers with no obligation to purchase.
Daniels Remodeling Reviews
We hired Ted Daniels and his excellent team when our original contractor became ill and unable to complete our kitchen and master bath remodel project – just after we had gutted our kitchen and had purchased the flooring, cabinets, appliances and granite. Every single Daniels' team member performed with great care and quality control. We have a beautiful kitchen and master bath on time and on budget. We highly recommend Daniels Design and Remodeling.