Home » Top 10 Materials for Kitchen Countertops
Top 10 Materials for Kitchen Countertops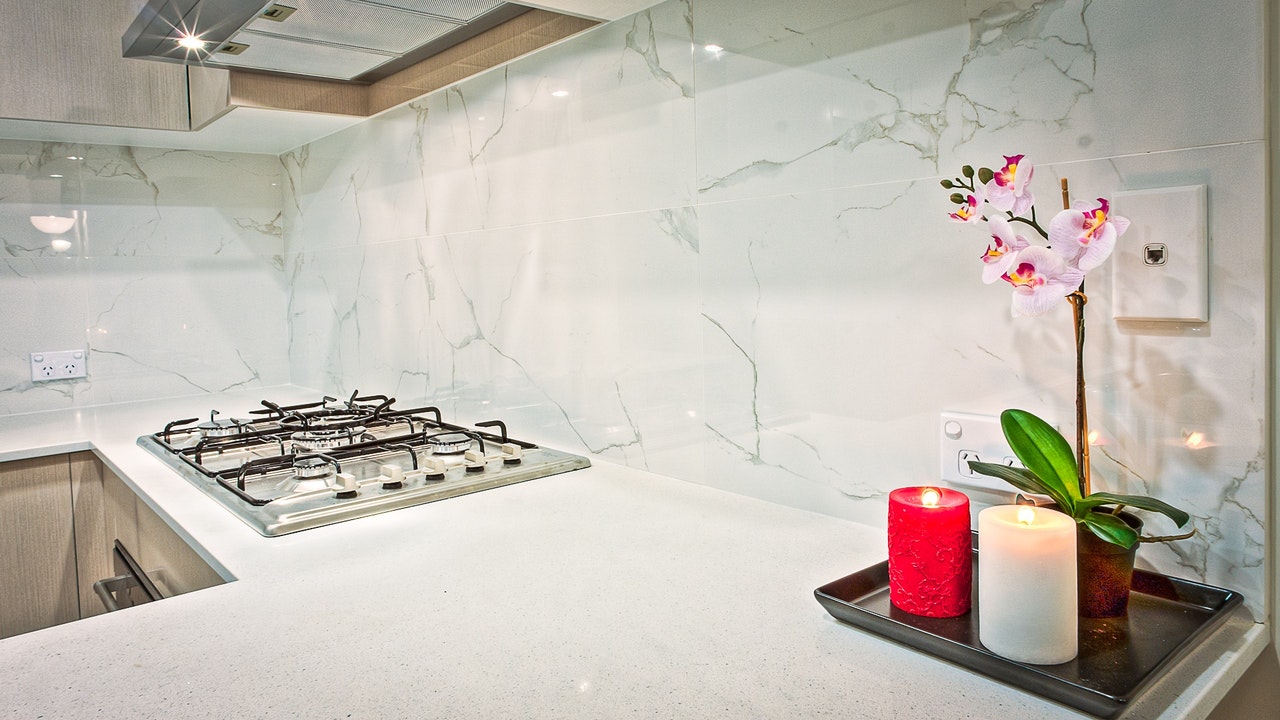 Someone rightly tagged kitchen countertops as the workhorses for kitchens, and why not! Besides acting as the showstopper for your kitchen, they make a considerable contribution in terms of functionality. After all, kitchen counters are where most of your cooking actually happens. 
The material and design of countertops are for utility as much as for style. In fact, selecting a countertop that aligns with your lifestyle is the first step to creating a functional kitchen. However, choosing the ideal countertop from the sea of options in the market can be challenging. 
From texture to color to price, there are a lot of aspects you need to consider before you decide on a sample piece. What if we say it's not so difficult? Well, it can't be when we've shortlisted the best materials for kitchen countertops for you.
Granite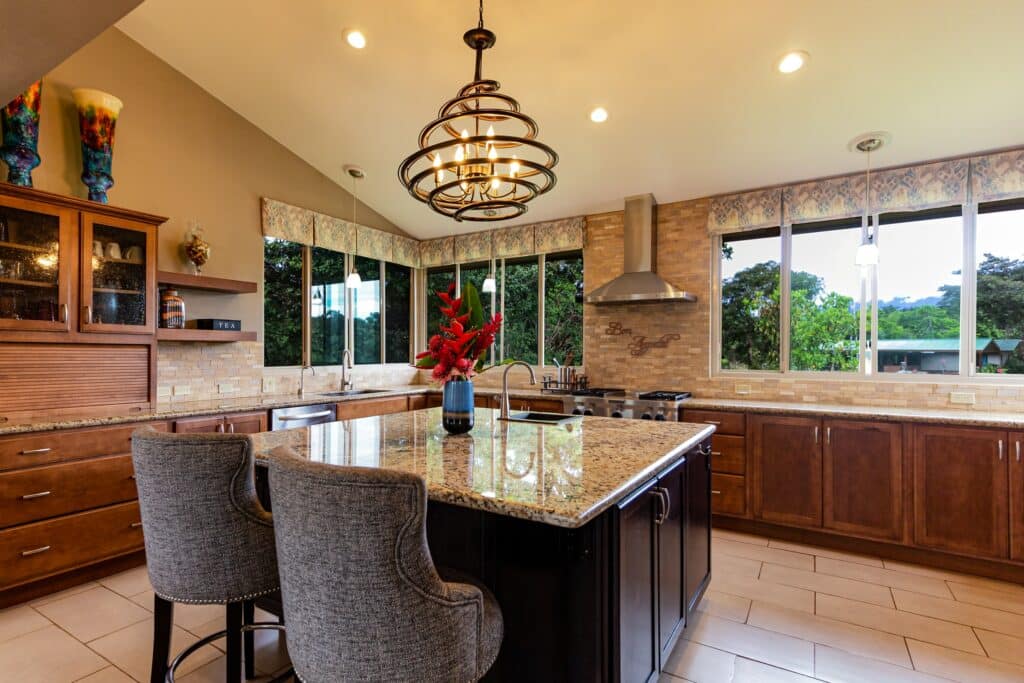 Of the many options for kitchen countertops, granite serves to be the most reliable. If budget isn't a constraint, you'd never look beyond granite, and here are some reasons to support this. 
First and foremost, granite is the most elegant countertop material that can blend pretty well with any kitchen decor. The material comes in over 3000 different colors and patterns for you to explore. Even modest kitchen spaces get beautified with the touch of a granite countertop. 
The greatest advantage of a granite countertop is that it adds value to your property at the time of reselling. It's not just the resell value but also various other factors like reliability, durability, and resistance to heat that make it a top contender among countertop materials.
Pros

Cons

Durable and sturdy

High resale value

Heat-resistant

Low-maintenance

Available in nearly 3000 patterns and color variations

Heavy cost

May contain uneven patches

Prone to crack if installed improperly or stressed

Porous and requires sealing for stain prevention

Knives may turn blunt if constantly used against granite
Marble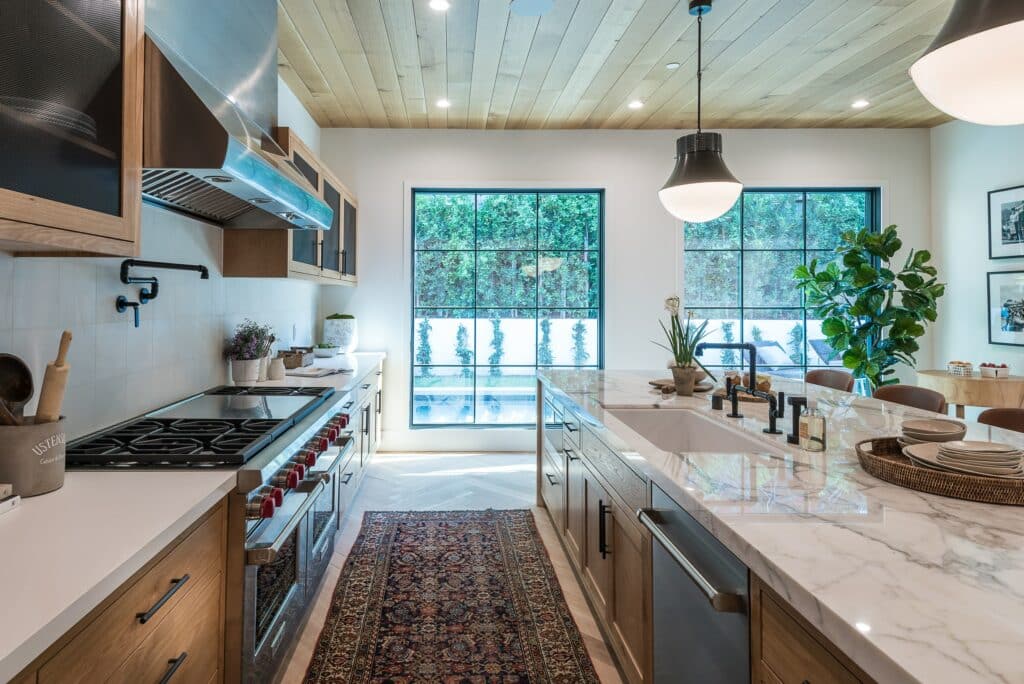 Marble countertops continue to be a favorite for both kitchens and bathrooms. Marble is a composite of a number of minerals such as dolomite, calcite, and others. As it's softer in texture, it is prone to etching and can damage faster than natural stones. But if you prefer luxury, this is to remain the 'it' material in the market. Despite being an expensive option, it's worth every penny you spend.
It's one of those countertop materials that is heatproof as well as waterproof. If you can go flexible on your budget, you might want to consider marble for your kitchen countertops.
Pros

Cons

Offers a luxe look

Great resell value

Water and heat-resistant

Can leave scratches easily 

Requires sealing to avoid stains

Not feasible for DIY installation

High-cost
Engineered Stone or Quartz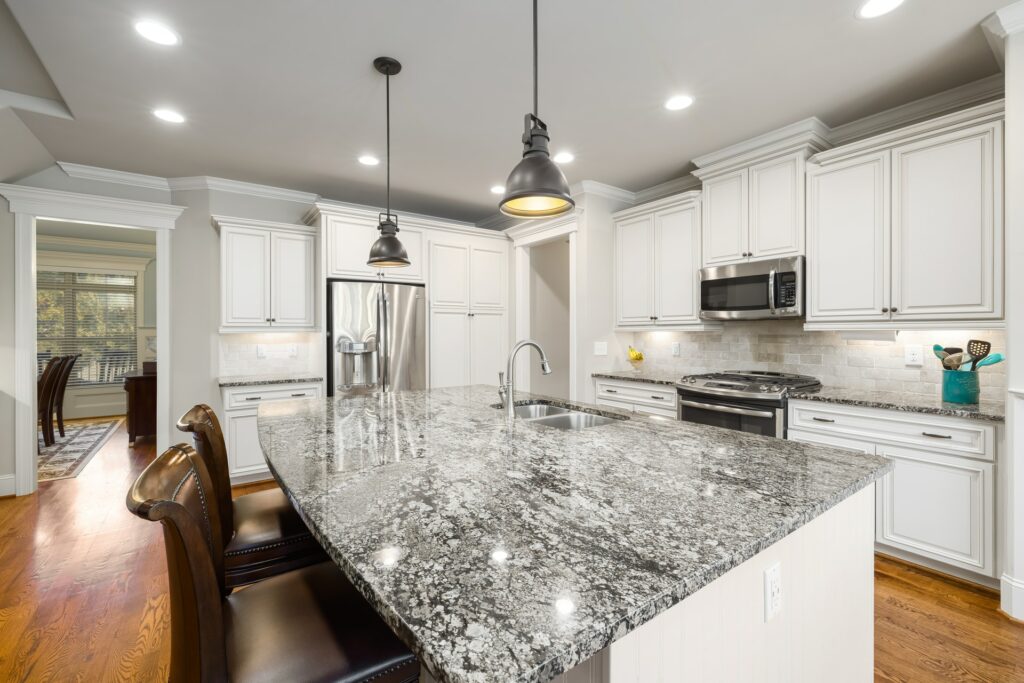 Often regarded as engineered stone, the quartz countertop that looks so elegant in the kitchen isn't 100% quartz. It's a mix of around 93% quartz and 7% other minerals bonded with resins and shaped into slabs. 
However, this is not to deceive you in any way. The mixing is necessary to enhance the strength, adaptability, and performance of quartz to match other materials like marble or granite. 
When you compare quartz with granite countertops, quartz countertops are available in more assortments of colors and are non-porous, unlike marble. Besides, engineered stone countertops also have exceptional resistance to heat, scratches, and dents. Unlike other stones, there is no need for any sealing with quartz countertops. What's more, you can incorporate quartz in multiple spaces in your kitchen like the kitchen island, sink, cabinet top, etc.
Currently, the latest technologies are in use to apply a thin yet credible layer of glass over a quartz countertop to give rise to a newer version of glass countertops. These carry some additional costs but are worth trying if you want something unique.
Pros

Cons

Offers a luxe look

Great resell value

Water- and heat-resistant

Can leave scratches easily 

Requires sealing to avoid stains

Not feasible for DIY installation

High-cost
Solid-Surface Material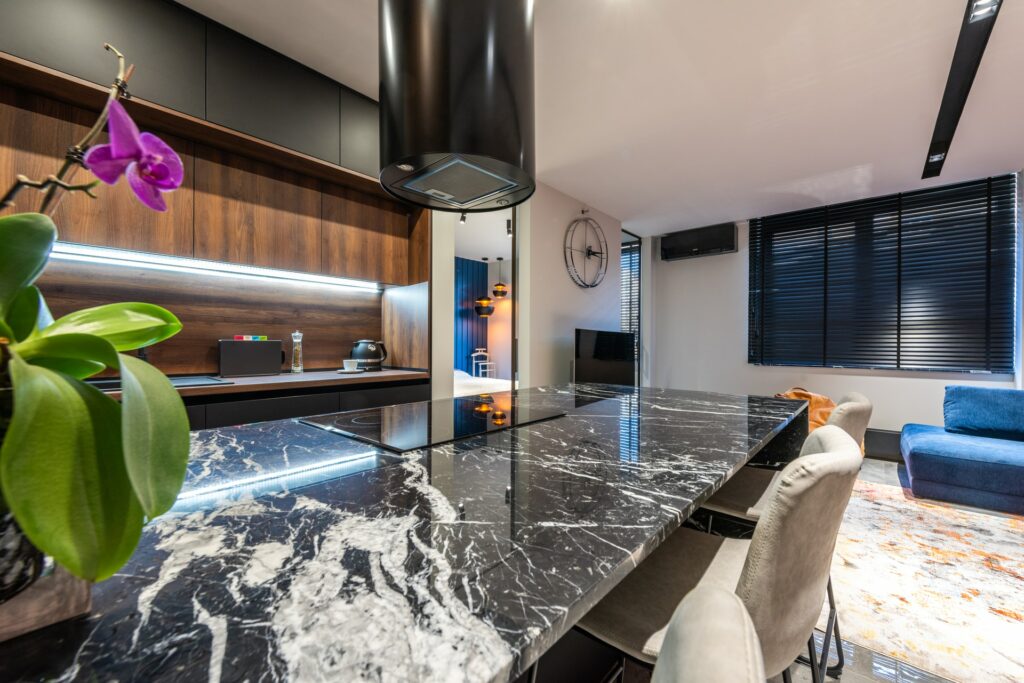 The solid-surface material might not sound very familiar to you but they have proven to be an excellent choice for mid-range kitchens.  But, let's first understand what a solid-surface material is. In simple words, it's a man-made blend of acrylic materials and resins intended to mimic natural stones. 
Interestingly, the material has been in the market for almost 50 years now. When it was launched, the solid-surface material posed as a luxurious and premium countertop material. Today, it's nothing but a mid-tier option if you want both quality and aesthetics at a price that seems reasonable to you. 
Pros

Cons

Non-porous

Available in a melange of colors and designs

Supports integrated sinks and other units

Virtually invisible seams; a polished look

Not tolerant to high temperatures

Requires decent maintenance

Needs pro fabrication
Laminates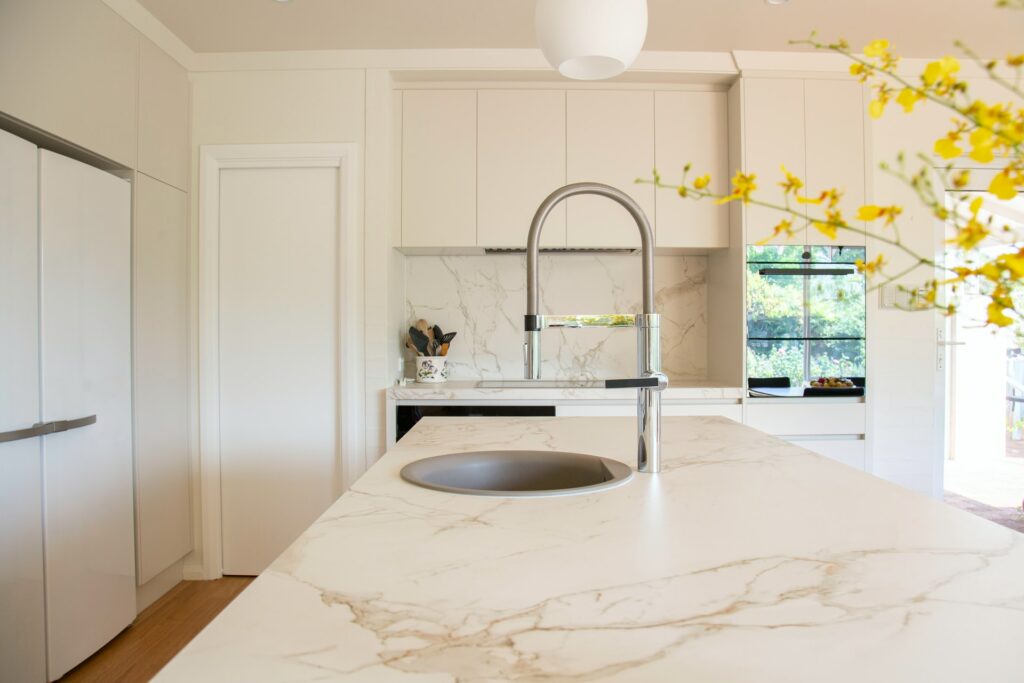 Laminate countertops are made from plastic-coated synthetic with multiple layers of bonded laminate sheets. Its super-smooth surface allows for quick cleaning and low-cost maintenance. There are many ready-made laminate options available, and you can even fabricate one as per your requirement and taste.
Laminates are the cheapest option to try out if you're someone who likes to indulge in frequent countertop replacements. They also prove to be a great addition to retro theme kitchens where DIY is key. Custom edging and backsplash make laminate countertops the most popular countertop material in today's date. 
Pros

Cons

Affordable

Easy maintenance

Supports DIY installation

Available in a wide assortment of designs and colors

Blatantly visible seams

Average quality (ideal for frequent replacements)

Prone to irreparable scratches and chips
Wood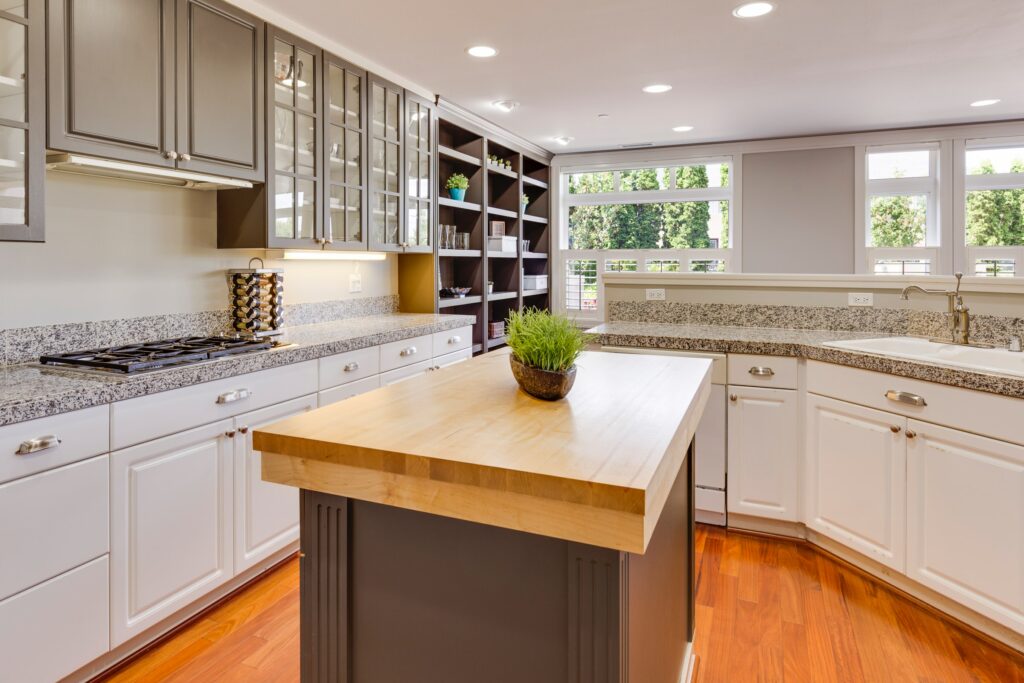 Though not a suitable option for the majority of kitchens, wood countertops are known to deftly anchor your less attractive kitchen arena.
The best advantage associated with wooden countertops is that they are easy to customize at any point in time. Adding a warm tone to the kitchen along with care-dependent longevity, wooden countertops can offer a charming country look to your kitchen. What's more, they are super easy to clean and maintain with fair resistance to heat and scratches. You can pick any hardwood for the countertop, but maple and oak are the most reliable as well as aesthetic choices. 
Pros

Cons

Simple to maintain

Adds a classy look

Can be sanded and resealed, if needed

Can wear out over a long period of time

High on cost

Not immune to constant use of water and heavy stains

Prone to decay due to bacterial attack, if not properly cleaned

Easily develops scratches and marks from sharp, pointy objects
Stainless Steel
Stainless steel as kitchen countertops? Is this even a worthy thought? Well, it indeed is. Stainless steel countertops are not that common and suitable for commercial kitchens. But you may consider it if you're remodeling your cooking space at home. As they are easy to fabricate as per your preference, you can go for a seamless countertop without much trouble. However, working on steel countertops is not that satisfactory, owing to the squeaking sounds they produce and the dents they suffer in the process.
However, stainless steel countertops can add considerable weight to your property's real estate value if you follow the right steps and talk to a countertop installer near you.
Pros

Cons

High resistance to heat

Looks good in modular kitchens

Can be wiped clean in a single swipe

High resale value (considered a premium material)

Susceptible to dents and scratches

Heavy fabrication charges

Noisy
Concrete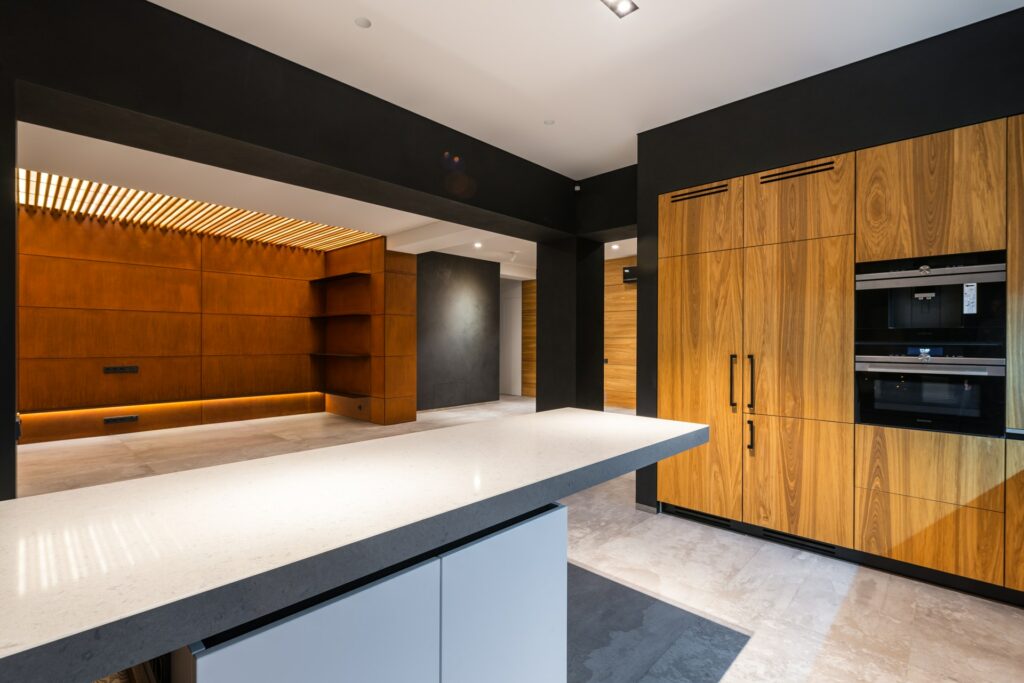 Concrete countertops are made from the usual mortar mix which comprises three parts sand and one part cement. However, these mixtures could be prepackaged or like, in some cases, prepared from scratch by professionals. In terms of pricing, concrete costs higher than laminate but it's a lot cheaper than marble.
Concrete has a visibly industrial look, but if you want it to look different, you may consider adding a layer of classic-style laminate or cover it up with ceramic slabs. After the polishing process, the rough finish disappears giving way to an attractive sheen. Overall, the material is quite durable and does not require much effort to maintain. Remember to properly seal your countertop, as concrete is porous. 
Pros

Cons

Resistance against heat and scratches

Adds an unusual look to the kitchen

Can be layered with decorative textures and colors

Not ideal for DIY installation

Highly porous surface; demands proper sealing

Can develop cracks over time

Expensive 
Ceramic Tile
Tiled kitchen countertops made quite some noise in the '70s and '80s and continue to be in vogue. The comeback is recent but the style is timeless. You can notice many of these colorful countertops mostly in artsy homes. Eye-catchy tiled patterns can change the look and vibe of a room entirely. The textures add a unique character to any space.
However, cleaning them could be a struggle, as the surface isn't smooth. Especially, with the grout, tiled countertops can easily attract bacteria and accumulate dirt. Newer advancements in porcelain tiles, however, allow for individual pieces to be cut, polished, and installed in the fashion of natural stone installation which minimizes grout joints and seams. 
Pros

Cons

Relatively affordable

High possibility of DIY installation 

Impervious to high heat

Available in a myriad range of colors, patterns, and designs

Grout joints may be difficult to clean

Prone to cracks as the material is brittle

Can be very expensive, if customized
Butcher Block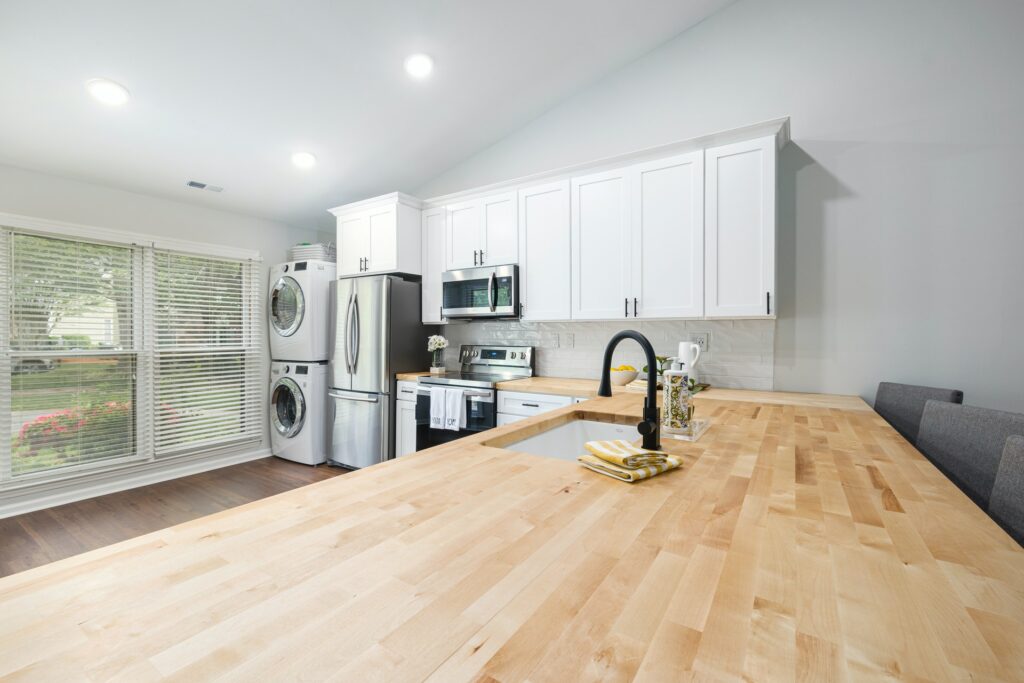 The butcher block is another cool and trendy kitchen countertop with wood as the base material. In butcher block, there are multiple wooden strips fused into the shape of a slab. If you're someone who prefers rustic decor, this could be the material you've been looking for. Occasional oiling can do wonders to accentuate the look of the wood. You may consider layering the tops with a special finish to make the surface heat- and water-resistant.
The material is super affordable, easy to maintain, DIY-friendly, long-lasting, and can comfortably blend with any kitchen design. However, it's sensitive to stains, can fluctuate on temperature changes, and cannot withstand liquid splashes as other countertops do.
Pros

Cons

Quite affordable

Can last for decades 

Custom-made grain and hardwood

Immune to acid-based surface cleaners

Sensitive to liquid

Vulnerable to dents, cuts, and scratches

Expands and contracts due to temperature fluctuations
Final thoughts
Different countertop materials have great factors and negative aspects. While some are cost-effective, some others can get easily scratched and marred. Before selecting a countertop material and design, it's important that you prioritize your needs and budget. Besides, the countertop should fall in line with the existing decor. Keep these pointers in mind the next time plan to remodel your kitchen or replace your countertops. We hope our review of the top 10 countertop materials will come in handy in your next remodeling venture.