Home » Material Cost to Build a Deck: Everything You Need to Know [2022]
Material Cost to Build a Deck: Everything You Need to Know [2022]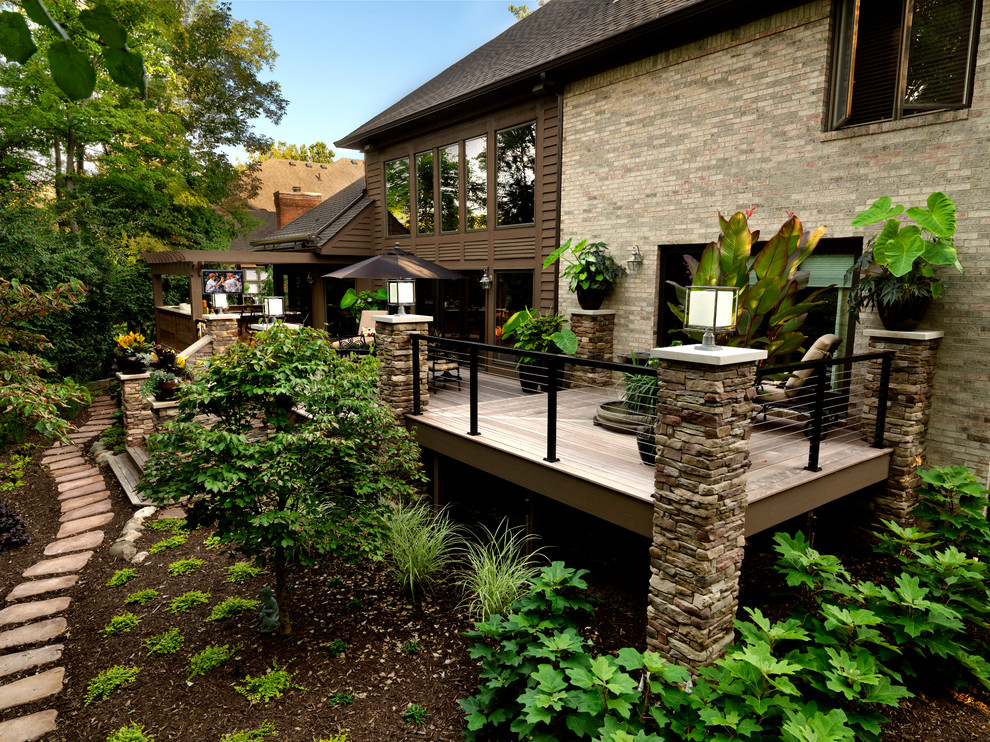 If you want to use high-quality materials like LPE, Trez, Red Cedar, or Tigerwood, the average cost to build a deck will be around $5000. Hiring a contractor would increase the price to about $13,600, including installation charges. 
On average, the labor cost to build a deck per square foot starts at $6-$8 per square foot, and this will vary depending on the kind of materials you plan to use. In the U.S., the most popular choices are hardwood, recycled composite, and pressure-treated wood. 
Let's look at the cost per square foot to build a deck with different materials. 
How Much Does It Cost to Build a Deck with Pressure-Treated Wood?
Nearly 75% of homeowners in the U.S. prefer pressure-treated wood (PTW) to build decks. As the material is chemically treated, it prevents mold, rotting, and harm from insects while still looking as classy as natural wood. 
The average price for a PTW deck will start around $6 per sq. ft. and can go up to $20 per sq. ft., including labor and installation charges.
Like everything in life, pressure-treated decking also comes with pros and cons. Let's take a look!
Pros of PTW decking
Cost-effective: Pressure-treated wood is one of the most cost-effective materials for deck building compared to cedar and composite alternatives. The most PT wood can cost you, including substructure, installation, and decking, is $15-$20 per sq. ft.

Rot & insect resistant: As already mentioned, PTW acts like an insect repellant and can resist rot, thereby offering you a 2-for-1 deal. If you're looking for a long-lasting product, PTW is your thing!

Ground contact approved: PT wood is now approved for ground contact based on newly revised guidelines. If the decks touch the ground or are as low as 6", you can use the wood to build beams, joists, and fascia. The lumber will also have twice the treatment. 

Long-term warranty: PT wood has an extended warranty that usually covers termite infestation and fungal decay. 
Cons of PTW decking
Not eco-friendly: The chemicals used to treat the lumber can harm the environment.

Discoloration: As wood is a natural product, it is affected by the elements. Even if the wood is pressure-treated, it can gradually turn gray due to photo-oxidation. However, you can cover it up by applying paint or stain.  

Splitting: Wood is subject to expansion and contraction depending on weather conditions. During the moist summer season, wood tends to swell due to the surrounding humidity. On the other hand, when the weather is dry and icy cold, wood shrinks as any remaining moisture in the cells evaporate. To decrease the effects of this natural process, you need to apply water sealant as and when required.

Maintenance: PT wood decks can last you years, but they require constant upkeep, including pressure washing the patio twice a year, applying water sealant once a year, and staining the deck every two years. 
So, if you pick PT wood, you must know that you're in for some heavy annual expenditures. The maintenance will roughly take 20 hours and cost $250 every year. A well-maintained PTW deck should last you a minimum of 30 years. So, that will be 600 hours (30 weekends) and $7,500.
Cost of Wood to Build a Deck
Wood decks never go out of style, despite all the staining and sealing required now and then. And why not! They look attractive and add an elegant touch to your home. 
The labor cost to build a wood deck starts at $3 per sq. ft. And it can go up to $15 per sq. ft. 
On average, most homeowners spend around $6-8 per sq. ft.. 
The price variation is due to the type of wood you might be using for the construction. We have included the wood cost to build a deck in the table below. 
Among these, Tigerwood and Ipe are the most durable woods as they are expensive. Ipe is also mold-resistant and can last more than 40 years. On the other hand, Tigerwood lasts a good 25 years and requires special tools for installation. 
Cost to Build a Composite Deck
Are you wondering about the average cost to build a deck with composite decking? In this case, materials will cost you between $10 and $15 per sq. ft. 
If you hire contractors, the labor cost to build a composite deck will be extra charges of roughly $23-$38 per sq. ft. for installations. 
To give you a rough overall estimate, a 12×24 composite deck with railings usually costs between $5,821 and $10,826.
Today, most homeowners prefer recycled composite decking as it looks like natural wood and is budget-friendly. It's mostly crafted with recycled plastic, with polyethylene, polypropylene, and polyvinyl chloride (PVC) being the most common options.
Pros of Composite Decking
Low maintenance: One of the most significant upsides of composites is that they don't require regular maintenance like in the case of natural wood. You can say goodbye to staining, painting, and occasional replacements with composite decking.

Color variations: Unlike natural wood, composites come in various colors. You can pick your color of choice to accentuate your home.  

Eco-friendly: Some composites are crafted using recycled materials, which can make your deck eco-friendly.

Durable: Composites are now built using new-age technologies to make them more durable. Manufacturers attach a hard plastic shell to composite boards, making the surface resistant to mold, fading, and scratching.
Cons of Composite Decking
Expensive: Composite decking is costlier than wood; durability comes at a cost. The price difference between composite and natural wood is about 15-20%.

Not natural: Although composites look like wood, they might not deliver the classy elegance of, say, a deck built with pressure-treated pine. You might have compromised on the look for assured durability. 

Check for warranty: The market abounds with hundreds of composite manufacturers, and difficult to gauge the quality and durability of every product. Check for stain and fade warranties before purchasing any composite material. 
Cost to Build a Trex Deck
Trex decking is preferred by many because it's low-maintenance but high-performing. The average cost of materials, substructure, fasteners, and decking is $9-$16 per sq. ft. 
Then comes installation charges! The standard labor cost for a Trex deck runs between $7.50 and $8.50 per sq. ft. but can vary based on your region.
Trex is a popular choice when it comes to composite. It saves you the pain of staining, painting, and repairing your deck on the weekends after working hard all week. But Trex has its disadvantages too. Let's check out its pros and cons to help you make better decisions. 
Pros of Trex Decking
Easy to maintain: Unlike a wooden deck, you will never have to stain or paint your Trex deck. You can easily clean it up with a regular mop or slap on a bit of soapy water.

Eco-friendly: Trex does not harm the environment as it's made from recycled plastic combined with wood.  

Durable: Trex is not susceptible to scraping, chipping, splinters, warp, splitting, and rot. The material also comes with an industry-leading 25-year warranty.

A diverse range of colors: Trex comes in a melange of colors and textures for you to choose from. You can select any color that would match the look of your home. 

Safety: Trex decking is not as slippery when wet as 100% plastic decking material. Besides, as the material is rot-resistant, there is no chance of someone stepping through the flooring and getting injured. 
Cons of Trex Decking
Higher initial cost: Trex is relatively costlier than many other decking materials. This might be a problem if you are price conscious or low on budget. But the good thing is that Trex doesn't require regular maintenance like wood decking, which can save you a lot of additional expenditure. 

Expensive fasteners: Some Trex building components like hideaway fasteners can be costly. This is to give your deck a smooth, screw-free appearance. If you want your deck to look spotless, it might burn a hole in your pocket. 
Final Thoughts
Adding decks is a vital part of home improvement. Questions like how to maintain a deck, how much does it cost to build a composite deck or how much does it cost to build a wood deck often arises.
This article comprises important parts of deck building such as composite decking material cost, trex decking cost, wood decking cost etc. If you are looking for how much you should expect to pay to add a deck to your home, read on!