Home » Right Time to Update Your Kitchen
Right Time to Update Your Kitchen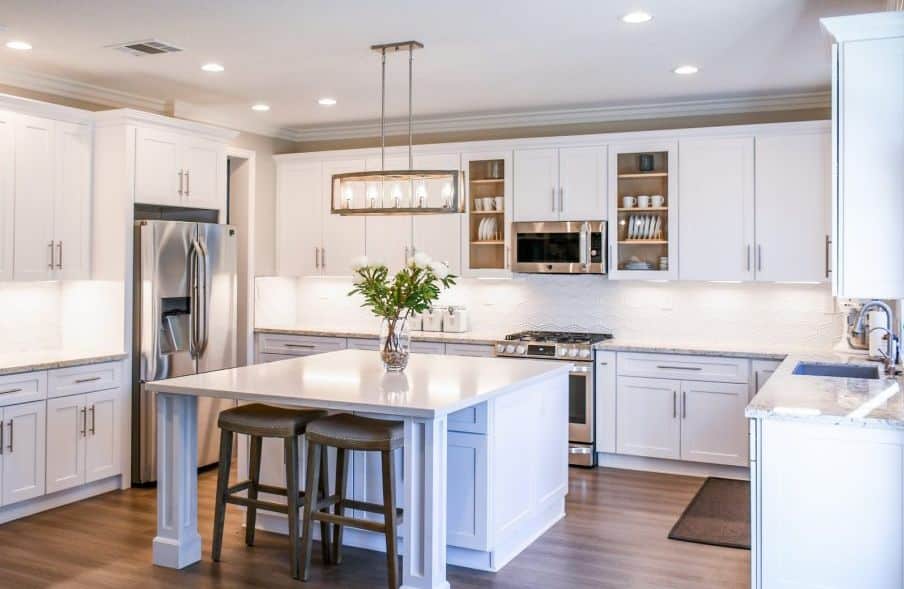 There are many factors that you need to consider before you take the first step of updating your kitchen. While most people think about budget, design, etc. — there is one more crucial aspect that needs to be taken into consideration as well: Time.  While your budget and design choices do play an important role in the remodeling process, there is also the question of "when is the right time for a kitchen update?"
The answer to this is simple in many ways. The right time to update your kitchen is decided by considering some essential factors that revolve around your family and lifestyle. What are they? Let's have a look.
Your Family's Schedule
Remodeling your kitchen is a big undertaking. Because the kitchen is such an integral part of your daily life, you need to take cognizance of your daily schedule. Imagine trying to navigate your schedule, your kids' school, homework, training, etc. while als0 navigating a kitchen upgrade. Sounds stressful, right?
This is precisely why many homeowners choose spring or summer to carry out kitchen upgrades. Most families have more time on their hands as there's no school. This makes scheduling a lot easier; thus making the process of upgrading your kitchen relatively stress-free.
 Where Should You Eat During the Remodel?
Unlike other rooms of your house, you don't have a spare kitchen. If someone is updating their bedroom, then they can sleep in the living room for the time being. Where do you eat while your kitchen is undergoing a facelift?
An alternative to this is eating out or living on takeaway food. However, that's not a long-term solution. Not only is it unhealthy but it's also super expensive. You can either make-do with a fridge and a microwave or set up an outside grill. Most families choose the latter option. The best time for you to update your kitchen is after you've made alternate arrangements for your meal prep.
If you opt for an outdoor grill as most people do — the right time for you to update your kitchen would be during the summer months.
Consider the Weather
Because updating your kitchen is an indoor remodeling project, the weather has little to no influence. Or so you might think. Summers are "hot" months for remodeling projects. Contractors are busy with various projects or at least are in high demand. Now, if you were to undergo an outdoor remodeling project; then you'd have no choice but stick to warmer months.
When it comes to updating your kitchen, winter months can be ideal. Winters are usually a slow period for many contractors. Not only will you get a good deal but you will also get done with the project faster. Just make sure that you have alternate arrangements for your cooking and indoor storage for various hardware.
Minimize Your Costs
Many factors determine the cost of updating your kitchen. Labor, material costs, your location being among them. Most of these tend to fluctuate throughout the year. The cost of cabinet material, countertop material, etc won't be the same year-round.
As upgrading your kitchen is expensive as it is, it's important to minimize your cost wherever you can. To get the best deal, you will need to plan. The earlier you plan, the better it is for your budget. By planning, you have the flexibility of choosing the dates based on the best possible price you can get.
Don't Wait For Holidays
Holidays are the most wonderful time of the year. Like many homeowners, you may also want to get your kitchen ready for the holidays. You imagine your family bonding together in your brand new kitchen and you want to do whatever it takes to get the kitchen prepared before the next big holiday.
Experts recommend starting at least six months before major holidays. Planning a kitchen upgrade is an exhaustive process and a time consuming one too. You do not want to be stuck with an unfinished kitchen as the holidays come close. By planning and starting the process early, you are also leaving a buffer period if things take longer than expected.
If your goal is to have a sparkling new kitchen for the holidays — start as soon as possible.
Do You Need to Consider the Right Time for DIY Remodels?
Now you might be thinking, "If I am updating the kitchen by myself, do I really need a 'right time' for it?". Well, the answer is yes. Whether you're refurbishing a sink or painting the cabinets by yourself, you'd want to make the most of the time you have on your hands. It is difficult to execute upgrades on your own during the winter months as days tend to be short.
As a DIY-er, you want to get as much as possible during daytime. To do so, you will need longer days. If you are the one working on upgrading your kitchen, then the right time would be during the spring and summer months as there's adequate daylight for you to work.
In Conclusion
In the end, the right time for you to update your kitchen is after you've carried out the necessary research regarding the timeline, budget, and needs. That's because updating a kitchen is not a small task. Even minor upgrades can take over a month. You need to be fully aware of the commitment that comes with the process. Right from budgeting, talking to contractors and shopping — the right time is when you're fully prepared for the process of updating your kitchen.